The largest and more expensive model was the 24" high 'Standard Loudspeaker' with either a metal or wooden horn. The metal horn came in either a matt black or grained wood finish and the wooden horn was available with oak or mahogany flares. The matt black metal horn version sold for £4, the wood grained metal horn sold for £4.5s.0d. and the wooden models were £4.15s.0d. The loudspeakers were also built into the A.J.S. 'Pedestal' receivers and the 'Consol' receiver.
The sound quality is poor when compared with a modern loudspeaker due to lack of sensitivity, a limited frequency range and lack of dynamic range due to their inability to handle large signals without distortion. The sound quality from the models with a wooden horn is supposedly better, probably more mellow due to the acoustic properties of the wood.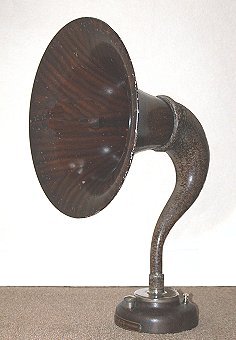 A 'Standard' model with a metal horn.