| | | |
| --- | --- | --- |
| | | |
---
Ever Ready Radios

The Early Years and Lissen
Britain was slow to electrify and many of the rural areas remained without electricity for a long time. Due to this there was a large battery market and for many years large numbers of radio batteries were sold. In 1934 the sales of high tension radio batteries exceeded 15 million. The Ever Ready Company (Great Britain) Limited was the market leader and was part of an international group that originated in America at the turn of the century. It was incorporated in Canada in 1932 and the British company held quite a number of the shares.
In 1928 Ever Ready purchased Lissen Limited from its owner and Managing Director, T. N. Cole, for over 1 million pounds. Thomas Noah Cole was born in 1891 at Llanllwni, near Lampeter and brought up in Cardiff. He was interested in football and a keen supporter of the Cardiff team. His father was a marine engineer and Thomas's first job was selling bananas from a hand cart.

In the early 1920's there was a lot of interest in radio and he realised that there would soon be a large market for radio components. With this in mind he moved to London and set up the Lissen Company.

In 1923 he formed Lissen Limited, with works at Shepherd's Bush, to sell a large range of components, most of which were made at the factory. Thomas's wife Rebecca was the main shareholder and the company was very successful, employing around 3,000 people by the mid 1920's.
The company had three factories, one produced batteries and the other two produced components. The company sold everything that was required to build a radio. There were Lissen valves, resistors, capacitors, coils, transformers, loudspeakers and cabinets.

Lissen also produced a range of complete radio kits under the name of Skyscraper, and published plans which encouraged builders to solely use Lissen components, suggesting that to do so would produce a receiver of superior quality. Ever Ready continued producing Lissen components and radios until the beginning of the second world war, after which the Lissen name ceased to be used.


The Lissen Skyscraper 4.
| | | |
| --- | --- | --- |
| | | A Lissen moving coil loudspeaker from the early 1930's. |

The circuit diagram of the Lissen Skyscraper 4.

When Ever Ready purchased the company, part of the deal was that Thomas Cole would remain as Managing Director, but for 10 years he would not get involved in any business venture that would be in direct competition with Lissen Limited.

Eventually he would come to regret not being his own master, and in 1934 purchased the ailing Burndept radio company and founded a new battery company called Vidor.
Vidor was named after the initials of Thomas's two daughters, Valerie and Denise, and his Wife Rebecca. As a concession to Ever Ready and his agreement with the company, he did not run Burndept and Vidor himself, but employed Mr. R.P. Richardson as Managing Director. In 1935 Thomas brought an action appealing against the agreement and engaged Sir Stafford Cripps, and two other eminent lawyers. On the eve of the action, an out of court settlement was made and from that time on, relations between Ever Ready and Vidor were strained. This wasn't helped by the fact that Vidor batteries were popular with radio dealers, because the company offered a 25 percent discount and the batteries sold at a very competitive price.

The Move to Wolverhampton

An Efandem Co. Ltd. advert from 1920.

In 1911 the Efandem Company Limited moved from Birmingham to new premises at Park Lane. The strange name Efandem (F & M ) came from the initials of the two directors.

The company produced a wide range of electrical goods including batteries, torches, hand lanterns, searchlights, sirens, car and bicycle lighting sets, hand lamps, torch cases, bells, buzzers, and friction clutches for machinery.
| | |
| --- | --- |
| A photograph of the Efandem staff in 1913. | |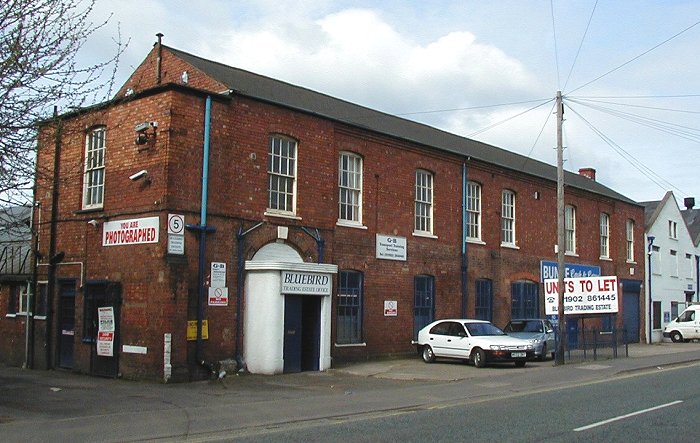 The front of the Ever Ready factory in Park Lane, in 2001. Most of the building has since been demolished.
During the first world war production was concentrated on the war effort and the items produced included torches, torch batteries, searchlights and sirens. After the war the company was in a poor financial state and the Managing Director was convicted for embezzling several thousand pounds.

As luck would have it, Ever Ready was interested in the factory and purchased the company in the mid 1920s. The works went on to employ nearly 3,000 people and produced large numbers of dry batteries and radio receivers.

Ever Ready's Canal Works in Lower Walsall Street.
photo courtesy of Trevor Ridgeway.

A few years later, motorcycle and vehicle manufacturer, A.J.S., went into liquidation and the company's Lower Walsall Street Works were put onto the market.

The works were sold to Ever Ready on 25th January 1932, for £12,750, and went on to become an important centre for the manufacture of torches. The works became known as Canal Works.
The Radio Era
Ever Ready's commercial policy was to encourage the use and production of battery powered equipment, and with this in mind the company entered the radio manufacturing business. The first two Ever Ready receivers appeared at the beginning of 1935 and strangely one of them was mains powered. Initially Ever Ready collaborated with Pye and Mr. Charles Orr Stanley who owned Pye, was invited onto Ever Ready's Board as a non-executive director. The chassis and cabinets were made by Pye and put-together at Ever Ready's Finsbury Park factory, which was supervised by Pye management. The collaboration only lasted for a few years. Just before the war Charles Stanley fell out with Magnus Goodfellow, who was Ever Ready's Chairman, and the venture came to an end.
The Sky Baronet valve portable.
The Lissen factory at Islington was still in production and at the beginning of the second world war it obtained a ministry contract to assemble and repair "Comfort Sets" for the armed forces. All went well until 1941, when the factory was destroyed in an air raid. The company was tied to the ministry contract and so it was essential to quickly find new premises, and continue production. Initially manufacturing began again at Amersham, Buckinghamshire, but the buildings were too small and unsuitable for this kind of use. Space was found at Canal Works and in 1942 Ever Ready began to build radios in Wolverhampton. More space was still required and so the radio department soon made its final move to Block 'A' of the Park Lane works.
Although the radio department was situated in a part of the battery works, it operated as a separate unit and reported directly to the company's Board of Directors. After the war, the department began to produce radios for the civilian market, and all future Ever Ready radios were designed and built here, except for the Type 'B' of 1947, which was built by Plessey.

The first receiver to be produced after the war was the Model 'A', which was a development of the wartime "Comfort Set". It was a heavy 4 valve superhet in a wooden case with a crackle paint finish. The controls and carrying handle were on the top, and it was powered by a B103 battery.


The Sky Captain.
The next model produced here was the Model 'C', which was still as heavy as the Model 'A', but had a more elegant appearance. One notable early receiver was the 'J' Type or "Saucepan Special" which was launched in September 1949. Laurence Orchard was one of the company's senior executives. In 1948 he was on a visit to Ever Ready's South African subsidiary, BEREC ( the British Ever Ready Export Company).

The Saucepan Special.

While there he was approached by the man in charge of broadcasting in Nyasaland and Rhodesia. He wondered if Ever Ready could produce a tropicalised dry-battery radio that could sell for £5, as this was all that many members of the rural community could afford. The company rose to the challenge and developed a small 4 valve shortwave receiver that was powered by a B136 battery.

One problem was to find a cheap housing for the receiver. This was cleverly solved by using a blue-sprayed metal case that was made by the British Aluminium saucepan factory. It was basically a 10inch saucepan with the handle removed and a hole punched in the bottom for the loudspeaker. The radio sat on the B136 battery, which was too big to fit inside. The radio was sold in many parts of the world, including Malasia, and almost a quarter of a million were produced.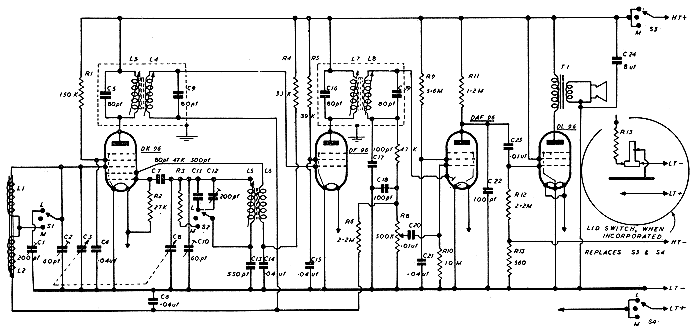 The circuit diagram of the Berec 'Ballerina'.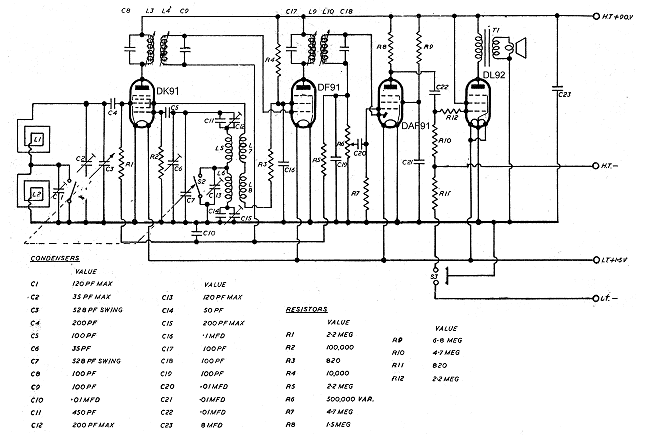 The circuit diagram of the type 'N' from 1951.
The 'J' Type was followed by the 'K' Type and then the 'N' Type, after which the company began to use the word 'Sky' in most of the names of new receivers. This came from the old Lissen days when Lissen produced its successful range of Skyscraper receivers. In 1957 the company produced the Sky Leader, which was Ever Ready's first transistorised receiver. The company's last valve receiver was the Sky Captain of 1961. The radios were very successful and production peaked at about 5,000 receivers per week. The factory produced over 1 million radios.
Early Receivers Produced in London

Model

Year

Valves
5007
1935
K80A, K50M, K23B, K77A
5008
1935
TP2620, VP1321, PENDD4020
5012, 5024, 6012
1936
K50M, K30D, K70B
5016
1936
A50P, A50B, A70D, A11D
5027
1937
A50P, A30D, A70D, A11B
5028, 8122
1937
K50M, K30D, K70B
5029, 5040
1937
A36B, A50P, A23A, A70D,
A11D
5032
1937
K80B, K50N, K23B, K70B
5038
1937
A80A, A50P, A27D, A11D
5010
1938
K50M, K30K, K30K, K70D
5010, 5118
1938
K80B, K50N, K23B, K70B
5041
1938
K50N, K30K, K30K, K70B
5103, 5117
1938
A36B, A50P, A23A, A70D,
A11D
5203
1939
ECH3, EF9, EBC3, EL3, AZ1
5214, 5215, 5216, 5217, 5218, 5219, 5318
1939
DK1, DF1, DAC1, DL2

Valve Receivers Produced at Wolverhampton

Model

Year

Valves
Model 'A'
1945
DK32, DF33, DAC32, DL35
Model 'C'
DK32, DF33, DAC32, DL35
Model 'H'
Model 'J' - "Saucepan
Special"
1949
Model 'K'
DK91, DF91, DAF91, DL92
Model 'N'
DK91, DF91, DAF91, DL92
Sky Queen T K
DK91, DF91, DAF91, DL92
Sky Queen
1953
DK96, DF96, DAF96, DL96
Sky Prince
1954
DK96, DF96, DAF96, DL96
Briefcase N3
1955
DK96, DF96, DAF96, DL96
Sky Monarch
1955
DK96, DF96, DAF96(2),
DL96(2), DM70
Sky Monarch (AM / FM)
1955
DF97, DK96, DF96(3),
DAF96(2), DL96, DM70
Sky Monarch (AM / FM)
1956
DF97, DF96(4), DAF96(2),
DL96(2), DM70
Sky Baby
1956
DK96, DF96, DAF96, DL96
Sky King
1956
DK96, DF96, DAF96, DL96
Sky Princess
1956
DK96, DF96, DAF96, DL96
Sky Lord
1957
DK96, DF95, DAF96, DL96
Sky Casket
1958
DK96, DF96, DAF96, DL96
Sky Emperor
1958
DF97(4), DK92, DAF96,
DL96(2), DM70
Sky Queen 2
1959
DK96, DF96, DAF96, DL96
Sky Baronet /Countess
1959
DK96, DF96, DAF96, DL96
Skyscraper L26
DK92, DF96(2), DAF91, DL94
Sky Captain
1961
DK96, DF96, DAF96, DL96

Transistor Radios

Model

Year

Transistors
Sky Leader
1957
OC44, OC45(2), OC78(3)
Sky Leader
1957
OC44, OC45(2), OC71,
OC72(2)
Sky Personal
1959
XA102, XA101(2), XB113,
XC121(2)
Sky Personal
1959
XA102, XA101(2), OC71,
OC72(2)
Sky Baron
1960
XA102, XA101(2), XB113,
XC131(2)
Car Portable
1960
OC44, OC45(2), OC82(3)
Sky Lark
1963
OC44, OC45(2), OC81D,
OC81(2)
Sky Master
1963
AF117(3), OC81D, OC81(2)
Sky Tourer
1964
De-Luxe Receiver

Some of the Berec Receivers

Berec Ballerina
Berec Brigand
Berec Commander
Berec Demon
The Radio Department
Everyone in the department worked closely with other members of the team and helped to maintain the quality of the products. A family-business atmosphere prevailed and everyone enjoyed their time at Ever Ready.
The management team was as follows:
| | |
| --- | --- |
| Freddy Hillman | Factory Manager |
| Tom Harrison | Production Manager |
| George Webster | Chief Inspector |
| Roland Williams | Quality Control and Test |
| Bob Lampitt | Chief Engineer |
| Tom Poulton | Assistant Factory Manager |
New products were designed by Bob Lampitt and his team of engineers and designers. Prototype receivers were subjected to a critical analysis to determine the best method of assembly. Tom Harrison (Harry), and Roland Williams and his team, decided what sections were to be made as sub-assemblies, and what metal pressings were required.

They also decided on the coils and transformers that would be produced in the coil winding section, tag boards, battery and loudspeaker leads, silk screening artwork, for printed items, case covering, and a thousand and one other things.


The Sky Master.
A pre-production batch of six or more receivers were assembled by a select group, who in co-operation with the drawing office and laboratory, carried the new model into production. These receivers were used to prove the design, establish quality standards, test procedures, and timings to determine the "rate for the job". Once finalised, the assembly of large quantities followed, along with test, packing and despatch.

The end of a day's work.
photo courtesy of Trevor Ridgeway.

The Ever Ready Van Sales force distributed many of the finished products to radio shops, outlets selling batteries, general stores and cycle shops.

Large quantities of receivers were distributed by BEREC and others were sold to mail order companies and Wireless for the Blind.
By 1968 it was all over. Ever Ready decided to close the radio department and concentrate solely on battery manufacture at Park Lane. Just before closure the team designed and produced a prototype portable television receiver that ran on dry batteries. It used electrostatic deflection to reduce power consumption and was far ahead of its time.
Battery production continued at Park Lane until the spring of 1980, when the works finally closed. Demand for the company's products had slowly been falling and the works were no longer profitable.
---
I would like to thank Trevor Ridgeway and his wife, for all of their help in producing this section.