---
The Type 'Z' Receiver
This is what A.J.S. had to say about the receiver. It shows how people's ideas about, and use of radios, have changed since the early days. Bear in mind that this is a very simple type of receiver, consisting of an aerial tuned circuit, with reaction from the first stage to give better selectivity and sensitivity. Most people would not accept this type of performance today, when compared with the performance that we get from modern receivers.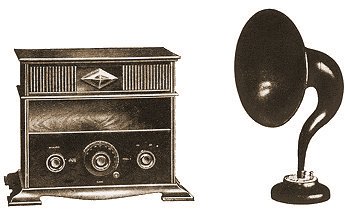 "The A.J.S. 2-Valve Cabinet receiver is a self-contained instrument with a wave-length range from 60 metres upwards, depending on the coils used. When used on a standard 100-foot aerial, and under normal conditions, it will give loudspeaker reception over a distance of 20-25 miles from a normal Broadcast Station, and 100 miles when receiving from the High Power Station. In quoting these figures we have taken great care not to exaggerate, and it is highly probable that in most cases loudspeaker reception will be heard over much greater distances. When headphones are being used it will come as a surprise to most purchasers to learn how far broadcast programmes can be heard.
This receiver is built into an upright cabinet of solid mahogany and of handsome design. We would like to emphasize the fact that the workmanship is equal to, and in keeping with, the cabinet work of our most expensive models.

An ebonite panel, on which is mounted three knobs, is let into the front of the cabinet. Two of these are used in operating the receiver, the third one being used for switching off and on. All valves and coils are contained within the cabinet, but may be brought to view by merely raising the deep hinged top. This protects the valves from damage, and preserves the neat appearance, which would otherwise be spoilt if the coils etc., were exposed.
This receiver is not built from cheap components made to make a cheap set, and put in a handsome container in order to deceive the public. The variable condenser, for example, is the identical model used in our most expensive sets, and is probably one of the most efficient low-loss, straight-line wavelength condensers procurable.

This means that a more open scale reading is obtained on low wavelengths than is used on an ordinary condenser. This condenser has an extremely low minimum. It is mounted with a metal shield which eliminates all possibility of hand-capacity effects. The condenser dial is provided with a neat and simple means of obtaining a vernier adjustment.

The two valve receiver and Junior horn loudspeaker, from the Symphony catalogue. Courtesy of John Chapman.
We have gone to some length in describing this condenser, as the condenser is probably the most important component and one of the factors which make short-wave reception possible on this receiver.
| | |
| --- | --- |
| The A.J.S. accumulator carrying case. | Two plug-in coils, which cover the whole broadcast range (except the high power), are supplied; other coils can be purchased separately. One of these coils acts as the aerial coil, the other as a reaction coil. Owing to a unique feature in the design of the circuit, reaction is not fierce, but is very smooth and even; this, and the fact that the moveable coil is operated through a smooth-acting vernier movement equivalent to a gear ratio of 40:1, ensures ease of manipulation and perfect control. The circuit is choke coupled, as we firmly believe that this is the most practicable method of procuring distortionless amplification of speech and music over the whole range of the audible scale. A further advantage of choke coupling is that it tends to minimise many forms of low frequency disturbance. Dull emitter valves are supplied with this set. They are of the A.J.S. Mullard type. When used with the accumulator supplied they should enable the set to be run for 100 hours before the accumulator requires recharging. |
Plug-in resistors are fitted in front of each valve, and should the purchaser at any time desire to use other valves, theses resistors may be changed. The accumulator is supplied in a compact case, complete with close fitting lid and carrying handle. It will be to your advantage to read the instruction label attached to the accumulator when it comes to you. An A.J.S. Junior loudspeaker is supplied with the set. This is not a baby model, but stands 19 inches high, and produces full, round tones.

This receiver is supplied by itself, or as a complete receiving installation. By a complete installation we mean that not a single extra component or accessory need be purchased. A length of wire will be required to connect the aerial to the receiver and the receiver to earth. This is not included, as the length varies in nearly every case."

Specification of complete 2 valve loudspeaker installation

Cabinet receiver, 2-valve, Type 'Z' as illustrated.
1 - A.J.S. Junior loudspeaker.
1 - accumulator, A.J.S. Lucas 'Milam', 2 Volt, 50 Amp.
2 - valves, A.J.S. Mullard 2 volt dull emitter.
2 - 50 volt H.T. batteries.
1 - set of A.J.S. coils, 45 and 50, to cover 255 to 55 metres.
1 - set of connecting wire.
1 - coil (100 feet) of aerial wire, copper 7/22 gauge.
2 - shell insulators.
1 - 9" Lead-in tube.

Price of receiver only _ _ _ _ _ _ _£8.2s.6d.
Price Complete _ _ _ _ _ _ _ _ _ _ £13.18s.6d.
---