| | | |
| --- | --- | --- |
| | | |
---
Henry Meadows Limited was founded on Tuesday 15th April, 1919 at a business meeting held in the Little Swan, Horseley Fields, Wolverhampton. The aim of the meeting was to establish a company to manufacture gearboxes for the many vehicle manufacturing companies that were appearing at the time.

The meeting was attended by a number of local businessmen including Mr. S. H. Ellard who was appointed company Chairman, and Mr. Henry Meadows who became Managing Director.

Henry had an interesting career having previously worked for Clyno in Wolverhampton, The National Fuse Factory in Tipton, and Harper Bean Limited, also in Tipton.

Land was soon acquired on which to build the first part of the Park Lane Factory. It consisted of a four bay machine shop, a fitting shop, a hardening shop, stores, and an office. The factory would eventually grow to cover around 14 acres.


The Little Swan, Horseley Fields.

An advert from 1922.

The company's first gearbox was produced in May 1920 for a lorry manufactured by the Vulcan Motor & Engineering Company, which became an important customer. It had 3 forward speeds and reverse. Henry possibly had links with Vulcan because his previous employer, Harper Bean Limited, owned 75 percent of the company. Over the next 12 months or so gearboxes were supplied to other companies including Coventry Climax.

In June 1920 Wolverhampton Councillor Alfred George Jeffs was appointed company Chairman. He became a director in September 1919, and had been Mayor of Wolverhampton from 1918 to 1919.

A new addition to the board in August 1921 was Mr. John E. Dorman, a skilled engineer who had previously worked in his family's engine manufacturing business, W. H. Dorman & Company Limited, at Stafford. After his appointment thoughts turned to the production of internal combustion engines.

Around the same time Mr. R. S. Crump became Chief Designer, and work quickly began on the company's first petrol engine, which had four cylinders, overhead valves, and a capacity of 1.247 litres. It was exhibited in the 1922 Motor Show at Olympia. Initially around 8 to 10 engines were produced each week.
| | |
| --- | --- |
| | |
| Read an article about the Meadows 1,795 cc. engine | |
| | |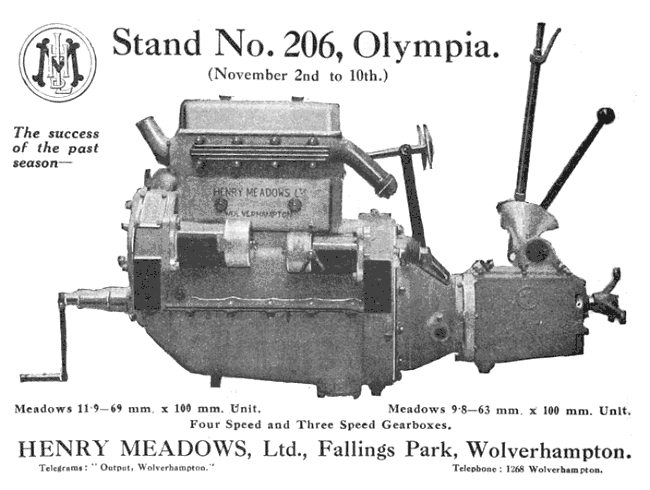 An advert from 1923.
Production soon increased, and engines were supplied to many famous manufacturers including Lagonda, Invicta, Lea Francis, Bean and Frazer-Nash.

The engines ranged in power from 15 to 270 bhp, one of the most popular being the 1½ litre, four-cylinder 'Type 4' ED engine, widely used by Frazer Nash and Lea Francis during the 1920s.

Another successful product, the 4.5 litre six-cylinder 'Type 6' engine is best remembered as the power unit for Invicta and Lagonda cars.

In 1923 Meadow's next door neighbour, Guy Motors, produced a car, powered by the first British-made V8 engine.

Very few of these well-designed cars were built. One of them was given to Henry Meadows, who drove it consistently for many years.


Henry Meadows. Courtesy of John Meadows.
Lea-Francis of Coventry were amongst the first of the car manufacturers to specify the Meadows four-cylinder, overhead valve, 1¼ litre, and 1½ litre engines, which between 1923 and 1932 were fitted to more than 4,000 Lea-Francis cars. In 1928 a Cozette supercharged Meadows 4ED 1½ litre engine, powered Kaye Don's Le-Francis 'Hyper' sports car, which won the Ulster T.T. Four-cylinder Meadows engines were also used in the Frazer Nash 'T.T. Replica' model which was very successful in trials events.
The Invicta and Lagonda companies used the larger, six-cylinder Meadows engines. Most of the Invictas produced in the 1930s had Meadows engines. Meadows also produced a wide range of gearboxes, power transmission units, and generating sets.

Windermere House.

Five years later Henry moved into a lovely new home, Windermere House in Copthorne Road, Wolverhampton.

In the early 1930s, T. E. Shaw (originally T. E. Lawrence), better known as Lawrence of Arabia, stayed at the house whilst working with Henry on the development of twin engine air/sea rescue boats for the RAF. By this time the company was producing record-breaking marine engines.

In 1931 Henry Meadows junior began working with Hubert Scott-Paine who designed and raced power boats, and owned the British Power Boat Company, based in Hythe Shipyard, Southampton. Scott-Paine was a director of both Henry Meadows Limited, and the British Power Boat Company.
A photograph of Windermere House taken from the details of the house sale, which occurred on 16th November, 1927 in an auction at the Victoria Hotel.

Henry Meadows purchased the house for £2,500.
| | |
| --- | --- |
| | Another photograph from the house sale brochure showing a small wooden building at the bottom of the garden, known as the 'Garden Bungalow'. |
Soon after their entry into the market, the Meadows engines attracted the same kind of attention amongst enthusiasts for high-speed boats as the earlier engines had attracted in the sports car world.

The 4.5 litre model became standard in Scott-Paine's high-speed craft, and soon British power-boats were becoming famous world wide.

In January 1936 Henry Meadows succeeded Alfred George Jeffs as Chairman, but unfortunately he only held the post for a short time.

Sadly Henry died in July 1937 at the age of 57. His sudden and unexpected death must have come as a great shock to his family, and everyone who worked for the company. The funeral service was held at St. Philip's Church in Penn Fields, Wolverhampton, after which he was buried in St. Philip's graveyard.

By 1938 Meadows had firmly established itself, and the Fallings Park works now covered 16,000 square feet.


An advert from 1932.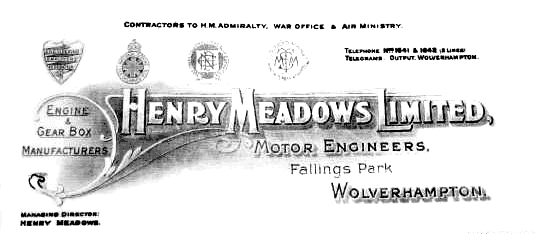 A Henry Meadows 1932 letterhead. Courtesy of John Meadows.
Two views of Henry Meadows' grave. His coffin was carried into St. Philip's Church by members of staff and representatives from the factory, past a long double line of employees, on either side of the path leading to the church. A large number of mourners were present, and over 100 wreaths were sent.
Guy Motors became an important customer thanks to the introduction of the 4 ELA engine, produced for Guy's commercial vehicles. Many thousands of these engines were built, and used in a wide variety of applications, such as driving pumps, welding equipment and compressors.

At the beginning of World War 2 the four-cylinder engine, capable of delivering 60 horsepower, was fitted to the Guy Quad Ant gun tractor, and the Guy tank.

Meadows engines were also used in other tanks. The Cruiser Mk V tank called the Covenanter was powered by a Meadows DAV engine, a horizontally opposed, overhead valve, flat twelve, which delivered 300 hp at 2,400 rpm. The tank also had a Meadows four-speed and reverse crash gearbox.
The Light Tank known as the Tetrarch, produced by Vickers-Armstrong in the late 1930s was fitted with a Meadows 12-cylinder petrol engine that delivered 165 hp.

During the war Meadows worked flat-out to fulfil orders for large numbers of engines and transmissions for tanks, commercial vehicle engines, generating sets, and trailer pumps etc. The increase in production led to the building of the Cannock Road factory buildings, which added a further 10 acres to the site, and were equipped with the latest machinery.

In the 1930s development began on a diesel engine, which culminated in the production of an engine with a 4.13 inch bore, and a 5.91 inch stroke, using the Lanova Combustion chamber with fuel pump, injectors and glow plugs supped by Bosch.

During the Second World War the factory was turned-over to the production of the Meteor engine, a non-supercharged version of the Rolls-Royce Merlin Engine, producing 600 hp. It was used in the Cromwell Cruiser Tank.
The work on the pre-war diesel engine led to the introduction of the well-known 4 and 6 cylinder direct injection diesel engines of 130mm bore and stroke. The engines ran at a lower speed which led to a marked reduction in wear.

The 6 cylinder 6DC.630 diesel engine had a maximum output of 127 bhp at 1,800 rpm using a 130 mm 'square' form bore and stroke. It used a C.A.V. type 'N' fuel injection pump and came complete with a robust 5-speed gearbox with overdrive. The engine was used in some of Guy's 'Invincible' chassis.


The Meadows 6DC.630 diesel engine.

The Meadows 6HDC500 diesel engine.

The 8 litre 6-cylinder 6HDC500 diesel engine had a maximum output of 161 bhp at 2,500 rpm.

It used a direct fuel injection system and a special automatic advance governor to ensure maximum fuel economy.

Its small size enabled it to be mounted below the chassis and so was ideal for use in buses such as the Guy 'Victory'.
Another successful product was the Meadows diesel generating set. Many versions were produced for remote high power mains supplies and for use as a backup supply when mains power failed.

The generating sets reached maximum output in 10 seconds and could supply 135 kW of power. They were a compact and robust unit, many of which used the Meadows 970S engine.

A Meadows generating set was used by the 1957 British Antarctic expedition. Upon contacting the expedition to check on its performance, the engineers were told "We haven't seen it for over 10 days! Its buried in deep snow, we just keep pouring diesel down the feed pipe and exhaust fumes come out of the other, so yes its doing a great job!"

Also two of the generators used for the Nuclear tests at Maralinga, Western Australia, survived an explosion described as "No more powerful than a few tens of thousands of tons". Although superficially damaged, they easily started after the explosion.
Meadows also worked jointly with D. Wickham & Company Limited, of Ware, to produce diesel engines for railway locomotives.

Amongst Wickham's customers was the Bas Congo Katanga Railway. In 1954 locomotive units were supplied with Meadows' 130 bhp diesel engines. Rail buses were also purchased by British Rail in 1957 for use on Scottish branch lines. They were powered by Meadows HDT500 six-cylinder, 8.14 litre flat diesel engines.

In the late 1940s Meadows had one of the most modern engine factories in the country. In 1949 this led to a close liaison with the Brush-ABOE Group of Companies (Associated British Oil Engines).

Meadows produced a range of diesel engines that had been designed by Brush, and also supplied gearboxes to Brush.
In 1951 Associated British Engineering Limited, a major Meadows shareholder, acquired most of the remaining shares in the company, and took over in 1952.

Production included engines for Scammell, Dodge, and ERF. The company's products were sold throughout the world and used in all kinds of road vehicles, trains, and boats. They were well known for their reliability.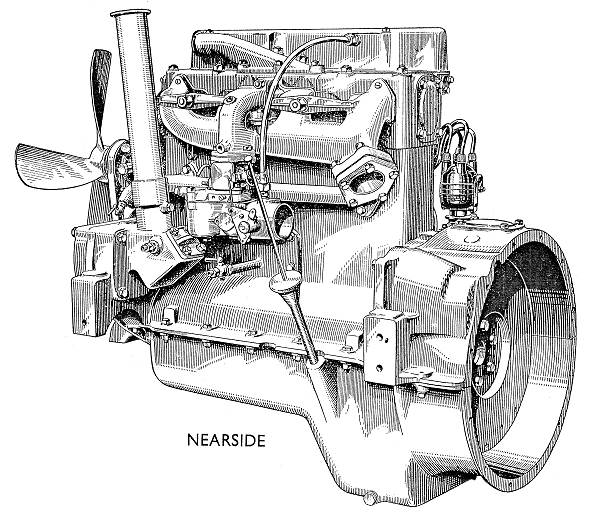 The Meadows 4EL/A engine.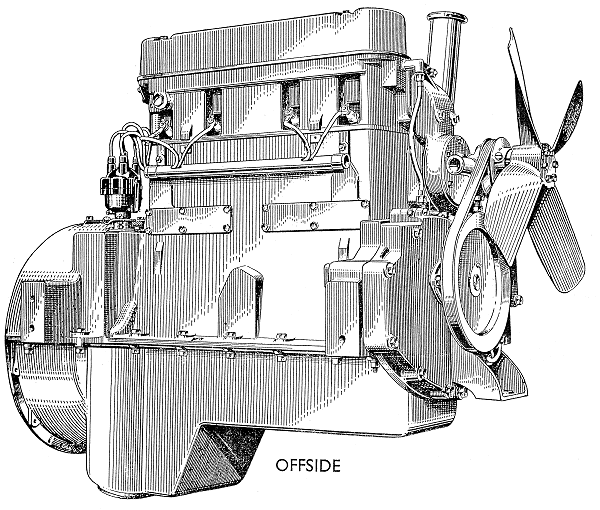 Another view of the Meadows 4EL/A engine.

Courtesy of John Meadows.

In the late 1950s the company started on a new and entirely different venture, the production of a lightweight car. Racing driver Raymond Flowers contacted Mr. Lawrence Robson, Chairman of Associated British Engineering Limited, and Chairman of Henry Meadows Limited. Lawrence liked the idea, and the company decided to go ahead with the project.

A prototype version of the new car called the Meadows Frisky was launched at the Geneva Motor Show in 1957. The first production version called the Frisky Sport was launched later that year at the Earls Court show. A number of models were produced, but sales were poor because the hand-built cars couldn't compete with the cheaper mass-produced competition.

By this time the site covered over 14 acres and the company employed more than 1,200 people. The engine export business continued to grow and large numbers of diesel engines were supplied to Chamberlain Industries Limited, of Perth, Western Australia to power their famous "Countryman" tractors.
Hundreds of Meadows 4 DC 330 diesel engines were also shipped to India in component form. In later years the company concentrated on large-scale production of transmissions and gearboxes of all kinds.
Some of the components were incorporated into Lotus formula racing cars and used in the Elite and Mk. 7 Series 2 Formula junior car. The popular 250CS5 compact gearbox used a Porsche synchromesh unit and was designed for heavy-duty work. Considering its robust construction the gearbox occupied the minimum amount of space.

Remote controls for marine applications were also produced and a fully equipped modern metallurgical and scientific laboratory was at the disposal of local industry.

On 1st January 1965 it was announced that Jaguar Cars Limited had acquired Henry Meadows. The Coventry based company planned to use its new acquisition to augment the manufacturing facilities for the Jaguar-Cummins diesel engine project.

Unfortunately the project did not materialise as planned. Instead of producing the engines in the UK, they were imported from Cummins' factory in Columbus, Indiana, USA.


Courtesy of John Meadows.
During the following year British Motor Holdings was created by merging The Jaguar Group, consisting of Jaguar, Coventry Climax, Daimler, Guy Motors, and Henry Meadows, with BMC. In 1968 British Leyland was formed by the merger of British Motor Holdings and Leyland Motor Corporation.

Sadly British Leyland decided to close Henry Meadows, Limited. On 14th November, 1968 this was mentioned in Parliament when Mrs. Renee Short, Labour MP for Wolverhampton North East asked Barbara Castle, the Secretary of State for Employment and Productivity under the Wilson Government, if she was aware of the decision by the British Leyland Motor Corporation to close down Henry Meadows Limited of Wolverhampton; and whether she would take action to ensure that the equipment was not left idle, and so safeguard the jobs of the employees.

Her reply was as follows:

I am aware of the decision. The disposal of the equipment is a matter for British Leyland Motor Corporation and my Department has no powers to intervene. As the closure of the factory is to be phased between February and May, 1969 and the employees have received early warning, I am hopeful that the majority will be able to find other jobs without any lengthy gap in employment. My local officers will do all they can to help.

The writing was on the wall, and the factory closed as planned, which was a terrible end to such a once-important manufacturer, and local employer. The site, which has now been redeveloped, consists of factory units. Only a tiny part of the original factory still survives. It is used by a clothing manufacturer.
| | |
| --- | --- |
| Courtesy of John Meadows. | |
| | |
| --- | --- |
| | Courtesy of John Meadows. |
| | |
| --- | --- |
| Courtesy of John Meadows. | |
---
I would like to thank John Meadows, grandson of Henry Meadows, for his help and assistance in producing this section. John has an excellent website featuring Frisky cars at: http://www.meadowsfrisky.co.uk/
---