During the Second World War Villiers again had to turn to making munitions. They claimed that "some of their production schemes considerably lowered costs compared with the methods then used in ordnance factories".
The Government urgently needed small four-stroke engines, most of which had come from America until U-boats started to cut off supplies.
Villiers offered to make an entirely new unit to take the place of the American engines, and in four months the first was ready for tests. They passed the tests and the production engines were used by all three Services all over the world.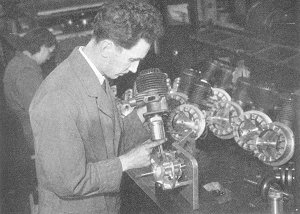 A Mark 25C cylinder is being fitted to the crankcase in the final assembly shop at Villiers' works, in 1953.