---
This is one of the Black Country's industrial success stories, about a business that thrived and expanded, taking over a large number of manufacturing companies throughout the UK and abroad. In the 1970s the group employed over 4,300 people in the UK alone.
The early years
John Brockhouse was born and brought-up in Wednesbury. He arrived in the world on 31st December, 1844 and was baptised at Spring Head Wesleyan Chapel. His father was a smith, but by the age of twelve both parents had died, leaving him an orphan. He began to serve an apprenticeship at the local firm of R. Disturnal & Company at Bridge Works where springs and axles were produced. John had a terrible time there due to his master, a man named Deeley, who would beat the boy, half-starve him and overwork him as much as possible. After nearly three years he couldn't stand anymore of the harsh treatment and left on Christmas Eve, 1859, a week before his 15th birthday.
He managed to obtain a week's board and lodging from a Miss Amos in Queen Street, Wednesbury, on the understanding that he would pay later. He quickly managed to find a job at John Rigby & Sons, at Rigby Street, Holloway Bank, who like R. Disturnal & Company made springs and axles. At the age of twenty he moved to Richard Berry & Son, of Alma Street, Birmingham who were spring makers. Around this time John Brockhouse married Maria Roberts from Wolverhampton and they had a sizeable family of six sons and a daughter.
In 1865 John Rigby wanted him to return to his company as a manager, but Richard Berry did not want to loose him and so offered him an identical post at an identical salary. John was unsure what to do and asked John Rigby if he would pay the cost of moving his furniture and belongings back to Hill Top. John Rigby agreed and John Brockhouse returned as a manager, remaining at the firm until John Rigby's death, nearly 20 years later.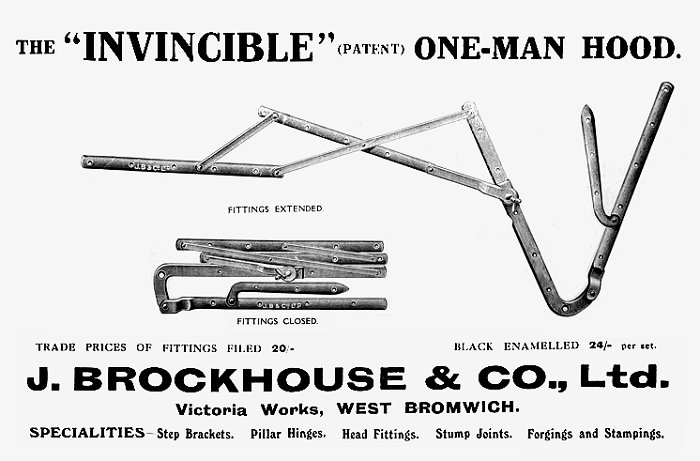 An advert from 1914.
John Rigby junior was not such an able businessman as his father and the business began to suffer. John Brockhouse felt uneasy about his future because he had a family to support and so discussed the matter with Maria. There were two options, emigrate to Australia or enter into business on his own, to produce springs and axles in direct competition with his current employer. They decided on the second option, which Maria made possible by opening a haberdashery shop that would pay for the upkeep of the home and the education of their children, until the business could take off.
In March, 1886, John Brockhouse opened his first factory, making springs and axles in a small rented building behind James Lloyd's butcher's shop at Harvills Hawthorn, West Bromwich, adjoining the Samson and Lion Inn. John's first employees were James Adams (fitter), Jerry Colley (blacksmith), William Colley (horse driver), Robert Stokes (spring roller), Ernie Walters (cutting-off), William Wheeler (grinder), William Wilkes, and James Wooton (fitter).
The venture was so successful that in 1888 John Brockhouse could have a small factory built in Howard Street near Joseph and Jesse Siddons' foundry at Hill Top where there was a canal wharf next to Daniel Howard's factory where boiler and gasometers were made. John's factory, which initially produced springs for broughams, hansom cabs, Jaunting cars, costers' barrows, and springs for rickshaws, flourished and was soon extended.
Expansion
In the mid 1880s forgings were added to the firm's products when the first drop hammer was installed in the factory. Axles and coach fittings were added to the product list. In 1897 new extensions including an office block were added and the factory became Victoria Works to commemorate Queen Victoria's Diamond Jubilee. The business continued to prosper and Maria could now close her shop. Their son John had a good job with the Metropolitan Bank and three of his brothers were also in good employment. The other two sons Frederick and Henry both worked in their father's business.
In February 1898 John Brockhouse's firm became a public company and J. Brockhouse Limited was formed with a nominal share capital of £50,000. John had been advised to make this move by Charles Akrill of Golds Green Foundry who wanted to be a director of the new company. The business had been valued at £24,580.9s.6d. and John Brockhouse received £15,747.9s.6d. in cash and £8,833 in shares. There was also an agreement that John and his two sons could continue working for the firm for at least five years, at a salary largely dependent on profits. John Brockhouse became Managing Director, Henry Brockhouse, Company Secretary, and Frederick Brockhouse, Works Manager. The chairman being Samuel W. Smith of the Imperial Bedstead Company. At the end of the first year a reasonable profit was made and the shareholders received a ten percent dividend.
Acquisitions and New Products

John Brockhouse's old employer Richard Berry & Son of Birmingham were suffering from intense competition. Richard and his son had died and springs were selling for just 14 shillings per hundredweight.

In March 1899 the declining business was purchased by J. Brockhouse Limited. Over the next few years the company also acquired J. Bradley & Company, Insole and Grinley, and the Duncan Spring Company.

John Brockhouse soon realised that the sale of cart and carriage springs would soon decline due to the coming of the motor car. The company ensured that it would be ready for the inevitable demand for motor springs and fittings.

Before the First World War there was a boom in bicycle making and so the company opened a department for the production of the 'Oxford' bicycle, but production soon came to an end when road axles were added to the company's products.

Other businesses were also acquired to obtain a better stake in road axle manufacturing.


An advert from the late 1920s.
In 1910 another of John Brockhouse's old employers was acquired when the firm purchased R. Disturnal & Company Limited of Wednesbury, and in 1911 the firm acquired A. H. Taylor (Springs) Limited. In the same year, Samuel Smith, who was Chairman of the Board, died. Sir James Smith took over his role and Henry and Frederick Brockhouse were elected as Directors at the annual general meeting.
John Brockhouse had a great interest in politics and in 1895 became the Liberal councillor for Hill Top Ward. He became a Justice of the Peace in 1906, and was elected Mayor in 1909 and 1910. In 1911 during the company's Silver Jubilee, John attended the Coronation of King George V in Westminster Abbey. The company's shareholders presented him with some silver plate and his portrait, painted by C. S. Harper.
Maria Brockhouse died in 1913 after being married to John for 47 years. By this time the company's products included axles and ironwork, motor, carriage and van springs. There were now around 700 employees. Two of John's other sons joined the firm. Arthur became a coach spring fitter and Frank became a foreman in the factory. In 1914 the firm acquired Richards & Company Limited, of Wednesbury who made axles, and in 1915 acquired James Leach & Company Limited of Leeds. The following year saw the purchase of Joseph Gibson and Company.
John Brockhouse's fourth son, John Thomas Brockhouse, left the bank and joined the board of directors. Unfortunately his brother Henry, who had been Company Secretary since 1898 disagreed with him about future policy and left the firm to start a spring manufacturing business for Vickers of Sheffield. It was a sad time for the family because Frederick Brockhouse died in October 1918 and Henry Brockhouse died in 1921. Frederick Brockhouse was succeeded as Works Manager by Frank Brockhouse.
Further acquisitions followed including the purchase of Lones, Vernon and Holden Limited of Smethwick, in February 1919. The firm produced railway ironwork.
1922 was a significant year. The company's founder and Managing Director John Brockhouse, died at the age of 77. He was succeeded by his son, John Thomas Brockhouse. It was also a bad year financially because the company made a loss of £19,196 even though 1921 had been the firm's most profitable year. The loss was due to a general depression in trade.
Conditions improved in 1923, when the company made a profit of £21,166. Sales continued to increase in the following years, although arguments between members of the Board in 1924 led to a reshuffle. Sir James Smith and Mr. F. Leach resigned, Mr. Thomas Hampson died and Sir T. Harris Spencer, K.B.E., became Chairman. John Thomas Brockhouse continued as Managing Director and his brother Frank continued as a Director. Two new Directors were appointed, Mr. E. B. Burton and Mr. N. S. Shaw. Mr. E. P. Ash became Company Secretary.
In 1928, profits were over £30,000 and a dividend of ten percent was paid, but profits then fell for a time due to the slump in the early 1930s. R. Disturnal & Company of Wednesbury began to specialise in fittings for coach and motor body work, as well as manufacturing large quantities of brass and aluminium sections.
In 1932 J. Brockhouse & Company of Smethwick took over the manufacture of AGA cookers from Bell's Heat Appliances. In the following year Aga Heat Limited was formed to acquire the two companies concerned with the manufacture and sale of Aga appliances: Bell's Heat Appliances and B. H. A. Production. In 1935 it was taken over by Allied Ironfounders.
When Brockhouse's Chairman, Sir T. Harris Spencer died in April 1934, he was succeeded by John Thomas Brockhouse. Also in June of that year the company opened a factory in Glasgow and in the following year acquired Albion Drop Forgings Limited.
In 1936 John Brockhouse Limited took over the District Iron and Steel Company of Smethwick whose premises were next door to Brockhouse's laminated springs and railway ironwork company. Brockhouse also acquired the Dawkins Enamels and Foundry Company of Wednesfield, which then became Brockhouse Castings Limited.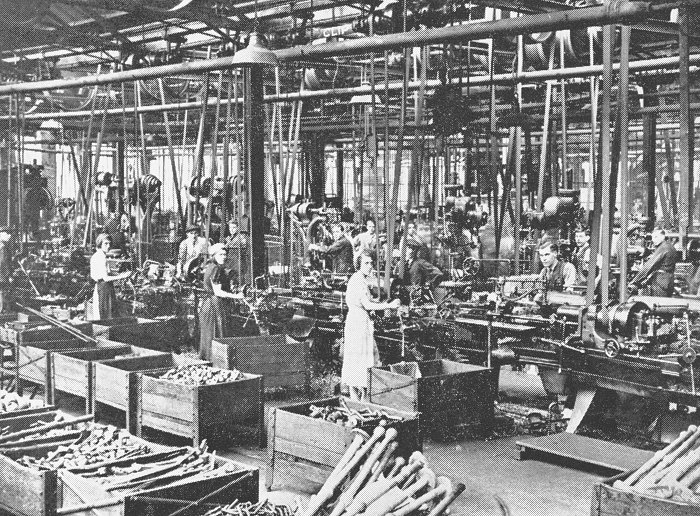 The machine shop in about 1935.
Brockhouse had a large display at the British Industries Fair in 1937. The company's exhibits included drop forgings for railway work, tramways, shipbuilding and general engineering. During that year, profits doubled and the authorised capital was increased to £1m. The company also acquired the Vulcan Motor and Engineering Company of Southport and sold the motor vehicle manufacturing part of the business, which would now concentrate on general engineering.
Brockhouse also acquired Lewin Road Sweepers Limited, Piercy and Company Limited of Birmingham, the ironfounders, R. J. Hunt and Son of Kings Norton, and the Vitreous Enamelling Company. At this time, John Thomas Brockhouse's son, John L. Brockhouse, who was lawyer, joined the Board and the firm sold the Albion Drop Forgings Company. In 1938 a profit sharing scheme was introduced for all employees and Vulcan Works was renamed Brockhouse Engineering (Southport). The company also took on a lot of armament work.
During the Second World War, more businesses were acquired. They were Greenway Bros. Limited; Orme Evans & Company Limited of Wolverhampton; Frank Morris Limited (printers); Meldrums Limited of Timperley (makers of stokers); John Brooks (Lye) Limited (maker of anvils and vices); Harvey Frost & Company Limited (makers of garage equipment, jacks and vulcanizing equipment); Ernest Lake Limited of Bishop's Stortford and the Warwick Rim and Sectioning Company Limited.

An advert from the early 1940s.

Meldrums Limited developed a new range of municipal vehicles under the 'Lewin' name and a hydraulic transmission system for use in all types of self-propelled vehicles.

The company also built two prototype prefabricated buildings which led to the formation of a prefabricated buildings company, which in 1944 became Brockhouse Steel Structures.

John Thomas Brockhouse died in 1944 and was succeeded as Chairman by Mr. E. B. Burton. John L. Brockhouse then became Managing Director.

John Thomas Brockhouse was born in 1879, and educated at West Bromwich Grammar School. In 1893 he joined J. Brockhouse Limited and after a period spent in the workshops he became Works Manager.

He was subsequently Managing Director and Chairman, and carried through a programme of progressive reorganisation and expansion. He died on 10th April, 1944, at the age of 65.

At this time the Brockhouse Group consisted of 24 engineering companies, including the latest acquisition, the Warwick Rim and Sectioning Company Limited.
In 1946 the Brockhouse Group acquired a Wolverhampton bus-building factory, from bus manufacturer AEC (Associated Equipment Company Limited). It had previously been Sunbeam Commercial Vehicles Limited. Around the same time Brockhouse acquired Elms Works, Penn Road, Wolverhampton, for the manufacture of high quality machine tools. In 1948 Brockhouse changed the name of the bus company to the Sunbeam Trolleybus Company, and in January 1949 it was acquired by Guy Motors of Wolverhampton.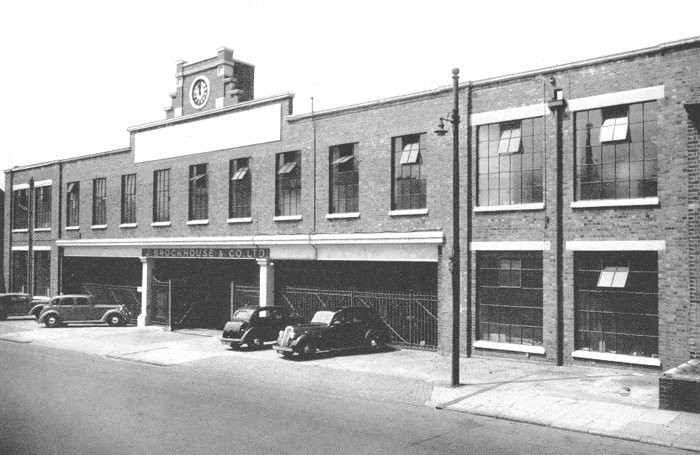 Elms Works, Penn Road, Wolverhampton.
The tool making division at Elms works, Penn Road, Wolverhampton produced high grade machine tools, automatic injection moulding machines, die casting machines, gear cutting machines, lathes, slideway grinding unit heads, keyseating, milling, broaching machines and overhauled all kinds of machine tools. They also carried out design work for other companies in the drawing office. Production continued at the factory until its closure in the late 1960s.

The Brockhouse Group also acquired companies abroad, the first being a factory in Johannesburg, purchased in 1947. It became J. Brockhouse (South Africa) Limited. In the same year a factory was acquired in Canada and in 1950 Brockhouse took over a company in Massachusetts, U.S.A. Also in 1947, Brockhouse acquired the British Motor Boat Manufacturing Company.

Mr. E. B. Burton died in 1948 and John L. Brockhouse became both Chairman and Managing Director. A position he held for many years.

Acquisitions in the 1950s included the Indian Motorcycle Company (which was sold to Associated Motor Cycles in 1959); ball bearing manufacturer W. E. Cramp and Sons of Tipton; and the District Iron and Steel Company.


An advert from 1953.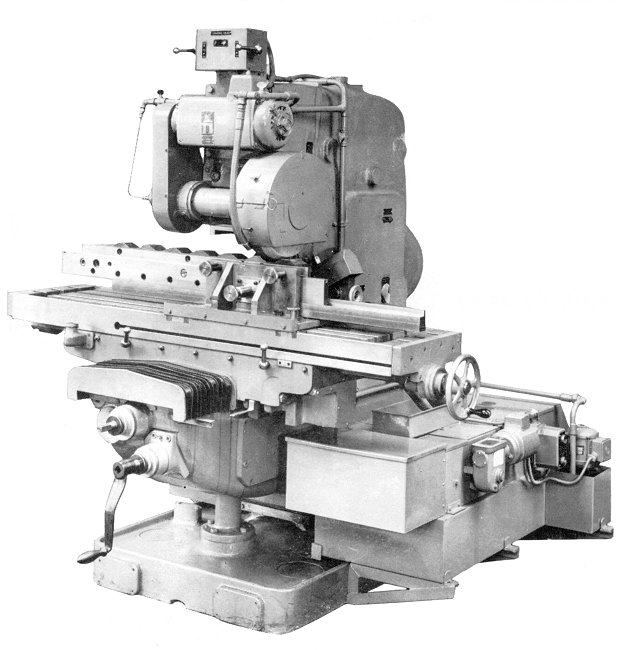 A special purpose grinding machine manufactured at Elms Works.
The factory at Southport, which had been unprofitable since the mid 1940s, was closed in 1955. Between 1947 and October 1954 a large number of 'Corgi' scooters, powered by an Excelsior engine, were built there for the Corgi Motorcycle Company Limited.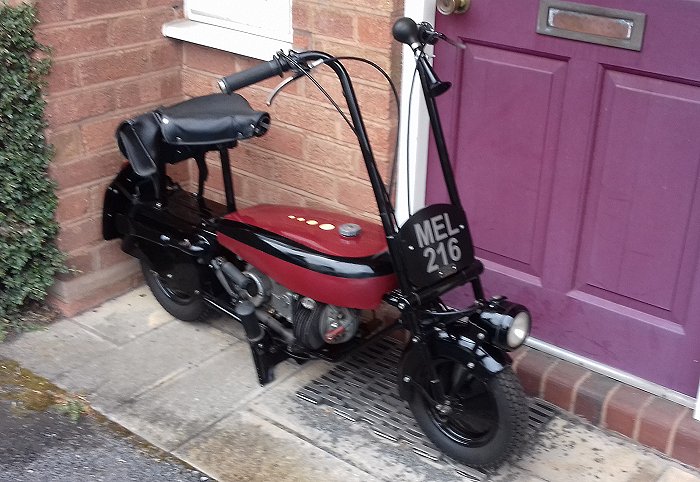 A Brockhouse 'Corgi' scooter. Courtesy of Brian Shaw.
In 1955 a new machine shop was established at West Bromwich to manufacture hydraulic transmissions and in 1957 in cooperation with Nottinghamshire County Council, the 'Clasp' system of school building was developed. Large numbers of schools were built in the UK, France and Germany, using the system. 1960 was a landmark year, the first in which the company made over £1m profit. There was a drop in demand for automotive products, but this was made-up by a significant rise in demand for products for the general engineering trade. Brockhouse factories and branches could be found in Aberystwyth, Bishop's Stortford, Bristol, Clydebank, Leeds, Stroud and abroad in France, Sweden and West Germany.
In 1961 the group employed around 4,300 people and produced a vast range of products. An aluminium foundry, Kaye Alloy Castings Limited moved to a new factory at West Bromwich, and the Glasgow factory where prefabricated buildings were produced, was extended.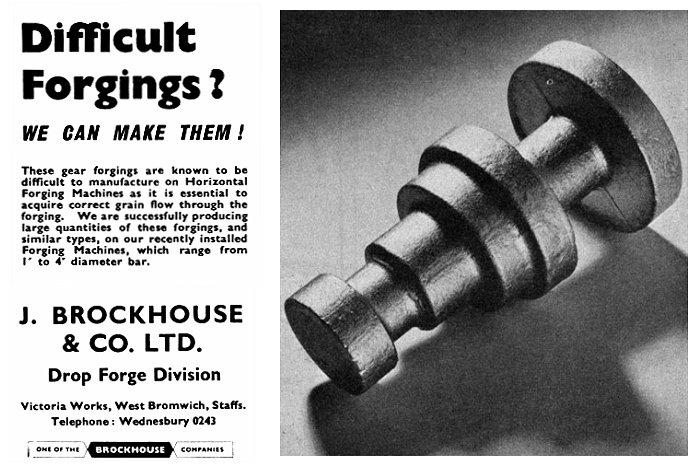 An advert from 1961.
In 1967, Brockhouse acquired Redler Industries, H. J. H. King and Company and 51 percent of the Duodec Development and Construction Company.
In 1984 the Brockouse Group, which was now making a loss, was acquired by Evered Holdings and seven of the associated companies were sold. Three years later Brockhouse Castings of Wednesfield was sold to Saxonforge. It then became Brooks Castings.
Today the Brockhouse Group Limited is still on the same site in Howard Street, West Bromwich, where it was in 1888. It specialises in a wide range of products including forging, pressing, stamping and roll-forming of metal, powder metallurgy, cad/cam design, die manufacture, machining, assembly and fabrication, and global sourcing and supply.
It is now one of the longest surviving Black Country manufacturers. Long may it continue.
---