---
The Early Years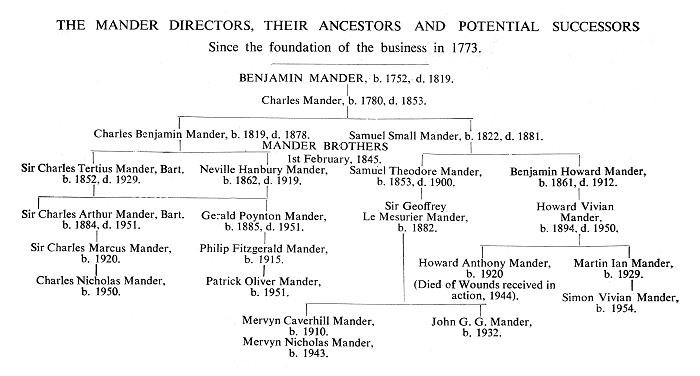 From the company rule book.
In about 1742 Thomas Mander came to Wolverhampton and started in business as a baker and maltster. He married Elizabeth Clemson, and when her father died he inherited the family's property at 48 John's Lane (later called St. John's Street). Thomas and Elizabeth had two sons, Benjamin, who was born in 1752 and John, who was born in 1754.
After leaving School, Benjamin joined his father's business, as a baker and maltster. In 1792 he started a new family business on the same premises, with his eldest son Charles. The new business was called Benjamin Mander & Son, Japanners, and was a great success. They would have produced all kinds of japanned goods and tinware, decorating such things as trays, firescreens, wine coolers, clocks and ornamental boxes.

Benjamin Mander. 1752 to 1819.

John's career started very differently. He was apprenticed to a chemical company, possibly the alkali works of William Small at Tipton. After his apprenticeship, he had acquired enough money to start his own business, and so set himself up as a manufacturing chemist and druggist, at premises in King Street.

In 1790 John purchased four houses, two in Cock Street and two at the back of 48 St. John's Lane. He moved his business there to be close to Benjamin and Charles' activities.

John's business was also very successful and further properties were acquired for expansion. The business soon occupied the land in between St. John's Street and Cock Street, and about one third of one side of St. John's Street. Further properties were acquired in 1800 and 1803, and one of the houses was converted into an engine house, and a tall chimney was built. John also began to make varnish and colours for the growing japanning trade, and supplied these to Benjamin and Charles at cost price.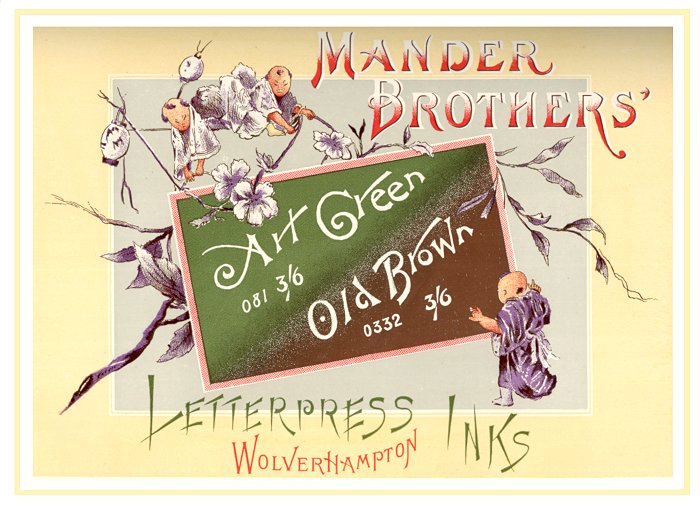 From the March 1893 edition of "The British Printer".
By 1803 Charles was also making varnish, possibly spurred on by uncle John. His black 'japan' varnish sold very well. It was quite cheap and a good quality product.

By 1817, Manders varnish and paint works employed about 30 people and the future looked very bright.

Charles also travelled widely to promote and sell the varnish. Benjamin died in 1819, leaving Charles in sole charge of the business.

John's varnish works suffered a set back in about 1824, when a severe fire destroyed most of the buildings. Several people lost their lives and the heat was so intense that it melted the glass in the windows of adjacent houses. Charles was away at the time, and luckily his property escaped the ravages of the fire. John died in August 1827, at the age of 73.


Charles Mander. 1780 to 1852.

From the ' British Printer', April 1893.

Since 1790, John had entered a series of successful partnerships and so it probably seemed to Charles that this was a sensible thing to do. William Wiley was Charles's chief manager and invoicing clerk, and his right-hand man. Charles took him into partnership on 17th January, 1835. Charles had more interest in varnish making than japanning, and he thought that the partnership would allow him to concentrate on that part of the business. The partnership was a disaster, as the trust he had in Wiley was unfounded. Wiley took advantage of his new position, vanished for days on end and upset many of the workers.

The partnership was finally dissolved in June 1836 and Wiley left to start his own japanning business, taking some of Charles's employees with him in the process.

On 31st August, 1840, Charles sold the japanning business to William Shoolbred, who joined Henry Loveridge, and in 1848 moved from St. Johns Street to Merridale Works in Merridale Street.
For Charles the varnish making side of his business was far more profitable than japanning and tin plate and he correctly saw that the japanning industry was in decline. Tastes were changing and sales were slowly falling as people began to lose interest in japanned goods.

Charles was now 60 years old and so had to think about securing the future of the business for his sons. Ten years later, Charles retired to Brighton, leaving the business in the hands of his sons. His retirement was only to last for three years. He died suddenly of apoplexy in Croydon, on 22nd December 1853.

Charles' sons, Charles B. and Samuel S. Mander now ran the company as partners, under the name of Mander Brothers. The new company was extremely successful and new products were introduced. In 1865 the colour works was set up and the colour and paints proved to be very popular. Offices were set up in London and overseas depots and agencies were opened in France, Italy, Canada and Australia. The company also started to manufacture printing inks, at a time when newspaper and magazine sales were increasing.


Mander's rubber compound for making rollers for printing machines. From the 'British Printer'. 1893.

The colour vats at Townwell Works.

The inks proved to be as popular as Mander's other products, and so in 1894 the Wednesfield factory opened in Well Lane, Wednesfield and was rebuilt in 1908.

Another new factory, the Townwell works, in Townwell Fold, Wolverhampton opened in 1894 and the Heath Town works were acquired in 1925 - 1926.

In 1927 Manders became paint and wallpaper merchants, when the company acquired some 50 depots through the purchase of W. S. Low Limited's long established distribution chain.

Another view of the colour vats at Townwell Works, from an old copy of 'The Green Can'.

Sir Charles Tertius Mander, Bart., D.L., J.P. 1852 to 1929. The first Chairman of Mander Brothers Limited.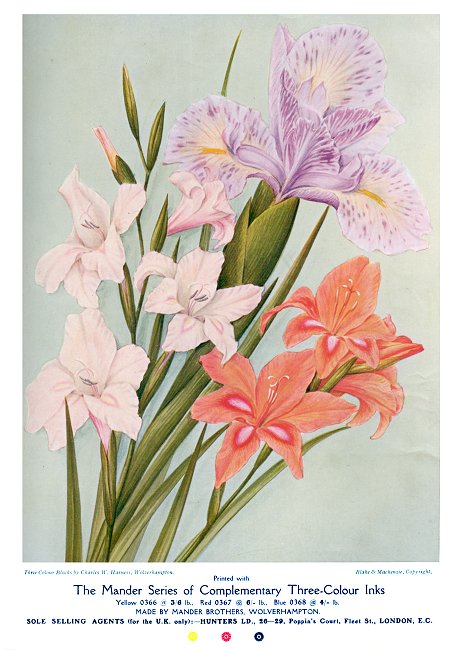 From the 'British Printer'.
---