| | | |
| --- | --- | --- |
| | | |
---

Charles Clark.

T. & C. Clark & Company Limited, based at Shakespeare Foundry, was founded in 1795 by Thomas and Charles Clark, and grew to be one of the largest iron foundries in Wolverhampton.

They were from an old Wolverhampton family and became a large employer.

Charles Clerk became mayor of Wolverhampton in 1860 after being a member of the Corporation since its formation as a municipal body.

He became a Councillor, Alderman, and later Chief Magistrate.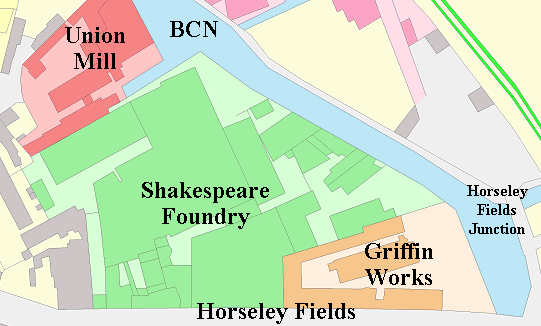 The location of Shakespeare Foundry.
| | |
| --- | --- |
| | An advert from 1851. |
In the 1881 census Charles Frederick Clark is listed as an iron founder, employing between 600 and 700 hands.

His eldest son Thomas Charles Clark is listed as his Clerk.


From the 1923 catalogue.


From the 1887 catalogue.

The company was awarded the silver medal for its products at the International Paris Exhibition in 1878.

The image opposite shows the company's stand at the 1884 Wolverhampton and Staffordshire Fine Arts and Industrial Exhibition.
The company's product range included thousands of items, both domestic and industrial. T. & C. Clark pioneered the use of enamelled cast ironware, after taking out a patent in 1839. It was guaranteed to be free of lead or arsenic. The products included the following:
axle pulleys, bath fittings, camping equipment, chemical furnaces, door fittings, dumbbells, hinges, holloware of all descriptions, hooks, latches, lavatory fittings, man traps, mangles, mole traps, name and number plates, paint mills, paper weights, pulley wheels, sad irons, shovels, sinks, stable fittings, tubular fencing, umbrella stands, ventilators, wash basins, water taps, weights, and window fasteners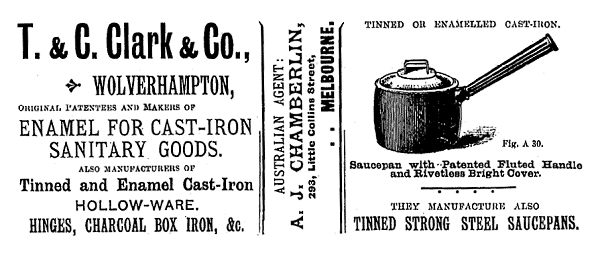 An advert from 1899.
The Horseley Fields Gas Works was built on the western side of Shakespeare Foundry. When it closed in 1900 the foundry was extended to cover the gas works site.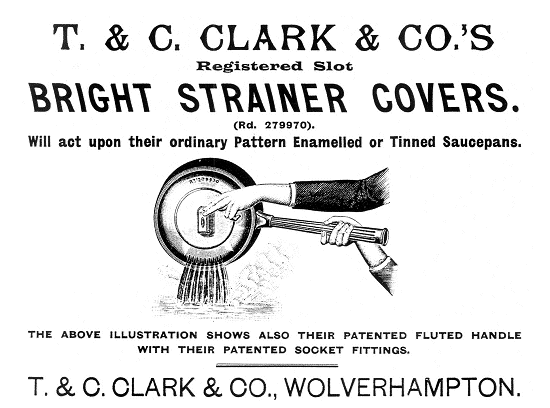 An advert from 1896.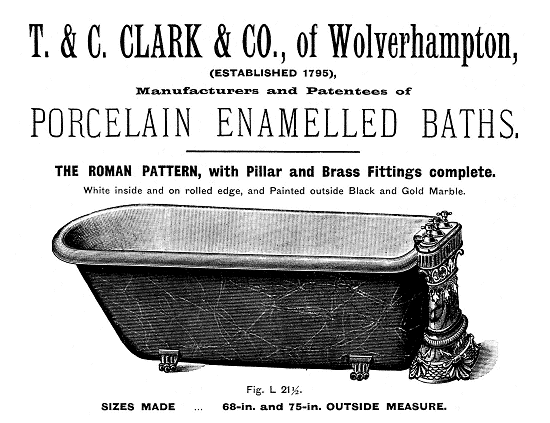 An advert from 1896.

In the late 1940s and 1950s the company produced acid-resisting enamelled cast iron boiling pans; steam jacketed pans; stills; square and rectangular tanks; open and closed mixing vessels; flanged pipes; bends and tees; laboratory equipment; small scale plant; evaporating bowls; beakers; sulphonators; and glass-lined mild steel tanks for beer, mineral water, and food.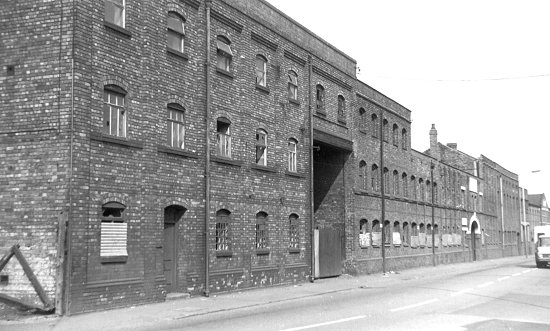 The derelict Shakespeare Foundry in the early 1970s. Courtesy of David Clare.
The company is listed as enamelled chemical plant manufacturers in Kellys 1962 Wolverhampton Directory, but within a few years it had closed.
---