| | | |
| --- | --- | --- |
| | | |
---
Union Mill

In the late 18th century the yield from grain crops was extremely variable. In some years there were excellent harvests, but during the last decade of the century, and in the early years of the following century, things went from bad to worse due to a run of successive bad harvests. The problem was not confined to the UK, it also occurred in much of northern Europe.

Bread was an important part of the staple diet. The shortage of grain, and the subsequent tripling of its price between 1790 and 1800, led to a great shortage of bread, particularly for the poorer classes. Some towns opened a subscription to provide bread for the poor, to which the wealthier members of society could contribute.

There were many riots throughout the country caused by the high price of corn. From the 11th to the 15th of September, 1800, people rioted at Walsall, and Wolverhampton. They were brought under control thanks to the assistance of the Walsall Volunteer Force.

Flour clubs (a type of co-operative retailing scheme) were set up by a number of friendly societies, and associations of working men were formed to purchase wheat and get it ground at an affordable price for members, who paid a suitable subscription. In order to reduce costs to the minimum, some of the larger societies began to rent, or even build mills of their own.

As grain shortages increased, consumer co-operative production schemes began, in which share capital was raised, to fund the building of a corn mill, to produce corn on a large scale at an economical price. Projects were often augmented with donations from local benefactors. They were known as 'Union Mill Societies' who initially used windmills, which soon proved to be inadequate for large scale production.

By this time a steam-powered flour mill had become a practicality. In the 1780s Boulton and Watt had set up a successful, experimental, steam-powered corn mill at Soho, to prove the technology. as a result a number of steam-powered mills soon followed. The first was the Union Mill operated by the Birmingham Bread and Flour Company from 1796. Other cooperative mill societies were set up at Brentford, Hereford, Hull, Nottingham, Sheffield, Whitby, and Wolverhampton.

Union Mill, Wolverhampton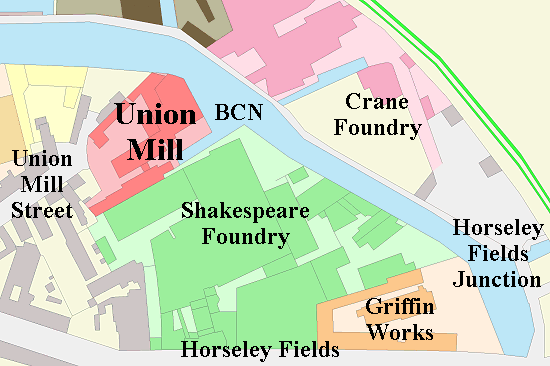 The location of Union Mill.
The successful venture in Birmingham led to the formation of the Wolverhampton Flour and Bread Company, and the building of Union Mill. It all began on Friday 28th August, 1812 when the promoters offered £1 shares to the public, in the hope of raising £10,000 in capital, later increased to £15,000.
A committee was formed by Richard Fryer, a banker, who would later become one of Wolverhampton's first two M.Ps. Fryer was the committee's first chairman, until Benjamin Mander took over after the first few months.
The committee was as follows:
Benjamin Mander
Japanner
Joseph Baker
Screw Maker
Mr. T. Timmins
Coal Master
Mr. J. Moreton
Auctioneer
Mr. J. Felton
Tax Collector
Mr. Ryley
Printer
Mr. R. Gough
Grocer
Mr. T. Savage
Gentleman
William Clarke
Gentleman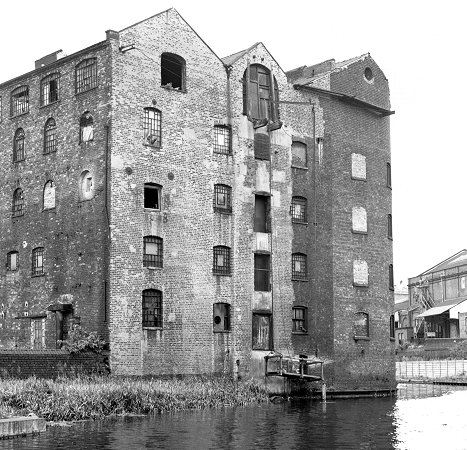 The Union Mill.

Benjamin Mander
1752 - 1819

Provision was made for shares to be purchased in instalments, and upper limits were set for the number of shares that could be held by any one person.

In Wolverhampton a single share could be purchased with instalments of 2 shillings and sixpence a month, and an individual could purchase a maximum of 20 shares. By 1813 this had been raised to 40 shares.

Building a steam mill was an expensive undertaking, requiring a large amount of share capital. After six months a total of £9,273 had been raised. The Union Mill buildings cost £6,673, leaving a balance of £2,600.

The steam-powered mill had 5 pairs of stones, four of which would be used for milling the flour, while the fifth was being dressed. There were also 8 ovens for baking bread.
Flour production began early in 1813, and bread production started before the year was out. To begin with only three of the ovens were used. Around 500 bushels of flour, and 770 quartern loaves were produced each week. Around 50 shops in the area were supplied with flour or bread for the shareholders, who were permitted to re-sell it at a profit. The system worked well. Flour was sold at cost to the shareholders, at a much lower price than was available to the general public. Subscribers were allowed a discount of 4 pence per bushel of flour, and 6 pence for every 20 quartern loaves.
Loaves were sold to the public at 9½ pence each, 2 pence less than the price charged by other local bakers.

Established bakers and millers were hostile to the scheme, which they saw as a serious threat to their business.

One baker stated that "There is no profit now got by the sale of flour or bread, the mill company sell it at such a low price".


The two surviving Union Mill buildings at the far end of Union Mill Street..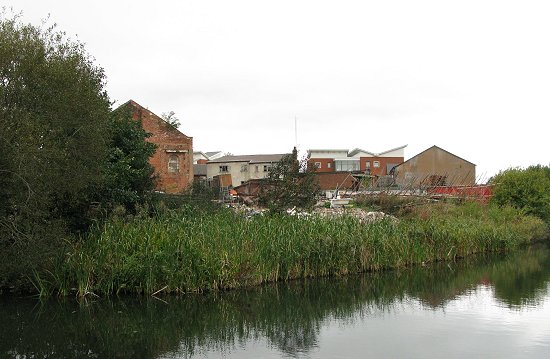 The site of Union Mill, as seen today.
As a result the bakers and millers got together and brought a Bill of Indictment against Benjamin Mander and the committee, who were charged with illegal combination, stating that they were annoyed by "a scheme which was held out as a probable way to reduce the price of provisions, and be of great public benefit".
The case went to trial at Stafford Assizes in the summer of 1814 before Sir Robert Dallas, and a special jury. A rumour spread that if found guilty Benjamin Mander would hang, and the members of the committee would be transported for 7 years. The trial took 14 hours to complete, and resulted in a not guilty verdict.
When the news reached Wolverhampton, church bells rang, and celebrations were held.

As the coach carrying the witnesses was drawn through Wolverhampton in triumph, crowds assembled and shouted "Justice and Union for ever".

This was followed by a dinner at the Swan Hotel.

In Pigot & Company's Staffordshire Directory of 1842, Savage, Parkes & Shaw, bakers and flour dealers are listed as the occupiers of Union Mill.

In White's 1851 Staffordshire Directory, Union Mill as listed as being occupied by the Union Mill Flour & Bread Company. The manager was Edward Hathaway.


Benjamin Mander.
Until at least the First World War, the mill was operated by the Union Mill Company. Sadly the main building was demolished after a fire in 1989. Two of the rear mill buildings still survive, and can be seen at the end of Union Mill Street.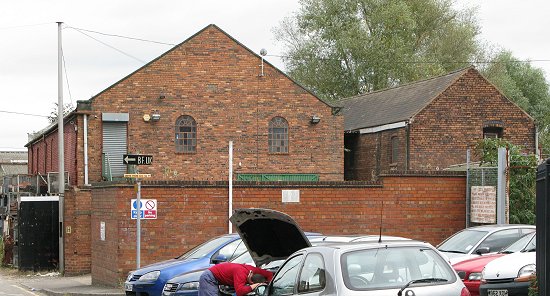 Another view of the two surviving buildings.
References
Varnished Leaves. Charles Nicholas Mander. 2005. The Owlpen Press.
History of Wolverhampton. Gerald Mander & Norman W. Tilesley. 1960. Wolverhampton C.B. Corporation.
The History of Mander Brothers. 1955. Private Publication.
The Wolverhampton Flour and Bread Company. Peter Hickman. 1998. The Blackcountryman, vol.31 no.3.
---