Varnishes, Paints and Inks
In about 1742 Thomas Mander came to Wolverhampton and started in business as a baker and maltster. He married Elizabeth Clemson, and when her father died he inherited the family's property at 48 John's Lane (later called St. Johns Street). Thomas and Elizabeth had two sons, Benjamin, who was born in 1752 and John, who was born in 1754.
After leaving School, Benjamin joined his father's business, as a baker and maltster. In 1792 he started a new family business on the same premises, with his eldest son Charles. The new business was called Benjamin Mander & Son, Japanners, and was a great success. They would have produced all kinds of japanned goods and tinware, decorating such things as trays, firescreens, wine coolers, clocks and ornamental boxes.
| | |
| --- | --- |
| From the March 1893 edition of "The British Printer" | John's career started very differently. He was apprenticed to a chemical company, possibly the alkali works of William Small at Tipton. After his apprenticeship, he had acquired enough money to start his own business, and so set himself up as a manufacturing chemist and druggist, at premises in King Street. In 1790 John purchased four houses, two in Cock Street and two at the back of 48 St. John's Lane. He moved his business there to be close to Benjamin and Charles' activities. |
John's business was also very successful and further properties were acquired for expansion. The business soon occupied the land in between St. Johns Street and Cock Street, and about one third of one side of St. Johns Street. Further properties were acquired in 1800 and 1803, and one of the houses was converted into an engine house, and a tall chimney was built. John also began to make varnish and colours for the growing japanning trade, and supplied these to Benjamin and Charles at cost price.

By 1803 Charles was also making varnish, possibly spurred on by uncle John. His black 'japan' varnish sold very well. It was quite cheap and a good quality product. By 1817, Manders varnish and paint works employed about 30 people and the future looked very bright. Charles also travelled widely to promote and sell the varnish. Benjamin died in 1819, leaving Charles in sole charge of the business.

John's varnish works suffered a set back in about 1824, when a severe fire destroyed most of the buildings. Several people lost their lives and the heat was so intense that it melted the glass in the windows of adjacent houses. Charles was away at the time, and luckily his property escaped the ravages of the fire. John died in August 1827, at the age of 73.

Since 1790, John had entered a series of successful partnerships and so it probably seemed to Charles that this was a sensible thing to do. William Wiley was Charles's chief manager and invoicing clerk, and his right-hand man. Charles took him into partnership on 17th January, 1835. Charles had more interest in varnish making than japanning, and he thought that the partnership would allow him to concentrate on that part of the business. The partnership was a disaster, as the trust he had in Wiley was unfounded. Wiley took advantage of his new position, vanished for days on end and upset many of the workers.

From the ' British Printer' of April 1893.

The partnership was finally dissolved in June 1836 and Wiley left to start his own japanning business, taking some of Charles's employees with him in the process.

On 31st August, 1840, Charles sold the japanning business to William Shoolbred, who joined Henry Loveridge, and in 1848 moved from St. Johns Street to Merridale Works in Merridale Street. For Charles the varnish making side of his business was far more profitable than japanning and tin plate and he correctly saw that the japanning industry was in decline. Tastes were changing and sales were slowly falling as people began to lose interest in japanned goods.

Charles was now 60 years old and so had to think about securing the future of the business for his sons. Ten years later, Charles retired to Brighton, leaving the business in the hands of his sons. His retirement was only to last for three years. He died suddenly of apoplexy in Croydon, on 22nd December 1853.
Charles' sons, Charles B. and Samuel S. Mander now ran the company as partners, under the name of Mander Brothers. The new company was extremely successful and new products were introduced. In 1865 the colour works was set up and the colour and paints proved to be very popular. Offices were set up in London and overseas depots and agencies were opened in France, Italy, Canada and Australia. The company also started to manufacture printing inks, at a time when newspaper and magazine sales were increasing. The inks proved to be as popular as Mander's other products and in 1894 the Wednesfield Works were opened in Well Lane, Wednesfield. The works were rebuilt in 1908 and were described in the December 1908 edition of 'The British Printer'. The following section is taken from that description:

With the Ink Makers. Manders' New Auxiliary Works.
As further testifying to the remarkably strong position attained by the house of Mander-not merely in respect to varnishes, colours and paints, in all of which directions its output is of huge proportions, but more particularly in the printing ink section and its essentials in respect to colour, varnish and so on-have we pleasure in placing on record some impressions of the establishment gleaned during a visit early in November last.
| | |
| --- | --- |
| | Wednesfield Works in 1908 |
The headquarters and chief works are situated round and about St. Johns Street, Wolverhampton, but out at Wednesfield, some two or three miles away, is situated a further large establishment, in itself much larger than most factories associated with the allied industries. To refresh our memories in respect to colour, we look in at the Town Well and School Street Works paying special attention to the department 'devoted to colour making. These show open, single-story rooms with gallery, enormous vats at one end, and a long row of huge tanks of colourful length of the floor.
| | |
| --- | --- |
| After filtering, tramlines bear the trucks carrying the colour into steam-heated or vacuum chambers. The lighter colours, the deeper lakes, and the darker shades are confined to their respective departments, and it is very interesting to note how, after mixing, the development of colours is succeeded by unnumbered washings of pure water, whilst from beginning to end is felt the control exercised by the laboratory. | |
| | Black Ink Mixing |
| | |
| --- | --- |
| | The chemists' department seems to us to be one of the most striking features of these works. It controls test by test, all supplies of goods coming into the works, all results obtained at the various stages of manufacture, warrants the sale of the finished article, whilst, above and beyond this, it is constantly at work on new colours, colour combinations, new methods of treating colours and oils, of suiting inks to papers. |
| The Ink Grinding Department | |
The permanency of colour seems to be an ever present aim, and, walking out on to the flat roof facing the laboratory windows, we notice many slips of paper attached to the windows, all bearing colours under test in some degree for permanence in connection with atmospheric effects. Some of the slips are dated nine and twelve months ago.
The Wednesfield Works
On the outskirts of Wednesfield a seven-acre piece of land, bordered by canal on one side and railway on the other, easily reached also by the electrical tramway, is the property of Messrs. Mander Bros., and a very considerable area of ground is covered by various specially-erected buildings. We find that since our visit of some years ago the buildings have been entirely re-modelled and large new departments added. The firm is in the enviable position of possessing ample accommodation to carry out its own ideas in respect to the most desirable arrangement of works, and we are to find that the aims and ideas of experts have been actually carried out here. The premises are regarded as the ideal of their class.
| | |
| --- | --- |
| The main buildings run along the water-side, with others at right angles. The first are devoted to colour mixing and to ink making, in fact, forming an ink making plant complete; the other series of buildings nearer the railway is allotted to varnish manufacture, also complete. These works are, we understand, chiefly used for supplying the materials made up at the Wolverhampton departments. | The Colour Mixing Room |
A tree-bordered main road sweeps round two sides of the works area, and affords access for vans to all parts. Each of the buildings is allowed ample space round about, and the structures, more particularly the new ink works, are most substantially built, with stone staircases, concrete floors, and fireproof generally.
| | |
| --- | --- |
| The Can and Drum Store | The electric light is used throughout, and, as at the Wolverhampton works, a marvellous degree of cleanliness and tidiness prevails, for although all departments are evidently very busy, untidiness is never apparent, and many a printing office with far less excuse for the appearance of its rooms might take a lesson from the ink maker. |
The general scheme with regard to these works seems to be the elimination of dry colour from the grinding rooms, realizing that dust floating in the air and being deposited on grinding rollers may seriously neutralize the efforts to provide thoroughly pure and finely-ground colour. Thus a long room is devoted entirely to ink grinding, a heavy door shutting off the ink-mixing department with its closed-up machinery. Printers will appreciate this point. A low screen across the centre with the driving motors to left and right divides the floor area. Around and against the walls, with ample space about, is arranged a continuous series of large three-cylindered ink-grinding machines, a battery of some five-and-twenty of large size being already in full operation.
| | |
| --- | --- |
| It is interesting to go from machine to machine and to note well-known colours in soft, oily curves rolling away from the pressure of the cylinders, the white coated operators, each with his magic broad-bladed knife charming or threatening-whichever you like his machine into uniform pressure and even flow. Well-known blacks, blues, and greens in one section are shown as on regular order for well-known magazines, whilst other colours are equally popular for illustrated work. The facility for handling cans, for frequent tests and arrangement generally, speak of an ideal system. | The Varnish Boiling Works |
Driving is obtained by short belts driven from overhead shaft on either side of the room, power being supplied by a couple of 50h.p. motors.
Contrasted with the roar and roll of so many grinding machines, the mixing department alongside is positively restful. Judging by the piping which comes from the ceiling the tall mixing machines are fed from above, and we find this to be the case, varnish and dry colours being fed through their respective channels. This further explains the entire absence of dust, that is dry colour, in the air. The mixers are mechanically operated, the cleverly arranged blades of the paddle mixers making short work of the compounds of oil and colour. Besides the series of large sizes there are smaller cylindrical mixers, and we note particularly the curious looking litho blacks in their steam-heated pans. This department is devoted to blacks.

An advert for the Mander Series of Complementary Three Colour Inks

Colours
In the next building across the yard is a department much more pictorial in effect. Again carrying out the idea of freedom from dry colour or dust, this room is fitted down one side and the centre with a series of bins with closely fitting lids. In these bins dry colours are stored, and the effect is to keep one colour to itself when the supply is being drawn upon, for, of course, neighbouring stocks would not be opened at one and the same time. Along the further side of the wall is a series of mixers, and we find these to embody some very ingenious ideas in apparatus for mixing. There are small-sized circular mixers ready to tackle small quantities of special colour fitted with scientifically arranged knives which scrape the sides, vessel and knives being revolved separately. To complete this as a mixing department, on a third side is a row of varnish tanks holding the pale, transparent varnish used for mixing colour. This department, as with the others, is self-contained, and possesses its own motor for driving purposes.
Stores
Stepping now into a large roomy building, shelved from floor to ceiling along the walls, and with tables and benches, we find a can and drum store. The familiar tins in a variety of sizes are arranged in their respective sections, and all readily accessible. This is not a tin store, but an ink warehouse, and in spite of the chief chemist's confidence as to the absolute uniformity of new inks and those made for some time, it is quite clear that he makes no mistake as to keeping up substantial stocks of all colours. This we are glad to see, for we know only too well how commercial conditions so frequently require the printer to order inks for immediate use. Here once again we have the assurance that the laboratory maintains rigid fulfilment to standards, so that absolute reliance may be placed on receiving the same colour at any time of ordering.
| | |
| --- | --- |
| The floor above is used as a storeroom for important sundries such as pomade and ink-easers. A steam-heated pan for solidifying oil is also noticed, the odour of the place being rather pleasant than otherwise. On looking out from the crane platform at the far end a fine view of the edge-bordered fields is obtained, for we are really on the fringe of the country here, with all the real country advantages of fresh air and spaciousness generally. | |
An adjacent room, the dry black room, is situated directly over the black mixers, to which earlier reference is made. The whitewashed walls are rapidly assuming the artistic mottled effect of a busy chimneysweep's countenance through contact with the piled-up sacks of carbon blacks lodged here. The receptacles over the mixing cylinders are filled from here, and again there is every facility for minimizing any waste and preventing dust and trouble resulting there from.
The isolation of blocks of buildings is carried out with a thoroughness which must be the envy of those confined within small and often cramped areas. To reach the place of storage where the casks of colour, tins, and supplies of this character are safely put out of the way, and yet easy of access, we cross the yard again and enter a long single story building filled with casks and crates, tins and drums.

An advert for Mander's polish from the 1920's.

The Varnish Side

In totally distinct buildings, separated by considerable yard space, is carried on the operations concerned with varnish making. First to the actual cooking.

Without referring to the varnish works in detail, as this department represents rather a re-organized section than a new works, we may refer to some impressions gained whilst witnessing the various operations of manufacture.

The varnish-boiling works show a long row of pans set in brick with closed fires. A large cowl or hood is fitted to each to carry off fumes, and conspicuously placed thermometers record temperatures. Conscientiously climbing the steps to sniff at the odours each successive one surely more pungent than its predecessor we are able to note the great heat used, and to observe the working generally, returning with an enhanced impression of the infinite care taken to prepare varnish.
At the rear of this building is one of similar size, the tubing whence escapes the fumes from the pans being here in evidence, and we are shown a clever device automatically coming into operation at each pan in case of fire from any individual boiler. Following the varnish as it runs off in pipes across the yard to the oil stores, we find on the second floor of a substantial building several dozen thousand gallon tanks, each equipped with gauge for showing depth of varnish contained in the tall cylinders, and with pump for filling or removal of the contents. Large as would appear to be this stock, as we are aware from visits to varnish stores, this represents but a fraction of the tremendous amount of oil always maturing in the firm's stores.
Fire Fighting

The various buildings are disconnected, partly for convenience for manufacturing purposes and largely to minimise the risk of and the scope of damage by fire. Expecting to find full provision made to meet emergencies, for the fire fiend is ever a possible foe where oils are being treated, we found that every possible safeguard was adopted and each section provided with appliances for fighting that which is a good servant but a bad master. The works also possess their own fire brigade-already tried once on their own area and again at a neighbouring concern. Whilst we were present an alarm was raised and instantly men swarmed out of the buildings, each to his allotted task seizing section after section of hose pipe, bucket, or "stood by" hydrants exactly where duty required, and all with a celerity which it would be difficult to surpass.


From the 'British Printer', November 1939.

A tin of Mander Brothers varnish of unknown date

The District

would appear decidedly popular with the workpeople, and so healthy as to form quite a sanatorium for those employed at headquarters.

Leaving the works we are struck by the appearance of a fine new building, an attractively built school in style, with a handsome villa attached. Inquiry as to this led to the production of keys, the opening of doors, and we found the building to be a messroom for the workpeople. The floor is coated with a special linoleum-like terracotta coloured concrete, warm and clean in appearance. The tables and seats are painted a pleasant green and with the large cloakroom and lavatory make up an eminently neat and attractive picture.
To Sum Up
We come away with the impression that "this is surely Mander-like" - well thought out, well carried out, sound in conception, finished in every detail. No wonder the house maintains its place in the confidence of friends and customers.
Further new works, the Townwell works, in Townwell Fold, were acquired in 1894 and the Heath Town works were acquired in 1925 - 1926.
The Heath Town works were built on an 18 acre site which was purchased from the Government Disposal Board, after being used as a wartime munitions factory producing phosphorous poison gas during the First World War.
The works were officially opened by the Duke of Kent in October 1931 after three years of rebuilding.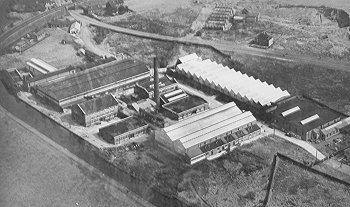 Heath Town Works in 1932
In the 1920s, Mander Brothers Limited was set up by Charles' son, Charles Tertius Mander Bart., his son Sir Charles Arthur Mander, Bart., Gerald Poynton Mander, Sir Geoffrey Le Mesurier Mander and Howard Vivian Mander.
(left) A tin of Koreol motor enamel and (right) A leaflet advertising Mander's Koreol Varnish, "a practical alternative" to cellulose varnishes (undated).

Manders also produced Manderlac cellulose motor finishes which were quick drying and resistant to fading.

Charles Tertius Mander Bart.
Photograph courtesy of Jennings

In 1927 Manders became paint and wallpaper merchants, when the company acquired some 50 depots through the purchase of W.S. Low Limited's long established distribution chain.

In 1937 the printing ink interests merged with John Kidd & Company Limited to become one of the largest printing ink manufacturers in the U.K.

In the same year the public company Manders (Holdings) Limited was formed, gathering together in one major grouping, all the specialised companies, now operating successfully at home and abroad. In 1945 the Wednesfield Works were sold to Griffiths Paints.
| | |
| --- | --- |
| In 1961 the company produced its 500,000th gallon of paint. The photograph shows the tin being filled. | |
| | |
| --- | --- |
| | A tin of Matsine, a transparent flat drying colour which could be used as a wood stain, a scumble or a glaze. |
| | |
| --- | --- |
| In the 1960s the original works closed, and the site was redeveloped into the Mander Centre, a shopping centre covering 5 acres. The company set up a property division to control the project, in which retail and office properties were leased. The Mander Centre opened on 6th March 1968 and contained 134 outlets. It was designed by James A. Roberts who designed the Rotunda in Birmingham. The new venture formed a secure base for the company's future activities. The Mander Centre was, and still is extremely successful. | An advert from the 1920s. |

An advert from the 1970s

By the 1970's Heath Town works had expanded to cover an area of over 20 acres and the company employed over 1,000 people. Mander's products were distributed through 50 U.K. service centres and agencies throughout the world.

In 1972, Philip Fitzgerald Mander, who had been Chairman of the public company, died, and the family took a less active role in the business. The company continued to be as successful as ever, and following the success of its decorative paints, it acquired other manufacturing companies, whose products would compliment its own.
| | |
| --- | --- |
| In 1971 Manders produced their one millionth gallon of paint. The photograph shows part of the celebrations. | |
| | |
| --- | --- |
| | Another photograph showing the one millionth gallon of paint. |
| | |
| --- | --- |
| In 1973 British Domolac Limited, an industrial paint company, was purchased, and Manders' Industrial Paints Division was added to it. The company then started to trade as Mander-Domolac Limited. | A photograph of the works from a 1970's advertisement |
(left) One of Manders' better known customers was 10 Downing Street. The famous front door used to be painted with Manders paint.

(right) paper label, unknown date
| | |
| --- | --- |
| | Heath Town Works in 1984 |
| | |
| --- | --- |
| The Works in July 1988 after the completion of a new 450,000 cubic ft. tin store. This was part of a two million pound investment at the works, in modern production equipment and improved storage facilities. | |
| | |
| --- | --- |
| | The photograph shows staff and volunteers at the Springburn Museum in Glasgow. The museum acquired the North British built steam locomotive, Garratt 4112 after its withdrawal from service in South Africa. The locomotive needed repainting. This was made possible by sponsorship from Manders, who supplied the paint. Manders paints were ideal for the purpose as Manders used to supply paint to British Rail. |
In the 1980s Manders acquired QC Colours and Johnson and Bloy, and integrated them into the company by forming a new division in 1989 called Manders Liquid Ink Division. It was headed by Managing Director, John Mackenzie, formerly of QC Colours.

A new decorating centre was opened at Heath Town in 1990 and the new headquarters of Mander-Deval Wallcoverings was built on land adjacent to the works.
In 1992 an unsuccessful takeover bid from a rival company, Kalon, led to Manders reviewing its long-term strategy.

The decision was taken to concentrate on the highly successful printing ink manufacture and so, during late 1993 and early 1994, the decorative paints part of the business, and the Mander Centre, were sold.


A tube of artist's oil colour in original box
| | |
| --- | --- |
| | An advert for Aqualine water paint. Courtesy of David Wilsdon. |
| | |
| --- | --- |
| An advert for Vernasca wall paint. Courtesy of David Wilsdon. | |

A 1958 advert.

Manders also acquired a number of the world's leading ink manufacturers, including a major competitor, Croda, with operations in the U.K., Ireland. Italy, the Netherlands, New Zealand, South Africa and the USA.

In 1994 the Netherlands based Premier Inks was acquired. It was one of Europe's largest manufacturers of publishing inks.

In the same year Morrison Inks of New Zealand was also acquired to give Manders a strong world-wide presence.

In 1996 Manders made its final acquisition with the purchase of a large facility in Sweden which specialised in metal decorating coatings. Six centres of excellence were set up in various European locations, specialising in commercial sheetfed inks, liquid inks, metal decorating inks, news inks and publication inks.
The company invested heavily in research and development to ensure that its products kept ahead of the competition and satisfied customer's needs. The Wolverhampton factory became the Centre of Excellence for the manufacture of coldset inks, which are fast drying inks for use in newspapers. Most of the national and provincial newspapers used inks that were manufactured in Wolverhampton, and the company also supplied many newspapers throughout Europe. Printing ink sales increased from £40 million in 1993 to £160 million in 1997. About 60 countries were supplied through 28 manufacturing and distribution centres.

In 1998 Manders was acquired by the Flint Ink Corporation of America. This is the largest privately-owned ink manufacturer in the world. The Heath Town works became the European Headquarters of Flint Ink Europe, and the remainder of the works closed and has since become Manders Industrial Estate, which is now home to a variety of companies.