Bean Commercial vehicles
During the six and a half years of commercial vehicle production at Beans, many small single-decker buses and coaches were produced on the company's standard range of chassis.
In November 1924 the company launched the first Bean commercial vehicle, a 25 cwt. chassis based on the 14.9 hp. engine and gearbox. The vehicles mainly appeared as lorries, but vans, ambulances, coaches and light buses were also made. The engine and gearbox were mounted on a separate chassis, and initially, the vehicle only had rear wheel brakes. The 20/25 cwt. chassis sold for £265. From 1926 front wheel brakes were available for an extra £20.
Unfortunately Bean suffered from an acute shortage of cash, with debts totalling £1.8 million, mainly due to the restructuring in November 1921. As a result Hadfields, the Sheffield steel producer, rescued the company and renamed it Bean Cars Limited, in June 1926.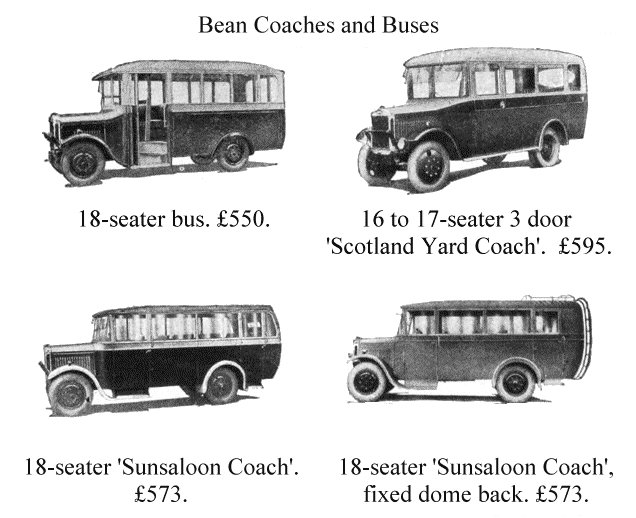 In June 1927 the 25 cwt. chassis was replaced by a 30 cwt. model designed by Hugh Kerr Thomas. It had a 2.3 litre Ricardo high turbulence cylinder head engine, and sold for £325. By this time the commercial chassis accounted for about 60% of the total production at Tipton.
The 30 cwt. chassis continued in production until 1929 when it was replaced by the 'Empire' model, powered by a 3.6 litre Ricardo high turbulence cylinder head engine.
It only remained in production for about 18 months, when it was replaced by an updated version of the original 20/25 cwt. chassis, powered by a 2.3 litre Hadfield engine.
The new chassis was only manufactured for just over three months, because Bean Cars Limited went into receivership on the 19th June, 1931, when vehicle production ended. The cars had not been selling well, and soon gained a bad reputation as a result of many problems with the company's latest model, the 14/45.