By the late 1920s the Star Engineering Company Limited of Wolverhampton found itself in trouble because of falling sales. The company produced a small range of commercial vehicles, and high quality cars. In 1928 with production still falling, Star found itself in a precarious financial state. As a result Guy Motors took control through an exchange of shares, though Star continued in existence as a separate company, now called The Star Motor Company Limited.

In 1927 Star launched a new commercial vehicle chassis called the 'Flyer' which was developed from a 20-seater low-loading bus chassis. It was powered by a 3.2litre 6-cylinder engine, and sold for £645.

When Sydney Guy decided to take the company over, he either had his eye on the 'Flyer', or wanted to re-enter the high quality car market. Most of Star's production took place in a number of factories in the Frederick Street area of Wolverhampton. The company also had a new factory in Showell Lane, Bushbury, where bodies were built. In 1929 all of the factories around Frederick Street were closed, and production moved to Showell Lane where cars could be built under one roof. The workforce was reduced to around 250, and Guy dropped some of Star's heavier commercial vehicles that were in direct competition with its own products.

Three cars were available, the 18/50, the 20/60, the occasional 24/70, all with a range of bodies, and a 1¾ ton version of the 'Flyer' with vacuum brakes. Under Guy, Star cars retained their quality build and high levels of workmanship, but they were far too expensive for most people, particularly in a time of recession. 1930 saw the introduction of the 'Comet', 'Planet' and 'Jason' series of cars. Around 214 cars were produced that year, the most popular being the 18/50hp. 'Jason', selling for £595. Unfortunately a small loss was made on the sale of every vehicle.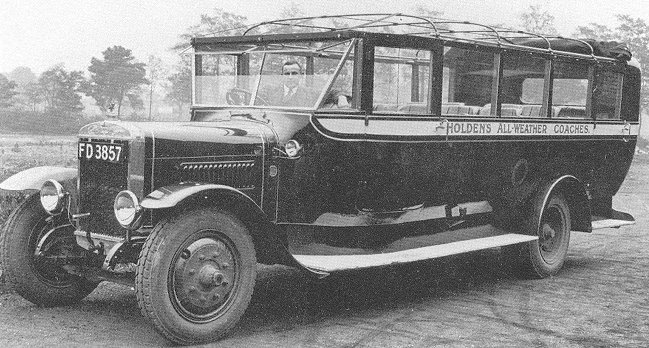 A Star Flyer from 1927, operated by Holden's, Griffin Street, Netherton.
At the time, Guy Motors was also in financial difficulties due to the recession, and so couldn't afford to equip the new Bushbury factory with up-to-date machinery. Star found itself in a desperate situation, and as a result a receiver was appointed in March 1932.

Spares and manufacturing rights were obtained by McKenzie and Denley, of Birmingham, who continued selling spares and servicing Stars into the 1960s. The Frederick Street works were sold to James Gibbons (Windows) Limited, and later to Chadd Castings Limited, who cast aluminium components. The Bushbury factory was sold to Manley & Regulus, makers of plumbing fittings, and later acquired by Delta Metals.
The end of the 1920s was a difficult time for Guy. The company was nearly taken over by the rival lorry and bus manufacturer, Dennis Brothers Limited, of Guildford, Surrey in 1927. Between 1925 and 1929 profits greatly increased, but during the recession following the Wall Street crash in October 1929, Guy shares fell from one pound to just one shilling. Shareholders lost 95% of their investment in the company, which was caused by the recession, and the purchase of ailing Star. The company came close to collapse, and must have deeply regretted taking over Star.