---
Beginnings
The Wolverhampton car manufacturer Star, based in Frederick Street, began producing commercial vehicles as early as 1902. The first van was built on their standard car chassis, and could of carry a load of 6 cwt. It was said to be the first van to have a totally enclosed cab, although few can have been sold. It was also the first of many commercial vehicles, including passenger vehicles, to be built by Star.
Shortly before the First World War, Star began building charabancs on its standard commercial chassis. The photograph below, taken in 1914 shows a Star charabanc filled to capacity.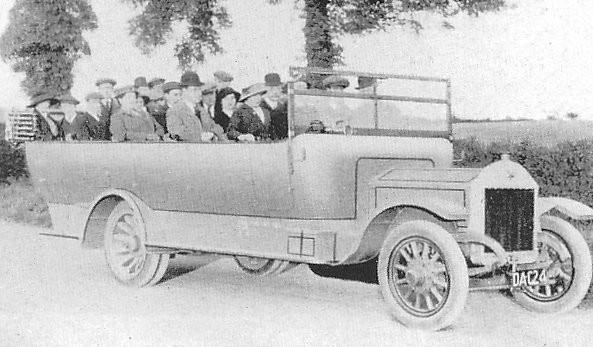 Courtesy of the late Jim Boulton.

An advert from 1919.

Charabancs were very popular in the 1920s. They were the first affordable, and comfortable means of transport for many groups of people, which allowed them to travel long distances on day trips. Something that was very difficult to achieve with horse-drawn vehicles.

For many years the basic design changed little. It was a cold and draughty experience for the passengers, many of whom must have tightly hung on to their hats, in fear of loosing them.

In 1927 Star launched the 'Flyer', a fast chassis, initially intended for use as a low-loading passenger vehicle, but also available for use as a van or lorry. It had side and back windows, and a fixed or removable roof.

It was powered by a 3.2 litre, 6-cylinder overhead valve engine, and equipped with vacuum servo brakes. It sold for £645 and proved to be quite popular.
| | |
| --- | --- |
| A close-up view of the charabanc in the advert above. | |
An early flyer, operated in 1927 by Holdens of Netherton.

Courtesy of the late Jim Boulton.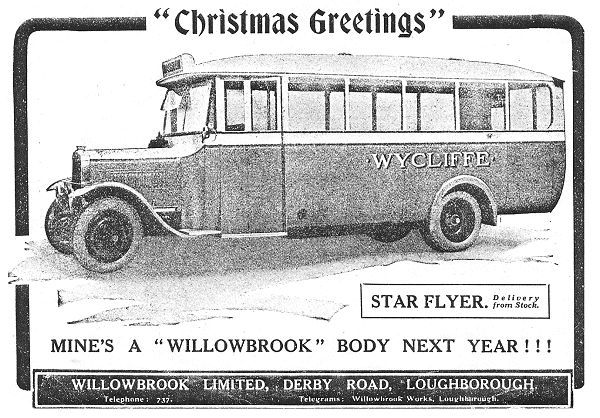 An advert from 1928 which shows a model with a fixed roof.
The Later Years

Production at the factory peaked between 1921 and 1925, when around 1,000 vehicles of all kinds were built each year. By the time of the General Strike in 1926, Star cars had become extremely expensive, compared with the competition. This would eventually lead to the company's downfall. In 1927 only 105 cars left the factory.

By 1928 with production still falling, Star found itself in a precarious financial position. The company was rescued by Guy Motors, which took control through an exchange of shares, though Star continued in existence as a separate company, now called The Star Motor Company Limited. The reason for the take-over is uncertain. It is possible that Guy wanted to re-enter the luxury car market, or to acquire Star's most successful commercial vehicle at the time, the 'Flyer', or even simply to acquire a competitor.

One of the first major changes at the Guy/Star company took place in 1929 with the closure and sale of Star's Frederick Street factory, and a move to the Showell Lane works, which had been built in 1920 and used as a body shop. Vehicles could now be built under one roof, but the workforce was reduced to around 250, and Guy dropped some of Star's heavier commercial vehicles, that were in direct competition with its own products.


An advert from 1930.
Under Guy, the cars retained their quality build and high levels of workmanship, but they were far too expensive for most people. 1930 saw the introduction of the 'Comet', 'Planet' and 'Jason' series. 1931 saw the introduction of another new model, the 'Little Comet Fourteen', and two models with fabric bodies. Unfortunately a small loss was made on the sale of every vehicle, and Guy Motors found itself in financial difficulties due to the recession, and couldn't afford to equip the Bushbury factory with up-to-date machinery. Star found itself in a desperate situation, which resulted in the appointment of a Receiver in March 1932.

Spares and manufacturing rights were obtained by McKenzie and Denley, of Birmingham, who continued selling spares and servicing Stars into the 1960s. The Frederick Street factory was sold to James Gibbons (Windows) Limited, and later to Chadd Castings Limited, which cast aluminium components for a variety of uses, including vehicle parts for companies such as Rolls Royce, Leyland DAF, Rover and Land Rover. The Bushbury factory was sold to Manley & Regulus, makers of plumbing fittings, and later acquired by Delta Metals.