| | | |
| --- | --- | --- |
| | | |
---
F. Lester Ray, known as Fred, had ambitions to build his own racing car. By late 1970 he had accumulated enough money, and asked his friend Derek Matthews of Ark Racing to design a 2-seater Group 6 sports car.
In order to save time it was decided that the car would be built around a basic tubular chassis that had been produced by Arch Motors from jigs that were used to build a chassis for the Graphics Racing Organisation for Prototype Automobiles.
Construction began early in 1971. Derek and Fred set to work on the basic chassis frame and cladded the centre section with aluminium to produce a semi-monocoque. Derek designed and built the front suspension, and used Girling castings and disc blanks to produce the brakes.
Initially the car was powered by an ex-F3 Cosworth MAE engine, built by Felday Engineering. It developed around 120b.h.p. A 7¼ inch AP twin plate clutch, and a Hewland FT200 5-speed gearbox were fitted, along with 2 Serck copper cored radiators (one on each side), a 100 litre fuel tank, Revolution wheels, and Dunlop CR 65 tyres. Derek and Frank built the distinctive wedge-shaped body.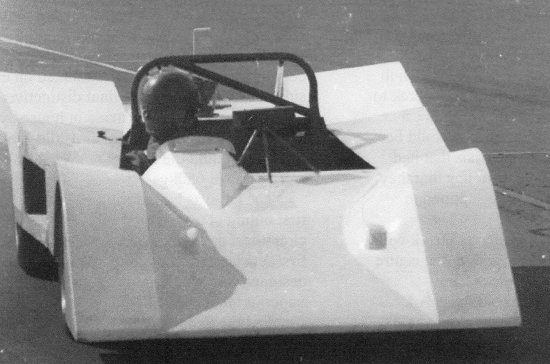 The car in action. Courtesy of David Beere.
The car's first outing was a test run at Silverstone. Derek did the first few laps and was followed by Paul Chambers who had supplied the engine. Paul was a championship winning superkart racer.
Paul went on to drive the car at its first two race meetings. It was initially called the DM6, which was short for Derek Mathews' 6th car. The car made its race debut at Oulton Park on 16th October, 1971 in a 10 lap GT race. Paul made the fastest practice lap, and the car finished in 5th place. Its next outing took place on the following day at Thruxton. Paul again made the fastest practice lap, and finished in 8th place.
Lack of money held-up further development of the car until 1974 when a 2,000c.c. Ford Cosworth BDG engine with Lucas fuel injection was fitted. Fred now decided to call the car the 'Vogue'.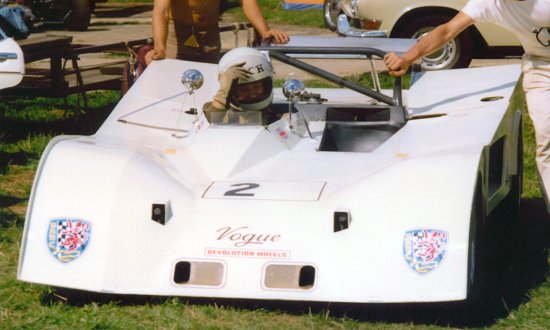 The 'Vogue'. Courtesy of David Beere.
The following year a deal was made between Richard Jenvey, the Bridgnorth Modsports Lotus Elan driver and Fred. Richard Jenvey would drive the car, and Derek Mathews would continue to prepare the car for future race meetings, the details of which are in the tables below. A few modifications followed including a slight change to the shape of the body, which had been providing too much down force at the front.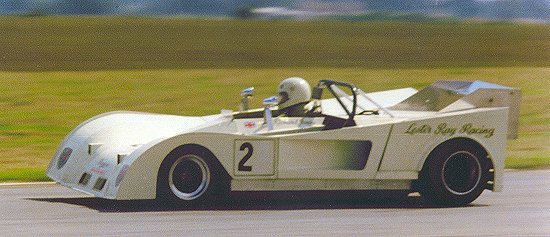 At speed. Courtesy of David Beere.
Things went well for a time, but lack of funds meant that persistent engine problems could not be properly dealt with. Derek had to resort to refurbishing old parts that were well passed their sell by date.
On the 15th August, 1976 the car was taken to compete in a sports car race at Zoller in Belgium. An 1850c.c. BDA engine was hired for the event, thanks to financial support from Arthur Hough & Sons. The car performed extremely well thanks to the reliable engine, and finished in first place.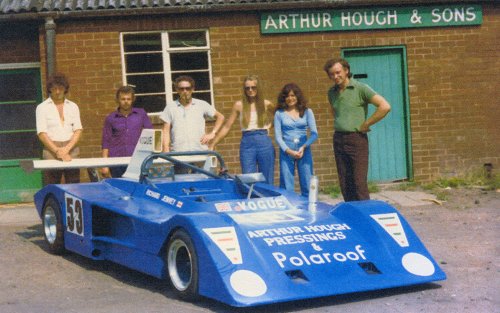 The car, outside Arthur Hough & Sons at Essington, possibly after its win at Zoller. Courtesy of David Beere.
When the car returned to Willenhall the original engine was rebuilt, but after a few promising runs the old problems resurfaced. Fred's engine was never properly sorted out due to a constant lack of funds. The cost of continuous engine rebuilds and the lack of testing meant that the car never reached its full racing potential.
In 1977 Fred and Richard Jenvey decided that with a small budget available, they would look after the car themselves, leaving Derek Matthews free to move on to his successful association with Max Payne.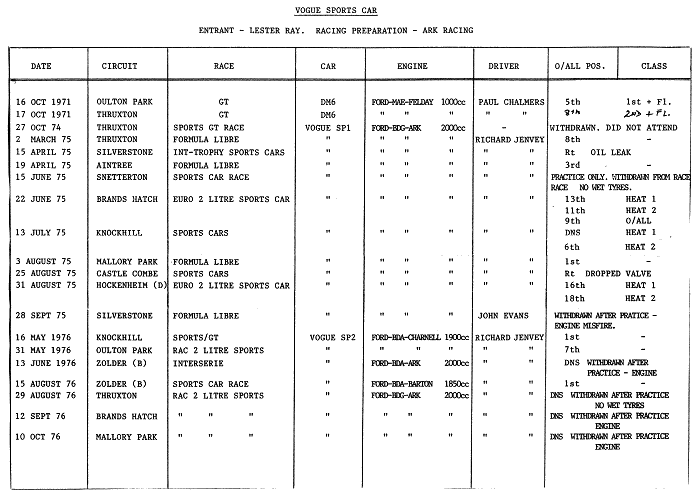 More Results. Entrant: David Mercer. Preparation: David Mercer and Fred Ray.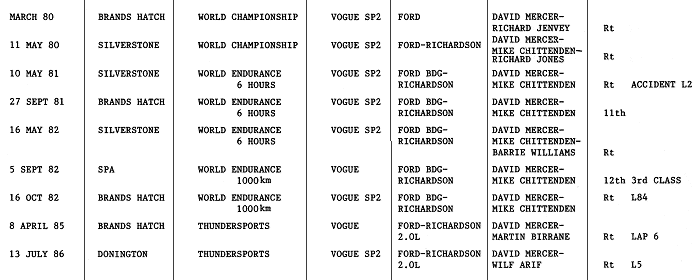 Date
Event
Place
Miles
Laps
Drivers
Result
17-4-77
World Sports Car Championship
500km Sports Car Race
Dijon
311
26
Richard Jenvey
Boy Havie
Retired
24-7-77
World Sports Car Championship
500km Sports Car Race
Paul
Ricard
304
16
Richard Jenvey
John Morrison
Retired
16-3-80
World Manufacturers Championship
6 hour Sports Car Race
Brands Hatch
384
6
David Mercer
Richard Jenvey
Retired
11-5-80
World Manufacturers Championship
6 hour Sports Car Race
Silverstone
687
43
David Mercer
Mike Chittenden
Richard Jones
Retired
28-9-80
World Manufacturers Championship
1,000km Sports Car Race
Dijon
425
41
David Mercer
Mike Chittenden
Retired
10-5-81
World Manufacturers Championship
6 hour Sports Car Race
Silverstone
601
55
David Mercer
Mike Chittenden
Retired
27-9-81
World Manufacturers Championship
1,000km Sports Car Race
Brands Hatch
622
15
David Mercer
Mike Chittenden
11th
16-5-82
World Endurance Championship
6 hour Sports Car Race
Silverstone
703
59
David Mercer
Mike Chittenden
Barrie Williams
Not Classified
5-9-82
World Endurance Championship
1,000km Sports Car Race
Spa
624
56
David Mercer
Mike Chittenden
12th
17-10-82
World Endurance Championship
1,000km Sports Car Race
Brands Hatch
551
30
David Mercer
Mike Chittenden
Retired
8-4-85
Thundersports
Brands Hatch
David Mercer
Mike Chittenden
Retired
13-7-88
Thundersports
Donington
David Mercer
Will Arif
Retired
---