| | | |
| --- | --- | --- |
| | | |
---
The Sunbeam Motor Car Company Limited
In March 1905 the Sunbeam Motor Car Company Limited was formed with a starting capital of £40,000. The cars were made at Moorfield Works, off Villiers Street, and John Marston was Chairman. There were also satellite factories in Owen Road, Temple Street, and Ablow Street, where other components including car radiators were made.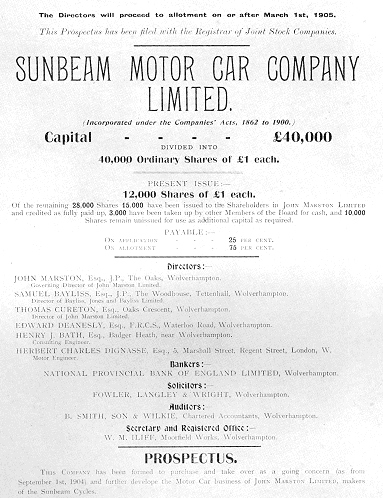 Part of the first public appeal for capital.


The company's letterhead.
The first directors were John Marston, Dr. Edward Deansley (Marston's son-in-law), Sam Bayliss (Bayliss, Jones & Bayliss), Thomas Cureton, Henry Bath (the company's consulting engineer), and Herbert Dignasse.
1905 saw the introduction of the 12hp. Sunbeam, powered by a 2.66litre, 4 cylinder engine. About 172 were built.

A 12hp. Sunbeam car from 1905.

The standard 12hp. car sold for £451.10s. and the Landaulette for £576.10s.

The basic chassis was also available as a separate unit for £400, which meant that many bodies were built by external coach builders.

This would be a feature of many of the company's cars that were yet to come, and so Sunbeam cars could often be found in many strange disguises.
Angus Shaw designed the successful 16/20hp. prototype in 1906 and along with Fred Eastmead he drove the car from John O'Groats to Land's End and back, without once stopping the engine.

The cars were available in chassis form for £480, a five-seater for £530, or a Landaulette for £640. Soon 10 were produced each week and a total of around 400 were built.


A 16/20hp. from 1906.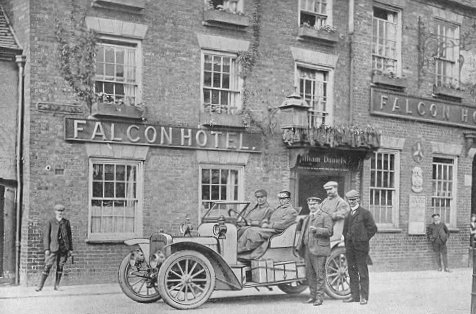 The 16/20hp. prototype on the John O'Groats to Land's End and back run.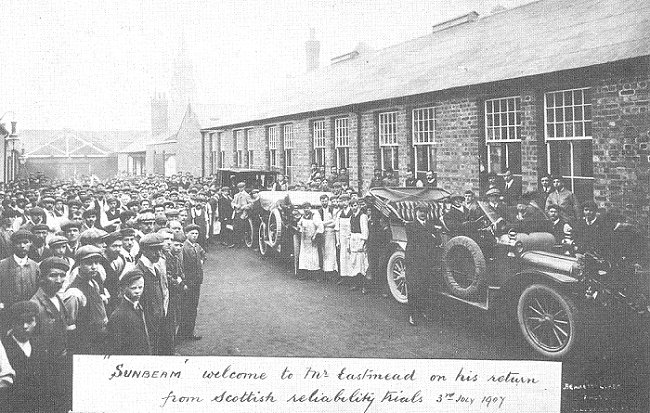 Fred Eastmead's return to Moorfield Works, on 3rd July 1907, from the Scottish reliability trials.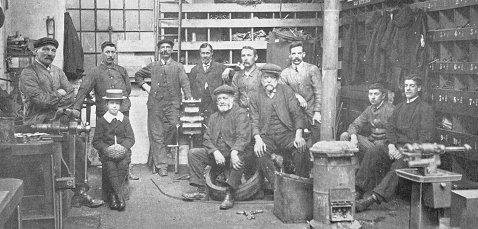 A group of employees, around 1906.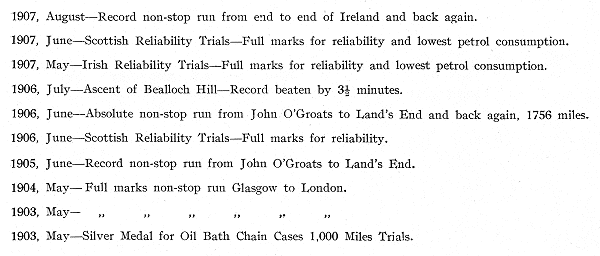 Early successes in trials and events.
At this time a large area of land on the western side of Upper Villiers Street was purchased and building work began on what would soon be known as Moorfield Works.
The car industry's first slump occurred in 1907 and Sunbeam sales were badly hit. The 25/30hp. model released during that year resulted in only 11 sales. It was an expensive car featuring a 5.1litre, 6 cylinder engine and available in three versions:
Running chassis - £750, 5-seater car - £800, Landaulette - £920.
Coil or magnet ignition could be fitted to order and the petrol consumption was 16m.p.g.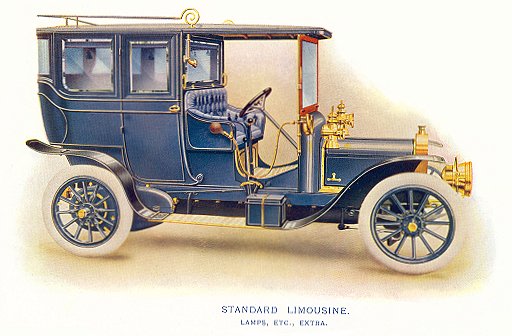 A standard Limousine from the 1908 Sunbeam catalogue. It was available with a 20hp. or 35hp. engine. The 20hp. version sold for £675, the 35hp. car sold for £825.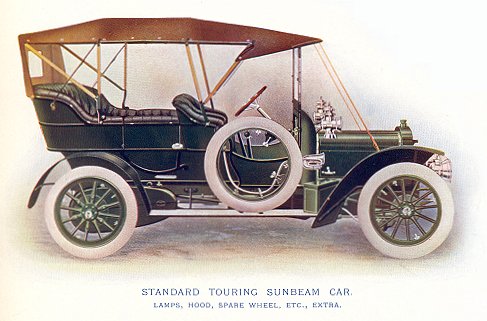 A standard tourer from the 1908 Sunbeam catalogue. It was also available with a 20hp. or 35hp. engine. The 20hp. version sold for £530, the 35hp. car sold for £675.

A Landaulette from 1908.

The slightly cheaper 20hp. model introduced in 1908 sold quite well. Just under 200 were built.

The prices were as follows:

Running chassis - £480, 5-seater car - £530, Landaulette - £650, Limousine - £675.
The other new model introduced in 1908, the more expensive 35hp., faired badly as only 11 were built. This had a 6.33litre, 4 cylinder engine and a top speed of 50m.p.h. with a fuel consumption of up to 14m.p.g. Prices varied from £620 for the running chassis, to £675 for the tourer, £800 for the Landaulette, and £825 for the limousine.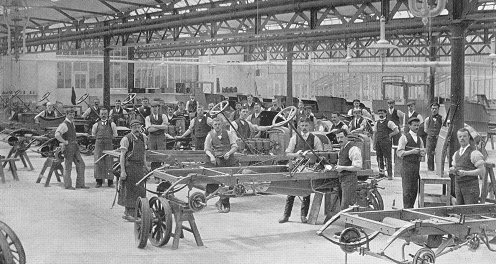 The Chassis Erecting Shop in 1908.

---