| | | |
| --- | --- | --- |
| | | |
---
The Star-Benz Car
Star's first brush with motorised transport took place in 1896 when the running gear for the Electric Construction Company's most famous car, the 'Electric Dog Cart', was built in the works.
The story of the Star car really began in 1897 when the company acquired a 3.5hp. Benz car and used it as the basis for the first production car to be built by a Wolverhampton manufacturer. There is some uncertainty as to how Star acquired the car. The most often quoted account suggests that Edward Lisle's second son, Joseph, visited Holland, where he learned to drive. Whilst there he purchased the car and drove it back to Wolverhampton. At the time he would only have been about 17 years old, and so members of the Lisle family believe that the car was purchased from a London dealer and delivered to Wolverhampton by rail.
Eric Payne's Star-Benz from 1899 with a
vis-a-vis style body, made by Strouds of Niphon Works.

It is believed to be one of the first six made.

It is seen here at the 2005 Black Country Vehicle Rally, held at the Black Country Living Museum, Dudley.
By whatever means, it arrived at the factory, was dismantled, and drawings were prepared of all of the parts using imperial measurements. A few modifications and improvements were made to the car, and it was hastily rebuilt in readiness for testing. The car left the factory in April 1897 and after a few teething troubles proved to be extremely reliable.
Star purchased the licensing rights to build Star-Benz cars in Wolverhampton, and went into production at Stewart Street works.

The Star-Benz appeared in October 1898, although only two seem to have been completed in that year. The delay was caused by a lack of coach built bodies.

The first six cars were fitted with bodies made by Strouds, furniture makers, of Niphon Works, Villiers Street, Wolverhampton. They were of a vis-à-vis design with varnished-wood bodywork.


Eric Payne in the driving seat of his 1899 Star-Benz car.
| | |
| --- | --- |
| | The 3.5hp. horizontal single-cylinder engine in Eric Payne's 1899 Star. |
The cars were powered by a water-cooled 3.5hp. horizontal single-cylinder engine, with a belt and chain drive to the rear axle.

The car had two forward speeds, electric ignition, tiller steering, and two independent powerful hand brakes.

The two petrol tanks could carry enough fuel for about 100 miles under favourable conditions.

Standard fittings included lamps, a horn, a set of tools, and oil cans. The car initially sold for £189, although by 1900 the price had fallen to £168. Extras included a leather hood, a reverse gear, and a climbing gear. Initially each car took one week to build, but production soon increased to six cars a week. It is thought that by 1900 around 20 cars a week were leaving the factory.


A final view of Eric Payne's car at the Black Country Living Museum.

An advert from June 23rd, 1900.

Edward Lisle set up a new company, the Star Motor Company, a subsidiary of the Star Cycle Company. His policy was to build as much of the car as possible in the Star factory, and so when the body building department opened, Star bodies were built in-house.

The Star-Benz proved to be a successful car, and other models were soon produced.

In 1900 the model "A", with a two-cylinder engine, three forward speeds, and a forward facing passenger seat, appeared along with the model "C", which is believed to have been steered from the front seat with a proper steering wheel.

Altogether some 250 Star-Benz models were made, and still being offered in 1903.
| | |
| --- | --- |
| A Star-Benz with a forward-facing front seat. | |

Another Star-Benz with front-facing seat. Courtesy of Peter Lisle.

By this early date Star was claiming that every part of the car was made by them, except the tyres and chains.

They could also point to significant improvements in the design over the original Benz, including a proper carburettor of Star's own design.

Exports started early and proved to be a valuable market. In 1899 a car was sent to Patagonia, with almost sufficient spares to build another car!
In 1900 a visiting New Zealander took a Star car home with him. In later years some 25% of Star production was exported, mainly to Australia and New Zealand but also to Europe and South America. Star not only exhibited abroad, but also produced sales catalogues in a variety of foreign languages.

Back in 1891 Edward Lisle registered the six-pointed star as the company's logo. The registration only applied to the UK, the first international trademark being registered two years later. Mercedes cars began to carry a 3 or 4 pointed star as an emblem, some of which were sold in the UK. In 1902 Star successfully sued the German car maker for infringing its UK trademark registration. The Mercedes three and four-pointed stars were registered in 1909.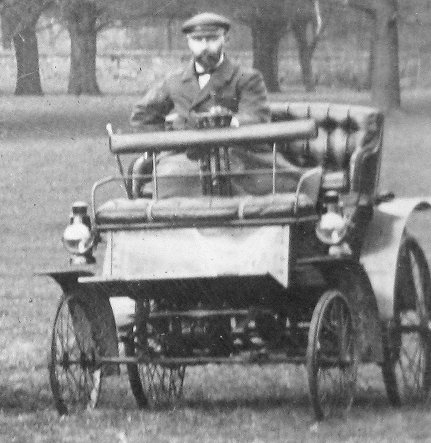 A Star-Benz driven by Mr. J. W. T. Trusselle in March, 1903.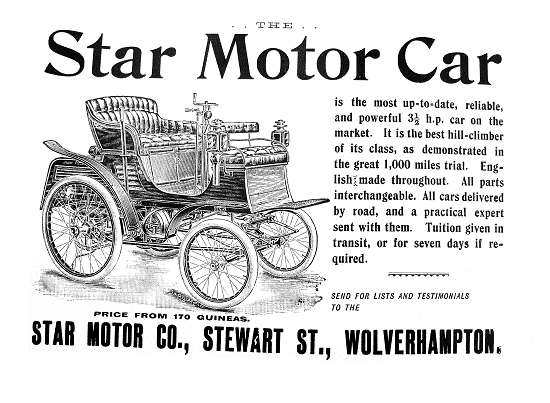 An advert from September 1900.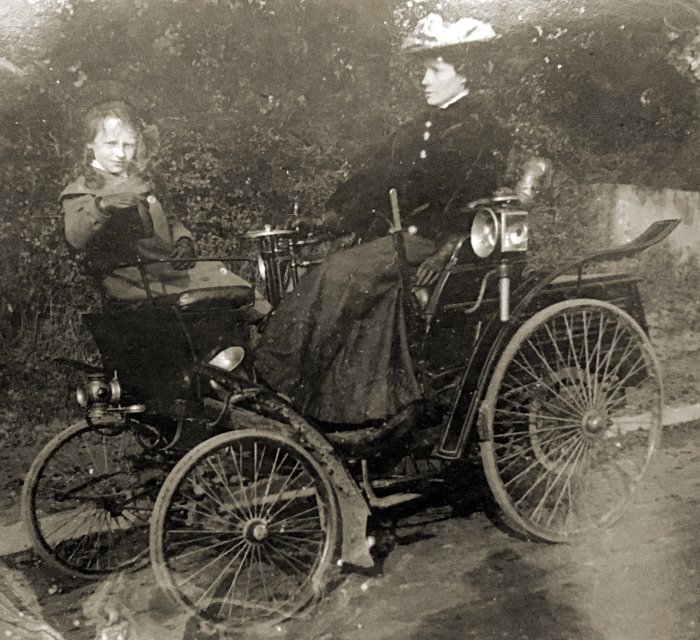 A Star-Benz car photographed in Wandsworth in 1902 or 1903. The lady driver is Margaret Jones, and the girl is Daisy Jones. Courtesy of
Peter Bailey.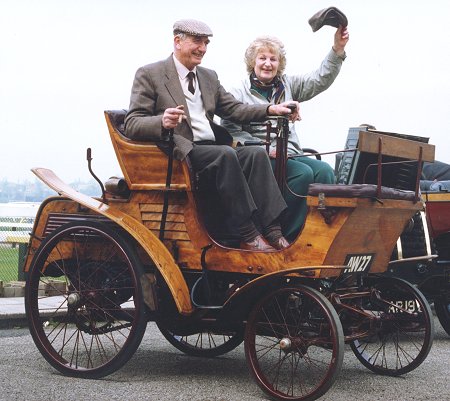 A lovely photo of the 1899 Star-Benz. On the right is Nora Lisle. Courtesy of Peter Lisle.
---