| | | |
| --- | --- | --- |
| | | |
---
The Coulter Star Pegasus 1926 Sports XI 6393
By Brian J. Rollings
This Star was originally owned by J. E. Coulter & Co., Ford & Star Agents in Belfast, Northern Ireland at a time when both makes complemented each other in the car and commercial fields. Competition was considered an essential part of the trade and Coulter's staff, raced a Model T Ford, with O.H.V. conversion, and a Star 12/40, a new model for 1926 with an overhead valve engine, that was Jack Coulters personal car. Unfortunately Coulter turned the car over loosing an arm in the process, and after this injury, Bob Wylie, as lead apprentice with the company, fetched him to work each morning in this Star from his home on Cliftonville Road.
| | |
| --- | --- |
| | Brian Rollings and the Coulter Star. |
The charge hand at Coulter's, was W. H Connolly, who in later years became the Citroen agent for the Belfast area, and it was he who drove the Coulter cars in the various motoring competitions in Northern Ireland pre-Ards TT Days, including the Magilligan Sand Races and Hill Climbs at Craigantlet and at Ballybannon. This hill climb event was unique in that it was held on a straight but steep road; the cars started two at a time. It was first held in 1903 as part of the Irish Motoring Fortnight, associated with the Gordon Bennett Trophy Race in Kildare
When the Star 12/40 was raced at Magilligan by Billy Connolly, it had the mudguards removed from the original two-seater body with dickey seat, but it is now exactly as it left the factory.

Coulters then acquired a single-seater aluminium body that had originally been fitted to a 1923 Star 11.9 hp with which, in two seater form, Malcolm Campbell had won the Easter Brooklands Handicap Race in 1924.

After being fitted with this single seat body, and engine upgraded initially to a side valve 1944cc, and then to an o.h.v. version of the same engine, Campbell raced at every Brooklands meeting during 1924, eventually winning a second handicap race in September.


Another view of the Coulter Star.
When the Ford Company told Coulters to shed the Star agency, Billy Connolly started his own garage to sell and service Stars. The Coulter Star and the Malcolm Campbell body were among the assets taken over, and Connolly won Ballybannon Hill Climb in 1928 with the Star 12/40 Sports (XI 6393) fitted with the single seater Campbell Body. The average speed achieved was 63.9 mph up a 1 in 6 hill for one mile, and it was said the car was good for 100 mph.
| | |
| --- | --- |
| | The car photographed during a visit to the Black Country Living Museum in July 2009. |
The Coulter Star 12/40 remained in Belfast until the1950's. With mudguards refitted it was sold to Alec Furphy, before passing to Kevin Gildea of Stratford on Avon who owned it for some 40years.

Having had very little use in the last 20 of those years, I acquired it at the beginning of April 2009.

Since then I have spent many hours bringing it back to a high standard of finish, but hopefully retaining its originality.

Its first official outing will be The Festival of Black Country Vehicles on the 26th July 2009.


Brian Rollings standing beside the single-seater Campbell body.

Another view of the Campbell body.

My association with Star cars, is that my Gt. Grandfather's sister Sarah Ann Rollings was married to Edward Lisle, the founder of the Star Companies.

Also John Rollings my Gt. Grandfather's Brother was a Director and a main Share Holder in the Star Cycle Company, which later became Briton cars.
This my second Star, the first one a 1930 18/50 Jason Saloon, owned for 10 years. Over the past 45 years I have owned many old cars starting with humble Austin Sevens (the first of which I still own) through to Bentleys.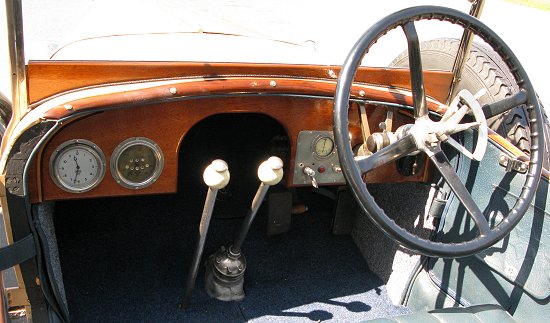 A final view of Brian's car.