---
The Early Years

Leslie Dawson, a popular grass track rider in the North West during the 1920s and 1930s, became known as 'Smokey' because when taking part in a race at New Brighton, he was mistaken by the spectators for the leader, who was Australian rider, 'Smokey' Stratton. There was a lot of dust and exhaust fumes, and the riders were obscured from view.

William Leslie Dawson. Sitting on a DMW / Chater Lea speedway machine from 1938. Courtesy of Grant Dawson, Leslie's son.
Leslie competed in the Ulster 100, the North West 200, and several Manx Grand Prixs.

He also competed in speedway events at New Brighton, Bellevue and Rochdale.

Leslie ran a garage at Heswall, Birkenhead, where he designed and built many of his own machines, and machines for fellow competitors.
He even built a machine for his son, Barry, at a time when children's motorcycles were unheard of. Some of his machines were known as 'Bitzas', because they were made up from the best bits of other machines.

Because of injuries suffered in some of his pre-war racing crashes, Leslie was ineligible for the armed forces at the outbreak of world war 2. During the day he worked as an RAF civilian instructor, training aircraft maintenance mechanics, and at night he would roar around the blacked-out countryside on his bikes, delivering dispatches etc. He also did some specialised welding work as part of Frank Whittle's secret engine development team. During the war he also built DMW kits in very limited numbers, due to the shortage of materials.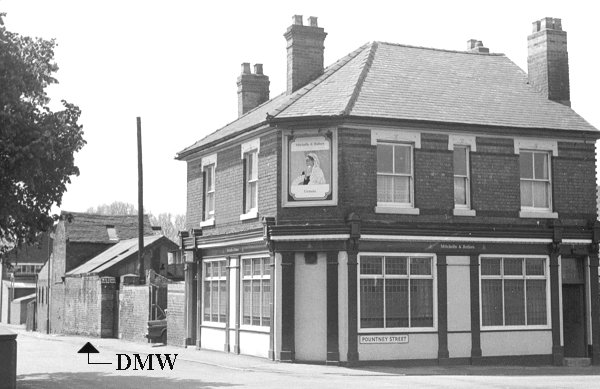 The location of the DMW garage in Bell Place, Wolverhampton. Photo courtesy of David Clare.
In the early 1940s Leslie opened a small garage in Bell Place, Wolverhampton. His premises consisted of a large shed at the side of S. Bridgen's coal yard, by the Victoria pub, on the corner of Pountney Street. He was an innovator, and developed Dawson's 'Telematic tele-forks', which were launched in 1942. These were telescopic spring and pneumatic front forks in a 'do it yourself' kit form.
They were easily fitted to British machines, which at the time still had traditional girder forks.

Telescopic suspension units were only available on expensive BMW machines, which were heavily patented, so that other manufacturers could not copy the idea.

The 'Telematic' forks however, did not infringe the patents. Local customers could take their machines to Leslie's garage and have the forks fitted.


Leslie on his Norton machine in 1937. Courtesy of Grant Dawson.
In 1943 a rear suspension conversion kit was produced, which gave a much improved ride. The rear part of the frame was cut-off and replaced by the new suspension kit.

Leslie called his garage Dawson's Motor Works, and after the second world war he started to build a few racing machines. These machines were the first to use the DMW name, which stood for Dawson's Motorcycles Wolverhampton. The machines were powered by 350c.c. and 500c.c. JAP engines, and were the first machines that he completely built.
---