---
In 1953 the company decided to enter three machines in the Isle of Man T.T. They were to be powered by a special engine, a 250cc twin, with a rotating combustion chamber head, capable of developing around 28bhp. Six T.T. frame sets with trailing link front suspension, and front and rear oscillating brakes were built in preparation. Three machines were to be entered in the T.T.

Two top riders, Ray Amm and Bill Doran were interested in riding the machines, but although a working prototype engine was built and tested, the project had to be cancelled due to a lack of finance.

(Thanks must go to Martin Tiller for supplying the information).

A DMW 'Cortina'

Several new machines were introduced in 1954, including the 'Cortina', a name later used by Ford. It was named after the Italian resort in the Dolomite mountains where Harold Nock had a winter holiday.

Much thought was given to the styling of the 'Cortina', a luxurious lightweight machine, powered by the new 225c.c. Villiers 1H engine. It had a 'P'-type frame, made from square section tubing, and pressed steel panels with internal compartments for the battery and toolkit.

The panels continued towards the rear to form a deeply valanced mudguard for the rear wheel.
The heavily valanced front mudguard gave good protection from debris thrown up from wet roads.

The machine had an enclosed chain drive and a hydraulically damped rear suspension. The Metal Profiles front fork had a neat cover on the top to house the headlamp, speedometer, ammeter and light switch.

There was a dual seat for the rider and a pillion passenger, which could be raised to give access to the battery, rectifier and twin tool compartments.

The machine was finished in turquoise blue, Paris grey or black, with a gold-lined petrol tank.

The wheel rims were chrome plated.


The 200P Mark 1 was a cheaper version of the 'Cortina'. It had a similar specification, and was powered by a 197c.c. Villiers 8E/3 engine.

Gemma Toon's 200P Mark 1.

'The Motor Cycle' magazine conducted a road test for the 17th February, 1955 edition.

The 'Cortina' was described as having the handiness of a lightweight and the sturdiness of construction normally associated with a heavier machine.

It not only steered and handled well, but also possessed considerable powers of acceleration.

The top speed was around 60m.p.h., with a fuel consumption of around 71m.p.g. at 50m.p.h.
The DMW 'Dolomite' on display at the National Motorcycle Museum.

Courtesy of Jo Skidmore.
The 'Dolomite', a development of the 'Cortina' was launched in 1954. It had Metal Profiles 'Earles' type front forks and an electric starter using the Siba Dynastart system. The top speed was around 72m.p.h. It sold for £240.
In 1953 DMW decided to develop a de luxe road model, powered by the new Villiers 250c.c. vertical twin two-stroke engine. Unfortunately Associated Motor Cycles wanted the engine for their own exclusive use, and Villiers agreed.
In response to this Harold Nock sent works manager Arthur Frost, across to France. He returned with some good looking overhead camshaft engine and gearbox units, which were built by Ateliers Mechanique du Centre, ironically with the same initials as Associated Motor Cycles.
The French AMC engines had a single camshaft, and several versions were available. There were 170c.c. and 249c.c. models, and a 125c.c. racing unit that was used to power the DMW 'Hornet'. The machine was launched in 1954, and like the 'Dolomite' had Metal Profiles 'Earles' type forks. It was listed at £362.10s.0d.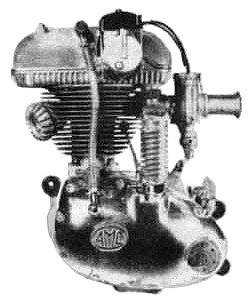 The French 125c.c. AMC engine.
| | |
| --- | --- |
| | View some DMW machines from the 1950s |
In the late 1950s motor scooters were very popular, and in response to this, DMW launched the 'Bambi'. Prototypes were first shown in 1950. The scooter was constructed from steel pressings and had large disc wheels.

DMW 'Bambi' motor scooters.

It was powered by a 98c.c. Villiers 4F two-stroke engine with an integral 2-speed gearbox.

The scooter had a top speed of 35m.p.h. and an average fuel consumption of 135m.p.g.

The machine went into production in 1957 and sold for £110.8s.0d. About 500 were produced.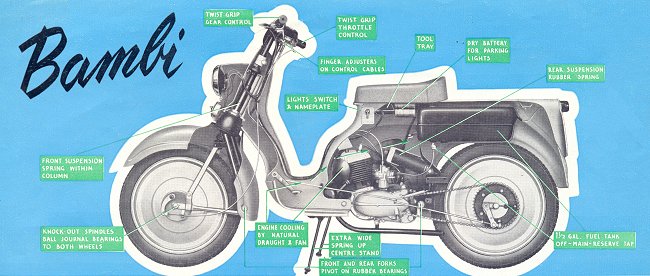 The 'Bambi' specification.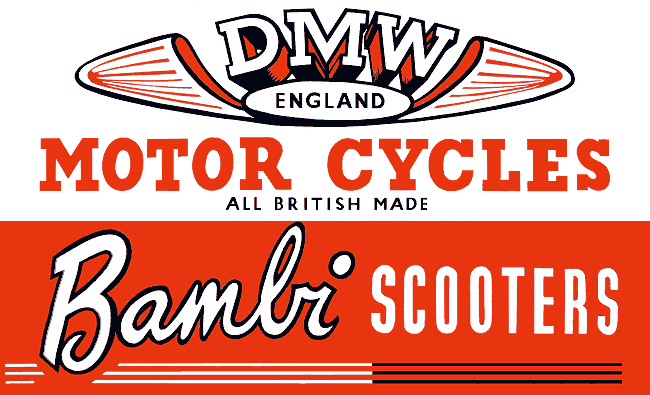 An advertising sign. Courtesy of Brian Shaw.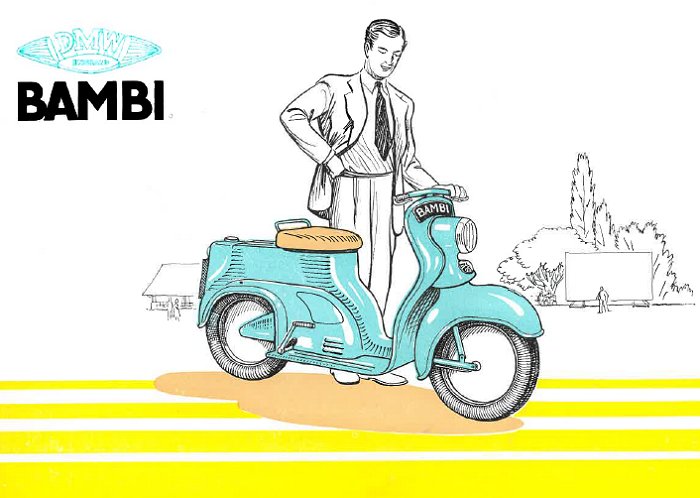 The front page of a 'Bambi' catalogue. Courtesy of Brian Shaw.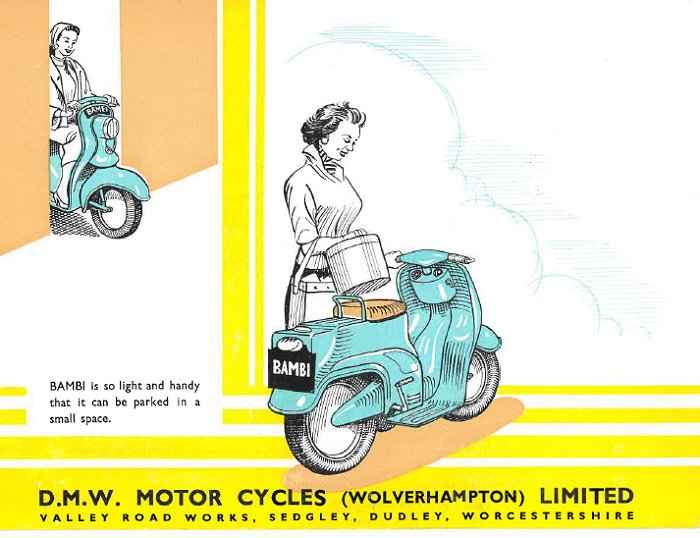 The back page of the 'Bambi' catalogue. Courtesy of Brian Shaw.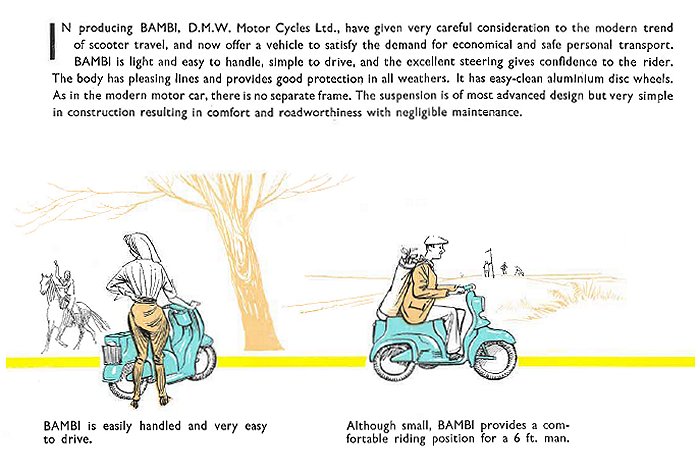 One of the inside pages from the 'Bambi' catalogue. Courtesy of Brian Shaw.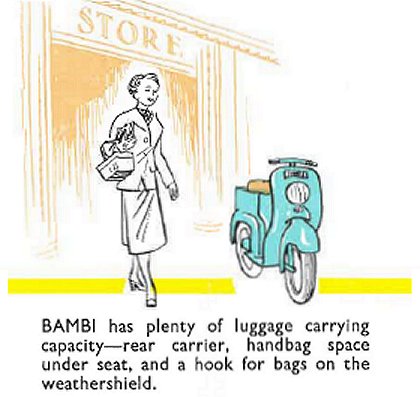 Another image from the 'Bambi' catalogue. Courtesy of Brian Shaw.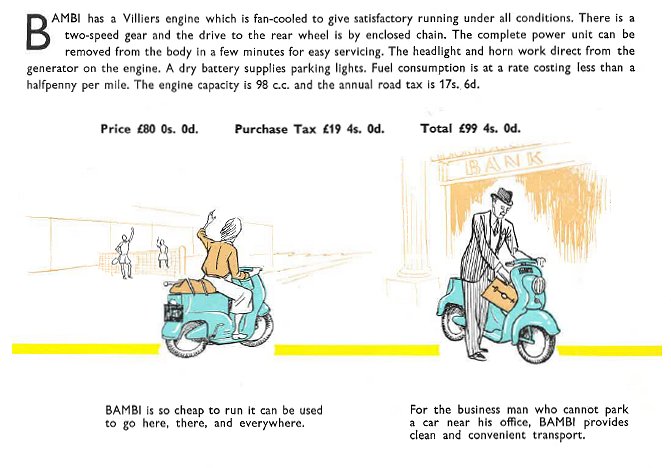 A final image from the 'Bambi' catalogue. Courtesy of Brian Shaw.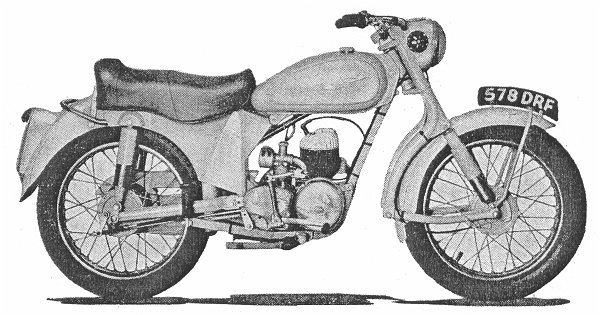 A 147 c.c. 2-stroke D.M.W. 'Leda'.


The 'Leda' specification.

The Villiers 29C engine, with a built-in 4-speed gearbox that was used in the 'Leda'.

The photo opposite shows a 'Leda' in action.
The 1957 Motor Cycle Show saw the only appearance of the DMW 'Dumbo', which was a cross between a motor cycle and a scooter. Possibly only a single prototype was built.

A similar model, the 'Deemster', also a cross between a motorcycle and scooter, was launched in 1962. It had a Villiers 249c.c. twin-cylinder two- stroke engine, with electric or kick start, and like the 'Bambi' was built around a number of steel pressings. There were Standard and DeLuxe models, which were fitted with a Villiers 4-speed gearbox. The DeLuxe version included a Siba Dynastart electric starter.

The engine and fuel tank were mounted following normal motorcycle practice, and there were removable rear side panels and floorboards. It had built-in leg shields and a large comfortable seat, a large locker, a windscreen, and twin 5 inch headlamps. There were 12 inch disc wheels, with a brake of DMW's own design using a Girling patent. The frame was robust, with a large diameter spine, joined to a square section down tube, and a framework of angle and tube supports for the footboards and sides. It was fitted with 'Earles' type front forks with a Girling damper on one side.


From the 'Bambi' sales literature.

The 'Deemster'.

The machine was never popular with the general public, but was very successful in the rural police service.

A number of police forces used them including Wolverhampton, which had eight.

The Police versions were equipped with a radio and a blue flashing light.

The selling price to the general public was £380.
Two views of Eric Loffman's 1966 police 'Deemster'. As seen at the Black Country Vehicle Rally in 2002.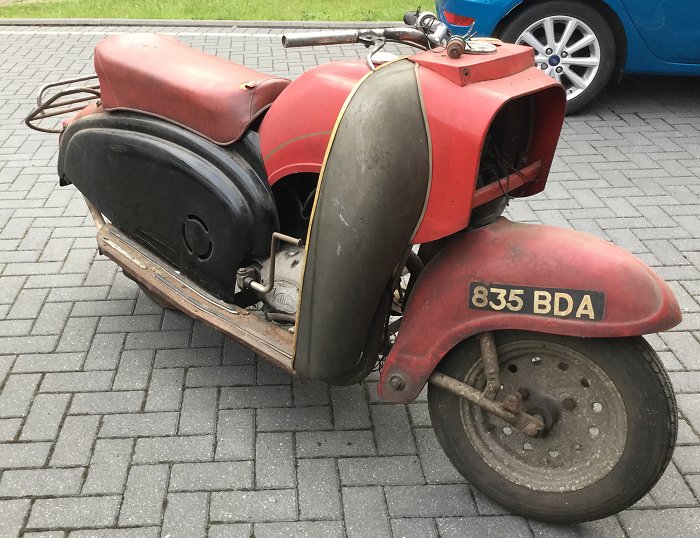 A 'Deemster' that has been restored by Ken Corrigan. The frame number J89. It had previously been owned by two people, who did little to it. Ken mentioned that it was also owned by the late Keith Bragg, who got it from DMW and that they had been was using it as a hack, the reason being, he believes, is that it appears as a total insurance loss in the brown logbook. It only had the one owner at that point. Ken thinks it's likely that it went to DMW and they must have eventually made it roadworthy and put it back on the road. He doesn't know this for a fact, but there was obvious damage to the chassis that had been poorly repaired, which he repaired using new metal and his trusty MIG welder. Courtesy of Ken Corrigan and Brian Shaw.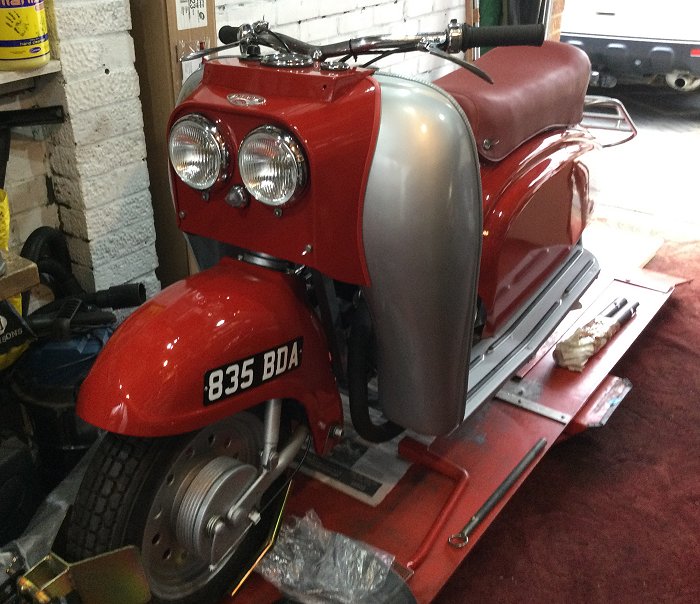 Ken's restored 'Deemster'. Courtesy of Ken Corrigan and Brian Shaw.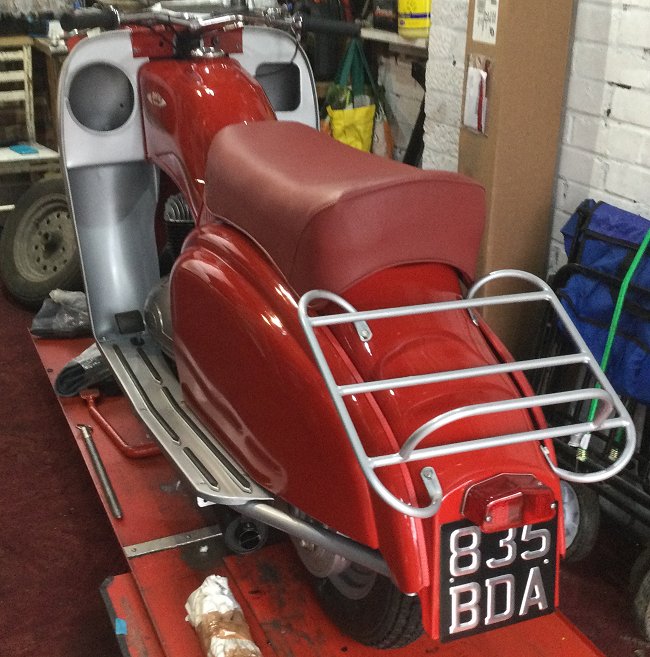 Another view of Ken's 'Deemster'. Courtesy of Ken Corrigan and Brian Shaw.
View some photographs of
Deemsters
One of the covered Deemsters being ridden by a Colwyn Bay AA patrolman. Although developed for the police, it seems that they had other uses.

Courtesy of Brian Shaw.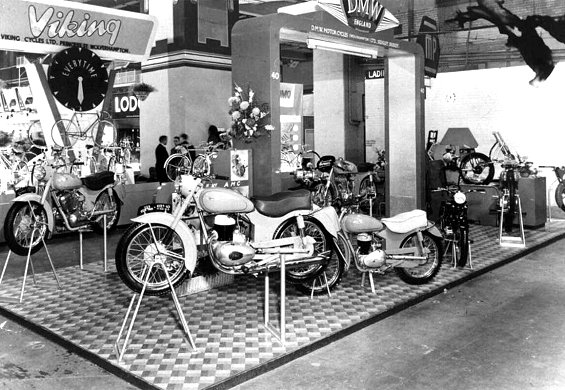 A DMW display at a show in 1954 or 1955. Courtesy of Jo Skidmore
This fine Dolomite from 1960 is owned by Arthur Stubbs, of Hatton, Derbyshire.

The photograph was taken at the Festival of Black Country Vehicles that was held at the Black Country Living Museum, Dudley, on 26th July, 2009.
| | |
| --- | --- |
| | Another view of Arthur Stubbs' excellent machine, which he restored himself. |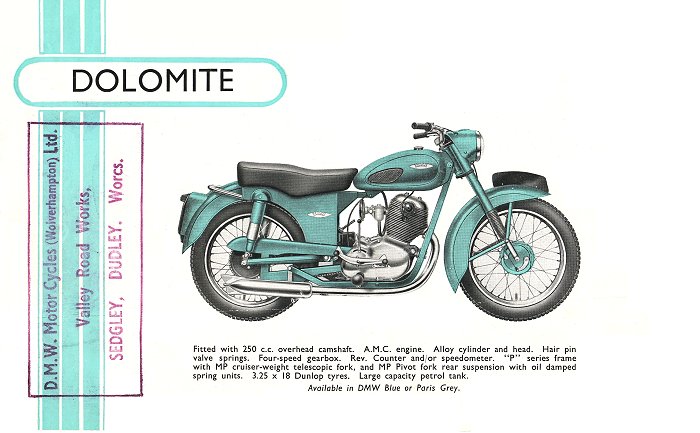 Courtesy of René Krullaars.
| | |
| --- | --- |
| Mick Knowles' 200P. | |

Mick Knowles riding his 200P at the annual Festival of Black Country Vehicles which is held at the Black Country Living Museum.

In 1962 Harold Nock purchased Ambassador Motor Cycles of Ascot and moved production to Sedgley.

Ambassador Motor Cycles was one of several companies owned by the famous record breaker Kaye Don, who drove the Sunbeam Silver Bullet in 1930.

Ambassador motorcycles were produced in Sedgley from July 1963 until September 1965, but they were mainly 'badged' DMW 'Dolomite II' machines.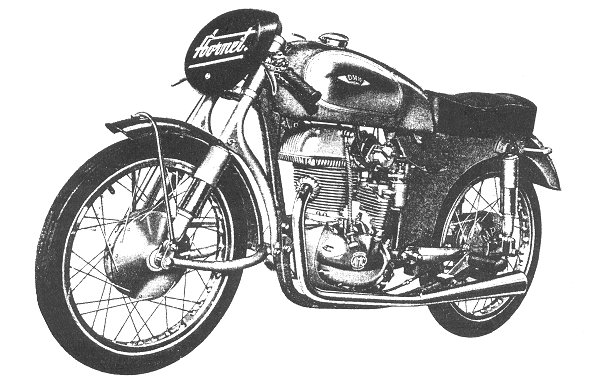 The 'Hornet' from the company's advertising literature. Courtesy of the late Jim Boulton.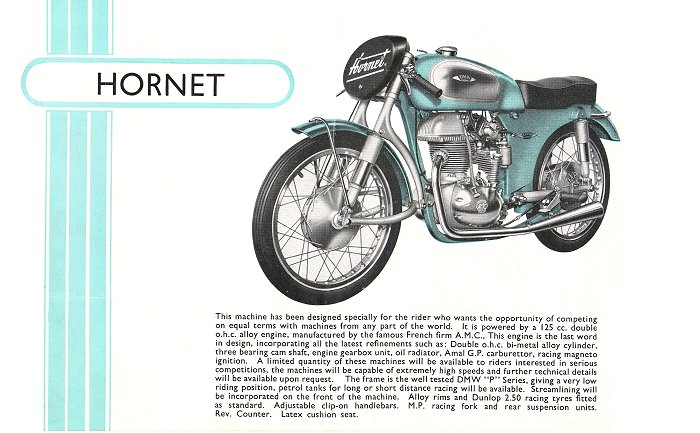 Courtesy of René Krullaars.
In the middle of 1963, Villiers adapted the engine for installation in the Bond three wheeler. In order to solve cooling problems, the top half of the engine was redesigned to allow a greater passage of cooling air. The modified engine was called the Mark 4T.
The new engine did not work very well in the 'Deemster'. It was not as powerful as its predecessor at slow speeds, and the smooth running of the original engine had gone.

The new engine was totally unsuitable for police work. A redesign was necessary.

Initially a 197c.c. single cylinder Villiers engine was tried and then the 250c.c. horizontally-opposed twin cylinder engine and running gear, as fitted to the Velocette 'Viceroy' scooter. The new version appeared in 1968 but was unsuccessful due to starting problems and high maintenance costs. Only about 100 were sold to the general public and about 250 to the police.


Gemma Toon's 1964 'Hornet'.

---