---
The Stevens Motor Manufacturing Company
In 1899 the four Stevens brothers, George, Jack, Joe, and Harry decided to set themselves up in business to manufacture petrol engines for all kinds of applications. As a result they founded the Stevens Motor Manufacturing Company. The brothers needed cash to finance the new project, and so initially, three of them, George, Joe, and Jack took other jobs until Harry could get the company established. Luckily this happened very quickly, the brothers soon returned, and petrol engines were developed for many uses.

The Stevens brothers first motor-bicycle. A BSA bicycle with the old 'Mitchell' engine fitted to the frame.
Harry soon became interested in powered transport and fitted their old 'Mitchell' engine to a BSA bicycle that had been lying around the works.

The engine was inclined forwards and mounted to the frame. The ignition was supplied by a trembler coil. A large metal rim was fitted to the back wheel for a belt drive.

A leather belt was wrapped around it, and around a pulley on the engine.
Apart from the unreliability of the engine, the machine was a great success. It was admired by many people, including William Clark who ran the Wearwell Cycle Company.

William Clark was also interested in producing powered vehicles, and on 26th October, 1899 he set up the Wearwell Motor Carriage Company Limited to produce vehicles at their premises in Pountney Street. This was situated on the site that is now occupied by J. W. Braithwaite & Son Limited, bookbinders and finishers. Wearwell produced a four- wheeled vehicle, powered by two Butler, 2¼hp. engines, mounted side by side. In 1899 it was displayed at the National Cycle Show at Crystal Palace, but not generally liked.

When he saw the Steven's machine, he realised that it would make an ideal product for his company, because it performed extremely well, and of course Wearwell already made bicycles. All that would be needed was the engine and a few modifications to a standard machine. Joseph Stevens & Company already supplied Wearwell with spokes and screws, so both companies were well known to each other. An agreement was made with Stevens, and a contract drawn-up. Stevens agreed to supply a minimum number of engines each week, which were to be fitted to heavy duty bicycles.
The new machine was called the Wearwell-Stevens motor bicycle and first appeared in the spring of 1901. It was fitted with 2½hp. air-cooled, 4 stroke Stevens engine, with automatic inlet valve, and mechanically operated side exhaust valve.

The engine was mounted above the front down tube, and had accumulator ignition, a surface carburettor, and a twisted leather belt drive to the back wheel. It sold for 42 guineas.

The machine proved to be very popular, and an improved version was shown at the 1902 National Cycle Show at Crystal Palace. Improvements included a choice of surface or spray carburettor and modifications to the wheels and frame.

Demonstrations were given at the exhibition, the price was reduced to £40, and orders poured in.

In 1903 further changes were made. The rear wheel was now driven by a 'Lincona' vee belt, and the surface carburettors were discontinued in favour of the spray type.


Mr. and Mrs. Albert Clarke with a 1901 Wearwell-Stevens motorcycle. Photo courtesy of the late Geoff Stevens.

Lily Stevens and the first Stevens motorcycle.

During 1903 the brothers produced a one-off Stevens motorcycle, the first motorcycle to be completely designed and built by them.

It used all of their own parts and was more substantially built than the Wearwell-Stevens machines.

Lily Stevens was the first person to ride the machine on Wolverhampton's roads, to become the town's first lady motorcyclist.

Lily's younger sisters Ethel and Daisy also rode the machine. Ethel was only 14 years old at the time. One day whilst riding the machine up Darlington Street, a policeman stopped her and asked if she had a license. She pretended to be her elder sister and later produced Lily's license at the police station.
1903 saw the introduction of the 'Motette' powered tricycle, a modified version of the two and a half horse power bicycle.

The front wheel was replaced with a two-wheeled axle, onto which an upholstered wicker seat was attached. The machine sold for 53 guineas. A conversion for two wheeled machines was available for £16.5s.0d.

Unfortunately both of these products proved to be unpopular.


A 'Motette' with Harry Stevens as passenger, and Fred Adey driver. Photo courtesy of the late Geoff Stevens.

Part of the main workshop at Pelham street.

Stevens' engines continued to sell extremely well and a wide range of new models soon became available.

The company quickly outgrew the Tempest Street premises and so in February 1904, both of the Stevens' companies, J. Stevens and Company, and the Stevens Motor Manufacturing Company moved to Fort Works, at the end of Pelham Street.
After the move to Pelham Street, both companies joined together to form the Stevens Motor Manufacturing Company Limited.

The new company was registered on 10th December, 1904 with a maximum private share capital of £5,000. The subscribers were Joseph Stevens senior, George Stevens, Harry Stevens, W. H. Haden (gentleman), T. E. Lowe (accountant), and F. R. W. Hayward (solicitor).


Another corner of the main workshop at Pelham street.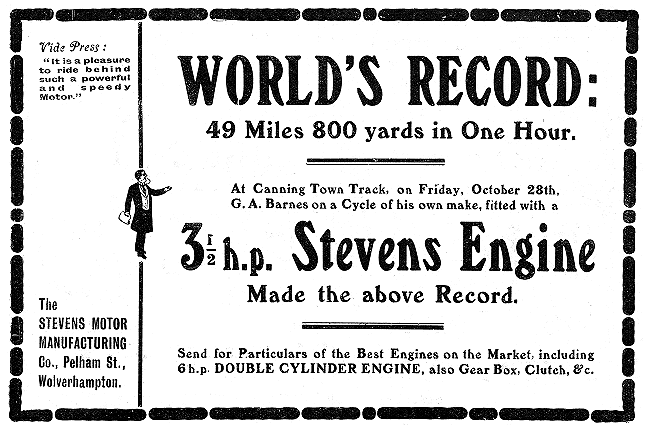 An advert from 'The Motor' 8th November, 1904.
| | | |
| --- | --- | --- |
| | | |
| An advert from 'The Motor' 6th April, 1904. | | An advert from 'The Motor' 1905. |
| | | |
| --- | --- | --- |
| | | |
| An advert from 'The Motor' 1905. | | An advert from 'The Motor' 28th March, 1905. |

A 1904 Stevens engine advert.

In 1904 Wearwell launched a range of more substantially built models under the the name of 'Wolf'. These were fitted with Stevens air or water cooled engines, and could be supplied with a clutch. The engine was vertically mounted near the bottom bracket.

All went well until the summer of 1905 when a slump in the motor industry led to a fall in sales of engines. This continued for some time and it became essential to safeguard the screw and rivet part of the business from the vagaries of engine sales.

This was achieved by the formation of the Stevens Screw Company Limited in 1906, which moved to premises on the eastern side of Retreat Street. The company was run by Joseph Stevens senior, and two of his daughters, Lily and Daisy. At this time brothers George, Joe, and Jack Stevens temporarily found other jobs until things improved and the company could support them again.

Between 1906 and 1908 George worked for the Commercial Autocar Company, based at Hereford.
The Stevens Industrial Set from 1904, built around a Stevens two cylinder vertical engine, which had a pair of water-cooled cylinders. It was shown at the Stanley Show.

The cylinders, the jacket, and heads for the two cylinders were all cast in one piece.

It weighed 79lbs. and produced between 5 and 6hp.

From the Motor Cycle, 14th November, 1904.

A Wearwell machine fitted with a Stevens engine and an external flywheel. Courtesy of the late Geoff Stevens.
At this time the brothers designed and developed a new range of engines in readiness for the end of the depression.

The new products ranged from a 4hp. single cylinder, water or air cooled engine, several 2 cylinder engines from 6hp. to 10hp. and two 4 cylinder water-cooled engines rated at 16hp. and 18hp.

From 1907 Stevens also made around 500 engines for the Australian motorcycle manufacturer Lewis.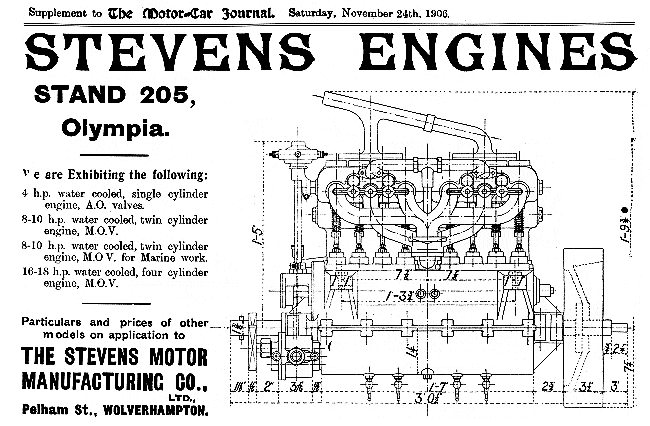 An advert from the November 24th, 1906 edition of 'The Motor Car Journal'. Courtesy of Ray Jones.
Luckily Wearwell sales were still going strong, and the range of 'Wolf' machines was increased. The engines in the new range of motorcycles included 2½hp., 3¼hp. and 4hp. single cylinder, a 3hp. V-twin, a 4½hp. and a 5hp. vertical twin. Harry also designed a new type of cork inserted clutch, which was available as an extra. The machines sold from 37 to 42 guineas.

New versions of the 'Motette' were also produced. These were available as passenger and commercial types. The lighter machines used 4½hp. or 5hp. water-cooled vertical twin engines, with a 2 speed gearbox and clutch. They sold for 75 guineas. The heavier versions were built like a car with a steering wheel and body. They used a 7hp. or 8hp. water-cooled, vertical twin engine, a 3 speed gearbox with clutch, and sold for 100 or 105 guineas.
The engine opposite was developed for use in light cars. The advert includes a testimonial written by George A. Barnes of Lewisham:


"I have succeeded in climbing Westerham Hill three times in succession with an 11 stone 7lb passenger. This is the only single-geared Fore-car that has ever accomplished this difficult task."

An advert from 'The Motor Cycle'. October 6th, 1909.
Wearwell-Stevens motor bicycles continued to sell, but all of this was not enough to keep the engine business going. The company had several debtors including B.S.A.

A receiver was appointed on 17th March, 1907, and the brothers took other jobs to make ends meet.

Things improved in 1908 when Clyno of Thrapston, Northamptonshire started to produce motorcycles using Stevens engines. Right from the start they sold well and a brighter future seemed in sight. Around this time Joe and Jack Stevens became well known figures, due to their many successes in reliability trials, riding Wolf machines.

Disaster struck at Wearwell in 1909 when it was discovered that the Company Secretary, Mr. King, had been using the company's money to gamble at pool in a local public house. A large sum of money had disappeared, which resulted in Wearwell going into liquidation.

Mr. King tried to commit suicide, but William Clarke did not bring any criminal charges against him, because he discovered that one of his brothers was also involved.
This came as a shock to the Stevens brothers as it abruptly ended their association with Wearwell. Luckily as Wearwell had paid them weekly they had not lost any money as a result of the tragedy.

The brothers also acquired freehold premises in Retreat Street, on the opposite side of the street to the Stevens Screw Company's works.

They decided to produce their own motorcycles under the A.J.S. name. This came from Jack Stevens' initials, because he was the only one of the brothers to have two Christian names; Albert and John.

The brothers set up a new company called A. J. Stevens & Company Limited on 14th November 1909.

The Directors were Harry, Joe junior, Jack and George. They started with a share capital of £1,000.


From 'The Motor Cycle'. 21st July, 1909.
---