---
Sidecars and C. W. Hayward
In 1913 A.J.S. introduced a version of the model 'D' motorcycle with a coachbuilt sidecar. The sidecars were purchased from local manufacturer C. W. Hayward.

Charles William Hayward in 1926.

Charles William Hayward was born in Wolverhampton on 3rd September 1892 and educated at St. John's School in Cleveland Street. Whilst still at school he helped his grandfather, who had a small lock making business in Church Lane. Charles used to collect brass castings from a foundry in Skinner Street during his dinner break, and on Saturdays would deliver finished locks to factors in Wolverhampton and Birmingham.

He started work as an engineering apprentice with Joseph Evans, Culwell Foundry, Heath Town.

At the age of 19 he rented a 100ft x 30ft workshop in a coalyard off Church Street, for 2 shillings and 6 pence a week. He employed a craftsman to assist him in the production of patterns for the engineering trade.
In the first two years he made £2,000, which in those days was a large sum of money. With the development of the cycle and motorcycle industry he began to produce motorcycle sidecars for Sunbeam, in a small workshop in Sunbeamland. Sales were good and the pattern making business was transformed into sidecar production.

The sidecars were built to a very high standard using an all steel, welded body, with a sprung tubular steel chassis. A.J.S. became a good customer, purchasing sidecars for the model 'D' combination, which sold extremely well. The combination sold for 84 guineas for the basic machine, or 87 guineas with easily interchangeable wheels. Charles married Hilda Arnold in 1915 and sometime later moved into 'Rosedale', Dunstall Road.
The luxurious sidecars were extremely well fitted out with 'Leverine' leather upholstery, and fully sprung.

A weatherproof hood was available as an extra.

During World War One A.J.S. worked flat out to fulfil wartime contracts for the War Office and the Russian Army, supplying large numbers of military motorcycles.


A 7.99hp. de luxe passenger combination from 1925.
Charles Hayward also did well, receiving large orders for military sidecars, ammunition carriers, and machine gun carriers.

For the first two years of the war A.J.S. continued to produce motorcycles for the civilian market. Two new passenger combinations were introduced in 1915. The first, an updated version of the 6hp. model 'D' sold for 88 guineas. The second, the new model 'A' was a smaller version with a 4hp. V twin engine. It sold for 81 guineas. A full set of weather equipment was available for both models as an extra.

Joe Stevens senior and his 'Sociable' in 1915. Courtesy of the late Geoff Stevens.

1915 saw the introduction of the A.J.S. 'Sociable'.

It consisted of a model 'D' motorcycle with a 2 seater sidecar in which the occupants sat side by side.

The person nearest the motorcycle could control the machine, and steer it by means of a tiller.

The idea wasn't very popular and only a few were made.
Harry Stevens had one of the machines and went out for an afternoon ride with his wife Annie.

They had a serious accident near Newport in Shropshire, when they were in collision with a car.

Harry was badly injured after being thrown some distance along the road. Annie only received a few cuts and bruises.

The sidecar was completely destroyed in the accident.


Mr. and Mrs. Jack Clark of Wearwell in their 'Sociable'. Courtesy of the late Geoff
Stevens.
In November 1916 the Ministry of Munitions prohibited the manufacture of motorcycles for the civilian market, and so until the end of the war A.J.S. and C. W. Hayward only produced products for the military.
Due to a large increase in sales, Charles Hayward had to look for larger premises so that production could be stepped up. He found empty premises in Stewart Street that belonged to Star. He rented the factory and moved there in 1916.

From 'The Motor Cycle' 2nd February, 1922.

After the war, civilian market restrictions were lifted in January 1919, and A.J.S. developed a 6hp. 3-speed 'de-luxe' model 'D' combination featuring a luxurious sidecar. The model 'D' had a new style saddle tank, detachable cylinder heads, and used some of the techniques developed by A.J.S. for their wartime military machines.

The sidecar was spacious and beautifully upholstered in leather. Three large 'Cee' springs were fitted to the back and front of the chassis to provide excellent suspension, and weatherproofing was fitted in the form of a folding hood and cover with side curtains and apron.

Other features included a tool locker, and a spare wheel on the back, that was interchangeable with the wheels on the motorcycle. Due to inflation prices varied from 135 guineas to 190 guineas.

The machines were a great success, and C. W. Hayward, who also made sidecars for most of the leading motorcycle manufacturers, became the largest sidecar manufacturer in the world.
Joe Stevens' first wife Sarah Ann died in 1906. He eventually married Charles Hayward's mother, so that Charles became the Stevens brothers' step-brother. In 1920 A.J.S. took over Charles' company and purchased the Stewart Street factory. The company still continued to trade as C. W. Hayward, with Charles as Managing Director.
At the time, motorcycling had become extremely popular, sales rocketed, and the Stewart Street factory worked flat out. Charles was appointed to the A.J.S. Board on 23rd November 1921. In the same year A.J.S. launched a more powerful version of the model 'D', powered by a 7hp. V twin side valve engine.
In 1922 a new lightweight sidecar was introduced for use with the new 2¾hp. model 'B'. The sidecar option included a storm proof apron and sold for £25.0s.0d. The demand for sidecars became greater than ever, and so A.J.S. decided to look around for larger premises because of the cramped conditions in Stewart Street.
In 1922 the Briton Car Company, who coincidentally used to occupy the Stewart Street works before A.J.S., went into voluntary liquidation. Their Lower Walsall Street works was put up for sale, and Page & Sons, Estate Agents sold the Walsall Street factory on October 3rd 1922, for £7,000 to A.J.S.

Before the end of 1922 the sidecar business moved to Lower Walsall Street and by the end of 1924 the factory had been expanded to cover 150,000 square feet.

In the same year Charles' son Jack was born at 'Rosedale'.


The sidecar erecting shop at Lower Walsall Street.

From 'The Motor Cycle' 31st January, 1924.

Sidecars were still produced for a large number of motorcycle manufacturers, helped by the exploits of the company's competition manager, Frank Giles and his wife, Adelaide, who became well known because of their many successes in sidecar trials events.

Sidecars continued to sell extremely well until the emergence of the affordable light car in 1925, thanks to the efforts of manufacturers such as Austin and Morris.

The Board decided to offset the falling sales by introducing a range of commercial sidecars aimed at door to door delivery or service work. A fire fighting sidecar was also introduced, complete with a Merryweather fire pump, ropes and axes.

Several prototype lightweight, collapsible caravans were also produced. They came complete with cooking utensils, cups, saucers, plates and cutlery, but were never put into production.
In 1927 A.J.S. secured a long term contract to manufacture fabric covered car bodies for the Clyno 'Nine' light car, and in 1928 the whole A.J.S. sidecar range was covered in the same material.

Before the year was out Charles Hayward left Wolverhampton and moved to London to pursue a career as a stockbroker and industrialist. His position in the company was taken over by Joe Stevens junior.

Sidecars were built by teams of six men consisting of a team leader and 5 workmen. All sidecars were carefully inspected before leaving the factory.

Any unsatisfactory work would result in the sidecar being returned to the team responsible, who would be expected to remedy the problem in unpaid time.

Customers included Ariel, Brough, Excelsior, Scott, Sunbeam, Norton, and Swallow, one of the best customers.


From 'The Motor Cycle' 19th March, 1925.

Frank and Adelaide Giles, who took part in the London-Gloucester-London Trial on 10th December, 1927. They completed the course without losing any points, and won a first class award. From an A.J.S. advert dated December 1927.

The entire sidecar range was updated in 1929 to match the new range of motorcycles. There were 8 passenger sidecars, and 5 commercial sidecars.

Disaster struck on 11th February, 1929 when Clyno went into liquidation, ending the important contract for car bodies.

This had been essential to the future of production at Lower Walsall Street because of the continuing decline in the sidecar market. It ensured full-time working for the large number of staff, and funded the project to develop A.J.S. commercial vehicles.

In order to offset the loss of the contract, A.J.S. decided to produce its own light car, the A.J.S. 'Nine'.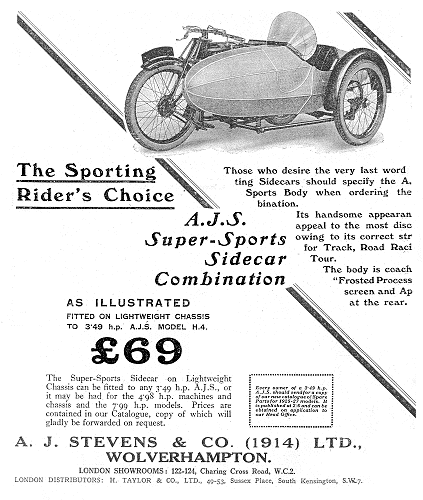 An advert from 'The Motor Cycle', 7th July, 1927.
Frank and Adelaide Giles on Blackermill Hill during the 1926 International Six Days Trial.

They finished in first place without the loss of a single point, and won a gold medal.

In the same year they also made the fastest sidecar time in the high speed test at Brooklands.
Frank and Adelaide Giles making a meteoric ascent of Sandy Lane.

From 'The Motor Cycle' 8th March, 1928.
Frank and Adelaide Giles crossing the High Water Splash in the 1928 Victory Trial on his 3.49hp. outfit.

They went on to win the trial and were awarded the 'Olai' cup.

An advert for Graiseley sidecars from 'The Motor
Cycle', 12th September 1930. Courtesy of the late
Jim Boulton.

Sidecars continued to be produced under the C. W. Hayward name until September 1930 when the 'Graiseley' name was adopted.

For the first time, sidecars were supplied to motorcycle dealers, so that they could be fitted to almost any make of machine.

In 1931 the company was in financial difficulties due to falling sales, and the large investment that had been required to get the commercial vehicle, and car business going.

In October a receiver was appointed, and A.J.S. went into voluntary liquidation. The 'Graiseley' name and remaining stock was sold for £475 to Diamond Motors of St. James Square, Wolverhampton.
Charles Hayward went to London in 1928 to exploit his idea of financing new inventions and processes.

He formed the successful Electric & General Industrial Trusts Limited which led to the formation of the Firth Cleveland Group of Companies.

It had five main divisions - fastenings, engineering, steel, lead and retail stores. There were overseas factories in Holland, West Germany, South Africa, Australia and sales branches and agencies throughout the world.

They employed around 9,000 people, and in 1970 the turnover was £47,800,000, with 23 factories in the UK.

The Group was taken over by Guest, Keen & Nettlefolds in 1970.

Charles was made a Freeman of the City of London in 1938, presented with a C.B.E. in 1970, and after retirement was Knighted in 1974. His first wife Hilda died in 1971 and a little later he married Elsie, his former secretary.


From 'The Motor Cycle' supplement, 11th December, 1930.

Sir Charles' grave in St. John's churchyard.

In 1961 he set up the Hayward Foundation as a charitable trust which has given millions of pounds to charities.

Local beneficiaries include St. Peter's Church, St. John's Church, the Royal Wolverhampton School, the Royal Hospital and Wolverhampton Boy's Club.

The trust also financed the building of the Hayward Homes for the Elderly in Dunstall Road.
Sir Charles Hayward died on 3rd February 1983 at his home at Jethou in the Channel Islands, aged 90. He is buried in St. John's churchyard, Wolverhampton.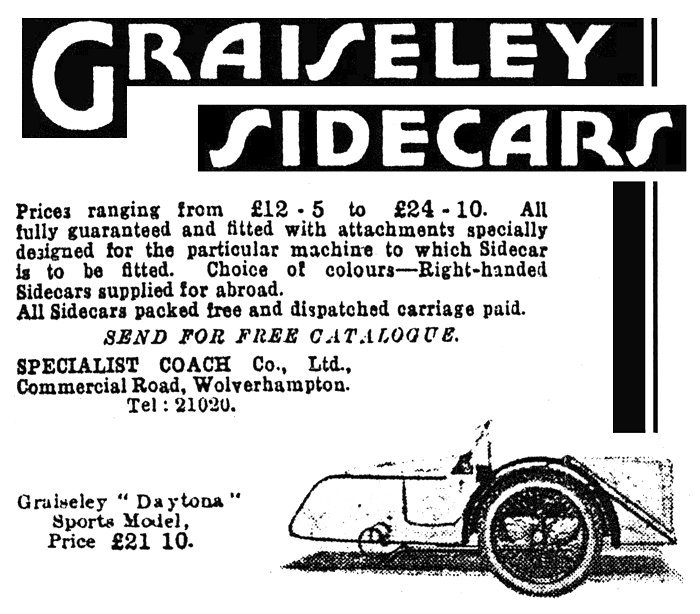 This advert from 1930 or 1931 came from the collection of the late Jim Boulton. Could it be that the Specialist Coach Company Limited was in the factory on the corner of Commercial Road and Lower Walsall Street that was owned by A.J.S.?
---