---
The Black Country's premier vehicle rally, the Black Country Vehicle Rally took place on Sunday 30th July at the Black Country Living Museum, Dudley. As usual, many locally made vehicles were on display, ranging from bicycles, motorcycles, and cars, to buses, lorries and vans. The weather was good and many visitors admired the large collection of vehicles that were there and enjoyed seeing some of them in action in the cavalcades.
There were also several indoor exhibits. Ray Jones put on an excellent display about the land speed record-breaking cars that were made in the Black Country, featuring three of his marvellous models.

David Evans who runs the Star Register displayed a collection of photographs of the inside of the Star works and articles about the company and Star's products, and Wolverhampton Archives and Local Studies provided a display about Wolverhampton's vehicle makers.
T

here was also a display by the Motorcycle Association, and Frank Sharman and myself put on a display about the late Jim Boulton and allowed visitors to look at this website.

The event was ably organised by Trevor Davies, Ray Jones, Brian Rollings and Brian Watton. They were assisted on the day by Stephen Howard and Hamish Wood, who work for the museum, and a small army of enthusiastic volunteers, who made the event possible. We must thank all of them for their hard work behind the scenes.
There were many interesting motorcycles on display. Amongst them was Bill Barton's immaculate Clyno 2.5h.p. lightweight from 1920, Steve Mills' superb A.J.S. K1 from 1928 and several DMWs from Arthur Stubbs' collection.

The cars included two Frisky Sports, an unusual sight these days, and Brian Shaw's Turner Mk2 sports car.
Brian Rollings displayed his Star Jason 4 door coupe from 1930, the only survivor, Christopher Habgood brought along his impressive Star Torpedo Tourer from 1914 and James Thomas was there with his Clyno Royal from 1928. The commercial vehicles included two furniture vans; a Guy Otter and a Guy Vixen, and three Guy Arab buses.
The prizes were given in honour of the late Jim Boulton, who started it all in 1992. He laid down the ground rules that except in special circumstances, are still followed today. All the entries must be made in the Black Country.

The winners were chosen by the exhibitors, who each had a voting slip and prizes were awarded for the following categories:
Motorcars: pre 1920, 1920 to 1940, and post 1940.
Motorcycles: pre 1930, 1930 to 1945, and post 1945.
The best commercial vehicle of any age.
The best bicycle of any age.
The prizes each consisted of an engraved Jim Boulton trophy and a copy of my Jim Boulton Appreciation. They were presented by David Evans. It was fitting that one of the visitors was Jim's second cousin from London.
A warm and friendly atmosphere prevailed with many people meeting old friends and catching up on news etc. Both exhibitors and visitors alike seemed to thoroughly enjoy their day at the rally and I'm sure they will look forward to next year's event.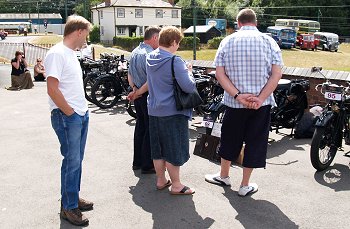 ---
---