---
The Black Country Living Museum's premier vehicle rally, the Festival of Black Country Vehicles, celebrating the many Black Country-made vehicles, took place on Sunday 25th July, 2010. The event attracted a large number of locally-made vehicle owners and their vehicles, and gave visitors the opportunity to step back into our motoring past.
| | |
| --- | --- |
| | Some of the many cars that came along. |
The weather was kind, it was a beautiful day, and visitors enjoyed the warm friendly atmosphere, and were able meet some of the many vehicle owners and enthusiasts.

This year there were more entries than ever, which were eagerly inspected by the large number of visitors, who also saw some of them in action in the unique series of cavalcades, that allowed owners to drive their vehicles around the 26 acre site.


Mark Longmore's 1914 Crescent Cyclecar. Its second visit to the museum.
Visitors could also see the many attractions at the museum, including the Victorian village, the superb canal and industrial exhibits, the fun fair, the recently opened 1930s shops, the coal mine, and the museum's own collection of Black Country made vehicles. Excellent food was also on offer in the Café Bar, the Canalside Café, and the renowned fish and chip shops.


The line-up of A.J.S. cars.
Attractions included a visit by members of the A.J.S. 9 Car Club, as part of their celebrations of 100 years of A.J.S. There were 9 cars in the A.J.S. line-up, including two from the Museum's collection. This must have been one of the largest gatherings of A.J.S. cars for many years. Only 33 are known to survive.
There was also a good display of Clynos. Seven of the Wolverhampton-made cars were on view, along with the Museum's 1927 Clyno Tourer. Both the A.J.S. cars, and the Clynos were designed by Arthur Gerald Booth, who went-on to become one of the countries top vehicle designers. This was probably the largest gathering for many years of Arthur's early creations.
| | |
| --- | --- |
| Mrs. D. Thomas's 1926 Bean Tourer in one of the cavalcades. | Other cars on display were made by Bean, Crescent, Frisky, Jensen, Lomax, Quantum, Rickman, Star, Sunbeam, Swallow, Turner, Westfield, and Austin (an A40 with a Jensen body). The entries included Mark Longmore's Crescent Cyclecar, the only known survivor, Brian Rollings superb Star 12/40 Pegasus Sports, Christopher Vernon Habgood's impressive Star Torpedo Tourer, Michael Dancer's beautiful Sunbeam 14/40 Tourer, Chris Smith's lovely Clyno Tourer, and Clive Knowles' Sunbeam racer. |
There were also many other equally impressive entries, the oldest being Mark Longmore's Crescent Cyclecar from 1914, Christopher Vernon Habgood's Star Torpedo Tourer from 1914, and Clive Knowles' Sunbeam 12/16 racer, also from 1914.

It was also good to see restoration in progress, in the form of Peter D. Stevenson's Clyno Royal Saloon from 1927. When the car first came to the museum for the 2002 Black Country Vehicle Rally, it was just a bare chassis on a trailer, today most of the body is in place. We eagerly await future developments.
Peter Stevenson's Clyno Royal in 2006, and 2010. Both photos were taken almost on the same spot.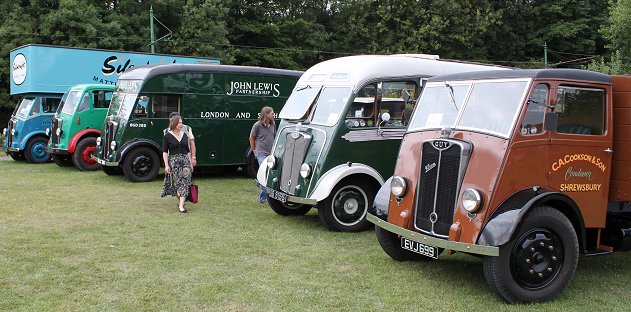 The commercial vehicles included Guy lorries, vans, and a coach, and a new visitor in the form of Daniel Batham & Son's impressive Bean lorry from 1930.
| | |
| --- | --- |
| As usual a good selection of motorcycles were on view, including models made by A.J.S., Clyno, DKR, D.M.W., Mercury, Sunbeam, and Swallow. Ivan Rhodes entered 5 interesting A.J.S. machines including his ex-Freddie Hicks R10 from 1930. Rally regular, Arthur Stubbs, and several family members entered a range of D.M.W. machines, and Eric Loffman came along with his DKR Defiant. Sunbeams were well represented with examples from 1925 to 1936, and two pre-First World War Clyno machines were on display thanks to Mr. F. Smith, and Mr. F. W. Harrison. | Some of the locally made D.M.W. motorcycles that came along. |
Other entries included John Fairclough's Mercury Grey Streak, and Paul Webb's interesting 1950 Swallow Gadabout, one of only 3 known survivors.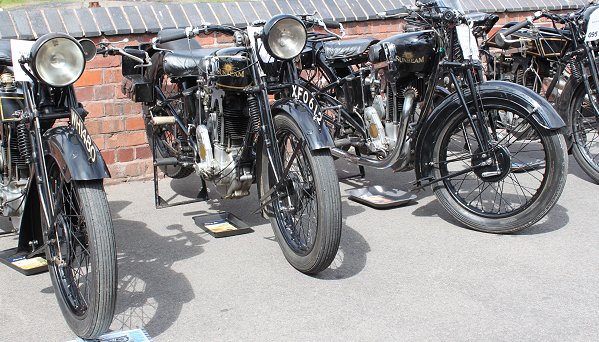 A few of the many Sunbeams that were on display.
Entrants came from as far-a-field as; Berrien, Powys; Bristol; Caerphilly; Llanfair Caereinion; London; Newport, Gwent; Oswestry; Romsey; Rotherham; Southampton; and Swindon. The longest journey was made by Mark Donnelly of Rasheen, County Cork, Ireland. He came with his A.J.S. 2-seater Tourer, which has an important past. It belonged to Alec Stevens, whose father Joe was one of the four Stevens brothers who founded A.J.S. in 1909.

Christopher Vernon Habgood's impressive Star Torpedo Tourer.

One of our rally regulars, Chris Habgood had a terrible journey to the event. He travelled from just outside Swindon in Wiltshire, and carried his car, the 1914 Star Torpedo Tourer on the back of a lorry.

Unfortunately it broke down on the motorway when an inside tyre blew-out. He attempted to jack the lorry up in order to change the wheel, but was foiled when the seal on the jack failed.
He then walked half a mile to the nearest motorway phone to get help, but discovered that the phone was out of order. Eventually the police towed him off the motorway, and he managed to borrow a trolley jack. He arrived around lunchtime, such was his determination to be there.
A number of the visitors and guests had direct links with the vehicle manufacturers.

Around 12 members of the Stevens family, of A.J.S. fame, held a reunion. Charles Weight, whose father owned Briton cars was there, as was Peter Lisle, whose family founded Star.

John Meadows, grandson of Henry Meadows came along, as did Keith Peckmore who worked for Kieft, and Frisky.

Another visitor, Jan Jeavons, is the granddaughter of Sunbeam racing mechanic Tom Barrett.


Charles Weight.

Music was provided by the excellent Dennis Mowatt Dixie Syncopaters.

Many of the visitors and entrants lined-up to view the magnificent spectacle of the cavalcades, which as usual were a great success.

Everyone seemed to have enjoyed their day in the heart of the Black Country.

Sadly, all too soon it came to an end, and by 5p.m. the site began to empty.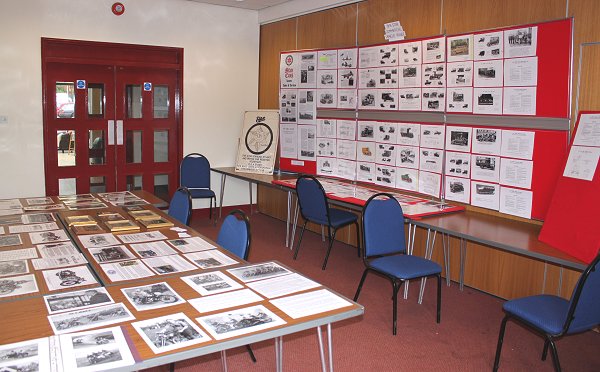 Indoor displays about locally-made vehicles, and vehicle manufacturing were provided by David Evans, and Bev Parker.
The museum has now hosted 9 vehicle rallies in succession (10 if you include the Star, Starling, and Briton Rally from 2001). They have become a popular attraction for local vehicle enthusiasts, and so we hope there will be others in the future.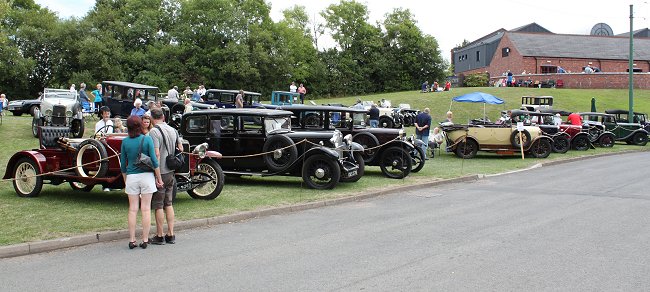 Sunbeams, Stars, Clynos, and a Bean.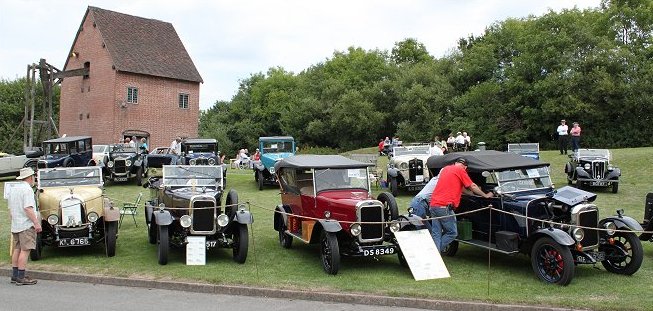 A few of the vehicles from the 1920s.
Thanks must go to the dedicated team of volunteers, and members of the museum's staff, who made it all possible.

Especially Brian Rollings the event organiser, Hamish Wood the museum's Operations Manager, Jane Allcock the museum's Assistant Site Officer, Fiona Carding the museum's Media Relations Officer, Ray and Beryl Jones, Trevor and Angela Davies, Audrey and Derek Spencer, and the other members of the Marston Group. Thanks must also go to Keith Andrews, secretary of the Jensen Owners Club, who ably organised the Jensen display.


Brian Rollings and Peter Lisle in Brian's Star 12/40. Peter is the grandson of Star's founder, Edward Lisle.
Chris Smith's 1926 Clyno Tourer.

Chris is the grandson of one of the Clyno founders, Ailwyn Smith.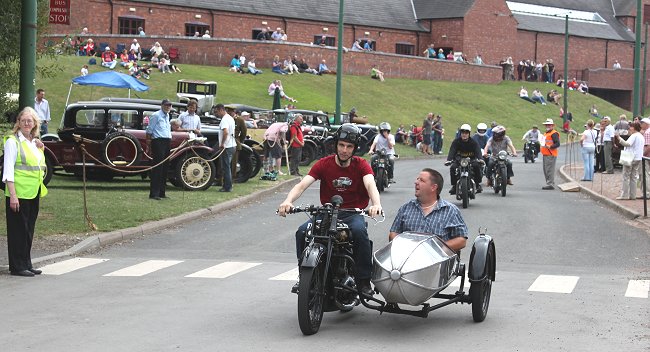 Mark Homer riding his Sunbeam Lion combination.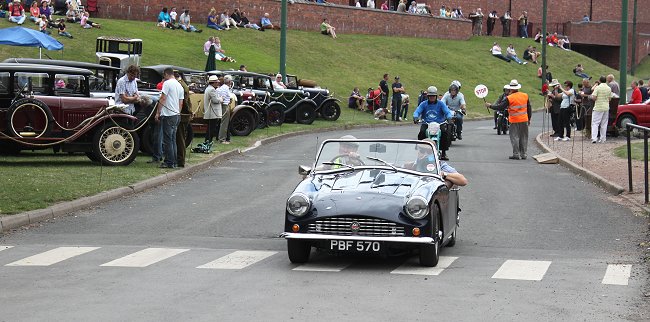 The pace car, a Turner MK2, driven by Stan Davis. Passenger, Trevor Davies organised the cavalcades.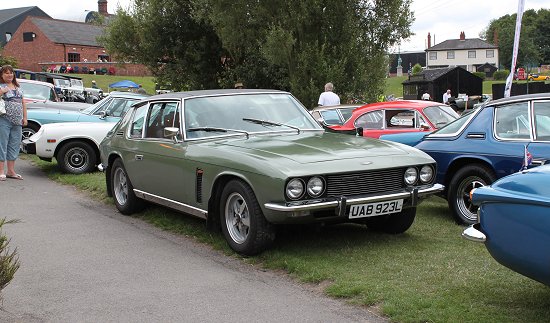 Part of the Jensen display.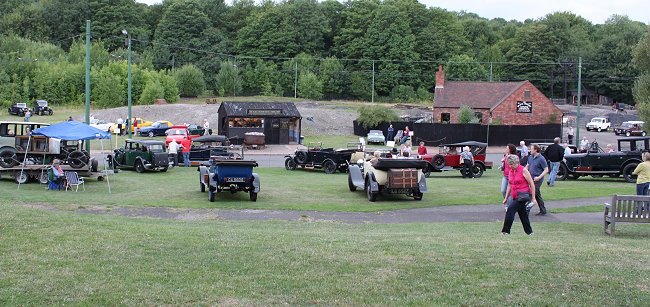 The end of the day, when everyone prepared to go home.
---
---
The 2011 Festival of Black Country Vehicles will be held at the Black Country Living Museum on Sunday 31st July.
---