---
Sunday 31st July, 2011 was a lovely and unforgettable day. There were long warm sunny spells, and the Festival of Black Country Vehicles, which was held at the Black Country Living Museum. This is the Black Country's premier vehicle rally, celebrating the once important local vehicle manufacturing industry.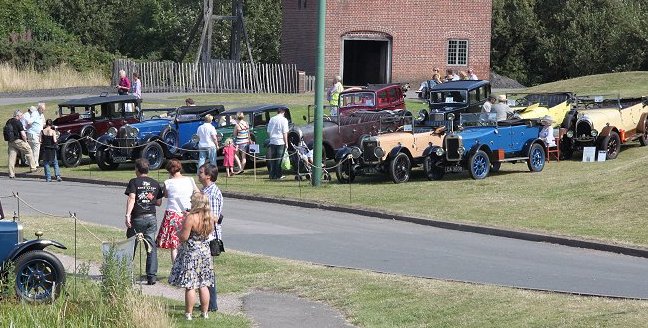 Some of the cars from the 1920s and 1930s.
The many visitors to the museum were treated to the sight and sounds of our motoring past. Vehicles from before the First World War, right through to the early years of this century, that were made in the Black Country, were on display, and could be seen travelling around the site. The once-important local vehicle manufacturing industry was represented by bicycles, motorcycles, cars, and lorries, all built within a few miles of the museum. There were the older vehicles made by A.J.S., Bean, Clyno, Crescent, DKR, DMW, Frisky, Guy, HRD, Jensen, Star, Stevens, Sunbeam, Swallow, and Turner, and more modern vehicles produced by Lomax, Quantum, Rickman, and Westfield.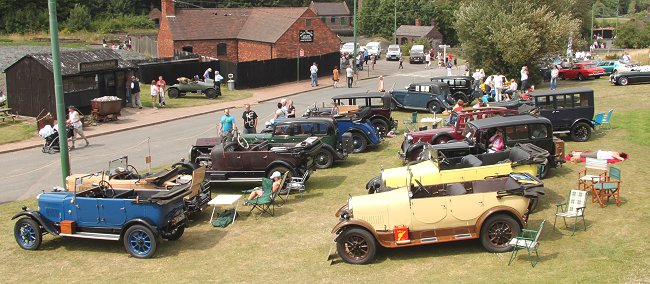 This part of the display included Beans, Clynos, Stars, Sunbeams, Swallows and Jensens.
There were many regular visitors including Mike Dancer who brought along his lovely 1923 Sunbeam 14/40 Tourer, and his 1926 Clyno Royal Saloon. Another regular, Jim Thomas displayed his 1828 Clyno Royal Tourer, and his 1925 Bean 12hp. Tourer. Brian Rollings' impressive 1926 Star 12/40 sports was on display, as was Terry Bouncer's 1925 Sunbeam 14/40. A good selection of Clyno cars, Turner sports cars, and Jensens were to be seen, along with the oldest visiting car, a 1914 Crescent cyclecar.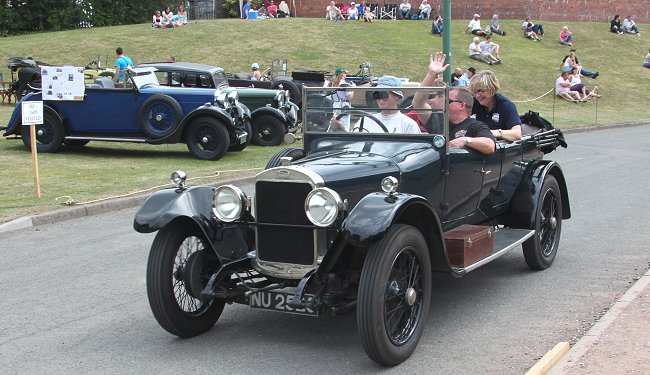 Mike Dancer's 1923 Sunbeam 14/40 Tourer.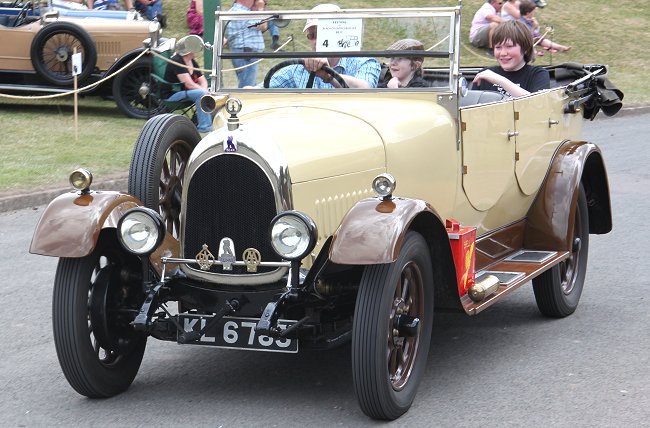 Jim Thomas's 1925 Bean 12hp. Tourer.
A good selection of motorcycles were on hand, including several DMWs owned by Arthur Stubbs, a 1919 Clyno Lightweight belonging to Rikk Harrison, and an immaculate 1926 HRD Model 80 belonging to Don Alexander. Eric Loffman's 1959 DKR Defiant was there, along with Paul and Yvette Webb's 1950 Swallow Gadabout Commercial. The display included a number of immaculate A.J.S. machines, many Sunbeams, and a good number of DMWs. All-in-all an impressive sight.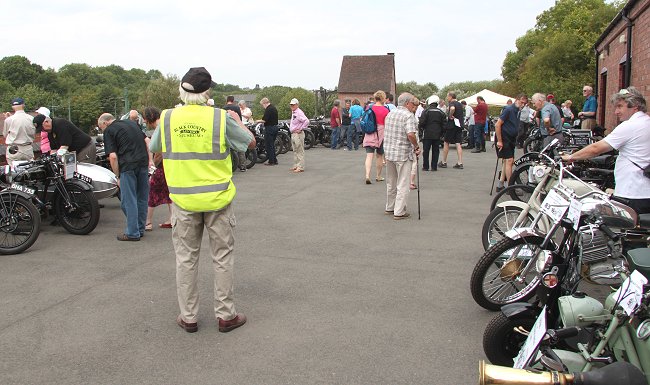 Ray Jones gives last minute instructions to the many motorcyclists at the event.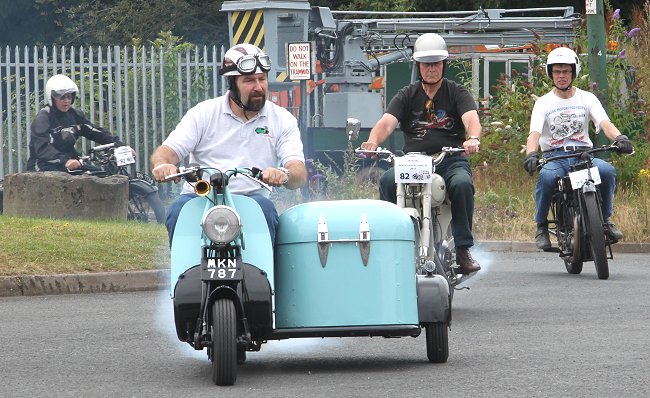 Paul and Yvette Webb's Swallow Gadabout Commercial.

Regular visitor Mark Homer riding his 1932 Sunbeam Lion combination.

The commercial vehicles included Daniel Batham's 1930 Bean Lorry, Bill Lucas's 1950 Guy Otter, Chris Huffer's 1950 Guy Otter, Keith Ball's 1949 Guy Wolf, and David Cookson's 1947 Guy Vixen.

There were several newcomers to the event including Mike Nagrave who displayed his Swallow Gadabout scooter, and the prototype Rainbow Joyrider, both made in Walsall.

Tony Hickling came along with his excellent 1926 Bean 14hp. Tourer, John Cullis brought his MKIII Turner sports car, and David Spruce brought his recently acquired Stevens light van.
The event included the very first public showing of the Museum's first complete restoration of a Black Country made car, a 1914 Briton, manufactured in Wolverhampton. The work was carried out by the Black Country Living Museum's Vehicle Volunteer Group. The car made an impressive sight travelling around the museum during the cavalcades.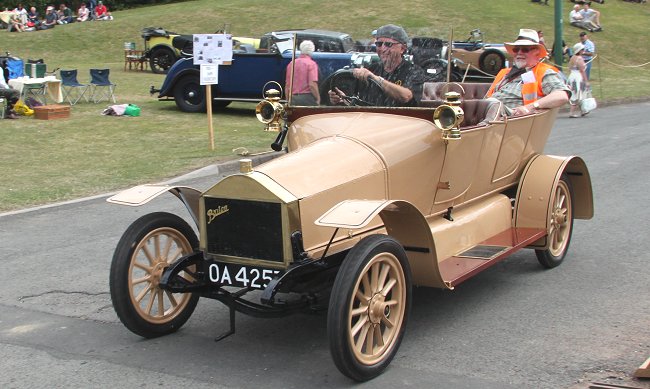 The 1914 Briton car. At the wheel is Malcolm Webster, with Brian Rollings in the back seat.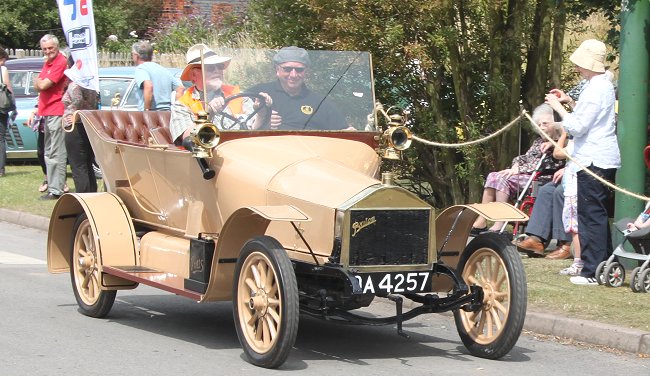 Another view of the Briton car.
The visitors included several people with direct links to the manufacturers. Chris Smith, grandson of Ailwyn Smith of Clyno came along with his 1926 10.8 Clyno Tourer, and John Meadows, grandson of Henry Meadows, was there with his Frisky Coupé.

Other visitors included Peter Lisle, grandson of Edward Lisle, founder of Star; and Keith Peckmore who worked for Kieft and Frisky.

A pleasant surprise was the arrival of Jim and Joan Stevens whose family founded A.J.S.

Exhibitors came from as far afield as Agden in Cheshire, Belper, Blackfordby, and Swadlincote, in Derbyshire, Beriew in Powys, Bromham in Bedfordshire, Bristol, Gloucester, Monmouth, Ormskirk in Lancashire, Rugby, Swindon, and Welshpool.


Peter Lisle, whose family founded Star.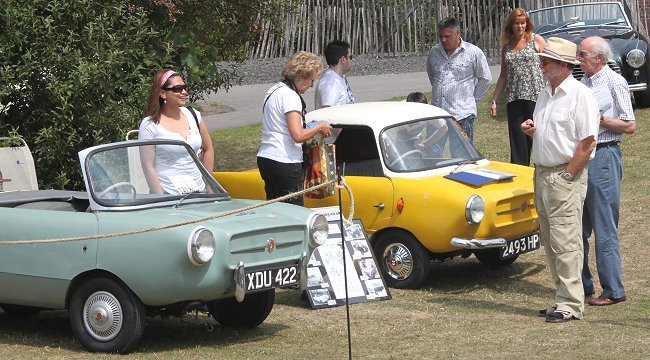 On the right, viewing the Friskys is John Meadows, and to his right, Keith Peckmore.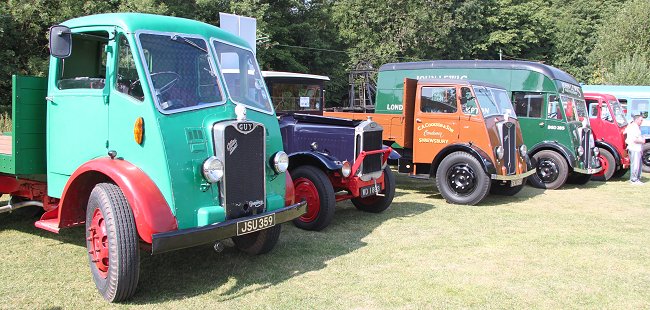 Guys and a Bean.
A large number of visitors watched the magnificent and unique spectacle of the cavalcades, during which many of the vehicles toured around the site, allowing drivers, and spectators alike to relive our motoring past. There were also indoor displays provided by David Evans and Bev Parker. A new and popular attraction, a second-hand book sale was provided by Roy and Heather Lote. There was also a sale of old tools by the coal mine.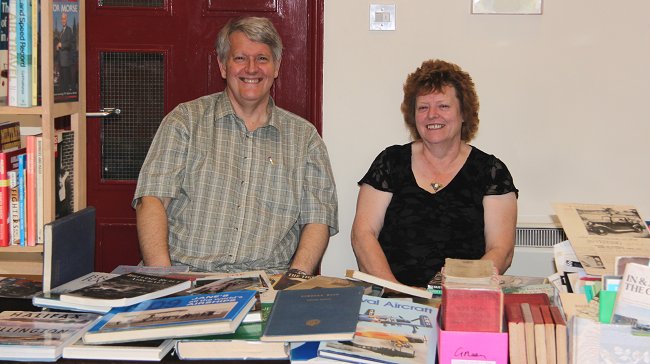 Roy and Heather Lote.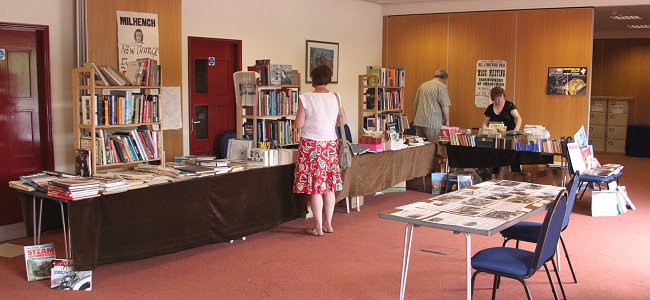 The book sale.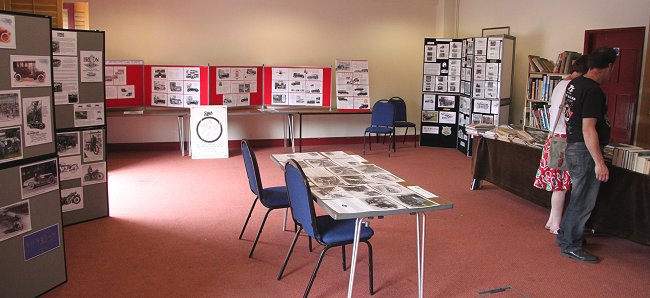 The indoor display.
| | | |
| --- | --- | --- |
| John Goodall and his 1926 A.J.S. Big Port. | | Mick Knowles and his 1957 DMW 200P. |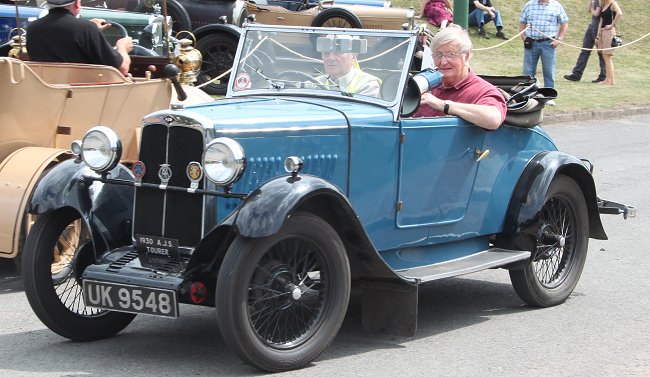 Derek Spencer and Trevor Davies in the pace car, a 1930 A.J.S. Nine Tourer.
As usual, background music was provided by a traditional jazz band. The visitors also sampled the museum's many attractions including the shops, pub, and canal, the funfair, the coal mine, and the museum's collection of Black Country-made vehicles. Excellent food was also to be found in the Café Bar, the Canalside Restaurant, and the renowned fish and chip shop.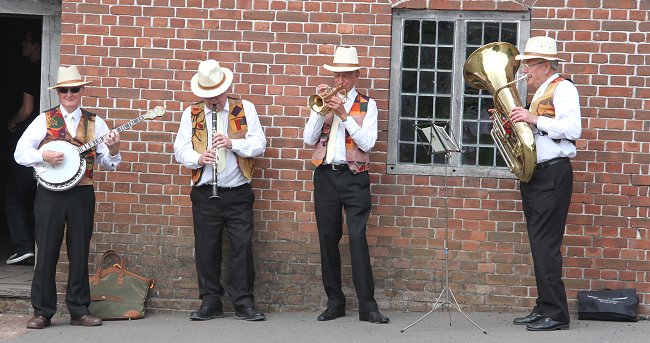 The jazz band.
---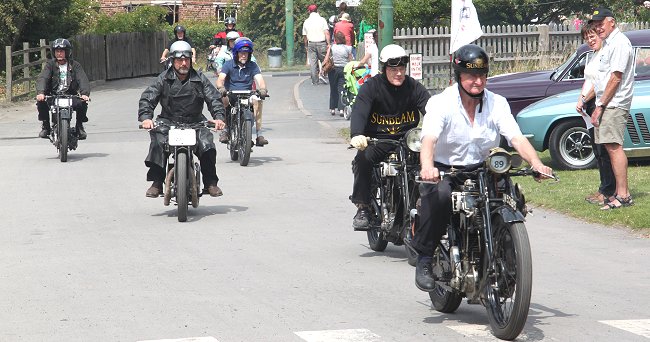 Some of the riders in the motorcycle cavalcade.
| | |
| --- | --- |
| | Another regular, and welcome visitor to the rally is Eric Loffman, seen here riding his immaculate 1959 DKR Defiant scooter. |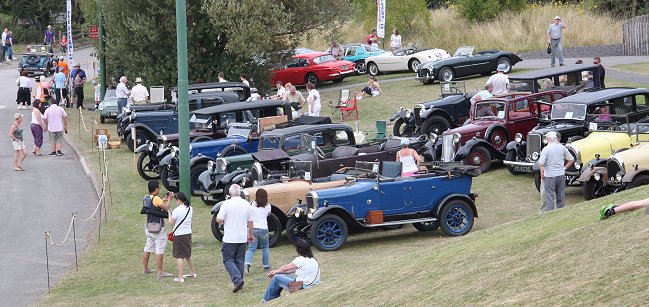 Another view of the rally.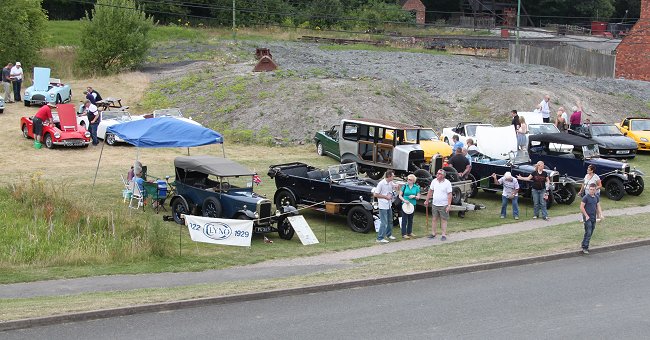 Some of the Clyno cars and Turner sports cars.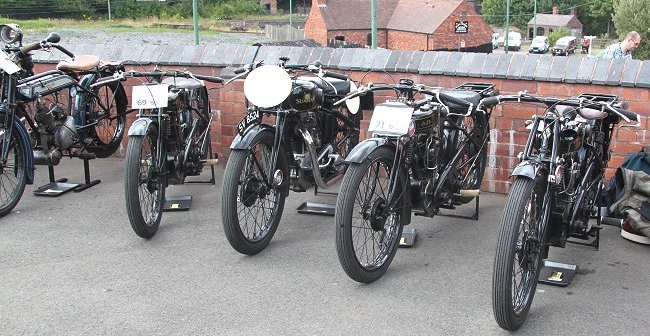 A.J.S., Clyno, and Sunbeam motorcycles.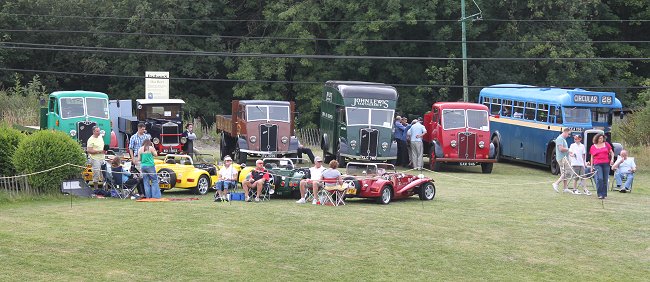 The commercial vehicles.

Westfield sports cars.
As usual it was a friendly event, greatly enjoyed by everyone present. All too soon it was over, and by 5 o'clock the site began to empty. This was the tenth annual vehicle rally to be held at the museum, and like the others, was a great success.
The event was made possible by the hard work carried out behind the scenes by many people, including museum staff and volunteers. Special thanks must go to the museum's Events Coordinator, Jane Allcock, one of the most dedicated, and efficient members of staff. Without Jane's organisation and enthusiasm, the event could not happen.
Thanks must also go to the event organiser Brian Rollings, and members of the Black Country Living Museum's Vehicle Volunteer Group, who worked tirelessly on the day to ensure that everything ran smoothly. Thanks also must go to Ray and Beryl Jones, and Trevor and Angela Davies.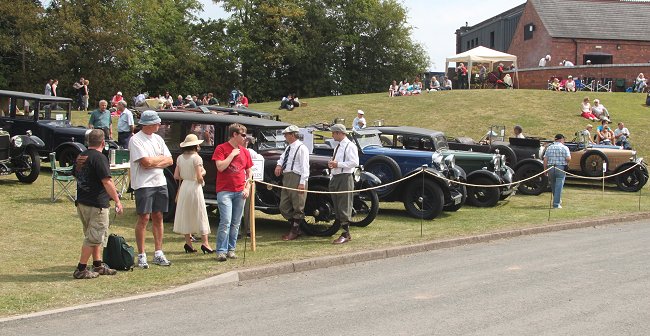 Another view of the 1920s and 1930s cars.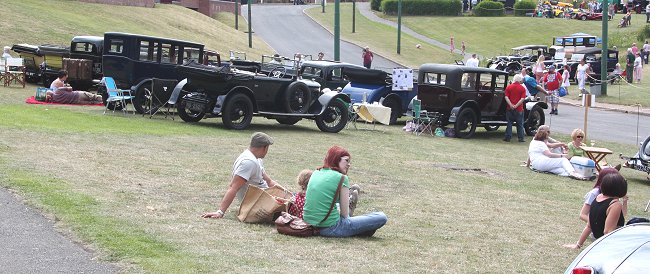 Some of the older cars.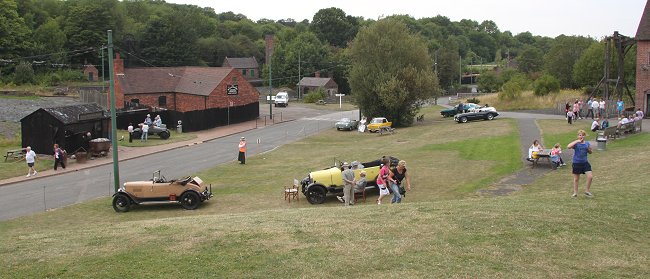 The last few remaining cars as everyone made their way home after an enjoyable day.
---