| | | |
| --- | --- | --- |
| | | |
---
A tribute to Bob Thom, successful cycle rider and manager.
This is the story of Bob Thom, one of Wolverhampton's most successful cycle riders and managers. He was one of nature's gentleman, a most mild-mannered and affable man.
Bob Thom after winning his first area champion's jersey at Donnington in 1938.

Bob's racing career began when he joined the famous Wolverhampton Wheelers at the age of 17 and entered a novices '10' race on his first bicycle, a 'Lion'. He finished in 27 minutes, 52 seconds and won the first handicap prize, a year's membership with the Wheelers. Percy Stallard, one of the club's most successful riders, took Bob under his wing and showed him the delights of road racing.

Bob Thom began racing at Donnington and won the Midland Area Championship at the age of 21. In 1938 he finished in 6th place in the National Championship, by which time he had won many medals for road racing, team pursuing, time trialing and cycle-cross.

During World War 2 he served with the RAF in Rhodesia, where he went on a 1,000 mile tour of the southern part of the country, riding a home-made bicycle built from ex-aircraft tubing with heavy wired-on wheels. He also won the Rhodesian Sprint Championship on the same machine.
He was demobilised at the age of 29 and soon started racing with the Wheelers again. During his time in Rhodesia the British League of Racing Cyclists (B.L.R.C.) was formed, with Percy Stallard as event organiser. After 12 months Bob decided to become professional and joined the B.L.R.C.

He had many successes, his first league win being the 100km circuit at Dudley. He was also a member of the winning team that competed at Tilburg. His career went from strength to strength when the Viking Road Racers were formed in 1948 and he joined the team as player- manager. Other members included Ben Whitmore and Bill Allen. The team was very successful and did a lot to promote the company's products.

Bob successes continued, both as a team rider and an independent rider for Viking Cycles, where he soon progressed to Sales Manager.


Bob in 1946.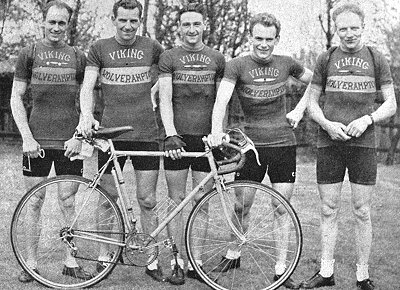 Viking's 1951 team. Left to right: B. Whitmore, B. Thom, F. Nicholls, J. Welch, T. Jones.
Bob's many successes include his win of the National Independent Championship at Weston Super Mare in 1949. He also came in 15th place in the National Road Championships in Scotland and won the Severn Valley Grand Prix for two years running. One of his crowning achievements was to win Britain's toughest road race, the notorious Tour of the Peaks. He also finished 12th in the 1947 Brighton to Glasgow race.
By 1951 he was a married man with a family, and after failing to win the national title he decided to call it a day. He became Viking's team manager and was replaced in the team by his brother-in-law, Ian Steel, whose many successes include the 1951 Tour of Britain, the 1952 Peace Race, and the 1955 trade teams Tour of Britain. Even as a manager Bob was still one of the boys and knew how to get the best from them. He could instinctively "read" a race and sense the correct time to make a break. The team included some of the finest riders in the country. Bob also acted as mechanic during Ian Steel's 1952 Peace Race and in the 1955 Tour de France.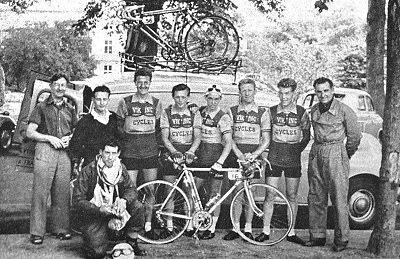 Viking's winning team in the 1955 trade teams Tour of Britain.
Riders - left to right: Ian Steel, Ken Jowett, Doug Booker,
Joe Christison, and Les Gill. Bob Thom is on the far right.
He also became England team manager and was the architect of many famous British victories including the Tour de l'Avenir, Tour of Holland, Tour de St Lorient, Tour of Sweden, Giro Della Regioni and the World Road Championships. He was affectionately known as "Uncle Bob" and looked after many famous riders such as Simpson, Hoban, Brittain, Elliot, Downs, Waugh and Griffiths. Two of his riders, Les West and Bill Nickson won the Milk Race under his guidance and others achieved yellow and stage wins in the Tour de l'Avenir, the Peace Race and a win in the Grande Prix Liberazione in Rome. Bob also took the women's cycling team to Japan on a number of occasions.
| | |
| --- | --- |
| Bob finishing in 6th place in the first London to Holyhead race in 1951. | Some of Bob's other roles were National Cyclo Cross Team Manager and president of the B.C.C.A. In the late 1960s Bob and Charles Rhyss were instrumental in bringing the 'Skol Six' to Britain. One of Bob's strangest assignments was to work as a stunt man and extra in the film "A Boy, a Girl, and a Bike" which starred Honour Blackman and Diana Dors. He continued at Viking until the business was purchased by two Americans who sent him to work in California for a couple of years. On his return, he joined Middlemores, then Shimano agents, until taking early retirement. |
In 1970 he was in charge of race service at the World's in Leicester, and in 1982 at the World's in Goodwood. He was President of the Pedal Club, President of E.S.C.A. and of his own club, the Wolverhampton Wheelers. He was also a member of the Pickwick Bicycle Club for over 30 years.

In retirement Bob and his wife Jean enjoyed holidays in their camper van and always visited the World's and the Tour de France. On his 77th birthday Bob and Jean did a 10 week backpacking tour of the Far East.

He continued to ride his cycle on his "Thursday run" until he reached the age of 85 when he wasn't so good on the hills any more. He then joined the "Thursday Old Boys" and continued to support local clubs, giving any help he could to young riders.


Bob Thom junior.
In 2003 he broke his wrist and was well on the road to recovery when he suffered from a severe stroke. He ended up in hospital, during which time his family were told that he would pass away, on three separate occasions. He ended up in a nursing home and had a satellite dish fitted in preparation for the forthcoming Tour de France. In June 2004 he was admitted into hospital again, with pneumonia, and passed away on 2nd August, 2004 at the age of 87.
Bob and Jean had two sons, Bob and Michael, and a daughter, Vicky. Bob Thom Junior, who was a mechanic in his father's team, and a successful rider, later became England team manager in his own right.
---