---
Desideratum
Desideratum cycles were made by Hinde, Harrington & Company, who had premises in Stewart Street and Dudley Street, Wolverhampton. The following is a description from "Bicycles of the Year 1877" by Harry Hewitt Griffin in which he describes a visit to the company:
"On reaching Wolverhampton, after plunging through several small makers, it is a positive treat to reach the snug and cosy office of Messrs. Hinde, Harrington, and Co., the young and enterprising firm.
Among the established novelties is the Safety, which has not met with the success expected. It can certainly be put along at ten or even twelve miles an hour by an experienced rider on it, if in good form; but we fear it will never become popular, the chief objection being that it is almost as unmanageable as a tricycle when moving it (leading); but some riders will, no doubt, hail it as what was wanted, chiefly those advanced in years: but of this more anon."
This suggests that the company was recently formed. It appears from Harry Hewitt Griffin's book that the company had two works in 1877, because he later mentions Desideratum Bicycle Works at 44 Dudley Street. The following advert from 1877 gives the company's address as Desideratum Works, Stewart Street: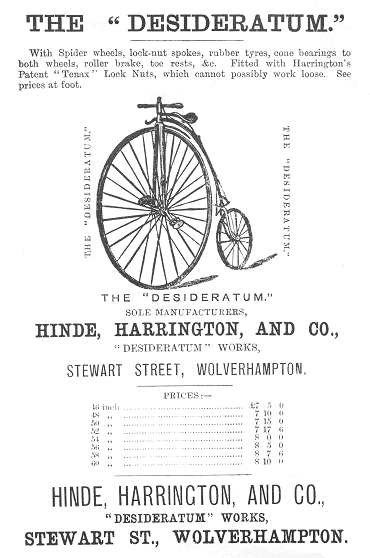 Several years later, the date is uncertain, the Stewart Street Works were sold to Sharratt and Lisle, who by 1889 were producing the Star Dwarf Safety Roadster there. It seems likely that Hinde Harrington and Co. had ceased trading by 1885 because there is a description of the Desideratum cycle in "Sturmey's Indispensable Handbook to the Safety Bicycle, Treating of Safety Bicycles, Their Varieties, Construction & Use" by Henry Sturmey, published in that year, in which he lists the maker as Conway & Co. Ebury Street, Pimlico, London.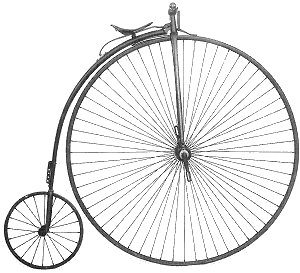 The model shown above was made c.1878, weighed 42 lbs and had a 52" driving wheel with Brown's Aeolus bearings. The ball head had patent inner spring self adjustment and patent adjustable rear step. It was equipped with polished ebony hand grips. This machine is in Glynn Stockdale's collection. The photo is by courtesy of him and his First Penny Farthing Museum, rear of 92 King Street, Knutsford.
The following description is from "Bicycles of the Year 1877" by Harry Hewitt Griffin:
"The Desideratum. Hinde, Harrington, and Co., Desideratum Bicycle Works, 44, Dudley-street, Wolverhampton. In general construction the Desideratum offers no startling innovation, the makers relying on the adopted and favourite types whereon to build a good steed. In the wheels preference is given to the 'U' rim (certainly the neatest), in which are well cemented the red (or grey) rubber tyres. Charcoal iron wire spokes screw into gun metal or solid hubs. The bearings (cones) are all hardened steel. The pedals are either rat-trap or rubber clothed. Clip-toe rests are attached to the front fork. The old socket is adhered to, though the " Stanley" head is fitted if required. The backbone is a hollow tapering steel tube, on which the spring, made in two forms, either to turn back (in a socket make) from front of neck; or, with the Stanley, it is a short but elastic one, terminating with a clip, which slides freely on the "bone." The step is placed at a convenient distance from the ground, and at the portion of fork best suited to bear the rider's weight; a rear wheel brake is fitted to all. The handles, kept well down, are of ornamental wood, and fitted on a steel bar. All machines have also a mud guard, to keep the bicyclist's unmentionables from being soiled in wet weather. There is,
however, one great feature which of itself is sufficient to recommend the Desideratum, we refer to Harrington's patent (No. 4315) Tenax lock nut. The annexed cut explains the design. The nut is formed from the best steel, and is cut through at the dark line; when the nut is off it is almost closed, but when on the bolt it grips and binds in a splendid manner, causing the wire in the screw to " bite" much better. By the use of these nuts another of those manifold ills that the bicyclist is heir to has been done away with, at least so far as the Desideratum is concerned, for it is only on that machine that they are to be found.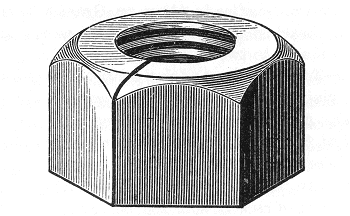 A Tenax patent lock nut.
Another capital improvement is the last thing out in brake cords, and is, I believe, a patent; it is rather a band than cord, and consists of a narrow steel band tightly bound over with copper wire. It is pliable, and immediate in application, and does not stretch in the slightest. Indeed, it is impossible for it to do so, owing to its construction. It is a great improvement on the cumbersome sash cord now so much in use, and is rather an addition to the appearance of a machine."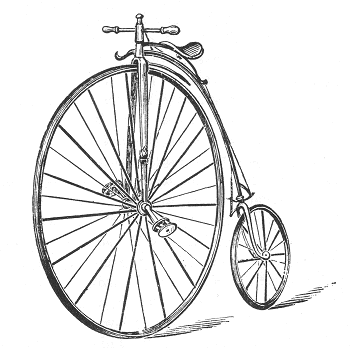 A machine from 1877.
| | |
| --- | --- |
| A 54 inch machine. | |
---
Joseph Devey & Co.
Joseph Devey was one of the most successful cycle builders during the early years of cycle manufacturing in Wolverhampton. He was born in the town on 14th February, 1834 and baptised at St. Peter's Church on 15th November, 1834. In 1855 he married Elizabeth Anslow, also from Wolverhampton. Sadly she died in about 1869, and on 3rd November, 1872 Joseph married Ellen Rowland from Dudley.

Joseph Devey & Company produced a wide range of cycles. In 1873 he started business in a small workshop at 33 Piper's Row, Wolverhampton, at a rent of 2s 6d. per week and rapidly expanded the business into a large enterprise.

The early machines included the one below, which is the Special Express. It can be seen at the First Penny Farthing Museum, rear of 92 King Street, Knutsford, by courtesy of whom this photo appears. The curator, Glynn Stockdale says the machine has a 54" wheel, weighs 49 lbs and was made about 1883. He describes these machines as "made to a price" and says they sold well north of the border.


Joseph Devey.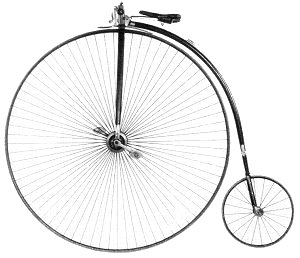 The Special Express
There were several machines in the Express range and also machines using 'The Flyer' name. They featured lock nutted spokes, forged hubs, a black leather saddle, bright finished metal parts, decorative brass plates, and lubricator covers. The Express No.1 model had refinements including a leg guard and cost an extra five shillings.
A short description from "Bicycles of the Year 1877" by Harry Hewitt Griffin:

"The Wolverhampton Express. Jos. Devey, 33, Piper's Row, Wolverhampton.
It would appear at first sight that no bicycle fit to be seen could be built for the money, but in Wolverhampton Devey manages it otherwise, and turns out machines that are frequently sold at almost double the cost. Though, of course, in matters of detail the machine cannot vie with high-class makes, still it is a wonderful production for the price asked, and quite fit for good rough work. The "guiding power" consists of what is commonly known as "centres," or rather a variation of that principle, it being a cross between the old Ariel and the Tangent method; and, being solid, is very strong. Ornamental brass plates are attached which add to the appearance, especially as the machine is finished all bright; the fork ends have also brass-covered lubricators. The bearings are of hardened cones, and the motive power is applied to either rat-trap or rubber-clothed pedals on flat slotted cranks. The strength of the wheels is maintained by the solid forged hubs into which the spokes are lock-nutted; angle 'V' iron rims contain the grey rubber tyres. An easy spring slips on a hollow iron backbone. The saddle is a novelty, being covered with black leather, and is an improvement, as a change in appearance on the ordinary yellow pigskin.


The Wolverhampton Express No. 2. This resembles No.1, except that it is fitted with brake, leg guard, etc., Oil can, wrench, etc., are supplied gratis with all machines, and do not take the form of expensive extras as in the case of some machines of treble the cost."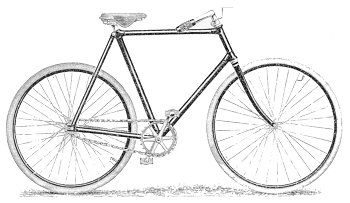 The advert opposite is from 1871.

By the late 1870s Joseph Devey had moved into Ashes Works (also known as Tower Works) in Pelham Street, which had previously been occupied by gunlock manufacturer Joseph Brazier & Sons.

There was large house and grounds on the site, which became Joseph and Ellen's home. As well as running a successful business, Joseph was a keen churchgoer.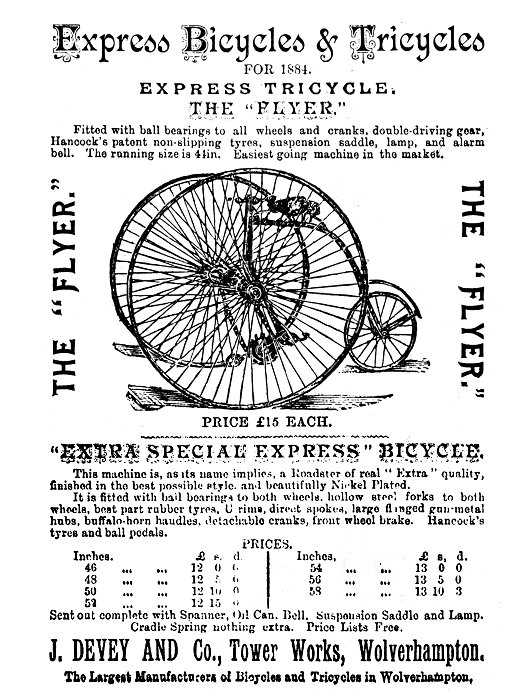 An advert from 1884.
| | |
| --- | --- |
| | This advert is from the programme for the Wolverhampton Art and Industry Exhibition of 1884. |
In 1887 Joseph Devey sold his business to Mr. Joseph Horton of Birmingham for £10,000. Mr. Horton also purchased the Coventry Cycle Company Limited and Humber & Company and joined them together to form Humber & Company Limited. On 8th March, 1900 the business became Humber Limited and production moved to Coventry.

Humber also had a factory in Great Brickkiln Street, but this may have been the northern end of Ashes Works which fronted onto Great Brickkiln Street.

When Joseph sold the business he continued to live in the house next door. When production of Humber cycles was underway it was noticed that some of the stock was regularly disappearing. As a result the works manager and a police constable spent a night in the factory to keep an eye on things.

They caught Joseph Devey entering the premises from his adjoining house to steal some of the stock. He was arrested and ended-up in prison. On his release in January 1888 he moved to Berwick on Tweed where he founded the Northern Cycle Manufacturing Company and produced 'Northern 'X' Cycles.
| | |
| --- | --- |
| When he sold his Wolverhampton business to Joseph Horton he had to sign an exclusion clause which forbade him from producing cycles within a 200 mile radius of Wolverhampton for a period of time. | |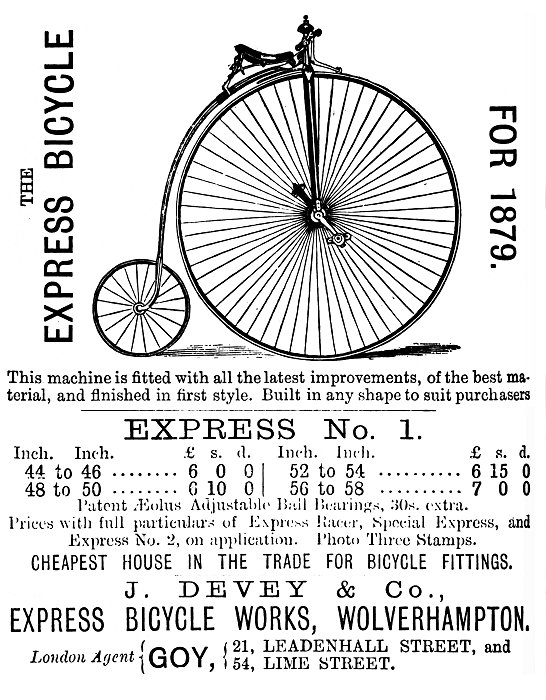 Courtesy of Jim Boulton.
The following description is taken from "Sturmey's Indispensable Handbook to the Safety Bicycle, Treating of Safety Bicycles, Their Varieties, Construction & Use" by Henry Sturmey, published in 1885:
"Express Safety. J. Devey & Co., The Ashes, Wolverhampton.
Description. ⅞in. and ¾in. red tyres. Crescent rims. No. II direct spokes. 4in. G.M. hubs, 7½in. axle. Detachable cranks, 7in. throw. Rubber coned pedals, 13in. tread. 38in. driving wheel, geared to 56in., 18in. back wheel. Front wheel drives with chain gear. Bown's double ball bearings to crank wheels. Morgan's chains. Set pin adjustment. Aeolus ball bearings to both wheels. Steering like ordinary bicycle. Forks pass through bearings. 21in. rake. Hollow front and solid back forks. Stanley head, 4½in. centres. Pear shaped horn handles, 28in. cow-horn bars. I¼in. 15 W.G. weldless steel backbone. Bolted coil spring. Suspension saddle. Saw step. D.L.S. brake. Leg-guard. Valise, spanners, oilcan and bell. Weight 46lbs. Price. £12.10s.0d. Sent out with bright handle-bar, head, hubs, cranks and spokes, rest japanned in colours.

Remarks. A sound, strong machine, at a very reasonable figure."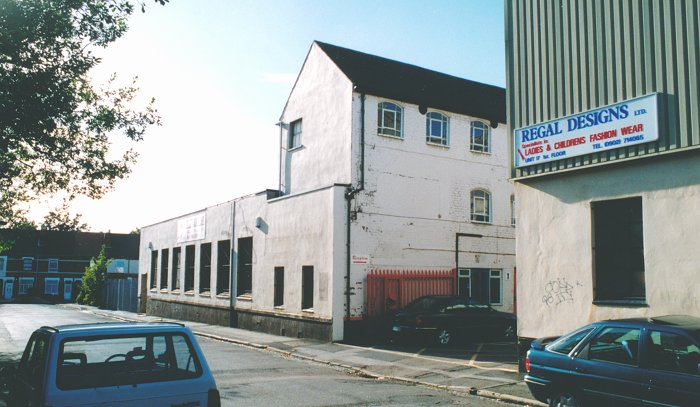 The Ashes, as seen in 2,000. It has since been demolished.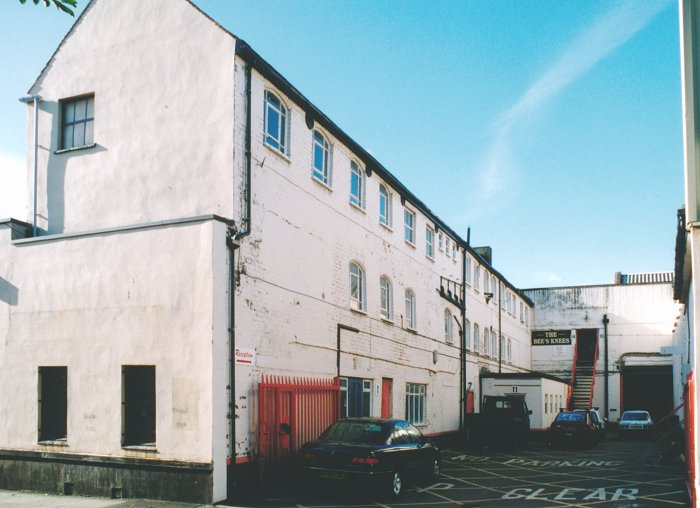 Another view of The Ashes. Also called Tower Works.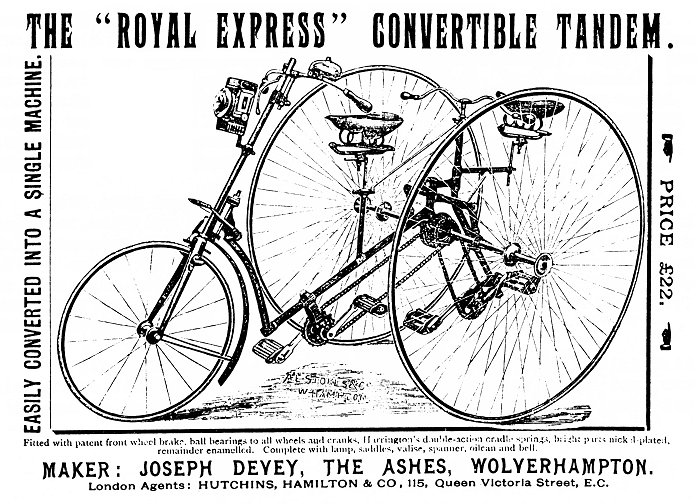 Another advert from 1886. Courtesy of Jim Boulton.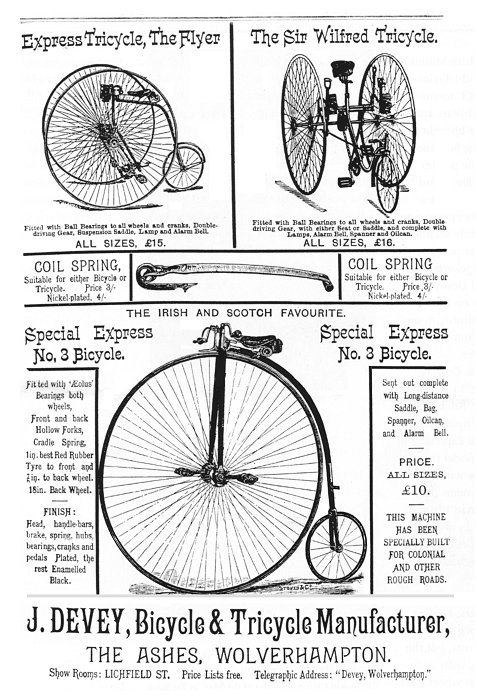 An advert from 'The Cyclist', Christmas 1885.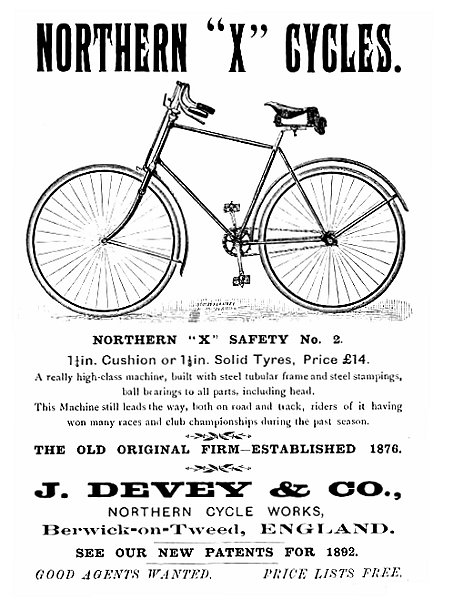 An advert from 1892.
In 1897 Joseph Devey returned to Wolverhampton and started up again as J. Devey & Co., in the original premises in Pipers Row. Later the company moved to Dudley Road and 47 Melbourne Street.
From an 1897 trade directory:

J. Devey and Go., Cycle Manufacturers, 13 Pipers Row.
The manufacture of Cycles forms one of the principal industries of Wolverhampton, and in this connection for upwards of twenty-two years, the firm of Messrs. J. Devey and Co. has been prominently Associated. The are manufacturers of the celebrated " North Express " cycles, which are widely known and appreciated throughout the country. These machines are made of the finest materials, whilst the construction and workmanship are of the highest order of merit. All the latest developments in the trade have been adopted by this firm, and there is no doubt whatever that for lightness, strength, elegance, safety, and easiness of riding, the "North Express" machines are unsurpassed. The showrooms, office, and works are situated at Pipers:Row (within easy access of the G.W.R. and L, and N.W. Railway Stations, and are well arranged and equipped for the business. The staff of hands is efficient in strength and skill, and the general management reflects the highest credit upon the principal.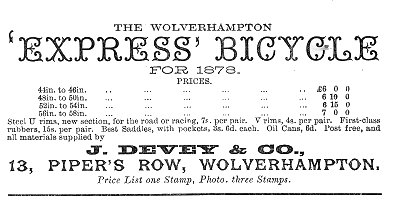 The business only survived for a few years. It went into liquidation in 1905. The following announcement appeared in the London Gazette on Friday 20th January, 1905:

Debtor's name: Joseph Devey, address 14½ Dudley Road, Wolverhampton, cycle maker carrying on business at Melbourne Works, Dudley Road, Wolverhampton, went into liquidation on 1st February, 1905.

Joseph Devey died on 1st May, 1911 at the age of 77.