From 20th May, 1949 edition of The Engineer:
A 10 cwt. Dumper
We illustrate below a small dumper developed by George Fowell, Ltd., Smethwick, and called the "Builders' Mate."
The prototype of this machine was exhibited at the British Industries Fair. It is designed to carry a maximum hopper load of 10 cwt, or 8 cwt when travelling over soft ground, or, alternatively, to carry ½ cubic yard of earth or muck, or the contents of the drum of a 10/7 concrete mixer.
The dumper is powered with a 5 hp. Petter engine, one forward gear and one reverse gear giving maximum speeds of 3½ mph. and 2½ mph. respectively. The differential gear and final drive to the road wheels are in the main gearbox and have been specially designed for heavy duty.
Heavy type Dunlop Girling brakes are fitted to the 6·00-16 heavy pattern traction driving wheels, which give good adhesion on soft ground. The fore-carriage is carried on 29 inch by 5 inch tyres. The chassis is designed to allow the hopper section to ride up over very uneven ground and to turn at a steep angle while the rear portion remains steadily horizontal. This is accomplished by connecting the fore-carriage to the main frame through a special rubber joint. The hopper tips by gravity and can be replaced by pulling a chain from the driver's seat.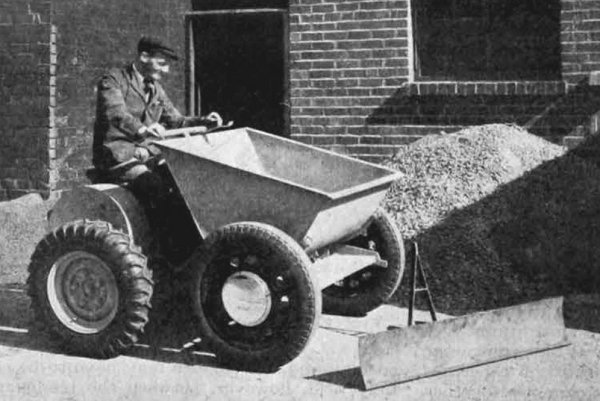 "Builders' Mate" Dumper.
The small blade shown in the foreground of the illustration is a calf-dozer attachment; this blade can be fitted to the central channel which forms the main chassis member, and then used for light back-filling operations.
It is claimed that the controls have been specially developed for inexperienced drivers, and can be mastered by anyone in a few minutes. The machine will circle within a diameter of 13ft. Its main dimensions are; length 6ft. 6in.; width 4ft 2in.; height 3ft 9in.; and it weighs 11 cwt.