---
Jensen Commercial Vehicles
Jensen was founded by two brothers, Alan and Richard Jensen who were born in 1906 and 1909. They became interested in cars at an early age, and so in 1930 their father set them up in their first business, Patrick Jensen Motors, based at Edgbaston. They ran the business with Joe Patrick, but left during the following year after a disagreement.
In 1931 they started work at W. J. Smith & Sons, an old established firm of motor body builders, located in High Street, Carters Green, West Bromwich. Smiths specialised in bodywork for lorries and cars. After William Smith's death the brothers took over the business, and in 1934 it became Jensen Motors Limited.
The business initially concentrated on producing custom-built car bodies for chassis made by a range of manufacturers including Morris, Singer, Standard, and Wolseley. In 1936 Jensen's first car, the "White Lady" appeared, and three years later the company's first lorry, the Jensen lightweight truck was launched. Built for Reynolds Tubes, it used aluminium alloys, and was powered by a 4.7 litre Perkins diesel engine. It had a 5-speed Moss gearbox.
During World War 2 the firm concentrated on war work, building components for military vehicles, including turrets for tanks. Conversions were also carried out on American Sherman tanks to turn them into amphibious vehicles.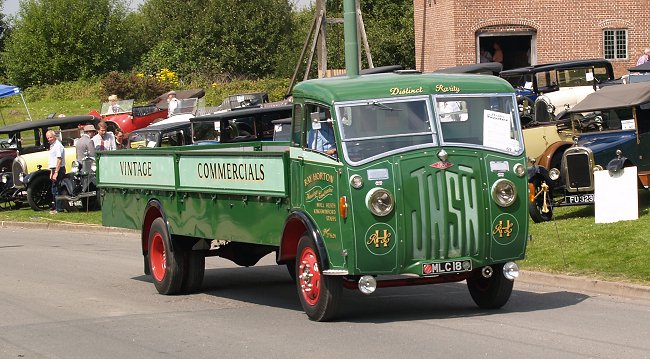 Ray Horton's JNSN Jensen lorry from 1951. At the Black Country Living Museum in 2008.

A front view of Ray Horton's lorry.

After the war Jensen launched another lightweight lorry, the JNSN, which was easily recognisable by the radiator grille, shaped to the JNSN letters.

It was available in a range of forms including lorries, trucks, pantechnicons, and even as a luxury coach. The vehicles sold well and remained in production until 1956.

In the late 1940s, production of another commercial vehicle, the 'Jen-Tug' began. It was a 3 ton articulated vehicle, available with a wide range of trailers, including a flat trailer, a wire-sided trailer, a box trailer, a tipping trailer, a shallow tipping trailer, a high-sided trailer, a swan-neck trailer with winch, and a container.

The cab had an Austin A.50 four-cylinder, overhead valve petrol engine, with a capacity of 1.5 litres, and an output of 50 b.h.p. at 4,400 r.p.m. It had a built-in four-speed synchromesh gearbox, a Borg & Beck, single dry-plate 8 inch hydraulically operated clutch, and was mounted on an easily removeable sub-frame. It also had powerful Girling hydraulic brakes with 11 inch diameter drums on both the tractor and trailer, a Jensen patent tractor coupling, operated from the cab, and a turning circle of 22 feet.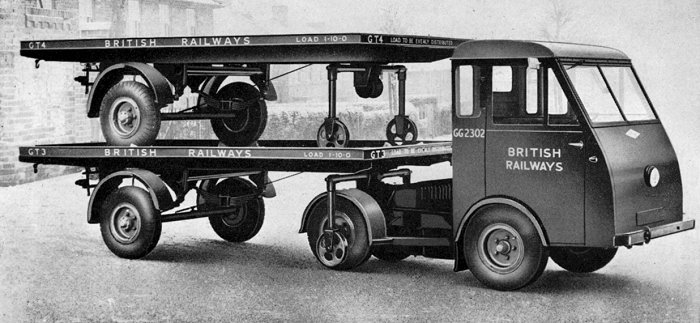 A 'Jen-Tug' with a flat bed trailer. From the Jensen sales literature.
The 'Jen-Tug' became quite popular, and was supplimented by an electrically-powered version, the 'Jen-Helec'.

The vehicles were made at West Bromwich, and also in Jensen's factory at Stoke.

Jensen also built a number of German 'Tempo' 26 cwt. front-drive trucks under licence, and bodies for the four-wheel drive Austin Gipsy.


The lightweight cab with the engine sub-assembly removed for servicing. From the Jensen sales literature.
In 1956 Jensen moved to a new purpose built factory in Kelvin Way, West Bromwich where they not only made cars but also continued to make car bodies for other manufacturers, over 1,000 people were employed there. In the late 1950s Jensen was taken over by the Norcross Group which led to an awkward relationship between Norcross and the Jensen brothers, who retired from the business in 1966.

In the late 1960s Jensen lost its most important car body contract, when the Austin Healey was discontinued. The company soon found itself in deep financial trouble, which resulted in cost-cutting and a large number of redundancies. A receiver was appointed in September 1975, and production was maintained until Jensen Motors Limited went into liquidation in May 1976.It was sold in two parts to a holding company, Britcar Holdings. The two parts were Jensen Special Products Limited, and Jensen Parts and Service Limited.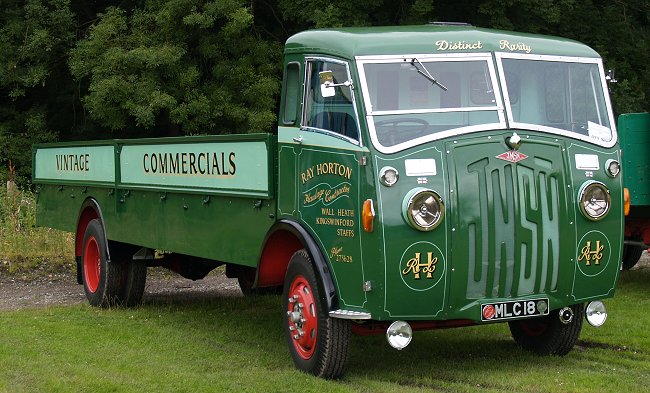 Another view of Ray Horton's JNSN lorry at the Black Country Living Museum.
Jensen Special Products Limited was a specialised engineering and design company, mainly formed from Jensen's development department. Unfortunately the venture failed after an unsuccessful management buy-out.
Jensen Parts and Service Limited had been formed to service and renovate Jensen cars. It became quite profitable and began to import Subaru, and later Hyundai cars. Company employee Ian Orford, who had purchased the right to the Jensen brand name, took the business over in 1982 and it became Jensen Cars Limited. He decided to restart production of the 'Interceptor' car using the original jigs and readily available components. The car sold for around £45,000, but production never really got underway and only a few were built.
In 1988 Ian Orford sold the business to Unicorn Holdings of Stockport, but the venture quickly failed, and a receiver was appointed in 1992. This resulted in the closure and sale of the Kelvin Way Site. In April 1993 Martin Robey, a manufacturer of Jaguar body spares in Nuneaton purchased the design rights, copyrights, tooling, stock of parts, and almost the entire contents of the works. Some of the remaining Jensen staff joined the Nuneaton workforce and the business became Martin Robey Sales Limited. Their Jensen and Jensen Healey works Parts Department still offers parts from the original Jensen stock, and also manufactures parts using the original tooling and specifications.
In 1998 Creative Design Limited of Redditch developed a new Jensen car, the 'S-V8'. Although a few were built, the project was unsuccessful and ended in 2002.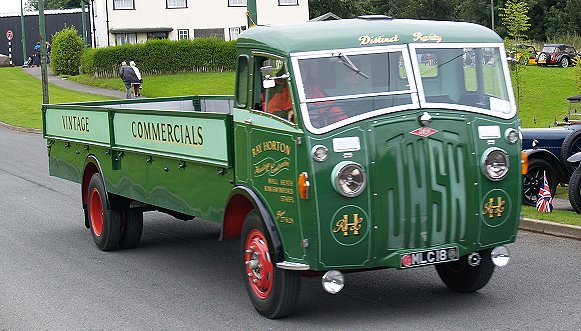 A final view of Ray Horton's lorry.
---