---
Although products of the Morris Motor Company are usually associated with Cowley, in Oxford, some of the company's vehicles were actually built in the Black Country.
In 1898 Edward Greenwood Wrigley founded E. G. Wrigley and Company limited at 232 Aston Road, Birmingham. The company manufactured a range of small tools. In 1902 the business moved to Foundry Lane, Smethwick, and soon added car components to its range of products. In November 1906 the company displayed a complete gearbox at the Olympia Motor Show, and within 6 years was manufacturing front and rear axles. Other products included vehicle steering components, small tools, such as taps, twist drills, milling cutters, and also gears and gearing.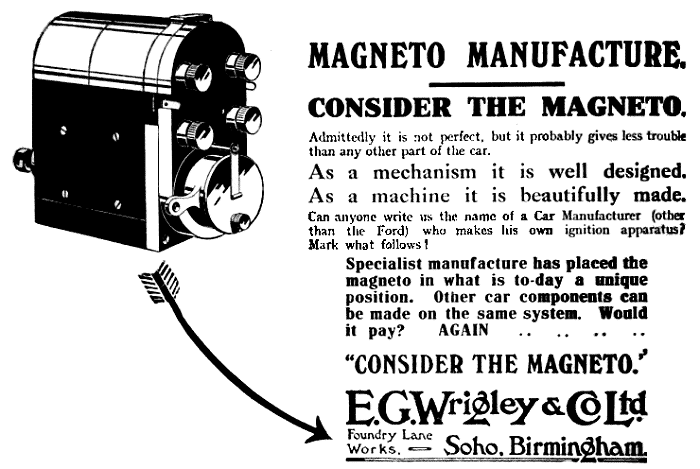 From 'The Autocar', 4th January, 1919.
In 1913 a few cyclecars were built, but the project was shelved at the onset of the First World War, when the factory concentrated on war work. At the time, Wrigleys employed around 400 people, who during the war made mainly aircraft parts. After the war the company added magnetos to its product range, but sadly Edward Wrigley retired due to ill health. Unfortunately the business did not prove to be successful, and went into liquidation, calling in a receiver at the end of 1923.

In January 1924 the Foundry Lane premises, and plant, was acquired by William Morris, and on February 4th became Morris Commercial Cars Limited, formed to manufacture commercial vehicles. William Morris would have been familiar with the factory because Wrigleys supplied his company with axles. He also head-hunted Wrigley's chief draughtsman, and later production engineer, Frank George Woollard in 1923. Woollard became general manager at the Morris engine plant, and greatly increased production using his special flow production techniques. He was awarded an MBE in 1918 for his work on the design and production of tank gearboxes.
A Morris one ton truck, built at Foundry Lane.

From the 1924 Morris sales literature.
At Foundry Lane, the new company began to manufacture vehicles to supplement the existing range of light commercial vehicles produced by Morris Motors Limited at Cowley. The first vehicle was a one ton chassis, which would have been available with various lorry and van bodies. It was powered by the 13.9 hp. 4-cylinder, side-valve 'Hotchkiss' engine, that was used in the Morris Oxford car. Other components included a magneto, a 3-speed gearbox, and a cork clutch.
In February 1927 the Wolseley Motor Company went into receivership and was immediately acquired by William Morris. The former Wolseley factory at Adderley Park, Birmingham then became the headquarters of Morris Commercial Cars. In 1932 production at the Foundry Lane site ended, and was transferred to Adderley Park.
---
I would like to thank Jim Pease for his help in producing this section.
---