| | | |
| --- | --- | --- |
| | | |
---

Thomas Hugh Parker, son of Thomas Parker, who by 1884 was building electrically powered cars. Courtesy of Gail Tudor.
The Sedan Automobile Syndicate Limited was founded in 1907 with a capital of £10,000 in £1 shares, with offices at 51 Lichfield Street, Wolverhampton. The company was formed to acquire the Burnt Tree Engineering Works, Tipton and their interest in two patents. The first, taken out by Thomas Hugh Parker was for improvements in motor cars, the second, an invention by L. Wirtz, was for improvements in variable and reversing gear.

The company produced a unique articulated car which was partly or wholly designed by Thomas Hugh Parker. It is not known how many of these cars were produced, but they were likely built at the Tipton Works.

One of the cars still survives, and can be seen at Beamish Museum, County Durham. It has a 14 hp. twin cylinder Forman engine with a Rubery Owen chassis. On completion it was sent from Wolverhampton, by rail to the Marquis of Londonderry's Seaham Harbour Engine Works at Sunderland in about 1908.

The car was modified at the works and a SHEW (Seaham Harbour Engine Works) nameplate was attached to the radiator.
| | | |
| --- | --- | --- |
| | | |
| Building a Sedan car. | | The surviving car at Beamish Museum. |
From 1903 Londonderry steam wagons were built at the Marquis's works, but there were many problems with the design, and the venture failed. The Marquis still wished to build vehicles, and so his company expressed an interest in manufacturing the Parker vehicle.

In 1908 an articulated lorry, based on the car was built. It was made at Seaham Harbour Engine Works, and had a 22 h.p. engine. It could carry loads of up to 5 tons, and could completely reverse in a 23 ft. roadway. The engine and most of the mechanics were situated in the front half, and emergency brakes were fitted to the rear.

As can be seen from the photographs below, at least two were built, including a lorry for the Parker family's "Coalite" company. Unfortunately the enterprise failed, and only a few vehicles could have been produced.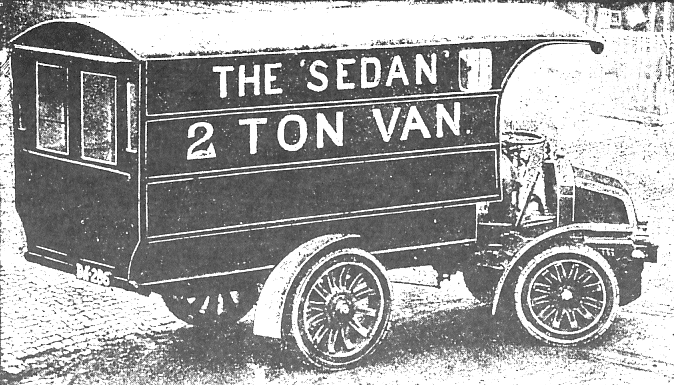 A Sedan lorry, from an advert that appeared in "The Commercial Vehicle" on 30th September, 1909. Courtesy of the late Jim Boulton.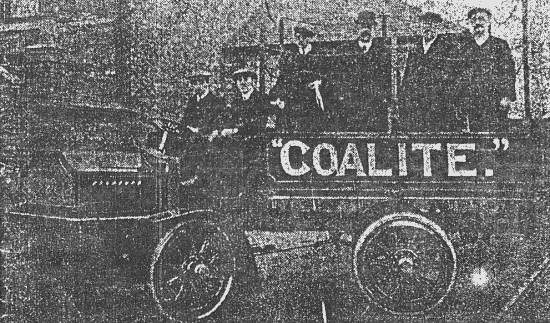 A two ton Sedan Lorry built in February 1908. It was used for deliveries of 'Coalite' the smokeless fuel, and had a top speed of 15 miles an hour.
Thomas Hugh Parker produced a number of vehicles, some of which included modern features such as hydraulic brakes on all four wheels, and four wheel steering. He also claimed to have invented the spark plug, the monoblock engine and the carburettor.
---