---
JOSEPH BATES, J. & E. BATES, 101 LORD STREET, WOLVERHAMPTON, AND SCARBOROUGH WORKS, TEMPLE STREET, WOLVERHAMPTON, AND TEMPEST WORKS, TEMPEST STREET, WOLVERHAMPTON. (c1820?-1995)
They claim, in the advert from 1953 (at the foot of this section), to have been established "over 130 years", which would put the date of their foundation back to about 1820.
The advert, left, comes from the catalogue of the Wolverhampton Arts and Industrial Exhibition of 1884, when they seem to be already well enough established as brassfounders and makers of locks, latches and keys.

Joseph Bates also refers to himself as a "dynamo nickel plater".
The advert, right, is from a guide book of 1888. Note that Bates now seems to have two works - the Scarboro Works in Temple Street and the Tempest Works in Tempest Street, which would be at least 200 yards away and across Snow Hill.

They are now mainly advertising nickel plating and, from their Tempest works, iron goods. It seems that these works were a forge.

J. Bates of Temple Street, Wolverhampton, is listed in the Wolverhampton Red Book of 1896 as a cycle manufacture.

It appears that this was only one part of the business, as they were also brass casters and made brass rim locks.

It seems as if Bates was offering his services in any form of metal work that seemed likely to find a market.
| | |
| --- | --- |
| | This advertisement is from a Wolverhampton trade directory for 1896. Although the title emphasises bicycles and tricycles the illustration shows several sorts of locks and a large assortment of handles for coal boxes - the manufacture of which was a thriving Wolverhampton trade at the time. |


An advert from 1908.
His brother Edward must have joined Joseph Bates as they were established as a limited company, in 1901, as J & E BATES & SONS Ltd.

In the Red Book of 1909 they were still listed as making cycles, although little is known of this activity and it is probable it did not continue much beyond this date.

They then progressed into making other types of locks, including padlocks that were sold under the SETA trademark, i.e. Bates backwards. The locks were also stamped J. Bates, the original name of the firm, and never J & E Bates.

They also manufactured trunk locks that were sold to India. Their production facilities included a plating plant, press shop and polishing shop, and with these facilities they also started to manufacture safes.
| | | |
| --- | --- | --- |
| | | |
| An advert from 1913. | | An advert from 1942. |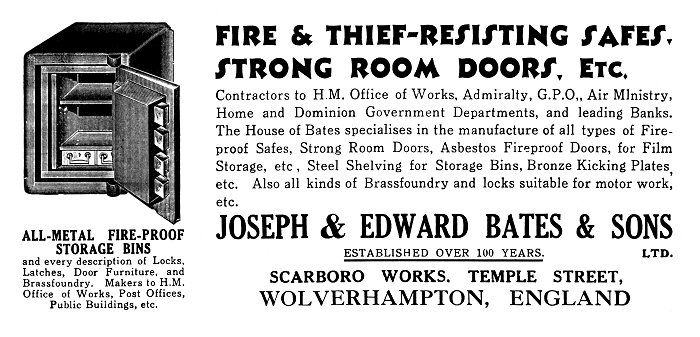 An advert from 1937.
Their business must have been very successful as they were amongst the first people in Wolverhampton to have the telephone installed, having the phone number 3.
A Bates padlock.

Courtesy of Nigel.
A closer view of the padlock.

Courtesy of Nigel.
The business passed to a son, Joseph, and later to his son, Horace. In 1938 Horace's son, Keith Bates, a great grandson of the founder, joined the company, by which time they were concentrating on the manufacture of cabinet locks, safes and pressings.

They built new premises on the opposite side (south side) of Temple Street (the building still stands in 1994 as small workshops). At the start of WW2 the works were requisitioned by the Government and they became a RAF store manned from Cosford.
This advertisement from 1953 lays emphasis on the lock making and safes side of the business.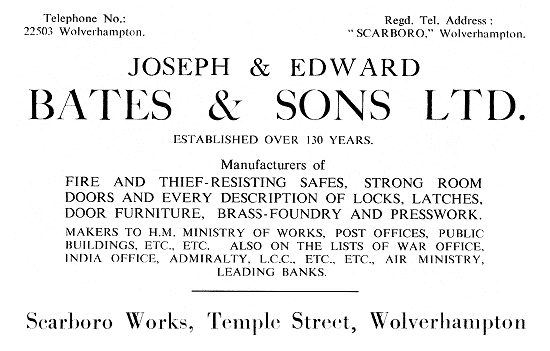 An advert from 1949.
When the premises were returned after the war the company did not reopen their lock or safe department but concentrated solely on pressings. When Horace Bates retired his son, Keith, carried on the company name, moving to 101 Lord Street and operating purely as a locksmith, doing lock repairs and key cutting, mainly for the local council. He continued to do so until he died in 1995. (Information supplied by the late Keith Bates)
| | |
| --- | --- |
| | Part of the old factory at 101 Lord Street is still visible in this photograph. At the end of 2018 the area was quite overgrown and the building appeared to be derelict. Several of the glass panes were broken. |
| | |
| --- | --- |
| | This photograph, and the one below, of a Bates safe, were kindly sent by |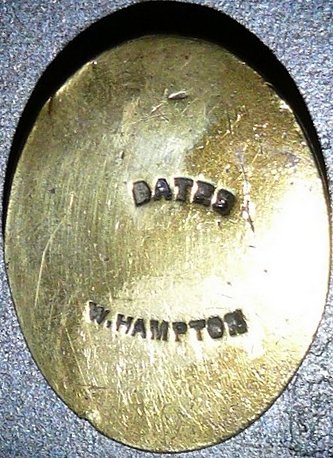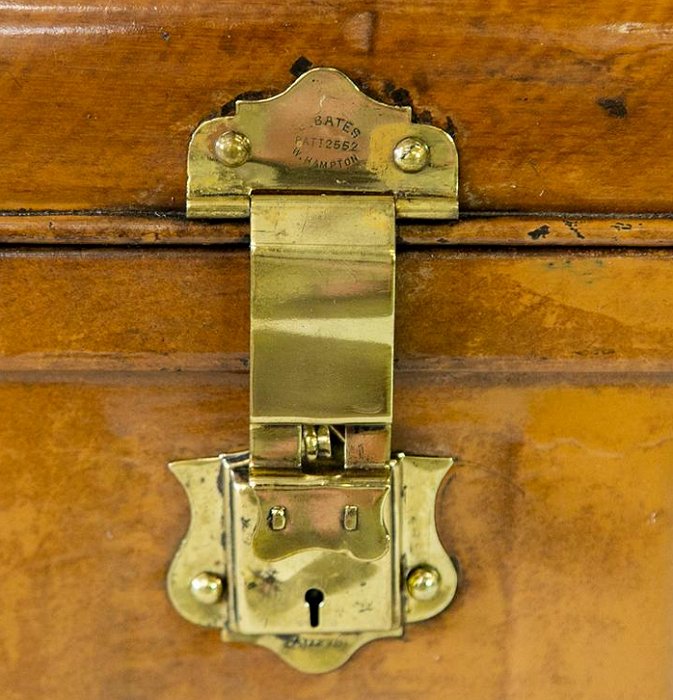 An E. Bates' lock, on a tin travel trunk. Courtesy of Lynn Dougherty.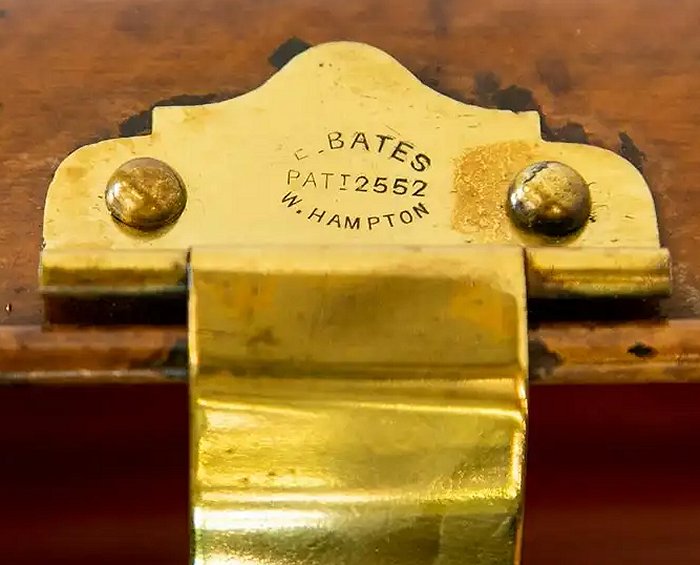 A closer view of the maker's name on the lock above. Courtesy of Lynn Dougherty.
---