---
JAMES THOMAS DANCER, 31 HALL STREET, WEDNESFIELD
Manufacturer of rim, mortice, till and cupboard locks. Existing in 1953. Not existing in 1900 or 1970. Nothing else known.
DART SAFE COMPANY, (G&W), WEST BROMWICH
| | |
| --- | --- |
| | This safe, found in Ireland by Nigel Hamilton, bears a safe plate mentioning the Dart Safe Co. and "G&W Manufacturers". Nothing more is known about this company. |
ALBERT DAVENPORT AND SONS, 7 CROSS STREET, WEDNESFIELD.
Key Maker. In 1921 William Davenport was at 7 Cross Street. In 1936 Albert Davenport was at 7 Cross Street. Existing in 1953 but not in 1970. Nothing else known.
H. DAVENPORT AND SONS LTD. 1 VICTORIA ROAD, WEDNESFIELD
Founded as key makers. In 1921 Henry Davenport was at 60 Wolverhampton Road, Wednesfield.
After the 1939-45 war the company was run by Stan Davenport. As the cast key went into decline they made an attempt to produce welded steel keys. But that did not last for long and in about 1960 they went into lock making with Jack Appleton. But again this did not last for long. They expanded the business to become general factors in locks, door furniture and keys. In the 1960s they specialised in the supply of cut car keys to garages. (Still HD in 1968)
Stan was joined in the business by two sons, Steve and Jim. By November 1975 the company had taken over B. Burgess and, in April 1976, had moved into the Burgess premises and had started to trade as H Davenport and Sons Ltd incorporating B Burgess and Sons Ltd. By June 77 were trading as Davenport Burgess, 39-41 Temple Bar, Willenhall.
They moved to new premises in Davenport House, 47 Wednesfield Road, Willenhall in the 1980s.
Stan Davenport died in 1998.
JOHN DAVENPORT AND SON, 3 CROSS STREET, WEDNESFIELD.
Key maker. In 1921 J & T Davenport were at 3 Cross Street. In 1936 and 1953 John Davenport was at 3 Cross Street. Nothing else known.
THOMAS DAVENPORT AND SON, 47 NORTH STREET, WEDNESFIELD
Key maker. A typical Wednesfield key filer, working in an outhouse behind the home.

They purchased key casting from a local foundry, for example, John Guest of Walsall, who had a warehouse in Victoria Road Wednesfield, where Davenports obtained malleable iron casting which they would then file, turn, drill cut and polish and then supply to the factors for supply to the replacement key trade
Most of these types of key makers were very secretive about their ways of finishing key castings. The workshops, in an outhouse behind their home, would have a stable door entrance. The bottom was never opened to visitors, visitors were never allowed inside and all business was carried out over the door.
Thomas Davenport and Son was in being in the 1930s and was run by Norman Davenport into the 1960s. The development of welded steel keys saw the demise of the cast key and therefore the need for the key filer. The company closed when Norman retired.
WILLIAM DAVENPORT, 14 NORTH STREET, WEDNESFIELD
Key maker, as above, run by William (Bill) Davenport into the 1960s. In 1921 there was a William Davenport in Victoria Road. In 1936 William Davenport is listed as at 53 Victoria Road and 14 North Street.
R. DAVIES, SEDGLEY
| | |
| --- | --- |
| | Safe plate for R. Davies. Nothing else is known about this firm. |
GEORGE DAWES, STAFFORD STREET, WILLENHALL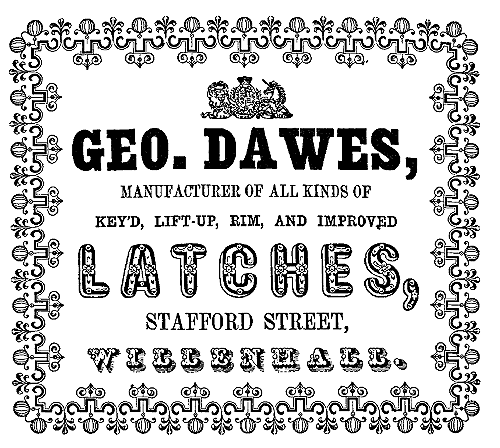 An advert from 1851.
JOSEPH DUCE & SON, DUDLEY ROAD, WOLVERHAMPTON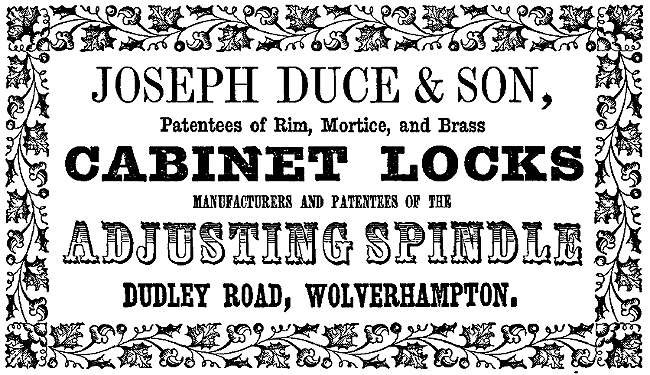 From Melville & Company's 1851 Wolverhampton Directory.
DUGMORE LOCK CO. LTD. 21 THORNLEY STREET, WOLVERHAMPTON
Cabinet lock makers. Established in 1860.
In 1921 there was a V. Dugmore in Thornley Street. In 1934 V. Dugmore manufactured cabinet locks in Wolverhampton; their trademark was a swastika (LMNL No44).
In the 1960s they supplied flat steel blanks to the replacement trade.
Existing in 1970. Nothing else known.
W.A.DUKES AND CO LTD. LICHFIELD ROAD, NEW INVENTION
Lockmakers. Started before the Second World War in a workshop and small office opposite the Victory Club, next to Hough's house, Lichfield Road, New Invention. They made large rim and mortice locks. During the war they bought and sold steel and stopped making locks; they finished shortly after the war. Still listed as being in existence in 1974.
In 1900 (Kelly's) there was T Dukes, New Invention, Cabinet Lock maker, and T H Dukes, Short Heath, Cabinet lock maker. These could have been forerunners of W A Dukes and Co Ltd.
FRED DUNCOMBE LTD. LANE HEAD, WILLENHALL (c1920-1996)
Makers of cabinet and pad locks. Founded by Alfred Thomas Duncombe (born 1900) and his father Alfred Duncombe. Alfred was the son of Charles Duncombe, who had a lock-making firm at Lane Head in 1871. (There was a C & S Duncombe Cabinet Lockmakers in Short Heath in 1900 [Kelly's]). The finance for the new firm was provided by Lucy Jane Duncombe (nee Fenn), the mother of A.T., and Ethel Emma Appleby (nee Fenn) in the middle/late 1920s.
Alfred (father) had started work in his father's business, Charles Duncombe. He then moved to Chubb in Wolverhampton and then on to Josiah Parkes, where he worked as a locksmith. The son, A.T., was trained as an architect and later worked in the drawing office at Josiah Parkes. They set up full time in the 1920s at Lane Head. They had a serious problem with Josiah Parkes in that they took an order for locks away from Parkes due to inside knowledge. Parkes forced them to stop making the locks. They then concentrated on the manufacture of cupboard and till locks, in both brass and steel. Eventually the brass locks were purchased from A & E Squire (q.v.).
In about 1943/4 they took over H.J.Stephens, of 17 Bright Street, Aston, Birmingham, who were general pressworkers. During the war years, between March 1941 and September 1946, lock production ceased and work was carried out for the war effort. During this time A.T. became a JP in Willenhall and was awarded the MBE for his work in the Auxiliary Fire Service.
After the war they produced a cheap padlock, with a malleable iron shackle, that was sold to Willen Key Co. (q.v.) and stamped with their trademark WILLEN. They were also stamped BENTLEY.
By 1957 lock production had ceased and the machinery from Stephen's was moved to Lane Head, where a new bay was built to accommodate it. And production concentrated on pressings.
In the early 1960s Ray Ward, the owner of Bloxwich Aluminium, in Straight Road, Short Heath, (the other side of Lane Head Bridge to Fred Duncombe's works), joined forces with A.T. Duncombe to run the company. Ray Ward introduced the manufacture of builders hardware, i.e. bolts, hasps, Suffolk latches. After the death of A.T., in 1973, Ray Ward took over the business that was eventually run by his son and later moved to Unit 5, Progress Drive, Cannock where they continued to produce builders' hardware. In about 1995 the business was sold to Chamberlain and Hill of Bloxwich.
(Notes from Bill Pace, who started as an apprentice with Fred Duncombe in 1941 and left in 1957.)
JOB DUNCOMBE, REPEAT WORKS, LITTLE LANE, SHORT HEATH, WILLENHALL (1905-c1980)
Job Duncombe (no relation to Fred Duncombe (qv)), founded a lock making business in 1905 in an outhouse behind his home in High Road, Lane Head. Room was so short that the fly press they had was kept outside and they could not use it if it was raining. They later moved to premises in Little Lane. Alfred Birch joined the company after the Second World War and, on the death of Job, took over the business. (Alf was married to Job's niece).
In the 1960s, under Alfred Birch, they manufactured a range of mortice and rim locks, and expanded the business by introducing more general pressing. They specialised in the manufacture of parts for car seats for H. R .Turners, who were also in Little Lane. They also made and marketed a range of caravan accessories.
Alf died in March 1979 and his son Michael, who concentrated more on presswork than locks, then ran the business. The supply of parts for car seats dried up when their major customer, Turners, closed down and, as they had lost ground in the lock trade, times became difficult. So they closed down in 1983.
---