---
ERA Products Ltd.
see under J. E. Reynolds & Co. Ltd.
EREBUS LTD, ALBION ROAD, WILLENHALL (c1900-1991)
Manufacturers of mortice locks.
Set up as The Erebus Manufacturing Company Ltd. by Mr Raybone in 1906. He had previously worked for Beddows and Sturmey Ltd. and employed some people who had also worked there. The firm was named after a ship. On his death his son took over and he eventually sold out to a man from Wolverhampton. He never married and on his retirement sold out, with Arthur Glotham and John Abnet, who were employed by the company, taking 51% of the shares and Evered Ltd of West Bromwich having the other 49%.
The company became renowned for the design and production of the original gear motion range of locks.
| | |
| --- | --- |
| | This notice appeared in the trade marks section of the Ironmonger's Guide of 1950. |
In about 1962 John Abnett retired and Evered gained a controlling interest. At this point Basil Cook was put in charge with Arthur Glotham. After Arthur Glotham's death, and the retirement of Basil Cook, Evered took more control of the company and changed the name to Evered Security Products Ltd. (which was its name in Jan 1976-April 1976 and was possibly its name pre-1973).
In 1978 as Evered Security Products Ltd they purchased the sole right to manufacture James Gibbons Locks from T.I. James Gibbons Ltd..
The Evered Company was taken over by Raschid and Osman Abdullah in 1981. They became part Newman Tonks Group and moved to premises at Lichfield Road, Wednesfield, that Fleet Locks Ltd. then occupied. Both companies were incorporated into Erebus Ltd.
In April 1988, as Erebus Ltd., they sold the right to James Gibbons Locks to Quality Lock Ltd.
In July 1988 the Newman Tonks Group purchased Legge Ltd (q.v.) and in Sept. 1991 moved Erebus into their Willenhall works. The Legge company name was changed to N T Locks and continued to sell some of the Erebus range as a brand name alongside the Legge brand.
ETAS
see Enoch Tonks and Sons

BENJAMIN EVANS & SON, WOOD STREET, WILLENHALL.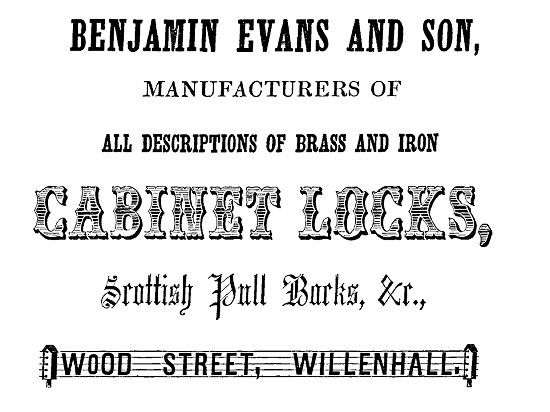 An advert from 1851.
JOHN EVANS, WEST BROMWICH.
The following two photos of a tiny brass padlock with a diameter of about 1cm were sent by Abi Evans who would love to know something about the manufacturer. The family heirloom is believed to have been made by John Evans (1782 - 1866) of West Bromwich, whose son was Joseph Evans, the founder of Joseph Evans & Sons, the once well known pump manufacturers, based at Culwell Works, Wolverhampton. Abi suggests that it might be a love token because the swallow on the back could be a symbol of family and affection. If anyone can help, please send me an email.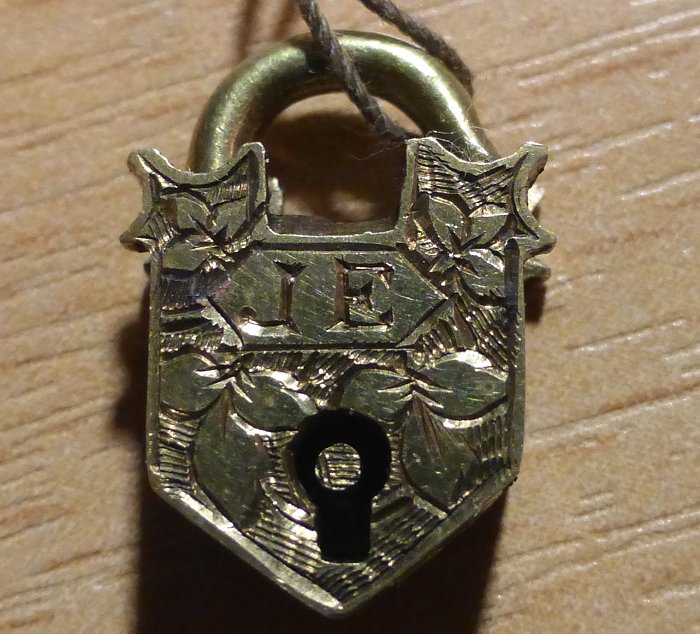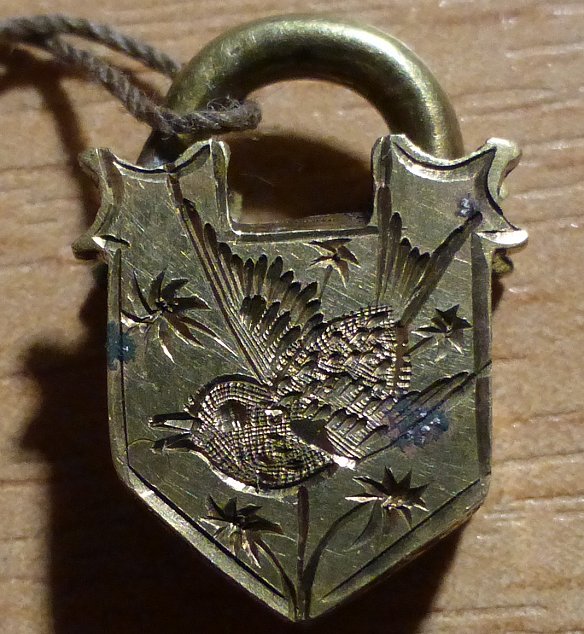 WILLIAM EVANS & CO, SCHOOL STREET, WOLVERHAMPTON
This advert is from the catalogue of the Wolverhampton Exhibition 1884.

They are known to have continued as retail ironmongers and builders merchants, in School Street, until the late 20th century. Their premises there still stand.
---