---
JACKSON LOCK AND BRASS WORKS, WOLVERHAMPTON & LAUNCESTON, TASMANIA
David Nelson writes:
The earliest evidence of the name Jackson being associated with lock manufacture in Wolverhampton is in 1872 when Thomas Joseph Jackson appears in the Directory of Staffordshire as a lock maker, New Invention, Willenhall. Francis Jackson, a son of Thomas Joseph and Mary (nee Taylor) appears in the 1878 directory of Staffordshire at 96 Poole Street, Wolverhampton as does Thomas Joseph, still at New Invention as lock makers.

Francis Jackson was born in 1851. After completing his indentures with John Taylor (yes, he married the boss's daughter!) he worked for Chubbs (Wolverhampton) then established his own business. He must have developed a noteworthy reputation because in 1880 he took an engagement from the Japanese Government to teach the art of lock making and brass works in Tokyo. In 1882 he emigrated to Australia (Tasmania) from Japan, organised for his wife and family to come from Wolverhampton and started the Jackson Lock and Brass Works in Launceston. The Jackson Lock and Brass Works is still producing locks today.

Thomas Joseph Jackson was indentured in 1831 to James Taylor, a brass founder of Wolverhampton. He acquired a number of houses and buildings in Bloomsbury Street, Hall Street, Pountney Street and Chapel Street in Wolverhampton.

I have no samples of advertising for Jackson Locks in Wolverhampton or even a lock to prove its existence, but by putting together the pieces of a family history I an sure a lock making business of this name did exist in Wolverhampton during the 1870s.
J. JOHNSON & CO., LION WORKS, CEMETERY ROAD, WILLENHALL
| | |
| --- | --- |
| | This billhead, supplied by Trevor Dowson, is the only evidence we have of this firm. (The last line of the bill head reads: "Empties must be returned with Heads complete". Does anyone know what that means?). |
ENOCH JONES, DOCTORS PIECE, WILLENHALL
Padlock makers founded in 1895 or earlier. Trading until the late 1950s. Supplied with keys by Arthur Hough between February 1946 and November 1948.
The business was founded by John Enoch Jones. His customers included the GPO, the LMS Railway, and the state-owned railway company of Argentina. He took out several patents between 1895 and 1932.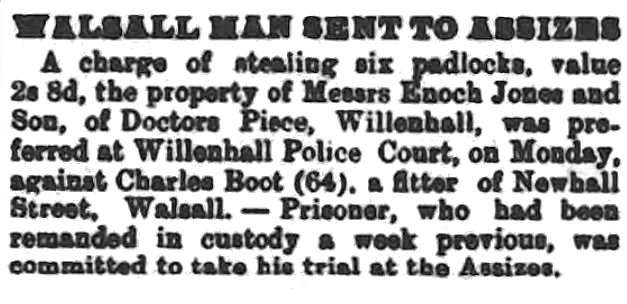 From the Walsall Advertiser, Saturday 14th November, 1908. Courtesy of Jo Barreiro.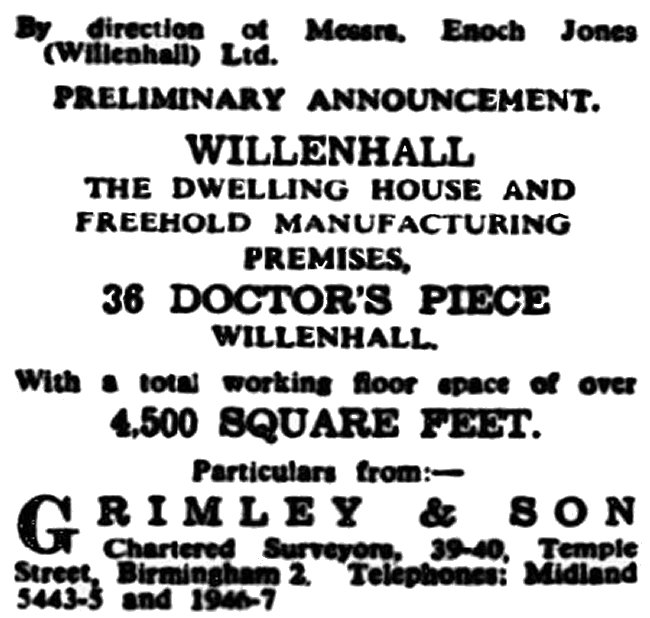 The sale notice for Enoch Jones' premises. From the Birmingham Daily Post, Saturday 31st January, 1959. Courtesy of
ROBERT JONES AND CO. LTD. ANN STREET, WILLENHALL
Manufacturers of all kinds of brass and iron pad, press and cupboard locks, night latches and keys.

In 1920 Robert Jones was at Orchard Works, Orchard Road Willenhall. In 1940 were at Ann Street. Existing in 1974.
---