---
WHITFIELD'S SAFES, OXFORD STREET, BIRMINGHAM
Samuel Whitfield and Sons of Viaduct Works, Oxford Street, Birmingham, and 140 Grand Buildings, Trafalgar Square, London, W.C.2.
Samuel Whitfield was born in Birmingham in about 1810. In 1851 he lived in Edgbaston with his wife Hannah and his seven children: Samuel B. Whitfield, Mary B. Whitfield, Frederick Whitfield, Herbert Whitfield, Anne Whitfield, James Whitfield , and Emily S. Whitfield.
In 1861, Samuel and his family lived in Deritend, Aston. He is described in the census as a manufacturer of fireproof iron safes, metallic bedsteads and bedding, employing 47 men, 21 boys and 19 women.
In 1866 the company manufactured Fenby's adytic retainer lock.
In 1869 the firm produced fire and burglar proof safes and locks, and Whitfield's New Patent Safes.
By 1871 the business had grown. The metallic bedstead manufacturing part of the business employed 77 men, 26 women, 64 boys and 10 girls. The fire proof lock manufacturing part of the business employed 23 men and 10 boys. There was also a brass foundry employing 15 men, 10 boys, 1 women and 1 girl.

By 1881, Samuel had retired and lived with his wife in Leamington. His son Samuel B. Whitfield took over the metallic bedsteads part of the business, and presumably one of his other children took over the lock and safe making business.
In 1886 the firm became Whitfield's Safe and Door Company. Around 1900 it was acquired by J. T. Needs & Company and in 1910 the engineering works moved to Oldbury Place.

In 1945 the business was acquired by Milners Safe Company and in 1952 it went into voluntary liquidation.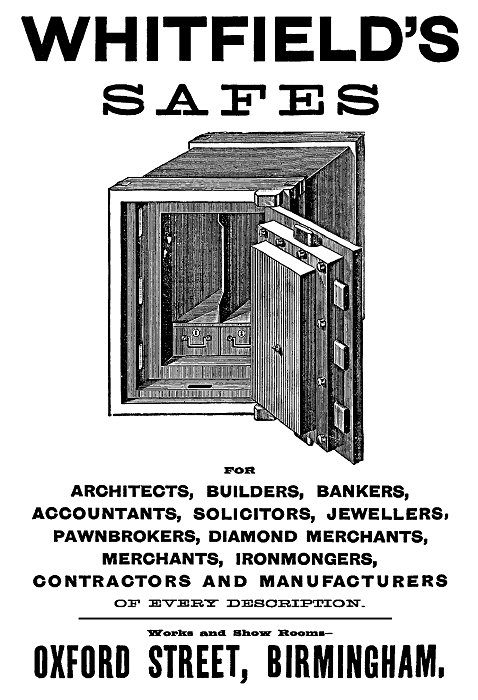 An advert from 1896.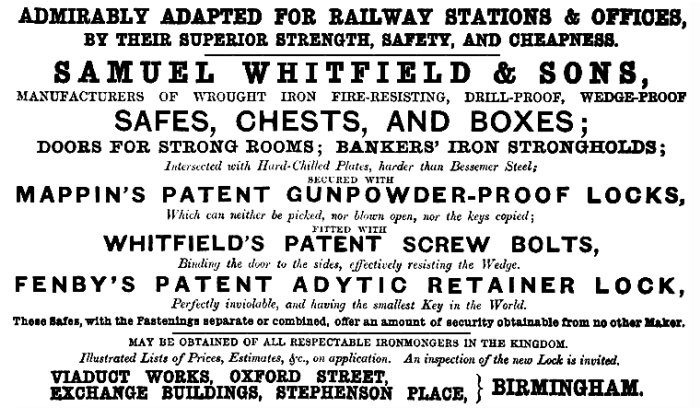 An advert from 1868.

An advert from 1904.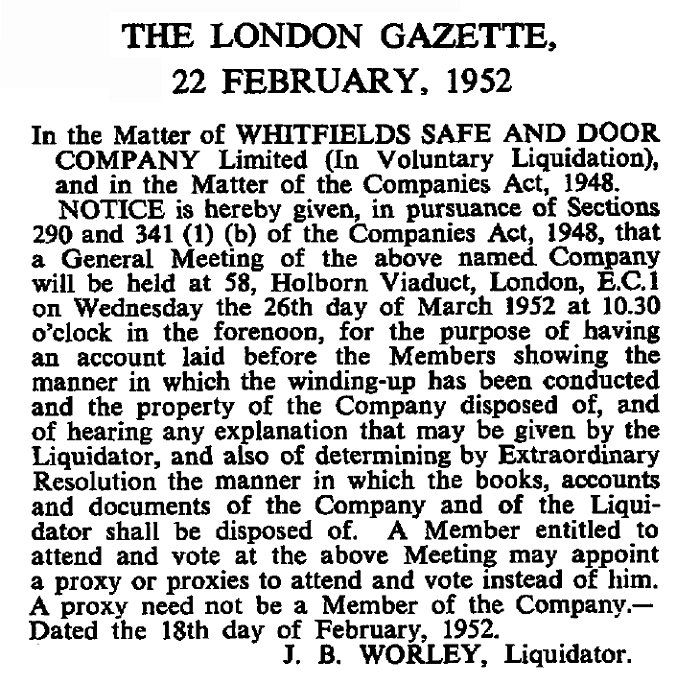 SAMUEL WILKES, EXCELSIOR WORKS, PARK ROAD, BLOXWICH
The Wilkes family started in business in Bloxwich as locksmiths and door furniture manufacturers in 1874. By 1954 the original company had built up cash reserves and, to enable these to be distributed to shareholders, the company was liquidated and the trading assets were transferred to a new company, Samuel Wilkes and Sons Ltd on the 1 June 1954.
At some time James Bailey and Co. Ltd were incorporated into the company and in 1977 they were trading as Samuel Wilkes and Sons Ltd Incorporating James Bailey and Co. Ltd, making locks, hinges and pressings for railway carriages, passenger and commercial vehicles.
The company traded in the manufacture of locks etc., acquiring Thomas Herbert and Co. (Willenhall) Ltd (q.v.) on the 14 November 1969; Hodges Locks and Pressings Ltd (q.v.) on the 15 November 1971; H.D. Jackson Co. Ltd. (who made office staplers and ball bearings) on the 5 November 1973; and J. G. Beddows Ltd (q.v.) on the 20 December 1976.
Except for J.G. Beddows, whose plant was moved into the Bloxwich site immediately they were acquired, the manufacturing facilities and services that were operated by Samuel Wilkes and Sons Ltd, Hodges Locks and Pressings Ltd, and H. D. Jackson Co. Ltd were combined under a new division known as Samuel Wilkes and Sons Ltd. (Manufacturing Division). They also created two new marketing divisions for sales, namely Samuel Wilkes and Sons Ltd (Engineering Division) and Samuel Wilkes and Sons Ltd (Luggage Fitting Division). The Luggage Division was to handle orders previously dealt with by Hodges Locks and Pressings Ltd., H. D. Jackson Ltd and the James Bailey Trunk Department of Samuel Wilkes and Sons Ltd. The Engineering Division was to handle orders relating to rail, motor vehicles, presswork, bearings, and general engineering products. The Managing Director at this time was J .D. Lisle, who had come from the Hodges Lock side of the business.
In 1979 receivers were appointed and entered into an agreement with a new company known as Samuel Wilkes (Engineering) Ltd for the hiving down of the trading assets except the freehold property. On the 1 February 1980 the receivers sold the issued share capital of Samuel Wilkes Engineering Ltd. The company still traded in 1997 from premises at Newfield Close, Walsall, in business as specialists designers and manufacturers of locks, hinges and general engineers. The cabinet locks side of the business (the former Hodges Lock work) was purchased by Liston Products Ltd.(q.v.), who continue to make the "Hodges" range of cabinet locks in 1996.
DAVID WILLIAMS AND SON, 68A TEMPLE STREET, WOLVERHAMPTON
Cabinet and padlock makers. In 1936 they were at 73b Raby Street, Wolverhampton.
In 1953 they were at Temple Street. Not in existence in 1970. Nothing else known.

GEORGE WILLIAMS (WILLENHALL) LIMITED, 31a WALSALL ROAD, WILLENHALL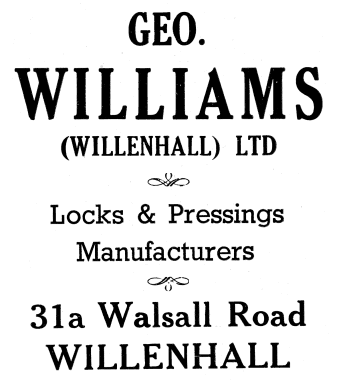 An advert from 1954.

THOMAS WILKINSON AND SON, 47 ESSINGTON ROAD, NEW INVENTION
Key maker of the traditional key filing type. Existing in 1921. In 1936 Mrs S Wilkinson is listed as a key maker at 47 Essington Road. Run by Harold Wilkinson into the 1970s, when he was dealing mainly as a factor and finishing a few castings.
WILLENHALL ENGINEERING LTD. 7-11 FROYSELL STREET, WILLENHALL
Set up in about 1988 to manufacture five and six lever padlocks, furniture fittings and repetition turned parts. In June 1994 they took over the lockmaking side of Atlas Harrison (q.v.), to add the Belfry range of padlocks and mortice locks to their range.
In about 1995 Alan Ash, formerly of ABT and Morris Springs, took over the company in a management buyout.
In October 1996 Willenhall Engineering acquired Lockstock, which manufactures locks and fittings for UPVC aluminium and timber windows and doors, from owner Richard Morton for an undisclosed sum. The merger of the two companies has created a business with an annual turnover of £2 million with 50 employees.
In March 1998 Stockwell Engineering sold its padlock making business to Security Engineering plc (q.v.). Chairman Alan Ash said that the deal formed part of a strategic realignment of its Willenhall engineering products. "This enables them to concentrate on their core business, namely hardware products and components for the PVC-U and aluminium door and window industry, whilst safe guarding employment for those currently employed in the padlock part of the business". Around 10 people who work at the padlock firm will be kept on.
WILLENHALL LOCKS LTD. STRINGERS LANE, WILLENHALL
See Keys of Steel (q.v.)
WILLEN KEY CO. LTD. WALSALL ROAD, WILLENHALL
The Willen Key Company was founded in 1903 by James Walker, with an office, showroom and stores at No 77 High Street Battersea. The twenty year old Mr Walker named his company "Willen" after the Staffordshire town of Willenhall, the home of English locks and keys. Mr Walker's practical experience and youthful zest soon established his new company as a leading supplier of keys and locksmiths sundries in the south of England. Willen's first catalogue, brought out in1909, illustrated 55 pages of keys, blanks and ironmongers items. Gradually the firm extended its range to include lawn mowers and garden tools; but its reputation was still based on being a specialist in keys and blanks. Every new blank of British and foreign origin was immediately put into stock. When its 1922 catalogue was issued, the "Ironmonger" wrote: "there is still a number of misguided individuals who are under the impression that they can do better by dealing direct with a maker rather than a factor. They overlook the fact that sometimes the wholesale man is a specialist and can offer a bigger choice than the manufacturer. To such we commend for careful attention a catalogue which has just been issued by the Willen Key Co."
By 1923 the scope of Willen Key's activities had increased to such an extent that it was decided to move to larger premises in Bath Street off City Road EC1.

The new premises included a showroom where the company's range of tools, locks, keys, garden requisites and hardware was displayed.

In 1938 Willen Key was registered as a limited company with Mr Walker as director.

Five years previously he had made an important appointment for the future of his company: he engaged a trainee representative, Robert Allen.
Trevor Dowson has provided this advert from 1929.

Although the advert says the locks are British Make they do not actually claim to have made them themselves.
Willen Key suffered their share of war damage: their Bath Street offices were destroyed. Undeterred however, the company moved to the home of locks and keys and established itself in Willenhall. The manager was W H (Billy) Deering who earned himself the nickname "Padlock Harry" within the trade, as at the beginning of the war he went round all the local pad lock makers and gave them orders to produce padlocks. With general orders drying up due to the war, he was quickly overrun with padlocks and had to find other warehouse space to keep them. He still had many left at the end of the war.
When the bombing was over and the head office staff returned to London, the Willenhall branch carried on as a new and thriving limb.
| | |
| --- | --- |
| | An advert from The Ironmonger Guide 1950. The advert refers to "Locks of every description, Blanks, Hinges, Bolts, Tools, Door Furniture etc.". |
The company continued to prosper, opening branches in Belfast in 1953 and Bristol in 1963. On the 2 October 1972 the Willen Key and Hardware Company Ltd was acquired by GKN, who amalgamated their own distribution company of Nettlefold & Moser with Willen Key to form Nettelfold-Willen Ltd, with Robert Allen at its head and head offices at Summer Road, Peckham. From this point the company's interest in locks and keys waned and they concentrated on the GKN core business of screws. Further changes took place in January 1977 when Nettlefold-Willen Ltd was amalgamated with Netmos Hardware to form GKN Distributors Ltd. By this time the Willenhall Warehouse had been closed and the sale of locks and keys was finished. So ended the company that had become the household name for locks and keys and whose catalogue was the bible for everyone in the trade. (Ref. leaflet published by Nettlefold-Willen, 1972)


A letterhead.
DAVID WILLIAMS AND SON, TEMPLE STREET, WOLVERHAMPTON
Key maker. In Existence in 1953. Nothing else known.
for the story of George Withers, Mary Withers, Thomas Withers, Samuel Withers, Jesse Withers (and Richard Antcliff of Brisbane and Harry Antcliff of Birmingham) :-
Read the history
of the Withers family and their safes


JOSEPH WOLVERSON, WILLENHALL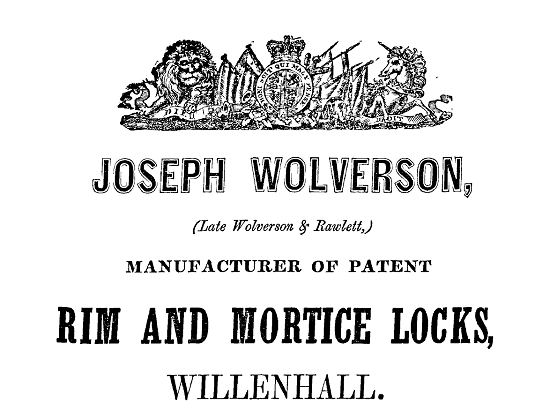 An advert from 1851.

GEORGE D. WOOD LIMITED, CLOTHIER STREET, WILLENHALL
The business, which was founded in about 1882 became well known for the manufacture of Scarboro' trunk locks, handles, coal vase mountings etc., many of which were exported. In 1932 the business, the factory, machinery and plant were put-up for sale. The buildings included an enquiry office, a general office, a private office, a double-span north-lighted press shop, a casting shop, a stamping shop, an engine house, a polishing shop, a plating shop, a lean-to wrapping warehouse with office, toilets, and a concreted yard.
The plan of George D. Wood Limited's site from the 1932 sales catalogue.

The factory, which survived until a few years ago, was later extended.
The following list of plant and machinery is from the sale catalogue:
Stamping Shop - 5 fly presses, a drop-stamp with 9½ inches between slides, a drop-stamp with 7½ inches between slides, guillotine shears, a 2ft. 6 inch turning lathe, and overhead line-shafting.
Engine House - a 25hp. Crossley gas engine, a gas bag, 3 water tanks, a 'Trump' belt mender, a Willdigg Brothers S& S lathe, and overhead line-shafting.
Polishing Shop - 12 fly presses, 4 Leg vices, 4 Hubbins vices, 2 bench drilling machines, vertical drilling machine, emery wheel bob, 9 overhang bobs, 6 polishing lathes, a centrifugal dust extractor, hand shears, stove and piping, and overhead line-shafting.
Plating Shop - fly press, wood swilling-out vat, gas-heated potash vat, 2 electric metal-lined wood vats, metal hot water tank, electric metal brassing vat, drying bin, 2 old wood vats, and all fittings.
Old Warehouse - 4 inch bench vice.
Second Warehouse - 1 Fly press.
Top Warehouse - 1 hand press.
Press Shop - 28 fly presses, 1 Sweeney & Blocksidge stem press, 1 Sweeney & Blocksidge blanking press, 10 Leg vices, 8 Hubbins vices, 3 bench vices, 2 rolling machines and gauges, 3 stoves and piping, 1 swage block and stand, 1 anvil.
New Shop - 1 galvanised tank, 1 lacquering stand.
Casting Shop - 1 wood trough 9ft. long, 7 iron casting boxes and clamps, 2 Hill & Son casting furnaces.
Yard - 1 Time Recording Clock Company timing clock and racks.
The company also owned four dwelling houses that were next to the factory (nos. 6, 7, 8, and 9 Clothier Street).
WORMOLD PATENT LOCKS CO. LTD. 139 NORFOLK STREET, SHEFFIELD
In existence in 1905 when they patented a padlock for use by the electricity and gas authorities for sealing pre-payment meters. Over the years they specialised in this application with their self-locking meter locks. They made lever locks with shaped keyholes, and nozzle locks with hinged shackels. Still in existence in 1998.
DAVID WORRALL, FLETCHERS LANE, WILLENHALL
| | |
| --- | --- |
| | David Worrall was a relation of the family who owned John Worrall, where he worked until he set up on his own in Fletchers Lane, Willenhall, making mortice locks, in the late 1940s. |
David died in the late 1950s and the business was carried on for some years by his wife and her sister Lucy, until his son Michael took over the running of the business. He expanded the business to include a turned parts section, which became the major part of the business. With the recession in the motor industry, they tried to resurrect the lock making side that they had let tick over in the hands of David's wife and her sister; but they were unable to raise enough business and closed down. (In existence in 1949 Willenhall Trade Directory. In existence in December 1976 (AH records))
THOMAS WORRALL AND CO. CATHEDRAL WORKS, 17 DOCTORS PIECE, WILLENHALL
Manufacturers of galvanised padlocks, also brass drawer, and brass and iron cupboard, locks. In 1921 were at 48 Lower Lichfield Street.

In 1936 were listed as at Doctors Piece. Existing in 1974. Closed after 1974 and premises were later taken over by Quality Lock. (q.v.)
JOHN WORRALL AND SONS LIMITED. THE CRESCENT LOCK WORKS, WILLENHALL
In 1815 a Charles Hartill produced padlocks in a cottage in the Crescent, Willenhall. This cottage was later to become part of the firm of John Worrall and Sons Ltd. In 1895 the Worrall family purchased the premises at 22 The Crescent and John Worrall began to make locks in about 1895 and was listed at the time as a manufacturer of rim and dead locks and patent four hand night latches.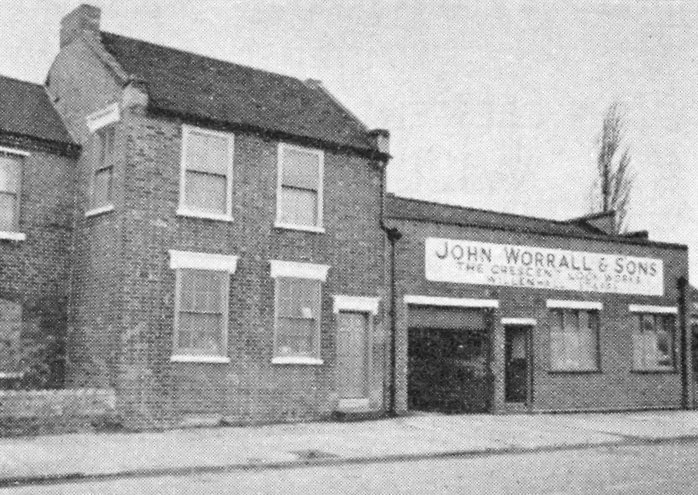 22 The Crescent, Willenhall.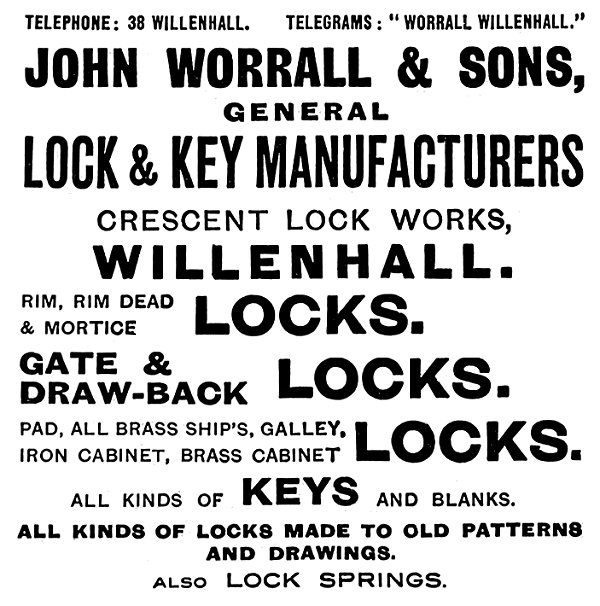 An advert from 1913.
John and his wife had nine children, most of whom worked in the family business at some time. Ivor ran the business along with his father. In the 1930s Len Llewellyn joined the company for a wage of 7/6 per week and Mr. Cooper also joined as salesman. He then married the bosses daughter and when John Worrall died Ivor, Len and Mr Cooper ran the business. During this period the workforce grew to over 150 people.

Other members of the family also worked in the business at various times. Guy later left to set up an architectural hardware business.

Lloyd set up in London, factoring locks and keys. Thomas (q.v.) set up as a lock maker in Doctors Piece in the early 1920s. And David set up as a lock maker in Fletchers Lane in the late 1940s. (Was there another brother who worked for the firm?)
When Ivor Worrall died, Mr. Cooper set about acquiring all the family's shares and took over the running of the business with the help of Len Llewellyn. Len would eventually become a 25% shareholder in the business when they became a limited company on the 7th February 1963.

Mr. Coopers son, Harry (born 1925), joined the business in about 1962 and took over the reigns from his father when he retired. Harry continued to run the business along with fellow director Len Llewellyn.

The original workshops consisted of a row of cottages, a brew house and a two storey workshop at the rear of the cottages. A new workshop was built in 1925 behind the original cottages. In 1935 part of the row of cottages was demolished when a new frontage, and extra workshops including a brass casting shop, were built.

The remaining cottages were kept as a store. Further new workshops were built in 1968 to allow the company to concentrate on the production of five lever mortice locks and padlocks.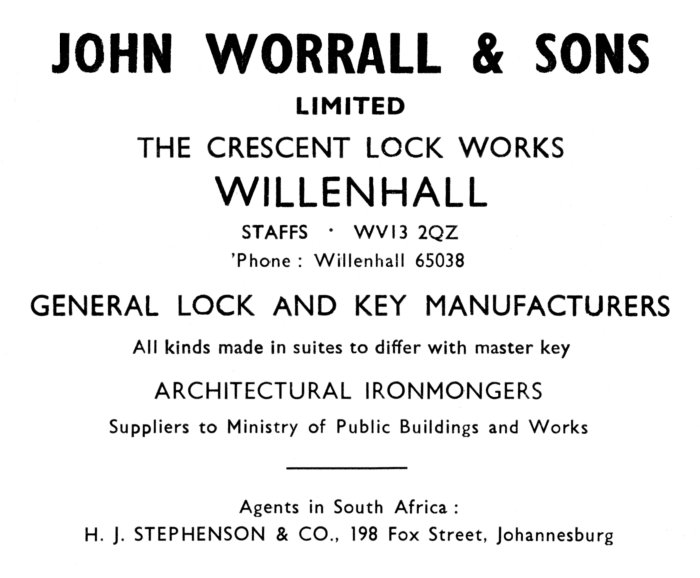 An advert from the early 1970s.
In 1985 there was a work force of about 45 but pre war the numbers had been as high as 100. Harry Cooper and Len Llewellyn retired in the 1980s, leaving their sons Dominic Cooper and Andrew Llewellyn to run the company. Harry Cooper, who had been a traveller for the company, lived in Fisher Street, Willenhall.
Andrew resigned as a director in the early 1990s, finishing 60 years of service by the Llewellyn family at John Worrall and Sons Limited. Harry Cooper died on the 24th December, 1999 at the age of 74, leaving Patricia A. Cooper and Dominic J. Cooper as directors.
In April 1999 the firm employed about 12 people, and in May 2000 employed 11. On the 31st March, 2000 they took over the manufacturing rights and tooling of all cabinet locks previously made by H. E. Fletcher (qv). (Industrial Heritage Winter 1985)( Blackcountryman Vol. 4-1) (Dominic Cooper)
Sales fell because of foreign competition. The site at The Crescent closed and was sold in 2003. The firm became Worrall Locks Limited, which had been incorporated on the 16th February, 1988 and was based at Sutton Coldfield. As well as making locks, Worrall Locks was also a wholesale supplier of hardware, plumbing and heating equipment. The company was dissolved on the15th March, 2016.
---