---
YALE AND TOWNE CO, WOOD STREET, WILLENHALL

The company was founded in 1883 in Stamford, Connecticut, USA by LinusYale, who had developed the pin tumbler lock.

In 1868 Linus Yale was introduced to Henry Towne and together they formed Yale and Towne Manufacturing Co., employing 35 people.

The firm grew in strength to become a worldwide company.

In 1875 the company broadened its scope from locks into material handling, with the introduction of the Yale manually operated chain hoist. And in they 1920 bought out a battery powered platform truck.
Yale and Towne moved in to England in 1929 when they purchased H. and T. Vaughan Ltd. (q. v.), then the largest manufacturer in Willenhall, who were already manufacturing cylinder locks. This gave them production facilities with a ready-made work force.

They also expanded the manufacture of hoists and trucks and in 1936 opened a Wednesfield plant to manufacture hoists and trucks. In 1954 the Materials Handling division of Yale and Towne Manufacturing Co. was formed to trade separately from the Lock and Hardware division.

In the 1960s the lock division purchased E. Tonks and Sons Limited (q.v.) but soon closed their Temple Bar works and replaced it with a new purpose built factory for the production of all the company's die casing requirements. They also opened a new factory at Livingstone in Scotland.
| | |
| --- | --- |
| An advert from 1929. | |
| | |
| --- | --- |
| An advert from 1938. | |

An advert from 1958.

They were bought out by Eaton Manufacturing of America in 1963 and the name was changed to Eaton Yale and Towne Inc.

They then changed the name again to Eaton Corporation in April 1971 and moved their USA headquarters to Rye, New York.

In the UK the Eaton Corporation transferred its fully owned subsidiary to become Eaton Limited.

The lock making section, known as Yale Security Products Division, and the Materials Handling Division, based at Wednesfield, retained the Eaton Limited name.

Their advertising at the time on the works Ford Escort rally cars said: "Yale forklift truck made by Eaton Limited."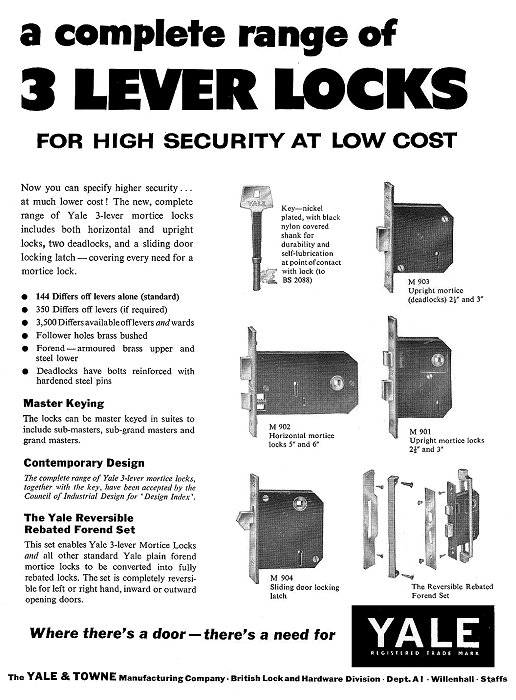 An advert from 1961.


An advert from 1964.
In February 1978 Eaton Corporation sold its world-wide security products business to Thomas Telling Limited.

They were located at Charlotte and Monroe, North Carolina USA; Lenoir City, Tennessee, USA ; Willenhall England; Livingstone Scotland; Aprilia Italy; Velbert, West Germany; Eskilstona, Sweden; Caracas Venezuela; and Bogota Colombia, producing locks, builders hardware and door closures, under the trade names of Yale, Norton, BKS and FAS.
The Material Handling Group was not affected by the disposal of the security products division. In 1984 the Material Handling Division was acquired by North American Coal Corporation (NACCO), who in turn sold it in 1989 to Hyster in Holland. In 1992 Yale Europe Materials Handling Limited was formed and production moved to Holland, the Wednesfield factory being closed down.
In 1982 the Lockmaking division was sold to Scovill Security Products.

In 1985 they acquired the Walsall-based lock and builders hardware manufacturer W. J. Goodwin and Son Ltd. in a move to break into the aluminium and plastic door and window market.

An advert from 1985.
In 1986 Michael Montague's Birmingham based Valour Company bought up the USA based lock and home appliance companies Yale and NuTone. In April 1986 they purchased Ingersoll Locks. (q.v.) and in August 1990 they purchased Century Lock Limited (q.v.) and moved the production of both companies into the Wood Street works.

In January 1991 they were purchased by Williams Holdings. In early 1994 Williams Holdings purchased Corbin Russwin for $80m from Black and Decker and this formed part of the Yale Corbin Russwin Division in the US.

Other overseas security divisions were Yale Corbin, Canada; Yale, Italy; and Yale Hong Kong. In 1996 Williams Holdings acquired further lock companies in the US and Italy. Its latest Italian acquisition moved Williams into second place in the Italian locks market.
In 1996 they set up a £325m joint venture, Yale-Guli, with China's largest lockmakers, Guangdong Guli Locks. It would employ 4000 staff and make 25million locks per year. Williams were to run the company and have a 45% stake. Guangdong were to own 40% and insurers, American International, 15%.

In 1997 Williams Holdings also acquired Chubb Locks, which included Parkes and C. E. Marshall (see further details under Chubb).

Williams Security Products was set up to run the three companies Chubb, Parkes and Yale, as one. But a name change never took place and Yale traded as Yale Security Products UK Limited.

In March 1998 Williams Holdings proposed to withdraw from the home improvement business. Brands such as Polyfilla, Cuprinol and Hammerite were to be sold off. They were also selling the US based home products business, NuTone, which makes door chimes, intercoms and bath room cabinets. (E&S 10/3/98)


An advert from 1958.
By July 1998 the Wood Street and Portobello works carried a sign with the three names of Yale, Chubb and Union.

All cylinder lock production was moved into the Wood Street Works and production standardised on the Yale cylinders, even though they were branded Yale and Union.
Mortice and rim lock production was all moved into the Portobello site. Three and five lever locks were standardised on the Union range, while some were marked Yale. The production of Chubb locks also took place at Portobello. Note that rim locks are still made to the Union specification and they still sell the Yale specification rim lock, which is made for them by Gibbons (Latham Manufacturing).
In 1996 they set up a joint venture, Yale-Guli, with China's largest lockmakers, Guandong Guli Locks. It would employ 4,000 staff and make 25 million locks per year. Williams would run the company and own a 45% stake. Guandong would own 40% and insurers, American International, 15%. [When Yale was purchased, along with the rest of Williams Holdings security division, by Assa Abloy in January 2002, Assa Abloy purchased the 40% of Yale Guli owned by Xiaolan Town and so this company became a "wholly owned foreign enterprise", which is still pretty rare in China. In September 20021, the company's name was changed to Guli Security Products Ltd.]
In April 1999 the whole of the Williams Group lockmaking side was reorganised under the name Yale Security Products UK Limited, with offices in Wood Street, Willenhall. All the administration, sales and purchasing etc. took place from there.
It is said that the production of 5-lever mortice locks, badged Yale and Union, has been transferred to the former Parkes factory in South Africa (Conrad Sandler 23/10/2000).
70 redundancies were declared by Yale at their Wood Street and School Street Portobello works in October 2000. (E&S 20 October 2000.)
For further information on this company after the Assa Abloy purchase, see the entry under Chubb.

---