Bradley & Co. Ltd
(Beldray)

Mount Pleasant, Bilston
---
11. The Bradley Family
This information about the family is based almost entirely on the research of Jaap Arriens, who also supplied most of the images. Jaap's information, and some from other sources, has been assembled here by Frank Sharman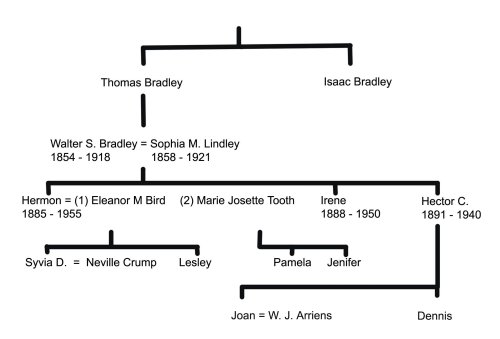 A simplified family tree.
The founder of the firm was Walter S Bradley, whose father was an ironmaster, Thomas Bradley.
Thomas and Isaac Bradley
Thomas and Isaac were sons of William Bradley (born 1795 in Sedgley, died 1867 in Dudley) and Rose Hannah Hughes (born 1799, died 1879), who had married at All Saints, Sedgley, in 1816. Id addition to Thomas and Isaac they had two other sons, Benjamin and William John, and 4 daughters, Louisa, Mary Ann, Sarah and Hannah.
In Kelly's Directory of 1868 Isaac Bradley was living at "Ettingshall Villa, Ettingshall", and Thomas lives on "Wellington Street", both of which would be good addresses, suggesting that they were already well established. The same directory also lists them as iron masters and proprietors , together with John Southan, of Brook Furnaces Iron Company. Nothing is known about this company but the Black Country Sites and Monuments Record shows several iron works beside Bilston Brook. One suspects that the Brook Furnaces were here. The same information appears in Post Office Directory of 1872 with the addition of the information that they are "makers of best & common foundry pig iron."
In Kelly's Directory of 1880 Thomas and Isaac (without mention of John Southan) are listed as "iron masters, Capponfield". Presumably, since no mention is made of Brook Furnaces, they have left there altogether and acquired the Capponfield furnaces.
| | |
| --- | --- |
| | The Capponfield Furnaces on the 1903 OS Map, showing Broad Lanes to the left, the railway to the right and the canal at the bottom. |
Of the Capponfield Furnaces the Black Country SMR, Site No. 10654, gives details of the ownership of the site from 1805, with Bagnals being in possession from 1839 to 1881. Then, in 1882 T & I Bradley appear. The SMR also records that the furnaces were blown out by the Bradleys around 1920, blown in again for one month in the late 1920s, and then gradually dismantled.
| | |
| --- | --- |
| Plan from the 1932 conveyance, said to show the Capponfield Furnaces but only showing part of the site. | |
The document D/JSR/44/147 in the Wolverhampton City Achives is an "Abstract of the title to a piece of freehold land situate Broad Lanes in the County of Stafford" . The abstract recites a conveyance, in 1918, to Thomas and Isaac Bradley Ltd. of a piece of land of a little over 3 acres, fronting Broad Lanes "and known as Sandiford Meadow Estate" . (1918 is the year of W. S. Bradley's death but there is no way of telling whether or not this is significant). This appears to be an extension of the Capponfield property. The abstract then recites a conveyance of 1932 by T & I Bradley Ltd to Bradley & Foster Ltd.. of land "known as the Caponfield Furnaces which said land was bounded on the north east by the GWR and the south by the BCN and on the west in part of Broad Lanes and contained an area of 12 acres 2 roods".
This last sale involves a receiver acting on behalf of debenture holders but that does not mean the company was in receivership. It is likely that the Bradley Co. wanted to sell up and the denture holders had to be satisfied first. It is not known whether the occurrence of the name Bradley in Bradley and Foster Ltd indicates that the sale is an arrangement within the family or whether there is no connection at all.
Walter S Bradley
According to an account of the life and work of Walter S. Bradley, which appeared in the Birmingham Gazette on 16th September 1908 Walter S. Bradley was born in 1854 and educated at Wolverhampton Grammar School. The School Register (published in 1926) records, entering the school in 1866: "Bradley, Walter Smith. July 1854. Son of Thomas Bradley, Caponfield, Bilston. J. P.. Late of Somerset Grange, Edgbaston. Died March 17th, 1918". His birth certificate records that he was born in 1854 at Shut End, Kingswinford. In 1868 he is with his parents in Bilston. In 1881 he is with his parents at 8 Soho Road, Handsworth. (On the site of this house there now stands a large Sikh temple).
In 1883 he married Sophia Margaret Lindley, who had been born in 1858 and was about four years his junior. She was from Staleybridge, Ashton-under-Lyme, near Manchester. They had three children, Hermon (born 1885), Irene (born 1888) and Hector (born 1891).

The house on Westfield Road.

In 1891 they are at "Lindenhurst", presently 27, Soho Avenue, opposite St. Michael's church. (Mathew Boulton's house, Soho House, is on the same road). Perhaps he had moved there on his marriage. This is where Walter is living when, in May 1897, he took a building lease from Lord Calthorpe of a plot of ground at Westfield Road, Edgbaston, at its corner with Norfolk Road.

The area was being developed with very high class houses and in the lease Bradley undertakes to build a house worth at least £1,500. And this he did.
When it was on the market in 2005 it was described as being in a plot of about half an acre and having a drawing room, dining room, morning room/library/ breakfast kitchen, 8 bedrooms and three bathrooms, as well as a coach house and beautiful gardens. His initials were carved on the fire surround in the drawing room.
| | |
| --- | --- |
| He seems to have lived there only five years, moving to "Somerset Grange", Somerset Road, Edgbaston, in 1902, where he was duly recorded in Kelly's Directory in 1907. "Somerset Grange" - presently named "Trevose" - is still there, on the corner of Somerset Road and Pritchatt's Road. | Somerset Grange in 2005. |
The report in the Birmingham Gazette notes that on the death of his father, in 1898, Walter not only took over the reins at Bradley's but also took over his interest in the "Caponfield Furnaces" and became a life director of that company. It also notes that he was a member of the Birmingham Chamber of Commerce; that he was a strong Unionist and Tariff Reformer; and that he had declined invitations to enter public life – although he was a J.P. - and, in his limited spare time from work, "his recreations have been restricted to riding and driving and, latterly, motoring". (The "driving" referred to would have been carriage driving).
The grave of Walter and Sophia Bradley
at Brandwood End.
Walter S. Bradley died at Somerset Grange on 17th March 1918, aged 63. His wife, Sophia, died on 10th July,1921, aged 58.
Hermon Bradley
Hermon Bradley, the first son of Walter S, was born in 1885 and christened Cuthbert Hermon, but was always know as Hermon. He was educated at Rossall School. He joined the company in 1903 and took over control of it when his father died in 1918.
His first wife was Eleanor M. Bird, whom he married in 1912. She was the daughter of Sir Alfred Bird, the inventor of baking powder and of Bird's custard, and a millionaire, who lived at Tudor Grange. He died 1878. His son, Sir Alfred Bird, was MP for Wolverhampton West, from 1910 to 1922.
Hermon and Eleanor had two children, Sylvia (always known as Brownie) who was born in 1914 and Lesley. When their mother, Eleanor, died early the two daughters went to live with their maternal grandmother at Tudor Grange. At this time Hermon was living in the Queen's Hotel Birmingham, paying weekly visits to his daughter at Tudor Grange.
| | |
| --- | --- |
| | Hermon and his sister-in-law, Juliette. |
Marie, Hermon, Juliette and Hector Bradley at Frinton in 1938.

Frinton was an Essex seaside resort frequented by the better off - better off than those who went to Walton (to the north of Frinton) and much better off than those who went to Clacton (to the south).
On leaving Birmingham Hermon bought a house called "Eyot Wood", at Shiplake on Thames. He also had a holiday home somewhere in Wales. His daughter, Brownie, recalls:
"My father, who was a Bradley, made hardware, dustbins, stable buckets and so on. He lived in the Queen's Hotel in Birmingham and used to visit us every week. Then he met my stepmother, married her and bought a house at Shiplake, Henley, in Oxfordshire, because Daddy simply adored boats and had always longed to live by the water".
| | |
| --- | --- |
| | Hermon water skiing on the Thames. |
The stepmother was, of course, Hermon's second wife, Marie Josette Tooth. They had two daughters, Pamela and Yvonne Jenifer (always known as Jenifer). In 1952 Jenifer married James Michael Dalrymple Symons. who participated in the 1948 Olympics in London. He was in the 1,000 metre Canadian Canoe pairs. He and his partner finished 8th out of 9.
Hermon not only "adored boats" he had been, as a young man, a racing car enthusiast and is said to have driven at Brooklands. He remained noted for his fast driving for most of his life.
| | |
| --- | --- |
| Juliette Bradley at Brooklands in 1926. | |
Brownie married Neville Crump, the most famous and successful national hunt trainer of the post-war years. He went on to win three Grand Nationals, five Scottish Grand Nationals and two Welsh Nationals.
In a biography of Neville Crump ("Ever Loyal: the biography of Nevllie Crump, Tim Fitzgeorge-Parker, 1986) Brownie is described thus:
"It was after Neville had decided to leave the Army that he met Brownie. In view of his total involvement with horses, it was fairly inevitable that he should meet the love of his life at a hunt ball. Twenty-year-old Sylvia Diana Bradley was enough to turn the head of any young man. Blonde, vivacious, with a lovely figure, she had a wonderful sense of humour and was always tremendous fun".
Brownie's sister, Lesley, married Robert Leonard Duller, who served as a naval officer in Wolrd War 2 and later was a well know car racer at Brooklands.
Hector Bradley
Hector Bradley was Walter S. Bradley's second son. He was born in 1891, married in 1922 and died in 1940. He had two children: a daughter, Joan and a son, Dennis.
Hector joined the family company but when the First World War broke out his older brother, Hermon, stayed with the company and ran it, and its war work.

Hector Bradley in 1941.

In the First World War, Hermon's brother Hector left the works and joined the Army in the 6th Battalion of the South Staffordshire Regiment (Territorial Army). Hector must have had drills in the building of the former Drill Hall on Mount Pleasant in Bilston. In The War History of the Sixth Battalion the South Staffordshire Regiment (by a Committee of Officers, William Heinemann, 1924) his name appears as a second lieutentant along with names such as Sankey and Mander, doubtless scions of other local industrial families.

Hector was sent to Belgium and from there to the North of France. He was wounded on the 13th of October 1915 during a gas attack at the Battle of Loos, where he was a machine gun officer at the Hohenzollern Redoubt. The gas attack was by the British but, because of incorrect calculation of the wind, the gas was blown backwards (information by the In Flanders Fields Museum in Ypres, Belgium).
Hector "was put with the dead and the dying" (as his daughter Joan recalled) but miraculously survived and was sent back to England immediately, where the doctors told him that he would probably live for no more than 5 years. For the rest of his life he had to live with a stoma in his throat. He was gazetted Captain, perhaps on his leaving the army. He rejoined the company. In 1940 he took his own life, an act perhaps not unconnected with a feeling that the horrors of the first war were starting all over again.
Vivienne Joan Bradley
Joan (as she was always known) was Hector Bradley's daughter. In August 1946 she married Captain Willem Jacob Arriens, Regiment Jagers, Royal Netherlands Army.

Little Aston church in 1946.

The marriage took place at St. Peter's Church. Little Aston. The local newspaper, "The News", reported the event with some delight and enthusiasm, obviously attracted by the Dutch connection.

They reported that W. J. Arriens was the first Dutch officer to be allowed to be married in full dress uniform since the War, that he was the youngest Captain in the Dutch Army, that the best man was Lt. Bartholomeus Rooyakkers, and that there was a guard of honour of sixteen members of the Dutch Military Police. The event obviously stirred up Little Aston.
| | |
| --- | --- |
| The Dutch Army certifies that "there are no objections" to the marriage of Captain Arriens to Miss Joan Bradley ... | |
... and that Captain Arriens is a bachelor and is granted permission to marry.

Note that both certificates are in English.
From the certificates that Willem had to obtain from the Dutch Army permitting him to marry, we learn that Joan was born at Lichfield on 21st March 1927 but her address at the time was Little Aston Park, Little Aston, Sutton Coldfield. Capt Arriens was born at Arnhem (Netherlands) on 5th September 1917.
One of their children is Jaap Arriens who undertook the research on which this page is based. (Jaap also had to get Dutch Armey permission to marry when he married Joy in 1972!).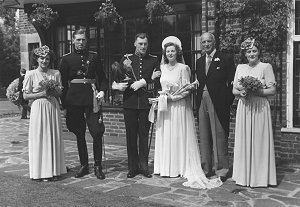 The reception was at "Greenways", Little Aston Park. The bride "wore a white crepe dress with train and lace veil (which was a family heirloom) and a pearly necklace, a gift from her mother She carried a sheaf of white lilies". "The two attendants, Miss Monique Genevieve Steen, cousin of the bride, and Miss Judith Esther Brooks, friend of the bride, wore duck egg blue dresses with heart shaped headdresses trimmed with flowers to match the posies which they carried". Joan was given away by her uncle, Hermon.
Dennis Bradley
| | |
| --- | --- |
| Dennis Bradley. | Dennis Bradley was Hector's son. In 1952 he completed 2 years National Service as a Lieutenant with the Royal Horse Artillery and then joined Bradley & Co. Ltd., as an engineering apprentice. He was living at "Greenways", Little Aston Park and continued as a member of the Territorial Army. |
| | |
| --- | --- |
| He would probably have succeeded Hermon as the head of Bradley's but in 1954 he was persuaded by his mother, Juliette, to emigrate with her to Cape Town. He resigned his commission in the Territorial Army and from Bradley's, who gave him a good open reference but pointing out that he had only completed two years of his apprenticeship. It seems that he was desperately unhappy in South Africa and he died by his own hand in 1956. | |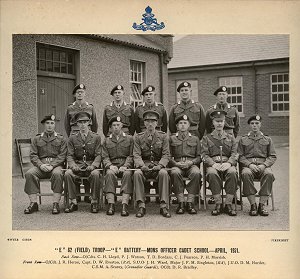 Dennis Bradley (far right, front row) at Mons Officer Cadet School, 1951.