General Metal and Holloware
J. & J. Harriman & Co.

Middle Row, Charles St., Wolverhampton
---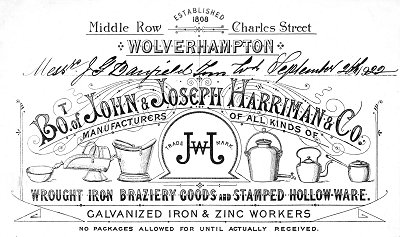 J. & J. Harriman claim to have been founded in 1808. Their works were at Middle Row, Charles Street, which was roughly where the University's School of Art now stands. They appear in the Red Books until 1960 when, presumably, they either closed or re-located as a result of the building of the Ring Road and the associated re-development.
The letter head shows a typical range of iron founders hollow ware: a gypsy kettle, a round kettle and a lidded saucepan. The water bowls were probably made of sheet metal. The coal scuttle and the coal bucket may have been made of brass or sheet metal. Although they claim to be manufacturers of all kinds of wrought iron, braziery goods and stamped holloware, and to be galvanised iron and zinc workers, it is very likely that their main line would have been domestic holloware of the type shown.
In their trade mark the two Js are linked to form an H. The W may stand for Wolverhampton.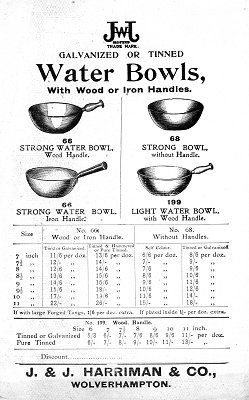 This single sheet flier is undated but certainly comes from before 1950 - maybe a long time before. It shows items which are not often met with to-day but were once essential when water did not come from your kitchen tap, but from a well or a communal pump.
---