General Metal and Holloware
William Hayward & Sons Ltd.

Brunswick Works, Bilston Road and Vulcan Works, Willenhall Road
---
The company claimed to have been founded in 1860 and became structural engineers and large producers of gates, railings and fences.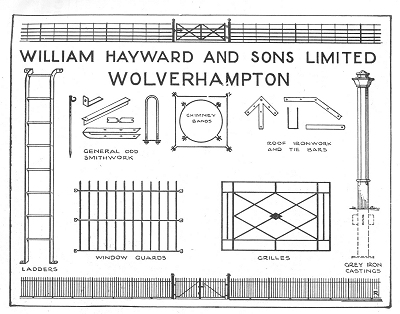 These four advertisements are all from the same copy of the Architectural Compendium for 1920.
How long the company stayed in structural engineering is not clear. By 1953 there is only a remnant mention of it in their entry in the Wolverhampton Handbook. Instead they list: "flat and round bar continuous fencing for agricultural and road widening purposes, sheep and cattle hurdles of all descriptions, standards for wire fencing, tree guards, plain and ornamented railing for all purposes, sheet iron fencing, balcony railing, tennis surrounds, hand gates, field gates, plain, ornamented and sheeted gates, ironwork for rooks, ladders and general smith work."
---