General Metalware and Holloware
Jones Brothers & Co

Ablow Street
---
The company's products
So far no catalogues by Jones Bros have been found. But to judge by what information we have, in William Jones' book and from surviving artefacts, Jones Bros seem to have been a typical Wolverhampton metalware company. They started as japanners, presumably making the usual range of trays and small domestic items, possibly on papier mache but certainly on tin. When the japanning trade fell away they made up for it by expanding the ordinary metalware side, getting into the burgeoning market in trunks and cases. When brass and copper wares became popular, they got into them to.
In his book William Jones makes large claims for the company as innovators. He may have been making the most of what innovations they made.
William claims that, from its earliest days, the "firm introduced many novelties and did much to improve their manufacture". In particular, sometime shortly after 1862, "Jones Brothers & Co brought out an entirely new-shaped coal vase. Previous to this, a useful but ugly article of furniture called a coal-scuttle, with an open mouth filled with lumps of coal, was kept in the back kitchen. The new-shaped vase now introduced had a neat and pleasing appearance, being somewhat in the shape of a nautilus shell. The coal was entirely hidden under a highly ornamental cover. … The new-shaped vase was improved by being fitted with handsome brass handles, which had opal mountings. … To make it more attractive glass panels were inserted in the covers and these panels were ornamented with pictures and photographs, taken from pictures such as the "Monarch of the Glen" and "Dignity and Impudence" by Landseer ….
Others were fitted with splendidly decorated panels, embossed with gold and colours, and new and brilliant designs composed of paste jewel stars on black grounds. … These glass panels gave an opportunity for the japanner to display his artistic taste …".
| | |
| --- | --- |
| | This coal vase does not have a maker's mark on it but the shaped front has a reproduction of a painting behind a glass panel and the shape might just be described as "somewhat in the shape of a nautilus shell". Further it is in Bantock House, Wolverhampton. It may be tentatively ascribed to Jones Bros. But Angeline Johnson points out that the general shape is almost identical to a coal box by Henry Loveridge, as are the feet. William says that new-shaped vases of similar design were then produced by many other japanning houses and became very popular. It may be that Loveridge's, or another firm, produced this version. |
Certainly it seems, from those still remaining, that the Victorians produced a vast number of coal containers, and lavished much care and attention on their design. Even Christopher Dresser designed some. Henry Fearncombe had produced enamelled coal scuttles for the 1851 exhibition, and these, by the taste of the times, could not be called "ugly articles". Perhaps what the Jones Brothers were first to do was to fit a lid to cover the coal.
William says that "Soon after the death of Harry Jones [1871], the manufacture of sheet-iron (and afterwards steel) travelling trunks was introduced into the tin and japan trade by Jones Brothers & Co. Before that time travelling trunks were usually made of wood, covered with black canvas and studded with brass-headed nails." William points out that travel, both within the country and abroad, was greatly increasing in the latter half of the nineteenth century and this created an enormous trade in trunks. Many Wolverhampton firms joined in this trade and no doubt Jones Brothers profited greatly by it.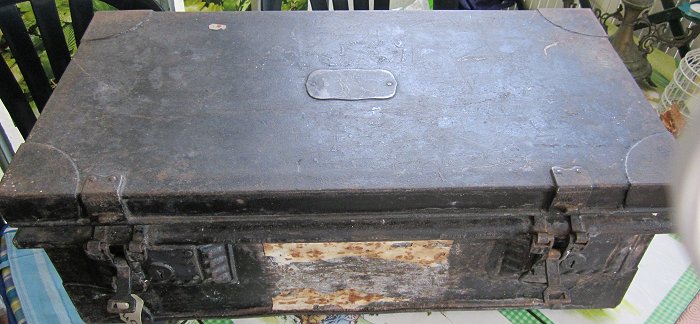 A watertight 'Jaybeco' trunk, courtesy of Patrick Lainé, who purchased it a few years ago in Nice, on the French Riviera.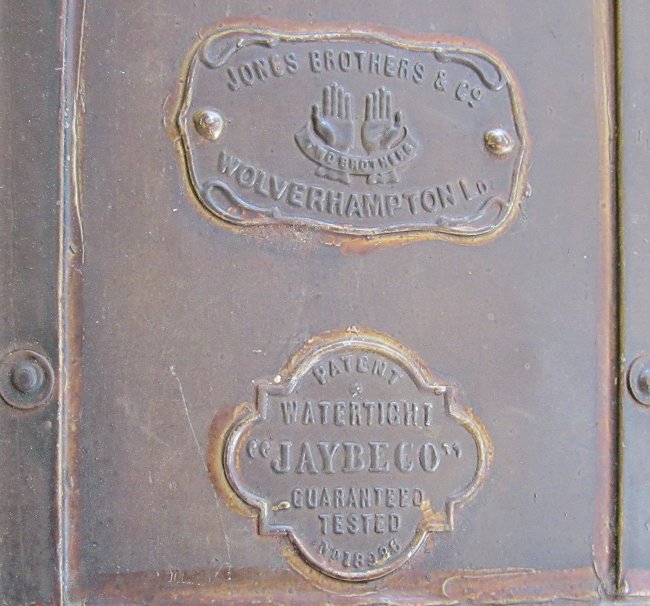 The name plate on Patrick Lainé's trunk.
| | |
| --- | --- |
| This photo of a Jones Bros trunk has kindly been provided by Steve McLean, who has it in his shed in Australia. (You never know what you might find in Australia's iconic sheds). It may well have found its way to Australia with British immigrants. | |
| | |
| --- | --- |
| | The unusually elaborate locking bar is marked at the top "Jones Bros/Patent/W.hampton"; and below with the words "Best Steel" on each side of the firms usual two hands trade mark with the word "Jones Brothers Wolverhampton" underneath. |
| | |
| --- | --- |
| This uniform case is named on a label inside as the Owomeji Steel Uniform Case. The case itself and all the locks are marked with Jones Bros patent numbers. The case has been painted red and then black. While the black was still wet a flat ended stick has been used to make crescent shaped marks, revealing the red beneath, all over the top and three sides. | |
These cases were intended for use in West Africa where, it was thought, the crescent shapes were considered a good luck symbol. This example still bears luggage labels referring to its transport by Nigerian Railways. A similar uniform case was made by the Crown Nail Company as "Niger" brand steel trunks and uniform cases under the name of "Chatham Metal Products Limited". They seem to have been a rather better fitted out and higher quality product. But the examples from two manufacturers indicate the importance and size of what might seem to be a rather specialised market.
| | |
| --- | --- |
| | This "Bombay Despatch Box" was advertised in Gamages catalogue of 1914. Presumably it was intended for use by "box wallahs" in India. |

A Jones Brothers Bombay Despatch Box. Courtesy of Michael Kaehn.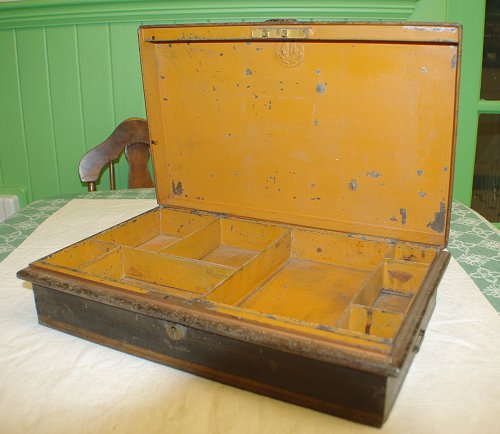 Another view of Michael Kaehn's fine Bombay Despatch Box.
The company probably made almost any sheet metal item for which they could find a market. Cash boxes were certainly one of their lines.
| | |
| --- | --- |
| This small cash box, which is fitted out with lidded trays inside, was probably a standard line. This one is of quite good quality, at least as far as the gilding is concerned. | |
| | |
| --- | --- |
| | The interior of the cash box above is elaborately marked, with the words "Jones Bros Wolverhampton" circling the gilded washers under the handle retaining nuts; and the two hands symbol stamped between. |
| | |
| --- | --- |
| This large cash box is even more upmarket, with a cast brass and engraved handle plate, rounded front and back edges and a lavish use of gilding. It was probably intended for use in the home or a director's office, rather than for ordinary shop work. | |
Jones Brothers seem to have made a wide range of items in tin plate and in brass and copper. Not many have so far been identified, which may, perhaps, indicate that their production was not great or simply that they often did not mark their wares. They produced some brass and copper wares which can be included under the heading "art metalware".
| | |
| --- | --- |
| | This jug bears the mark shown below. The handle shows some style and an interesting attempt to provide a (cheaper?) alternative to the usual tubular handle. But the spout is poorly made and attached and the whole looks squat and ugly. |
| | |
| --- | --- |
| The trade mark shown on the jug above. As it refers to two brothers, the mark presumably dates from after the death of Harry Jones in 1871. | |
| | |
| --- | --- |
| | This chamber stick is of an unusual design, not least in that it has no handle. And the extinguisher screws onto a post in the well - which is very neat until you try to replace the extinguisher after you have put out the candle and are in the dark. But the whole seems to be well made. |
| | |
| --- | --- |
| This mark appears on the chamber stick above. It refers to Jones Bros as patentees - perhaps they patented the screw down extinguisher. The royal coat of arms is not significant - many Victorian manufacturers used it with no warrant whatsoever. | |
This weird object was sold by an antique dealer as a vase. It may have been. But on the other hand it only needs a handle and a spout to be a very standard type of water jug. There is no sign of either of those ever having been attached, so who knows? The mark on this item is simply the words "Warranted hand wrought /Jones Bros & Co" impressed in sans serif letters.

The best that can be said of the decoration is that the knobbly things are vaguely reminiscent of the faceted studs which were used extensively in Wolverhampton made steel jewellery.
| | |
| --- | --- |
| A coal scuttle of a very common design and showing no signs of the lids about which W H Jones wrote so fulsomely. But no doubt there continued to be a demand for the open bucket type, which would have been much cheaper. | |
| | |
| --- | --- |
| | It seems that everyone had to produce a copper kettle and this is one attempt at it by Jones Bros. The decoration is restrained - which would have saved costs but which also makes it rather neat and pleasing. |
| | |
| --- | --- |
| Most, if not all, companies produced ewers. These seem to have been, invariably, of a conical shape. This is the only exception seen so far. It is also different from the usual in combining brass and copper and in having a cast brass twisted handle. The brass bands carried an unusual decoration (see detail below). This and the knobbly vase (above) suggest that Jones Bros had an enthusiasm for design and for making something distinctive. It may be thought that these efforts were not always completely successful. | |
| | |
| --- | --- |
| | The design on the brass bands, near the handle, where much polishing has not rubbed them off. |
| | |
| --- | --- |
| The jug above carries this mark in the base. It seems likely that Jones Bros started using the two hands mark after the death of the third brother, Harry, in 1871. The letters "W.H." which appear here may just indicate "William Highfield", the last surviving brother. | |
| | |
| --- | --- |
| | This label, in imitation of a postage stamp, was presumably used on envelopes and perhaps on other documents as well. Showing the two brothers as Georgian gents was probably an idea of the producers of the label, and was harking back to the old days when things, undoubtedly, were much better. |
It is quite likely that Jones Bros moved into brass and copperware when everyone else in the town was doing so: a market had opened up. But their bread and butter work was almost certainly in manipulating sheet metal.
---