| | | |
| --- | --- | --- |
| | | |
---
The 1960s

In 1960 we moved all plant, equipment and offices to Strawberry Lane. Without doubt we were, at this period, getting 80% of the U.K. reconditioning work, and were now exporting all over the world. For example, Charles Nielens was our agent in Belgium; William Jacks was our agent in Singapore, looking after Singapore, Malaya, Sumatra, Borneo, Siam, Hong Kong and the Philippines. In India Mr. Hari Bhargava was trading as Farm Equipment Limited in Kanpur. In collaboration with Trackparts he formed a new company, Trackparts of India Limited.
| | |
| --- | --- |
| | This company started life in a garage in Mr. Bhargava's back garden but a new factory was built at No. 4 Industrial Area, Govindnagar, Kanpur. |
It was fitted out with all British plant and laid out in exactly the same way as at Tractor Spares, Wolverhampton.

They expanded year by year and went public in 1977.

But in 1979 Mr. Hari Bhargava died and our interests in India came to an end, though the Indian company still flourishes.


The Trackparts factory at Govindnagar.

The Trackparts factory at Panki.

In the early 1960s we employed a Jamaican paint sprayer in our reconditioning shop. He was a very friendly man. One August Bank Holiday I gave him 50 shillings in his wage packet and he was most appreciative.

For the past 15 to 20 years we have been receiving an annual order for our spares for Caterpillars worth £10,000 to £20,000 and the goods are paid for in cash before shipment.
The customer, a firm in Jamaica which operates a road stone crushing plant and sugar cane plantations, is run by a Mr. Fred Buchanan.

It was not until 1992 that he told us why he purchased all his requirements from Tractor Spares Limited. He was the paint sprayer I gave 50 shillings to.


This snap was taken on a visit some years later.
| | |
| --- | --- |
| | In 1962 we incorporated Tractor Blades Limited. |
In 1963 we had to shut down one of our track bush carburising furnaces because of a shortage of steel. One day I noticed this furnace was switched on and the carburising boxes were empty. The furnace man told me the steel we had been waiting for had arrived. But I was unable to locate the steel in the stock and became suspicious. I returned to the furnace and, on opening it, found four potatoes being baked. I estimated that £400 for baking potatoes was too expensive. The furnace operator left before his lunch was ready.
In 1964 I had a devastating brush with the unions. When I refused Union recognition and sacked two shop stewards, 86 men walked out, even though they were, in fact, paid the highest rates in the Midlands.

Eventually I re-instated the two men on condition that there was no closed shop. But their attempts to enforce a closed shop lead to constant strikes.

After 12 months of daily problems I took the same action as many other firms had felt compelled to do. I closed the manufacturing side and bought foreign goods from Singapore, India and Italy. At the time I felt that I had been pushed into a criminal decision. But things did not improve.

In 1969 there were more strikes in the reconditioning plant. I sold the whole reconditioning side of the business to Peter Strickland. Peter started to move the plant out, while the men stood outside the gates, watching their jobs disappear.


A page from our 1962-3 catalogue showing our representatives.
| | |
| --- | --- |
| | But the same year I was able to set up British Tractor Spares in Toronto as a sales outlet. |
The man initially in charge of BTS was Heinz Schleuss who was very personable.

There were problems, and so I replaced him with Les Burke, but the company had to be slowly wound-up.

Our total loss was between a half and one million dollars. Heinz died 20 years later, in San Diego, and on the dole.


Heinz Schleuss in the centre; I am on the right.
The development of the Strawberry Lane site continued, but not without some problems from Wednesfield Council. In 1960 they announced that they were going to make up Strawberry Lane (which was an unmade cart path) and charge us £25,000 for the privilege. I refused to pay on the grounds that it was a publicly maintainable highway, it having been a highway before the passing of the Highways Act 1835.

After months of exploring local museums and record offices I found, at Somerset House, an old LMS railway map which showed the highway; the map was dated 1934. Eventually the road was made up, in about 1965/66. In 1965 the Council again caused problems, threatening to compulsorily purchase 10 acres of our land. But I applied for, and got, planning permission to build 30 factory units and set up Neachells Development Limited to carry out the work.

We continued trading very strongly in the 1960s and built a lot of our own equipment. Here are some examples from a catalogue of 1962-3, which listed our spare parts for Caterpillar, International Harvester and Allis Chalmers:
| | |
| --- | --- |
| | Electro Hardening of Track Pins. |
| | |
| --- | --- |
| Sprocket and Idler Hardening. | |
| | |
| --- | --- |
| | A sprocket for an International Harvester. |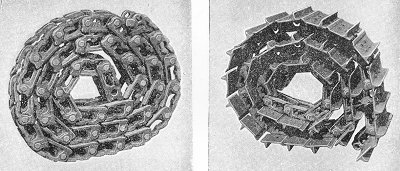 Track chain and track assembly for an International Harvester.
In 1965 Bob Sneath borrowed £1,000, purchased old one arm bandits, renovated them and put them out for hire. This was the birth of Alpha Automatics Limited, which was incorporated on 20th October, 1965.

In 1966 I set up a company Power Grip Limited, which had the UK concession for Bridgestone Off Road Tyres, and which also sold Tokio Earth-Mover Tyres.
This company was properly registered but both Goodyear and Uniroyal told us that they had exclusive rights to the name "power grip".
Strangely enough both companies agreed to pay us the £200 cost of reprinting our stationery. We changed the company's name to Earthmover Tyres Limited. After all, we had been paid twice for doing so.
The same year we purchased, from a Mr. Wood of Green and Russell, Iron Foundry, Neachells Lane, a parcel of 7.4 acres of rough land alongside Watery Lane.

We got planning permission for 26 factories on this site.
And that year, too, we bought Mackay Industrial Equipment Limited, along with its stock of Allis Chalmers spares and plant, and land and buildings at Feltham. When Allis Chambers were taken over by Fiat we sold all the spares back to the States, and sold the land and buildings to the National Coal Board.
In 1967 I made an offer for the entire stock of motor cycle spares of the Royal Enfield Cycle Company. I thought another bit of motoring history might come to Wolverhampton. But it turned out that we had been asked to bid simply to use our offer to bring pressure on another prospective purchaser. The ploy worked: the Indian Government bought Royal Enfield.

In 1967 Decca Ltd. took a 25 year lease of our office block and six bays, later expanding that to 13 bays. Thus Wolverhampton became a centre for the production of colour television sets, not only under the Decca name but also for Granada, Phillips and Telefunken. (They vacated these building in early 1979 and left them empty for 13 years).

As our office block was now leased to Decca we got planning permission for a new one at the foot of Neachells Lane railway bridge. In 1969 we sold the 30 factories and land in Strawberry Lane to David Charles of Birmingham.


A page from one of our catalogues.
---