| | | |
| --- | --- | --- |
| | | |
---
Beckminster House, off Birches Barn Road, was built in the late 1840s and early 1850s as a luxury residence for local ironmaster, John William Sparrow, who previously lived at Penn Hall.

The Sparrow Family

The Sparrow family became extremely wealthy thanks to the profits from their coal mines, ironstone mines, and ironworks. They originated in Wolstanton, Newcastle-Under-Lyme, and moved to the West Midlands, where in 1812, William Hanbury Sparrow and William Hanbury leased Brownhills Colliery, in order to supply coal to some of the ironworks and furnaces in Bilston.

Around the same time, William Hanbury Sparrow and his brother John Sly Sparrow purchased Bilston Mill Ironworks, which they ran with John Walker, an ironmaster. The two brothers founded W. & J.S. Sparrow & Company, and leased 120 acres of land in Stow Heath, on the western side of Stow Heath Lane where they mined coal and ironstone. In 1824 they opened Stow Heath Ironworks on part of the site, and began producing iron. Before long there were five blast furnaces, using cold blast, producing hard forge iron.

John Sly Sparrow prematurely died in 1825, leaving behind his young wife Charlotte, whom he married in 1817, and their young son John William Sparrow, who was born in 1820. After her husband's death, Charlotte looked after his part of the business until June 1844, when John William was old enough to take over.

Stow Heath Ironworks were a great success. In 1839, 12,756 tons of hard forge iron were produced on the site, using four of the furnaces. By 1873 there were only three furnaces, and an average of one and a quarter of them were in blast.

In the 1840s John William Sparrow and his family were living at Penn Hall which they rented from the Persehouse family. The 1851 census contains the following entry:
| | |
| --- | --- |
| | |
| | Penn Hall, Upper Penn |
| John William Sparrow | Head, age 31, Ironmaster, born in Bushbury. |
| Charlotte | Wife, age 28, born in Barbados, a British Subject. |
| Charlotte M. | Daughter, age 4, born in Penn. |
| John G. | Son, age 2, born in Penn. |
| Charles H. | Son, age 4 months, born in Penn. |
| Henty C. | Footman, age 23. |
| Sarah C. | Nurse, age 28. |
| Elizabeth Hubballs | Housemaid, age 31. |
| Mary Brown | Cook, age 29. |
| Betsey Bedford | Under Housemaid, age 16. |
| Anne Stokes | Nurse, age 50. |
| | |
In the mid 1840s John William Sparrow acquired a piece of land alongside Birches Barn Road in Penn Fields, on which to build a family home. The house became known as Beckminster House, and John moved there in the 1850s. By the 1860s Charlotte had died. It is listed in the 1861 census as follows:
| | |
| --- | --- |
| | |
| | Penn Fields |
| John William Sparrow | Head, age 41, Widdower, Ironmaster, born in Bushbury. |
| Mary Brigess | Housekeeper, age 72. |
| Ann Yates | Cook, age 30. |
| Fanny Yates | Helper, age 15. |
| Hannah Allcock | Housemaid. age 22. |
| Thomas | Groom, age 23 |
| | |
On 19th October, 1869, John married Mary Weaver of Oaken in Staffordshire. They are listed in the 1881 census as follows:
| | |
| --- | --- |
| | Beckminster House |
| John William Sparrow | Head, age 61, Ironmaster, born in Bushbury |
| Mary Sparrow | Wife, age 40, born in Worcester. |
| William H. Sparrow | Son, age 9, born in Penn. |
| Mary Olive Sparrow | Daughter, age 6, born in Penn. |
| Anne M. Sparrow | Daughter, age 4, born in Penn. |
| Cyril E. Sparrow | Son, age 2, born in Penn. |
| Evelyn Sparrow | Daughter, age 8 months, born in Penn. |
| Mary Slowman | Visitor, age 39, born in London. |
| Mary Burgess | Housekeeper, age 67, born in Bridgnorth. |
| Jane Case | Nurse, age 43, born in Bushbury. |
| Susan Manley | Nurse, age 15, born in Wolverhampton. |
| Ann Pitt | Cook, age 67, born in Bobbington. |
| Jane Bowker | Housemaid, age 28, born in Trysull. |
| Sarah Titley | Under Housemaid, age 19, born in Wombourne. |
| | |
The Sparrow family are described as follows, in Griffiths' Guide to the Iron Trade of Great Britain, published in 1873.

W. and J. S. Sparrow, at an early period, had Bilston Mill. Mr. J. S. Sparrow died, upon which an arrangement was made, which closed the partnership; but subsequently, Mr. John, the son of the said deceased, joined and remained a partner up to his uncle's death. Mr. John still carries on the Bilston Mill, where rods, bars, and hoops, are turned out of good quality; and the Stow Heath furnaces, which so much contributed to the colossal fortune made by the late William Hanbury Sparrow, who died worth from £1,300,000 to £1,500,000. These works are still carried on under the style and firm of W. and J. S. Sparrow. Mr. William Hanbury Sparrow was looked up to, particularly during the latter part of his life, with love and respect by worthy parties of standing. He was discreet, cautious, plain in his manner, with an abundance of common sense. He established the Bilston Banking Company, and lived to see it prosper, and become one of the best managed and safest banks in the district.
Beckminster House remained as the Sparrow family's home until 1920. In 1923 the house was acquired by Wolverhampton Corporation.
A New Lease of Life
In 1923 the house was converted for use as a special school for backward children.


The listing in the 1927 Wolverhampton Red Book.
In the Second World War the house was used by the local Home Guard, who can be seen assembled in front of the building, in the photo below.
In October 1940 a German land mine was dropped in the grounds of the house. It exploded and produced a small crater.

The special school had originally opened in Old Hall Street in November 1901. It moved to Birches Barn Road in 1924 and accepted admissions from outside the borough, including some from Dudley and West Bromwich. Referrals were also made from the Cottage Homes. In 1968 it changed its name to Penn Fields Special School and moved into new buildings close to Beckminster House. In 1973 the school began to admit children of all ages, including 35 from Ladymoor Special School, 6 from Westcroft Special School.


From the 1956 Wolverhampton Official Handbook.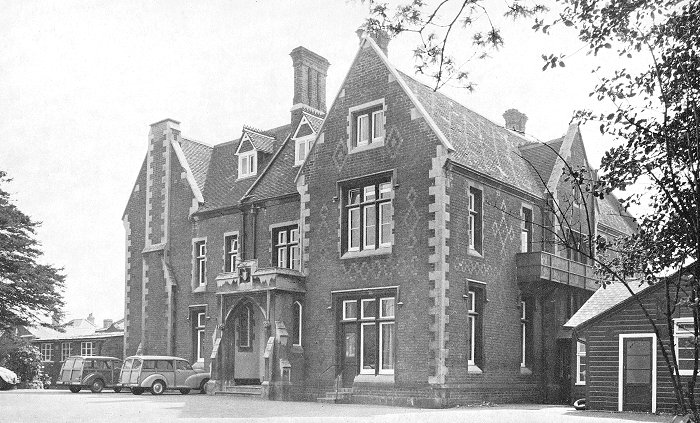 Beckminster House.
On Friday 12th June, 1970, Beckminster House was officially opened as Wolverhampton Teachers' Centre. Conversion of the house began in September 1969, and was completed in February 1970 at a cost of £9,340.0s.0d. The adaptations to the building were designed by following staff in the Borough Architect's Department: A. G. E. Chapman, Borough Architect; F. Hughes, Building Surveyor; and H. Schofield, Borough Engineer. The building contractor was A. E. Fullard & Company Limited, of Wolverhampton.

The teachers' centre had previously been housed in a school annexe in Aston Street, which was then used to supplement the facilities at Beckminster House, particularly in the area of musical education and environmental studies. The facilities at Beckminster House catered for in-service courses, conferences, discussion groups, curriculum development studies, reference and research, exhibitions of educational books, materials, and equipment, and of work done in local schools and colleges.

The centre was available to teacher groups and associations with special interests. Many such groups met there regularly. There was a fine entrance hall, a large committee room, two lecture rooms, a lecture theatre seating over 100 people, a study room, a library, an arts and crafts workshop, and a coffee room where light refreshments were served. The lecture theatre and teaching rooms were fitted with audio-visual facilities, and the arts and crafts workshop catered for courses in metal, wood, light crafts, and various aspects of art education. There was also a well appointed bar and lounge for the Teachers' Centre Social Club, which was available to all teachers in the local education service.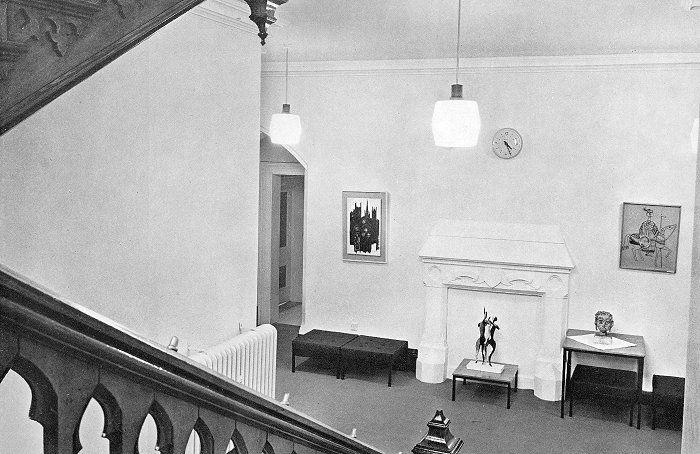 The stairs and hall.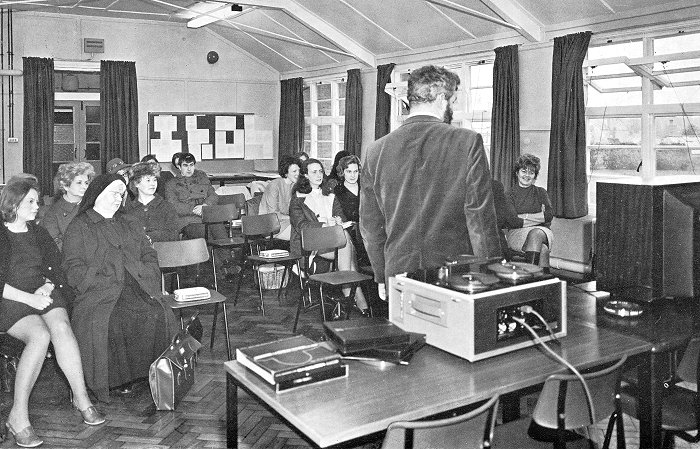 One of the lecture rooms.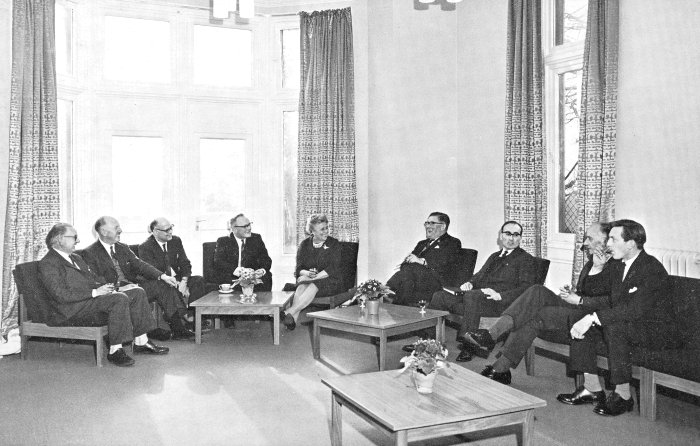 The large committee room.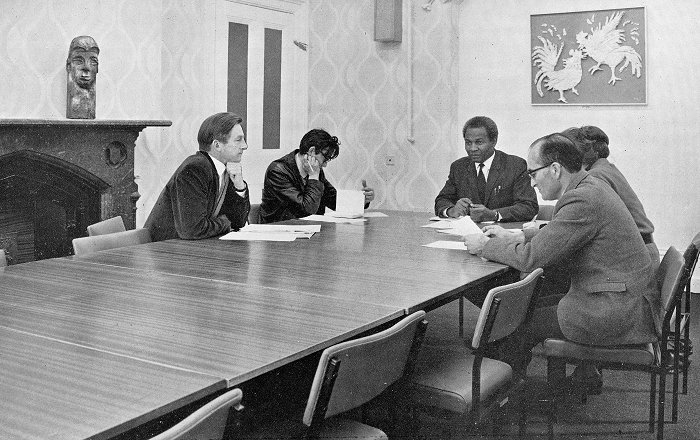 A meeting in progress.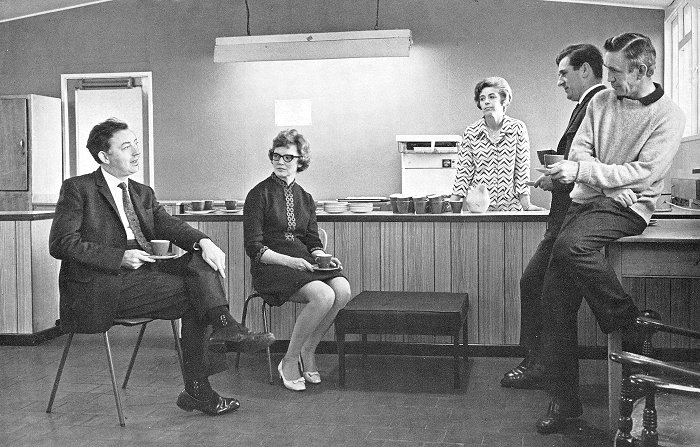 The coffee room.
In March 1992 Beckminster House was Grade II listed.

Beckminster House has been extensively modified by Wolverhampton City Council. The house, along with other new buildings on the site, is mainly used by the council's social services department, and for council training purposes.
---