Until the early 1930s, Charles Clark & Son was also a coachbuilder, producing elaborate bodywork for Rolls Royce chassis, amongst others. Mr. Barnett was joined by his son Peter in 1949.

The firm's Shrewsbury branch opened in 1939, and later moved to new premises, which opened on 1st July, 1952.

On 11th December, 1953 the Owen Group acquired Charles Clark & Son Limited, which at the time sold Austin, Daimler, and Wolseley cars.

After the take-over by Rubery Owen, Peter Barnett became Managing Director, Mr. A. G. B. Owen became Chairman, Mr. J. H. Barnett became Vice Chairman, and Mr. E. W. B. Owen, and Mr. C. E. Partridge became Directors.

In 1972 Rubery Owen Holdings Limited decided to concentrate on its manufacturing and engineering activities, and so Charles Clark and Son Limited, by then a British Leyland distributor was sold.

The firm moved to Clifton House in Merridale Road and became Hartwell, Charles Clark, a Rover dealership.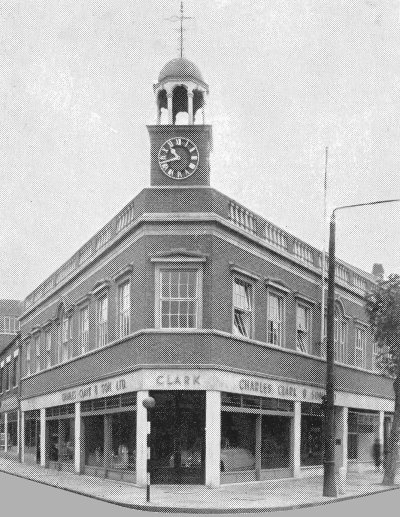 The Wolverhampton showroom at the bottom of Chapel Ash. From the spring 1954 edition of the Rubery Owen staff magazine "Goodwill".