Here is a short pen portrait of the careers (after the Normandy landings) of each of the four veterans who worked on this small project.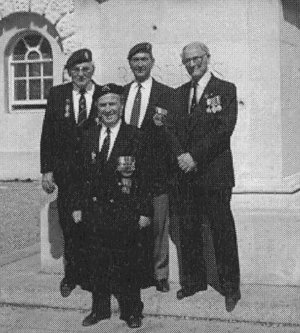 Geoff Turner was transferred to 21st Army Group as part of Technical Intelligence and was a member of a team whose role was to report to the C-in-C and the War Cabinet in London the results of investigations of captured enemy armaments and equipment. This meant that he followed the movements of the Allied forces and investigated weaponry etc. left behind by the Germans after battles. He stayed with that section until his demobilisation in April 1946. He had served for over six years.
In civilian life he worked at Boulton & Paul, then in export marketing with a Midland manufacturer of aluminium ware. He became Sales Manager with S. J. Dixon, followed by a directorship in Stoke. He retired in 1982.
Ron Picken had an eventful time after the initial landings. He took part in the attack on the Merville Batteries, was wounded and spent time in the field hospital at Herouvilette. He was in Caen during the fierce battle for the city. He was attached to the French Resistance for a period of time and was involved in sabotage operations. He participated in the battle for Cambrai and Douai and was involved in the hand to hand fighting in Ghent, where he was again wounded. He sailed from Ostend aboard the troopship Highland Princess heading for Burma and the end of the war in the Pacific. Whilst aboard the troopship the Japanese surrendered and Ron joined the Royal West Africa Frontier Force in Nigeria. He was demobbed in 1947, but remained on the Reserve list. He was actually called back for training during the Suez Crisis of 1953. He served with the TA until 1957.
In civilian life Ron worked for the Midland Counties Dairy as a Supervisor in retail delivery He became an Assistant Manager, retiring after 32 years service.
Bob Stokes returned to Britain after staying in France until Christmas 1944, serving in the Ardennes. On his return, the Airborne forces began training for Operation Varsity, the crossing of the Rhine. During the landings, half of his Regiment were lost. He reached Wismar on the Baltic coast when war ended in May 1945. He was sent to Palestine and finally demobbed in February 1947.
He did not wish to return to his pre-war shoe repair work but found factory work too stifling so he did become a shoe repairer in Wolverhampton. He became a supervisor with responsibility for eleven shops. He found being a 'boss' quite difficult and took on the licence for a public house in Willenhall, the Windsor Castle. He left the pub and became a grocer and finally a shoe repairer again, this time in Birmingham, until he retired.
Geoff Ensor returned to England at the end of July 1944 and joined HMS Allenby, at Folkestone. It was a time when the Channel ports were coming under attack from doodle- bugs and from shell fire. He became Assistant Naval Harbourmaster. He was drafted to HMS Dinosaur at Troon in March 1945 for a major landing craft conversion course. When the war in Europe ended it was intended that he should go out to the Far East, but on reaching Egypt the war against the Japanese came to an end. He was demobbed in August 1946.
From September 1946 until July 1965, he worked for Villiers Engineering in a variety of roles, including progress chaser, stock control and in charge of production control. After leaving the Villiers he became the Production Manager for Lee Howl. He retired in 1987. He has written his reminiscences of his Naval career.
---