---

Samuel Mills from F. W. Hackwood's "A History of Darlaston", 1887.

The Mills family began as a working-class family with their own business, and suffered a great tragedy when the bread-earner died at an early age. Out of adversity the family went on to become one of the wealthiest families in Darlaston, thanks to a wise marriage, and excellent business abilities.

Samuel's father, Thomas Fellows Mills was a butcher, who died in 1806 at the age of 23. He left behind his 27 year old widow Elizabeth, and Samuel, just under one year old. In 1813 Elizabeth married Richard Bills.

In 1826, Richard, a gunlock maker of Church Street, established a furnace and foundry at Furnace Lane, Lower Green, where Heath Road is today. He made his stepson Samuel Mills a full partner on his 21st birthday, and the company became known as Bills & Mills. Richard died in 1849 and Samuel took over the business which grew to become the largest iron and steel company in the area. The company also owned many coal mines, a factory in Bell Street, Darlaston, and a great deal of land.

Samuel married 22 year old Phoebe Tilley at St. Lawrence's Church on 16th March, 1830 and they purchased their first house at Caldmore, where their first three children were born. They were Martha, Thomas and Ellen. Thomas died when just 15 months old.
Seven years later the family moved to Kings Hill Field, possibly situated on Walsall Road, and two more children soon followed; Elizabeth and Phoebe. Another daughter, Alice, was born in 1853. Sadly she died on 30th January, 1855 aged 16 months.
The family next moved to Poplar House at 31 King Street where ASDA is today. The house is remembered because of the famous Victorian novelist Mrs Henry Wood, a relative of the Mills family, who wrote part of her successful book 'East Lynne' at the house while staying there. It was published in 1861. The house later became a girls' school, and then a shop, after it was acquired by William Walker Stanbury. Most of the older inhabitants will remember the shop which was a tailors and outfitters. The Mills family finally moved to Darlaston House in Pardoes Lane, on the western end of what is now Victoria Park.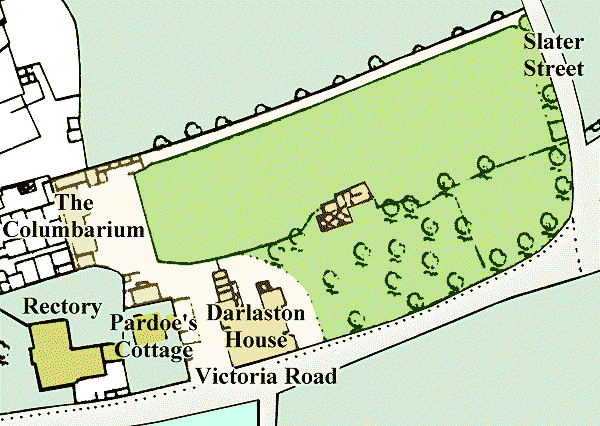 The location of Darlaston House.
They had ten children, including Thomas, and Alice who died young. The others were Anna, Elizabeth, Ellen, Jane, Martha, Mary, Phoebe, and Richard. Elizabeth married local solicitor, James Slater in 1861, Ellen married the Reverend James Loy Clerk.
Martha, Jane and Richard never married. Samuel died on 17th December, 1864 at Darlaston House, and his wife Phoebe died on 5th April, 1883. Their son Richard died on 3rd April, 1884 at the age of 38. The original All Saints Church in Walsall Road was built in 1872 in Samuel's memory.

Darlaston House stood on the western end of what is now Victoria Park. The house and its surrounding land occupied the modern Rectory Avenue, the Post Office, and the area behind Pardoe's Cottage, where the dovecote still stands. It had previously been a ladies' boarding school, run by a Miss Cartwright.

In the 1920s when foundations were dug for the war memorial in Victoria Road, the ground gave way to reveal part of the cellars of Darlaston House. The workmen found a number of bottles of wine, much of which was drunk there and then, although some bottles of parsnip wine did find their way to The Green Dragon in Church Street, were they went on sale. The original All Saints Church in Walsall Road was built in 1872 in memory of Samuel Mills, who died in 1864. All Saints' National School in Whitton Street which opened in July 1874 was paid for by the Mills family.


Samuel Mills.
Samuel was a churchwarden at St. Lawrence's Church in 1853, 1858, and 1865. His son Richard was also a churchwarden during 1884, the year of his death.
Samuel Mills became a large landowner. Although most of his land was used for mining, the area between Station Street, Bull Street, Bills Street, and Walsall Road was used for housing. Several streets were built on the land including Tilley Street, named after Phoebe, Bills Street, named after Richard and Elizabeth, and Whitton Street, named after the family's country home.
Samuel also owned Hill Farm at Great Barr; Allens Farm at The Delves, Walsall; Yew Tree Farm at Delves Green, Walsall; and Brockhurst Farm, Wednesbury.
The largest land-owning family in this part of the Black Country were the Levesons who had large houses in Willenhall and Wolverhampton. They married well, becoming the Leveson-Gowers, the Dukes of Sutherland. They owned a lot of property and coal mines in Darlaston. Long after the family had left the area, they sold the bulk of their Darlaston properties and coal mines to the Mills family and the Addenbrooke family. One of the pieces of land included the site of St. George's Vicarage, which was given to the church by Addenbrooke, Smith and Pidcock.
Samuel Mills became a wealthy man, thanks to the success of Bills & Mills, and the earnings from his many collieries in the area. In 1855 he leased the Essington Wood Colliery which was situated on the western side of Bursnips Road, Essington. He purchased the colliery in 1860 and ran it as a separate business alongside Bills & Mills.
The family owned a grand country house (now Grade 1 listed), Whitton Court, Whitton, near Ludlow, where they must have lived in some style.

They also owned three farms at Whitton; Whitton Farm, Court Farm, Whiteway Head Farm, and several small tenements.


Whitton Court from Leach's County Seats of Shropshire, 1891.
The Columbarium in 2006. Courtesy of

Kevin McKeown.

After Samuel's death in 1864, Martha and Jane continued to live in Darlaston House until the turn of the century. Jane, a public spirited lady who did much for the town, was born in 1848.

She founded an institute in connection with the Parish Church to help the needy women and girls of Darlaston. A building was erected near to Darlaston House to house the institute. It was given to the town when Jane and Martha left Darlaston and moved to Whitton Court at the beginning of the 20th century. The institute, later known as the "Mothers Meeting and Girl's Institute" eventually became a clinic and later "The Sons of Rest". The building is now a family home.

Jane and Martha gave the land on which Darlaston House was built, to the town, for use as a public park. Victoria Park opened in 1902 as a belated commemoration of Queen Victoria's Diamond Jubilee.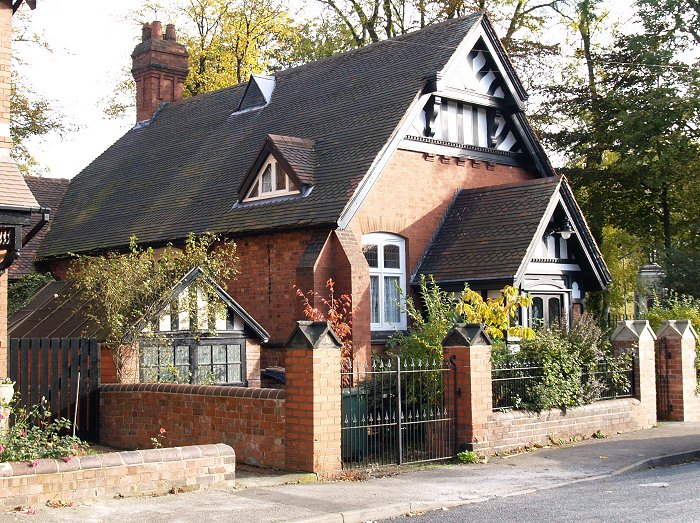 The Jane Mills Institute in Rectory Avenue.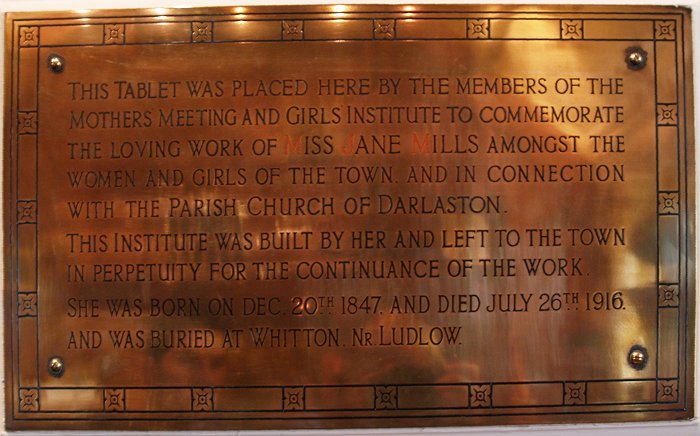 A tablet inside the Jane Mills Institute.
Samuel Mills was also involved in local government as a member of the Darlaston Board of Surveyors. In 1846 the old system of Vestry Government was finally abandoned and a Board of Surveyors constituted. The traditional supremacy of the church was not completely ignored, as members of the Board were elected by a show of hands at a Vestry meeting. The members of the Board were as follows:
George Jones – Chairman, David Bowen, John Riley, William Carter, Samuel Rubery,
Charles Green, Samuel Smith, and Samuel Mills.
George Jones was succeeded as Chairman by Samuel Rubery who in turn was succeeded by Samuel Mills.
In 1869 the Local Government Act of 1858 was adopted and a Local Board formed in preference to the unsatisfactory Board of Surveyors. Twenty members were elected by the ratepayers. The candidates included almost everyone of note in the town, including Richard Mills, son of Samuel and Phoebe. The successful candidates were as follows:
George Addenbrooke, William Marshall, G. B. Butler, Richard Mills, A. Carter, C. Moore, William Corbett, G. Perry, C. Green, M. Read, G. Green, Samuel Rubery, Job Green,
James Slater, William Harper, Samuel Slater, Enoch Horton, E. Wilkes, George Humpage, and William Winn.
The first meeting was held on 15th February, 1870 in the upper room of the old malthouse behind the White Lion in King Street.
All Saints' Church and the Mills family
The parish of All Saints was formed in 1872, the church being built and consecrated by Bishop Selwyn in the same year. The building, in Early English style was built of brick and designed by George Edward Street, R.A. The church consisted of a nave, aisles, vestry and a small turret with two exposed bells. The building seated 500 adults and 40 children and was erected as a memorial to Samuel Mills by his widow and children. The church had one of the finest stained-glass windows in Staffordshire, made by Morris to the designs of the artist Sir Edward Burne-Jones, R.A. and an organ built by Bryceson Brothers and Morton. The church contained a magnificent wrought iron chancel screen given by W. Martin Winn in memory of his father, and a large brass lectern given by F.H. Lloyd & Company.
In 1906 a piece of land adjacent to the church was acquired by Mrs. Mills, Mr. Samuel Mills Slater, and his brother Mr. Archibald Slater on which to build a parish hall. The land was offered to the church at half-a-crown a square yard and became an extension to the All Saints Day School playground. The original purpose for purchasing the land was forgotten and so the parish hall was not built until the early 1930s after the original purpose had been rediscovered. The church and parish hall were destroyed by a bomb on 31st July, 1942 during a bombing raid on Guest Keen & Nettlefolds' Atlas works. It made a crater 50ft. deep and 40ft. wide. Luckily there were no casualties. This was the only church in the diocese of Lichfield to be destroyed by enemy action.
On the same night a second bomb landed on the cinder wall at the front of the Railway Tavern at James Bridge. Luckily it failed to explode.
Inscriptions on the family monument in St. Lawrence's Church:
In memory of Thomas Fellows Mills, who died on March 28th, 1806 aged 23 years.

Richard Bills who married Elizabeth, widow of the above. He died on June 16th, 1849 aged 72 years.

Elizabeth, widow of the above Richard Bills, who died on January 8th, 1861, aged 82 years.

Thomas, son of Samuel and Phoebe Mills who died on November 8th, 1836, aged 15 months.

Alice, daughter of Samuel and Phoebe Mills who died on January 30th, 1855 aged 16 months.

Samuel Mills, son of Thomas Fellows Mills who died on December 17th, 1864 aged 59 years.

Phoebe, wife of Samuel Mills who died on April 5th, 1883 aged 74 years.

Phoebe, wife of the Rev. Henry Farrow, vicar of Fulford, York, who died on Christmas day 1880, aged 41 years.

Ellen, wife of the Rev. James Loy, vicar of Neston, Wiltshire, who died on November 23rd, 1882 aged 48 years.

Richard, son of Samuel and Phoebe Mills who died on April 3rd, 1884 aged 38 years.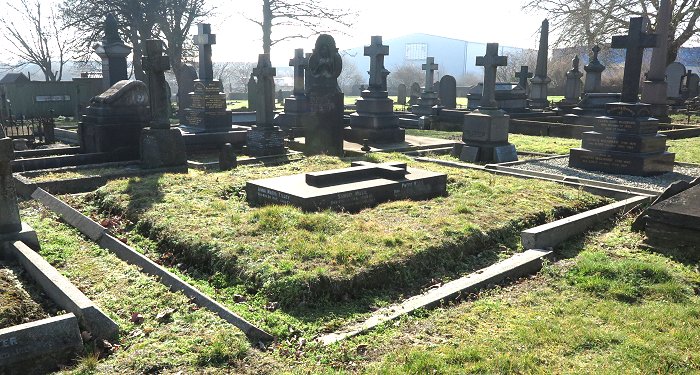 The Mills family's grave at James Bridge Cemetery. The inscriptions are as follows: Samuel Mills died December 17th, 1864 aged 59 years, Phoebe Mills died April 5th, 1883 aged 74 years, Richard Mills died April 3rd, 1884 aged 38 years, Anna Maria Tilley died May 24th 1887 aged 67 years, and Thomas and Alice infant children of Samuel and Phoebe Mills.

James Slater from Hackwood's 'A History of Darlaston', 1887.

James was born in New Street, Darlaston in 1836, the son of printer, stationer and bookseller, Thomas Slater. The family soon moved to King Street where Thomas opened a shop and a printing works.

James was educated at Shifnal Grammar School and afterwards articled to Wednesbury solicitor J. H. Thursfield. James eventually became a solicitor and ran his business at premises in Walsall Road. James married 23 years old Elizabeth, daughter of industrialist Samuel Mills, on 7th May, 1861. They had five sons and six daughters.

He went into partnership with W. Marshall, until Mr. Marshall's untimely death, after which James' eldest son Archibald ran the business with his father. The business grew to become one of the largest of its kind in the area. One of their clients was Sister Dora.

James was a churchwarden at St. Lawrence's Church in 1869, a member of Darlaston's first School Board, formed in 1883, Chairman of the Local Board, and laid the foundation stone, and performed the opening ceremony at the Town Hall in October 1888. Slater Street in Darlaston, and Slater Street in Willenhall are both named after him.
James and his wife Elizabeth

purchased the Bescot estate, including Bescot Hall, in April 1872, when the state was sold after the death of the previous owner, William Crowther, who died in 1865. James and Elizabeth lived there for the rest of their lives.

James died at the house on 26th October, 1901, and the estate passed to the following trustees: his widow Elizabeth, and sons Samuel Mills Slater, and Edward Tilley Slater. In his will it is valued at £61,311.4s.8d. which is about £3.5 million in today's money. Two years later Elizabeth presented the organ to Darlaston Town Hall in his memory. The family must have had an extremely opulent life style. After Elizabeth's death in April 1922, the house remained empty for a while before it was purchased by Pitt Bonarjee, a Congregational minister at Wednesbury. In 1929-1930 the house was demolished, and the land sold in several plots.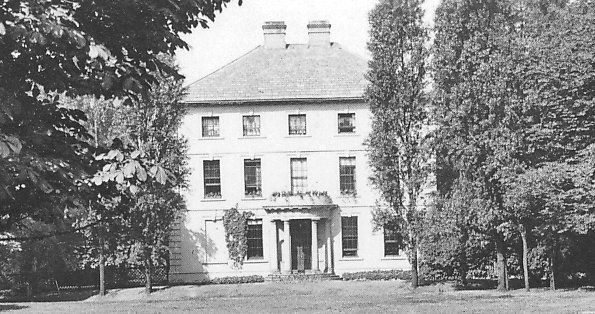 Bescot Hall, as it was when the Slater family lived there.
James was a member of the Wednesbury School Board from 1877 until 1889 and became chairman in 1884. At that time he was a strong advocate for the union of Darlaston and Wednesbury, proposed in December 1884.

At a meeting in Wednesbury he made the following speech:
The highest form of government and the loftiest position of citizenship were to be found in the municipality.... It would be better for Wednesbury if Darlaston was included in the incorporation scheme. The larger the area and rateability, the greater our communion with our fellow men, and the larger the benefits derived from that community....Darlaston and Wednesbury have been tied and bound together inseparably to an extent which probably some present have not realised.

He pointed out that the boundary lines in some places were so singular that one side of the street was in Wednesbury, and the other in Darlaston. He also stated that:
Many thousands of people who worked in Darlaston lived in Wednesbury, and the converse was the case. Darlaston was joined to Wednesbury by parliamentary representation. ....and he contended that it would be to the permanent interest of both if they were joined together.

The scheme was opposed by Darlaston Local Board and abandoned.
From 1894, James was one of the directors of John Harper & Company Limited in Willenhall, founded in 1888, and a Justice of the Peace, as were two of his sons, Samuel and Maurice, who both sat on the Willenhall Bench for many years. After his death, Maurice succeeded him on the board of John Harper & Company Limited.

He later served on Darlaston Urban District Council.


The back of Bescot Hall.
James was one of the larger landowners in Darlaston and developed Avenue Road and Gordon Street in the late 1880s. Avenue Road was originally called Railway Street because it ran alongside the railway cutting. The official naming ceremony took place in June 1890, but the new inhabitants who were some of the town's better-off citizens, objected to 'such a common name'. Around the turn of the century, trees were planted to obscure the railway, and the street was renamed Avenue Road.

Samuel Mills Slater J.P.

James' eldest son, Samuel Mills Slater J.P. born in 1863, was educated at Oxford University and like his father, became a solicitor .

He was elected as Councillor for the Pleck Ward from 1902 until 1922, and Mayor of Walsall in 1915, 1916, and 1917.

During his time as Mayor, tragedy struck when his wife Mary Julia Slater died from shock and septicaemia in hospital on 20th February, 1916.

She died as a result of the severe injuries to her chest and abdomen received on 31st January, 1916 whilst riding on a number 16 tram with her sister and sister-in-law.
The tram was badly damaged by a 20lb German incendiary bomb dropped on Bradford Place, Walsall from a Zeppelin airship during an air raid.

She was the eldest daughter of Birmingham solicitor C. T. Saunders, and educated at Handsworth Ladies College.

Mary was honorary secretary of the Childrens League, and the Association for the Help of the Blind. She was also very active in the local Red Cross Society and was an accomplished artist and linguist.

Mary died at the age of 55, and left behind a family of four sons and one daughter, Mildred, who replaced her mother as Mayoress of Walsall. Samuel Mills Slater later lived at The Elms, Bescot Road, Walsall.


Mary Julia Slater.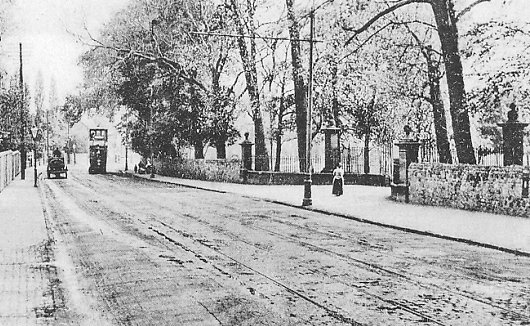 Bescot Road and the grand entrance to the grounds of Bescot Hall.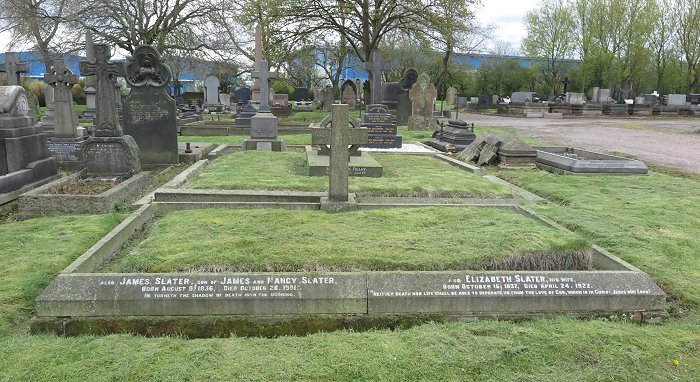 James and Elizabeth Slater's grave at James Bridge Cemetery.
William Winn was born at Mere Green, Sutton Coldfield in 1838. His father was Joseph Winn. William had a sister, Mary Ann, and a brother, Joseph, who died at an early age. William served an apprenticeship at Mr. Overton's grocers shop in Walsall, and became a successful and well known shopkeeper in Darlaston with a shop in Church Street and another below where he lived in Pinfold Street, next to the Black Horse. William sold grocery, provisions, wines and spirits, was a pawnbroker, and became a member of the Local Board and the first Urban District Council in 1895.

He married Jane, who was born in 1847, and eventually moved to one of Darlaston's most impressive Victorian houses, "Ilmington" in Crescent Road. The house was named after Jane's birthplace, Ilmington in Warwickshire.
They had three children, one son and two daughters.

William's shop at 21 Pinfold Street was the first building in Darlaston to be lit by electricity. He purchased a dynamo and capitalised on it by advertising when the lights would be in operation. People came from all around the Black Country to view the spectacle and he always had many bargains on hand to sell to visitors.


William Winn from 'A History of Darlaston'. F. W. Hackwood, 1887.

The choir stalls donated by William to All Saints' Church, Moxley. From an old postcard.
The choir stalls and clergy desks at All Saints' Church, Moxley were gifts from William, as were the trees that line Crescent Road.

William was married three times, and had three sons and two daughters. The sons were Martin, James Percy, and Harold. The youngest daughter was Mildred Mary, the other was Jessica.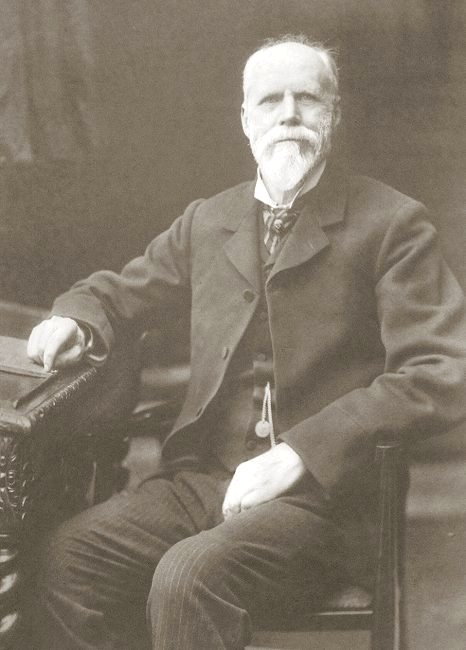 William Winn.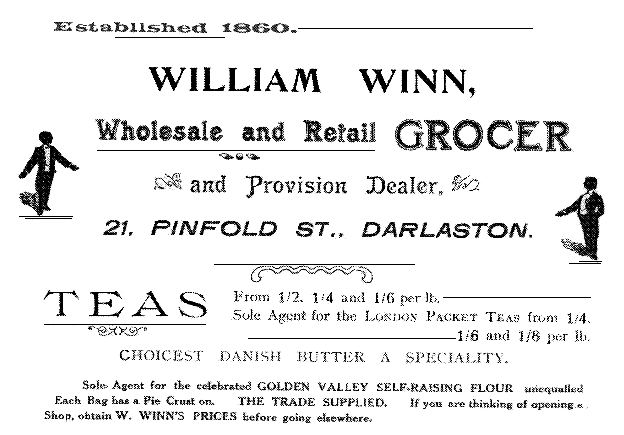 The unicorn and the lion that once adorned the gates of Ilmington. Courtesy of John Oswell.
At the end of his life William suffered from a serious illness. It was reported (in an unknown newspaper) as follows:


Illness of Mr. William Winn

We hear with regret of the serious illness of Mr. William Winn, one of the "old veterans" of Darlaston, who has lived in retirement for some years past at Sutton Coldfield. Mr. Winn is not of this generation in point of years, for he was a well known citizen on Darlaston in the days when the public men of today were still in long clothes. He has served the town well, both as Councillor and Guardian, and it was not until advancing years that he sought the cool shades of retirement, since when he has resided at Sutton. Mr. Winn has never lost his interest in the town where his sons carry on business under the well known style of Martin Winn and Co. The illness which has now laid him aside, is of a character which does not encourage hopes of a complete recovery, but Mr. Winn is bearing it with remarkable cheerfulness. Weariness of spirit is entirely alien to his breezy outlook on life. Past the eightieth milestone, Mr. Winn's brightness is a striking contradiction of the prophet's gloomy contemplation of man's prospects after he has passed the allotted span, and we hope that this cheeriness and buoyancy may continue to sustain him in his illness.

William Winn in later life. Courtesy of his great grandson, John Oswell.
William died on 22nd March, 1917 after a serious illness. His obituary (from an unknown newspaper) is as follows:


Death of Mr. W. Winn of Darlaston

We have to record with regret the death of an old Darlaston worthy, Mr. William Winn, who has been one of the most prominent figures in the public life of the town, and district for considerably over half a century. He passed away in his 80th year. The public may have been prepared for his death for some time ago we announced he was suffering from an illness of a grave nature and referred to the fine and courageous spirit he had manifested throughout, even when he knew his chances of recovery were very slender. A few days ago the symptoms were of such a serious character that he was removed to a nursing home at Birmingham, where an operation was performed, and he passed peacefully away on Thursday morning. The late Mr. Winn was born at Mere Green, Sutton, in the same year in which the late Queen Victoria was crowned.

He served his apprenticeship at Mr. Overton's grocer's shop, Walsall. He subsequently bought a business at Darlaston in 1862, and this he developed, and successfully carried on. He did not narrow his life down to his own business interests, but he took a very active part in the public life of the town, and was associated with all public movements of a social and philanthropic nature, whilst in the political world he was a very combative figure, and always hit hard, but never below the belt. He was a member of the old Local Board, and the District Council, and he was never happier than when he was on the public platform, where he was a speaker who always appealed to a Darlaston audience, and caught on.

He supported Mr. Brogden, the Hon. Philip Stanhope, and the candidates who espoused the Liberal cause. He left Darlaston a few years ago, and sought retirement at Sutton Coldfield, but even then he did not permanently withdraw from public life. He was Chairman of the Walsall Board of Guardians for four or five years, and his colleagues on this body had such a high regard for his services that although he went to live away on account of ill health, they co-opted him a member of the Board. When the public buildings were erected in Darlaston in the year 1887, the late Mr. Winn was a handsome subscriber to the building fund, which also included the Town Hall.

He was thrice married, his wife having pre-deceased him about six weeks ago, and he has left three sons, Mr. Martin Winn, Mr. J. Percy Winn (the founders of Station Works, James Bridge), and Mr. Harold Winn, and two daughters. He was a loyal churchman, and was warden for some time at Moxley Church, to which he generously gave choir stalls.

He will be buried in the family vault at Mere Green.
| | |
| --- | --- |
| Courtesy of John Oswell. | The building on the right is William's shop in Pinfold Street, now Demolished. |
George Rose

Chairman of the Council, Director of J. & R. Rose, and a great benefactor to the town.

John George Rose was born in August 1867 at 32 Willenhall Street, Darlaston. His parents were George and Ann Rose. George Rose senior was a coalminer.

The couple had a shop in their front room selling grocery and beer. It was initially run by Ann, but in 1901 George is listed as a greengrocer, so he must also have helped in the shop. They shared the house with Ann's mother, Ann Turner.

John George initially attended a small school in Willenhall Street that was run by Mr. Belcher, and later continued his education at Old Church School.

He left school in 1880 at the age of 13 and went to work for his uncle, nut and bolt maker, James Rose at J. & R. Rose, London Works, Willenhall Street. The company was run by James and Richard Rose.


George Rose.
By this time John George Rose had decided to drop his first name to become known as George Rose, like his father. He started work as an errand boy, and through his own efforts moved up to Company Secretary, and Director. He stayed with the company for 44 years.
He married Mary Ann Harvey, a grocer's daughter. Around 1897 they moved into a house at 50 Old Park Road, Wednesbury. In 1901 he was elected councillor for All Saints Ward, and remained as a member of Darlaston Council for the rest of his life. In 1915 he moved with his wife and son to 'The Cottage' a large Georgian house that stood on the corner of Church Street and Waverley Road. It had been built in the late 18th century by Julia Foster, whose family kept the nearby Bell public house.
From 1911 to 1914, and again in 1919 until his death, he was Chairman of the Council. He was also a Justice of the Peace, founder president of the Darlaston Allotments Association, actively involved in the Nursing Institute, and a supporter of Darlaston Football Club.
He is, and always will be, associated with the park that carries his name; George Rose Park. It was built between 1921 and 1924 and provided casual work for over 700 unemployed people in the town. The project was instigated by George as a pleasure park that would be an important amenity for the town. He not only pushed the project through, but also ensured that it would benefit many of the unemployed people, providing a much needed income to many of the poorer families.
He died suddenly in August 1924 at the early age of 57. He left his office at lunchtime, briefly went into the Town Hall, then went home for lunch. He was suddenly taken ill and died later that afternoon. He was greatly thought of throughout the town, and flags were flown at half mast. On the day of his funeral, shops closed and thousands of people lined the streets. It was like a state funeral, and described as 'the largest funeral cortege ever seen in Darlaston'. A long line of cars followed the hearse during the procession to James Bridge Cemetery. There were four car loads of wreaths.
He was well respected and admired by the local community for his work with the council, much of which greatly benefited the town.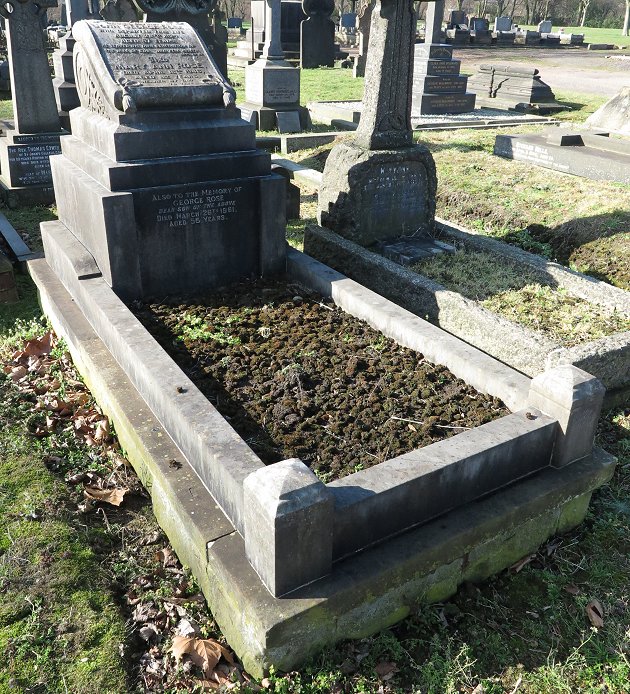 John George Rose's grave at James Bridge Cemetery.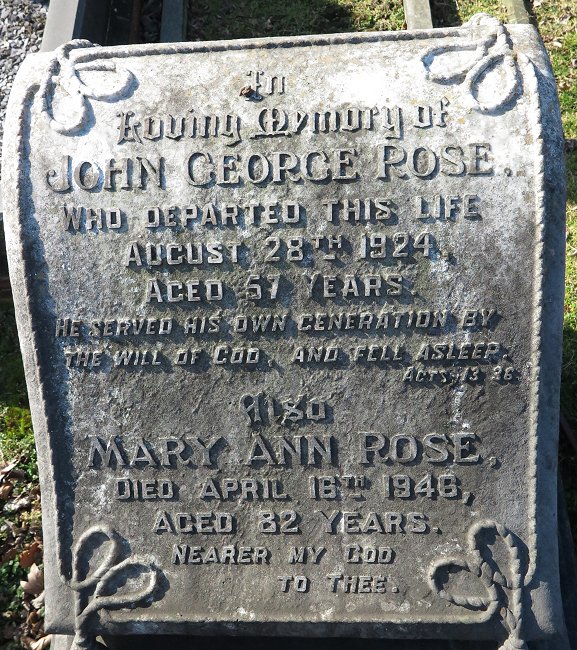 The inscription on the grave, which also contains the remains of their son, George Rose.

William Walker Stanbury

William Walker Stanbury was once a well-known, and well-respected figure in Darlaston, who became one of the town's leading citizens. He was born in 1877 at Durston in Somerset, where his father William Stanbury was a farmer, with 105 acres, employing 2 men and 2 boys. William married Betsy, and they had four children. The eldest were two sisters Bessie and Helena, followed by their first son Tom, then by William Walker, their youngest child.

William Walker Stanbury came to Darlaston in 1907 and purchased Poplar House, one of the last remaining town houses in King Street, where he lived with his wife Florence, and added a single story extension to the front, to house his gents outfitters and drapery shop.

For some years he had a second shop on the opposite side of King Street, in Victoria House, which still survives today. He is mainly remembered for his shop in Poplar House, which had once been occupied by one of Darlaston's first wealthy industrialists, Samuel Mills, his wife Phoebe, and their family. Samuel, who owned the Darlaston Steel & Iron Company Limited at Darlaston Green, purchased the house in about 1840.


William Walker Stanbury in the early 1920s.
Some years later the famous Victorian novelist Mrs Henry Wood stayed in the house, and whilst there wrote part of her best selling novel "East Lynne", published in 1861. The house later became a school for girls.
Mr. Stanbury's business was very successful and he became actively involved in public life, as a local councillor, a member of many organisations and committees, and a Justice of the Peace.
In 1918 he became a volunteer in the South Staffordshire Regiment, as a 2nd Lieutenant. He purchased a beautiful house called 'Wellsacre', in Wrottesley Road, Tettenhall, no doubt named after the area where he grew-up.
Sadly his wife, Florence Bessie Stanbury, died on 11th December, 1931. She is buried in Merridale Cemetery, Wolverhampton.
William was first elected as a member of Darlaston Council in 1919, and served for three years. He was again elected in April, 1928, and became Chairman in 1933. He served on a number of committees including the Higher Education Committee, the Public Assistance Committee, the Finance Committee, the Highways Committee, the Housing Committee, the Child Welfare Committee, and the General Purpose Committee.
He was also treasurer of the Unemployed Welfare Council during the late 1920s and early 1930s depression, a member of the Public Assistance Committee for Wednesbury and District, a member of West Bromwich and Staffordshire Assessment Committee, and a member of the Poor Children's Outing Committee.
He represented the town as a member of the Association of Midland Local Authorities, and became Darlaston's representative on the South Staffordshire Joint Smallpox Hospital Board. He did a lot of work for the British Legion, was President of the Darlaston Allotment Association, and Chairman of the Darlaston Tradesmen's Association, that helped to cultivate a friendly feeling between fellow tradesmen, and looked after their interests. The Association exposed trading abuses, helped in settling grievances, and attempted to remove any restrictions on trading activities. In the mid 1930s he became a Justice of the Peace.
The King Street shop remained in use until the 1960s, after which it fell into dereliction and was demolished in 1973. The site is now occupied by the ASDA store.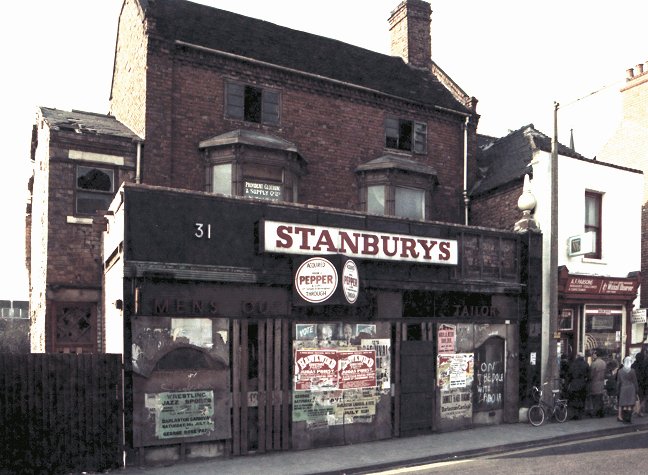 Stanbury's once well known shop at 31 King Street, awaiting demolition in the early 1970s.
Enoch Horton

Enoch Horton and his father founded Horton & Son, one of Darlaston's most important nut and bolt manufacturing firms. He ran the business for many years and became extremely wealthy.

Enoch Horton, J.P.

Enoch Horton was born in Darlaston on 10th April 1829 and educated locally. His mother died at an early age, and so Enoch started work at the age of seven, making waxed hemp threads for shoemakers.

Over the next ten years he had a variety of jobs. For about five years he worked at Darlaston Green Ironworks, owned by Samuel Mills, then becoming a bellows blower for a local gunlock maker, and later finding employment at a foundry in Spring Vale.

At the age of seventeen he became a nut and bolt forger working with an Oliver, and in 1849 entered into partnership with his father, and they started business in Bell Street.

The venture was so successful that a larger factory was soon acquired, and so in 1852 the Old Alma Works were converted from a wire-drawing mill into a nut and bolt factory.
The partnership with his father ended, on his father's retirement in 1864, and in 1870 work began on the first part of New Alma Works in Station Street. The business grew to become one of the largest manufacturers in the trade. In addition to being managing director and sole proprietor of Messrs. Horton & Son, Limited, Mr. Horton became sole proprietor of Messrs. Enoch Wilkes & Company, Britannia Works, Darlaston, and also for over thirty years, manufactured bricks.

New Alma Works was extended to join New Britannia Works, and by the early years of the twentieth century, the firm employed over 600 people.

He was a director of a number of local companies, and became a member of Darlaston Local Board, and succeeded Mr. James Slater as chairman. On the formation of the District Council, Mr. Horton was elected a member, and retained his seat until the time of his death, twice becoming chairman.

He was a member of the School Board throughout the whole of its existence, and was chairman for twelve years. He was also a member of Staffordshire County Council, defeating Mr. J. Yardley in a memorable election to fill the vacancy caused by the death of Mr. James Slater.


An advert from 1900.
Mr. Horton was also a County magistrate, and an ardent Liberal. He was a Wesleyan Methodist, and gave many thousands of pounds to the cause. He was also largely instrumental in the erection of Pleck Methodist Church, giving and collecting £2,000 for the building, and erecting, at his own cost, a handsome choir vestry.

Enoch became a wealthy man, and acquired Bescot Grange which was opposite Bescot Hall, the home of James Slater. He was also Chairman of the West Gloucester Water Company, a member of the Institute of Mechanical Engineers, and a member of the Iron and Steel Institute.

In the latter part of his life he suffered from heart problems, and died at Bescot Grange at the age of 76, on the evening of Monday 15th May, 1905 after an attack of pneumonia .

Shortly before his death, a fund was set up pay for a portrait in oils, which would be presented to him in recognition of his long public service. The sum of £385 was quickly raised. When he died he left behind an estate valued at £160,808.


Enoch Horton, J.P.

The Horton family grave at James Bridge Cemetery.

The inscriptions include the following:

In Affectionate Memory of
Enoch Horton
who died May 15th 1905
Age 76 Years

Also
Harry Edward Horton
eldest Son of the above
who died December 20th 1905
Age 45 years


In Affectionate Memory of
Edna, beloved Wife of Enoch Horton
of The Grange Bescot
who died at Aberystwyth
August 27th 1894
Age 62 years



Also of Mrs. Nellie Mentz Tolley
of Lynn Hall Lichfield
Daughter
who died 25th July 1923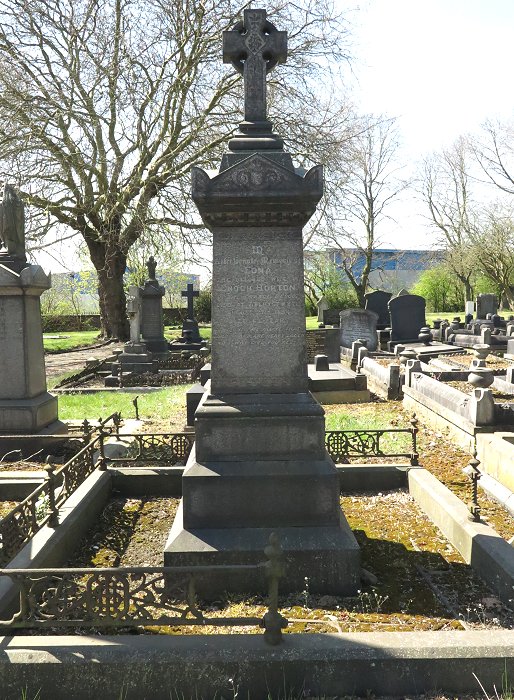 Another view of the grave.
James Belcher

James Belcher founded the once well-known firm of auctioneers, J. Belcher & Son. They were based in Pinfold Street, on the corner of Great Croft Street, opposite the Old Castle Hotel. What follows is his obituary from the 1906 edition of Ryder's Annual.

Mr. James Belcher.

Mr. James Belcher, F.A.I., who died on 4th November, 1905 was head of one of the best-known firms of auctioneers in the Midlands.

He was born at Darlaston in September, 1831, his parents having moved there from Wednesbury. He was educated at the British School, Darlaston, and afterwards privately, and in 1849 became a schoolmaster himself, and founded the "Darlaston Academy," an institution which accommodated day scholars and boarders, and gradually became one of the largest educational establishments in the district.

Mr. Belcher continued in the scholastic profession for twenty four years, after which he became an auctioneer, and soon established a flourishing business. For about thirty years he acted as poor rate collector and assistant overseer, positions he continued to hold up to the time of his death.

The firm, since 1882, has included the deceased gentleman's son, Mr. A. D. Belcher, who has assisted materially in the development of the business, of which he now becomes the head.
In the public and religious life of the district Mr. Belcher took an important part. He was one of the first members of Wednesbury School Board (1870-1879), and a member of Darlaston Local Board from 1879-1888. He was a prominent member of the Primitive Methodist Church, and as a local preacher, an office he held for nearly fifty years, was a great favourite with all his congregations. He had represented the Connexion in all its courts, and was many times appointed to conference.
In the year of the Queen's Jubilee he had the honour or addressing a missionary meeting in Spurgeon's Tabernacle, and was always extremely popular as a reciter in the days of "Penny Readings" as a connective reader in "services of song," and there are few Nonconformist places of worship in the neighbourhood which he has not served in this and other ways. Mr. Belcher had a fine presence and was the essence of geniality. He was one of the best known figures in the Black Country, and will be much missed.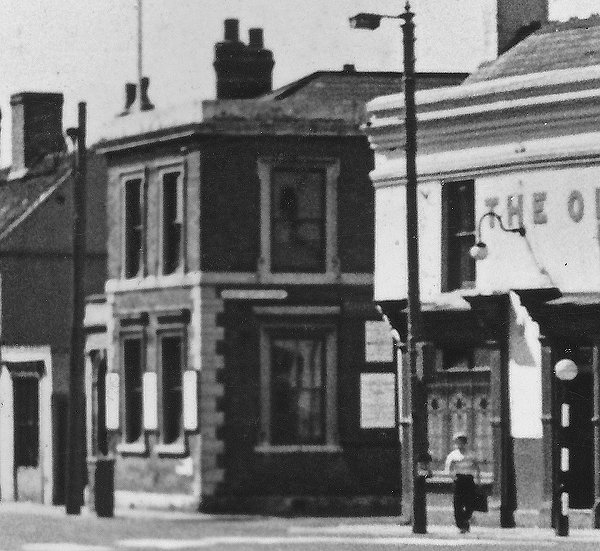 The offices of J. Belcher & Son in Pinfold Street.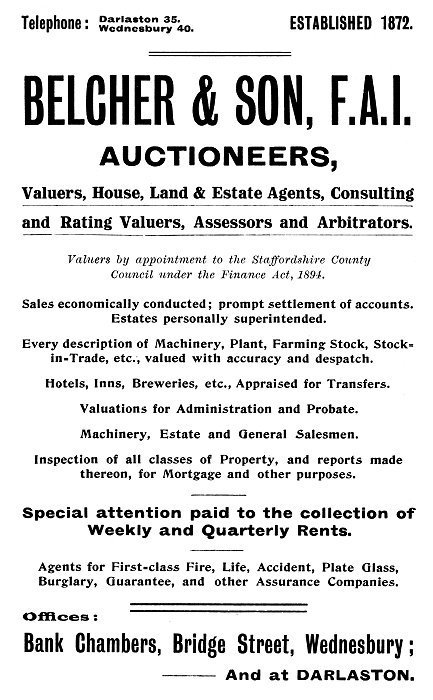 An advert from 1916.
Samuel Rubery was born in Darlaston in 1822. He founded and ran Samuel Rubery and Son, iron and steel merchants, based at Blockall, and became a wealthy man. His eldest son Samuel became a clerk in the business.

Samuel and his wife Mary had five children: Samuel, John Tunner, Jane, Alina, and Thomas William.

He became involved in local politics and was a member of the Board of Surveyors formed in 1846, Darlaston's first form of local government. He later became chairman.

1870 saw the formation of Darlaston's Local Board, formed under the terms of the 1858 Local Government Act. Elections were held in December 1869 and Samuel was elected as a member. He became Chairman of the School Attendance Committee, and later Chairman of the Local Board. He was also a churchwarden at St. George's Church.

By 1880 Samuel and his family had left Darlaston and were living at Gunstone House, Brewood. He continued to run the business, and is described in the 1881 census as an iron merchant and a farmer.

Samuel died in early 1884.


Samuel Rubery.
In 1884, Samuel's three sons, John Tunner, Samuel, and Thomas William acquired the Victoria Ironworks in Booth Street and founded Rubery and Company, which later became Rubery Owen. Samuel Rubery and Sons continued in business after Samuel's death in 1884. It was then run by his sons Samuel, and Thomas William. The business was dissolved by mutual consent on 29th April, 1893.
---