---
The Bull Stake and Town Centre remembered by Alan Pitcher J.P.
The Castle Inn was a tall building by Darlaston standards and stood on the right hand corner of Great Croft Street. It has long since been demolished, but I remember the day when my father and his workmen would call there for a tot of rum before starting painting work at 8a.m. on a cold, frosty morning. Incidentally, in later years the Rotary Club of Darlaston, sponsored by their Mother Club of Wednesbury, held their luncheon meetings there.
Respected
It was considered by businessmen and industrialists of the town to be an honour to be invited into such an august and respected society. Indeed many noted men of Darlaston have since been members although they have not met at the Castle for many long years.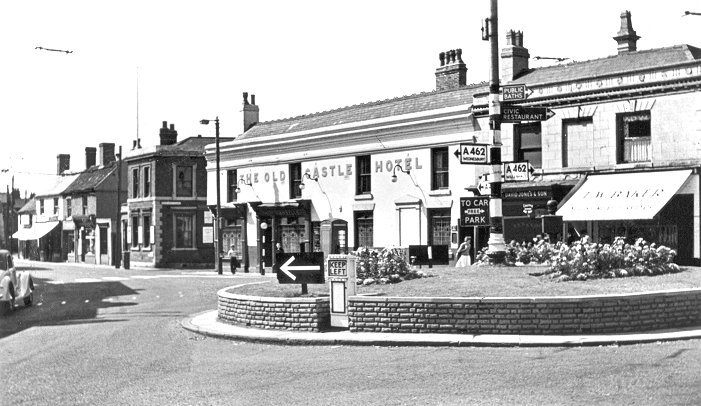 The Castle, Pinfold Street, as seen from The Bull Stake.
Next to the Castle was David Jones's Seed Shop, and from there one moved on to John G. Clay's premises, and next door came Mr. Orton's butcher's shop, later acquired by Tom Baker. On Tom Baker's death, Mr. Walter Gill, who had managed the shop for many years, received a sum of money in the will while Tom Cresswell, who had looked after the Pinfold Street shop since leaving school, received the goodwill of that shop.
Walter Gill served the St. John Ambulance Brigade for many years, joining me in the early 1930s as a cadet when we used to meet and practice in the wooden hut on W. Martin Winn's Land at Heath Road. Walter eventually became Brigade Officer until his retirement a few years ago.
There was next an entry separating the large double fronted emporium of Appleyard's, specialising in haberdashery, where one could buy almost everything in soft furnishing from a piece of lace to a card of buttons.
Daughters
It seemed that everything at this shop was priced to a farthing. For example, a yard of net curtain would perhaps be eighteen pence and three farthings. The shops were later taken over by the Middleton daughters running a large attractive toy and perambulator retail sales store. Next came an ironmonger's shop of whom I have forgotten the name, then Mr. Holt, the butcher, another entry to the rear, a second hand furniture shop owned by the Bayleys and then down to a long narrow emporium owned by Mr. Phileron Giles.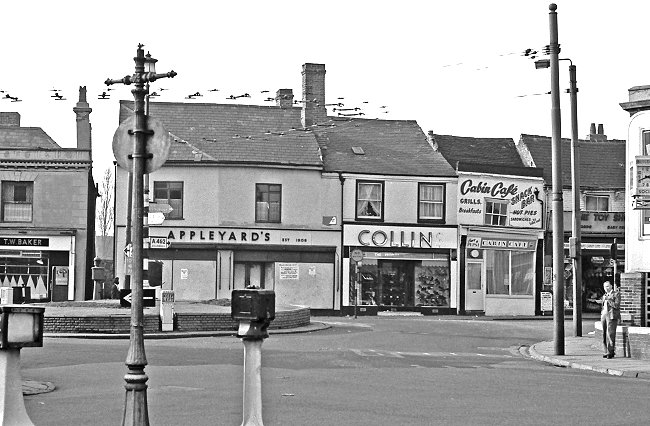 Appleyards, at the bottom of King Street. Taken in 1965 by Bill Beddow.
Next was Wither's pharmacy, the Home and Colonial, the Empire Tailoring and then another entry to the rear of Nan Bayley's pork butchers with their slaughter yard to the rear. Nan Bayley must have been heartily tired of the cheeky urchins who would enter her shop to ask if she kept dripping and then hastily beat a retreat to avoid the wet mutton cloth. This shop I would visit usually three times a week, once for chitterlings, once for sausages for which Nan was noted, and once for a pork chop off the loin, without the kidney, about four pence, and of course some belly draft for us children, for mother could only afford the chop for father. Woe betide me if the chop contained kidney or was more than four pence ha'penny for then I would have to return to get it changed. Believe me, times were pretty hard in the 1920s when every halfpenny was very wisely spent.
Moreton's large cake shop came next, where night and morning for two pence per week I would deliver some of Billy Bognor's fresh milk with which they made their delicious custards, another quart delivered to the Moreton's large house in Rectory Avenue for their domestic use.
Managed
Another sweet shop and then Martyn's Stores, a pharmacy which was later taken over by Timothy Whites and Taylors and in later years managed by the pharmacist Mr. Donald Gunn. Then there was Proctor's florists and then another shop which brought us to High Street, still called, by many of the townspeople, Cock Street. I feel sure that I've missed a shop or two, somewhere.
No electricity, no gas, no loo - but so happy! Living in King Street by Rhoma Smith (née Moses)
My parents had a greengrocer's shop in King Street, Darlaston, and we lived at Number 4 King Street for the very early part of my life. Then, when my brother came along we needed bigger premises and moved up to Number 8. Around 1930 I used to spend a lot of time with my godmother who lived in a tiny one-up-one-down dwelling with a brewhouse which was joined by a roof to the house. This was in Pinfold Street. It had no gas or electricity and was heated by a fire with a side oven. Most of the cooking was done with a Dutch oven, which rested on a bar in front of the fire. Bacon and sausages were hung on a hook and the fat dropped into the bottom of the pan where we dropped in eggs, which bubbled in the fat and tasted simply delicious. For lighting we used candles and oil lamps filled with paraffin. Of course there was no wireless but there was a cabinet wind-up gramophone and about four records. This had to be wound by hand and one of the records I remember was The Miner's Dream of Home by (I think) Peter Dawson. Happy days!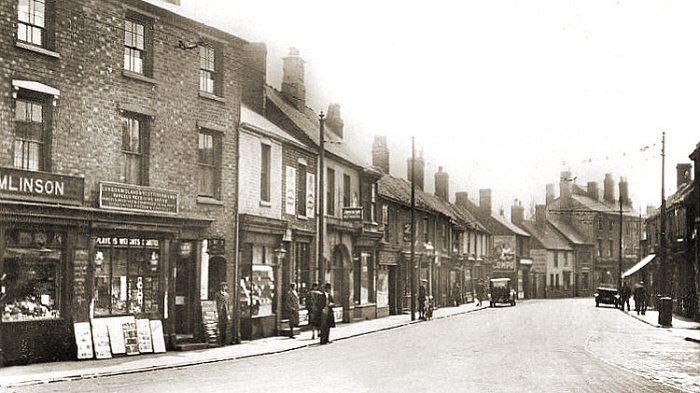 Pinfold Street in the 1930s. From an old postcard.
Although the shops in Pinfold Street traded as Darlaston, they were in fact over the border in Wednesbury and my godmother was allocated one of the first council houses in Park Lane, Wednesbury. That was in 1931. At least one of the households in Pinfold Street had no proper toilet, just a wooden seat over a hole and running water ran below, which was away from the house at the bottom of the garden.
Overcome
In King Street, next to Kingston Butcher's Shop and the Warehouse, there was a row of tiny houses. One night there was a fire and it happened on a Tuesday, which was the night off for Dr. Lambe who lived close by on the Bull Stake. He was the doctor to a little old lady named Sue who used to always wear a shawl and worked for the Misses Bailey who owned the pork butchers' shop in King Street.
She was overcome by smoke and old Dr. Lowe attended the fire in his dressing gown and slippers, carrying his doctor's bag, standing in for Doctor Lambe. Fortunately Sue was not seriously hurt but it was quite a topic of conversation for a few days.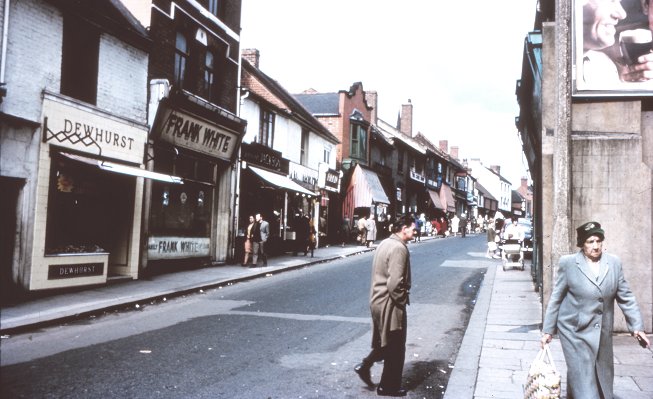 A busy shopping day in King Street in the mid 1960s.
All the shopkeepers in King Street lived on the premises and it was a happy community. The men used to meet on Sunday lunchtimes in the Wagon and Horses pub that was kept by a veteran of World War One. His name was George Roe. He used to complain of bad headaches and one day he sneezed and a piece of shrapnel appeared with lots of blood. It had taken nearly 20 years to appear. He had been told it would have been dangerous to operate.
Mr. and Mrs. Appleyard and their three daughters occupied Numbers 1 and 2 King Street. An attraction for children and even adults was the cuckoo clock inside the shop, and the cash machine, which was a little container that the customer's money was placed into and then whizzed up to the pay office.
Removed
The money was removed and the change and receipt placed in the container which was then whizzed back to the assistant. They sold all kinds of clothing and underwear, which was all sold cheaply. The shop was always busy and some items of clothing had strange names - knickers were listed on the box as "dividers".
Pauline's Story by Pauline Pool
When I was asked to contribute a tale about Darlaston I began to reminisce, and a period of my life came to mind that now seems to belong to another world. It begins with a memory told to me by my father, Walter Toft. It was during the war and we lived at 33 Whitton Street, which, for those not familiar with that part of the town, runs parallel to the Walsall Road, directly behind All Saints Church. My father was on fire watch on the night "the bomb dropped" and he witnessed the whole thing. As the bomb hit the ground, All Saints Church seemed to rise in the air as a complete building, and it disintegrated as it fell back down. Miraculously, the schoolrooms suffered little more than having their windows blasted out.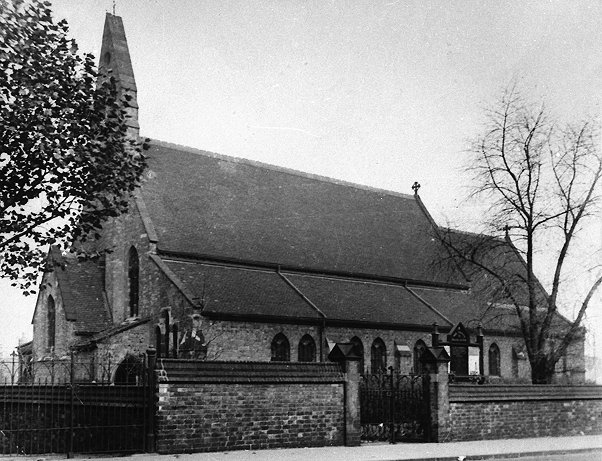 All Saints Church. From an old postcard.
On hindsight, its presence must have shielded the houses in Whitton Street from the full impact of the explosion, because none of the windows in our house were even so much as cracked, although the glass dressing table set (glass tray with three glass dishes and two candlesticks) "danced along the surface" leaving minor scratches on the highly polished dressing table top, which vigorous polishing put right later. Next morning, there was a huge crater where the church had stood, and the church hall which was at the side of the church, fronting onto Bills Street, had also been damaged, leaving us with our own "bombed building". What games the children of the neighbourhood had in that crater. The blocks of masonry became all kinds of things in our childish minds - a castle, a house, a shop etc.
Limitless
After two or three years, the base of the crater was covered in a lush carpet of green and lots of wild flowers grew there. Our imaginations were limitless and we played there from morning till night.

What remained of the church after the bombing.

On VE Day in 1945 we had the bonfire to beat all bonfires.

It had to be dismantled and moved from the top end of the street, towards Bull Piece, to the bottom, at the junction with Bills Street, because the child of one of the families at the top of the street was ill in bed and it would have disturbed her.
All of the children who were old enough went "over the crater" with the adults and helped collect the wood and any other debris that would burn, even a child who wasn't really old enough to be there - me. As a result I fell against a piece of jagged masonry resulting in a deep cut on my forehead and was taken off to Dr. McNamee higher up on the Walsall Road, on the left-hand side, just before Gordon Street, where my wound was stitched and I was given my first taste of chocolate (one square) "for being a good girl and not crying" while the stitches were put in.
Then a couple of trestle tables were found from somewhere, together with any other tables that people could provide, covered in white paper, and the mothers from Whitton Street, Gladstone Street and probably Cope Street all made contributions from the rations to provide cakes, jellies and blancmange - what a feast.
One of the neighbours, Mrs Annie Kent, made lovely big "picture hats" from coloured crepe paper and we kept those hats for years afterwards.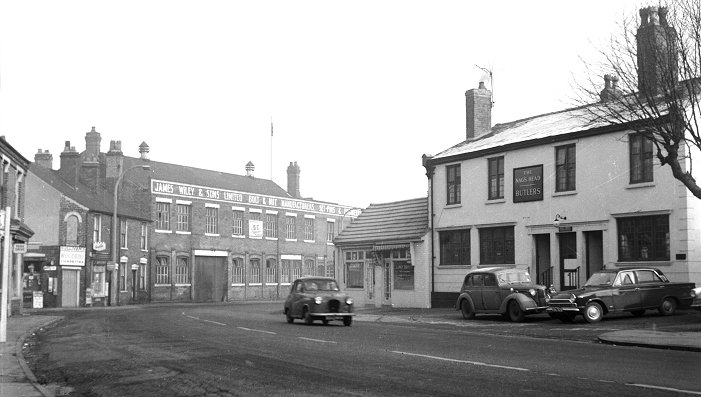 The Nags Head pub and James Wiley and Sons in The Green.
Good times that ended with war. The White Dog at Bilston Street by Mrs. Thelma Palmer
The White Dog was owned by Johnson and Phipps brewery of Wolverhampton. Tom and Annie James (my grandparents) became the licensees in the early 1920s. The White Dog was a typical working men's local, although it was well supported by friends from all areas of Darlaston.
In 1935 the brewery owners acquired the land adjacent to the pub and practically rebuilt it. The smoke room was extended and a new outdoor was added plus a new bar which was huge compared to the old one. New leather upholstered seating was fitted throughout, and tables and stools of oak made it all very welcoming, as did the huge open fires. There was also a club room upstairs which was used for various functions as well as the home team's darts matches.
Every Sunday lunchtime there were free sandwiches for all, usually cheese and Spanish onions, which always went down well with a pint of Tommy's best. Grandad always organised a Sunday morning trip with a full breakfast for the men, and Gran used to take the ladies on an evening and supper trip. Sadly all of those good times had to end when the war started and rationing began.
My grandparents carried on through the war years and finally retired in 1953 when they were in their eighties. The new licensee was Ted Perks who some years earlier had been manager of the Frying Pan.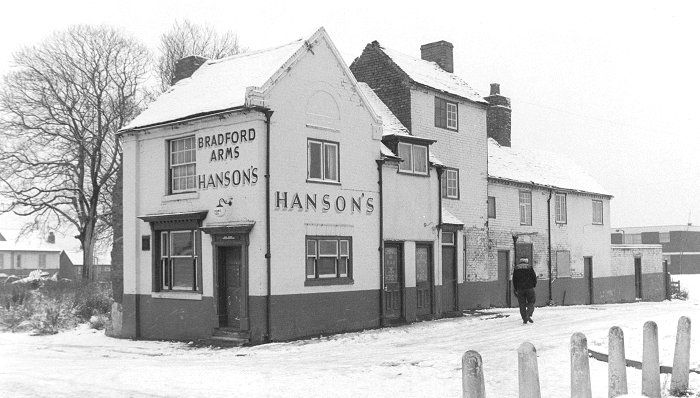 The Frying Pan on a wintry day in the early 1970s.
My Time at the Olympia by Sheila Wilkes
I started at the Olympia in Darlaston when I was 13. It used to be called the ABC Minors Club. On a Saturday morning we started with the Minor's Song:
We are the boys and girls well known as The Minors of the ABC
And every Saturday all line-up to sing the songs we like and shout aloud with glee,
Such a happy crowd are we-ee, we're all pals together,
The Minors of the ABC.
I wonder how many can remember the ABC Minors?
I started out as an usherette, then into salesgirl, then cashier. Mrs. Spooner, Mrs. Butler, Pat Turner, Mrs. Dowen, Barbara Baggot and my sister Lena Edkins made up the rest of the staff. Mr. Foster and Mr. Halcroft were doormen, the Manager was Mr. Jimmy Hampton, and the relief managers were Mr. Timmins, Mr. Page and Mr. Gamble. This was a great cinema, it was always packed out.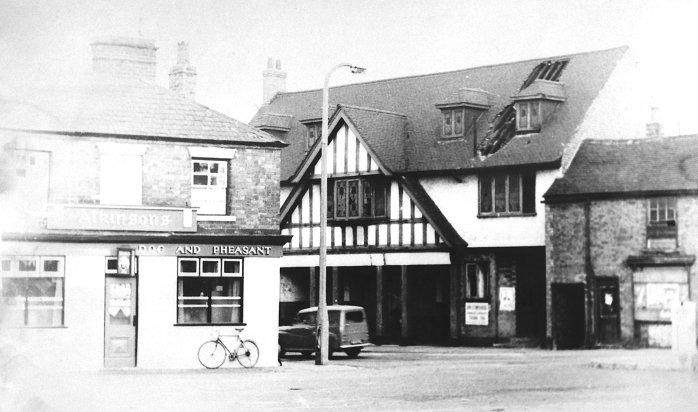 The Olympia Cinema with the Dog and Pheasant pub, known as 'The Wrexham', on the left. Photo from the collection of the late Howard Madeley.
I enjoyed working there, we worked from about one o'clock to about eleven thirty in the evening. When everyone had left we had to go round and put all the seats up. We used to get one night a week off, and if you wanted to go to the Picturedrome, we used to have a pass, to get in free.
I was 17 when the Olympia closed in 1956 and we were all so sad to leave; it was such a great place to work. I went to work at the Regal cinema in Darlaston for a while but left when I got married.
---