| | | |
| --- | --- | --- |
| | | |
---
In the 1890s, the town was rapidly growing due to an increasing population, which had doubled in seventy years. People moved there, in the expectation of finding a job in one of the many factories and workshops that were operating at the time. Large numbers of small terraced houses were built, often occupied by two or more families.
Several fine buildings were built around this time, including the Town Hall, which opened on Wednesday 31st October, 1888 and Darlaston Police Station (now closed) in Crescent Road, which opened in 1899. Darlaston's first sewage works opened at Bentley, in 1887, Crescent Road Fire Station was built in 1896 and there were plentiful places in the local schools.
Money was often in short supply, but jobs were available for those wanting to work, and a strong community spirit prevailed. Public transport came initially in the form of railways, with two railway stations, one at James Bridge and another in Darlaston Road, which had closed in 1887. Steam trams started to operate between Darlaston, Walsall, Bloxwich, Wednesbury, Tipton, Dudley and West Bromwich in 1883, followed by frequent and more affordable electric trams in 1893. For the first time people could easily shop or socialise in other towns, or commute to work.
In the late 1890s electricity came to the town and the town's first market opened in 1896. It occupied both sides of Church Street between Bilston Street and New Street. There were many shops in the town centre and in the suburbs, catering for people's every need. There were no less than 45 pubs and 53 beer sellers in the town at the time, so beer drinking was extremely popular. Smokers were also well catered for, there were 8 tobacconists. 24 shops sold, repaired or made shoes and unsurprisingly there were 5 pawnbrokers and several chemists or drug dealers selling medicines etc.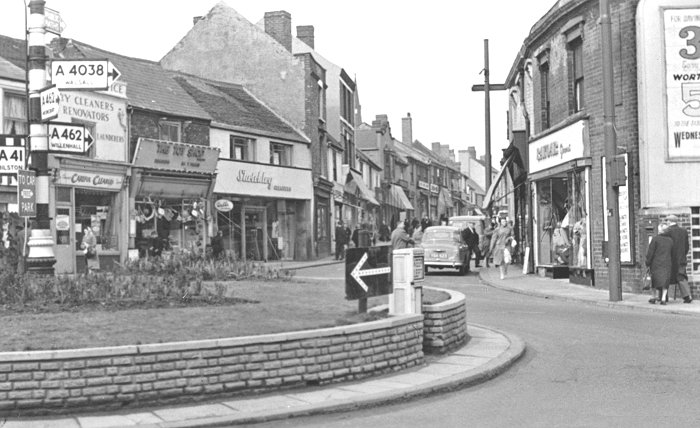 A busy shopping day in the 1960s. From an old postcard.
The following list is based on entries in Kelly's Directory of Staffordshire, published in 1896.
The Town Centre

King Street

Number

Owner's name and type of business

1.
Miss Lucy Corbett, milliner & haberdasher
2.

John Walker, outfitter

3.
George Butler, boot maker
4.
Thomas Camp, confectioner and George Cartwright, fruiterer
7.

William Hitch, poulterer & fruiterer

8.
John Bailey, bacon curer , 8 King Street
9.
British & Colonial Meat Company, butchers
10.
Blackham Brothers, dairymen
11.
Thomas Withers and Frederick Adolphus Smith, chemists
12.
Mrs. Sarah Ann Haynes, butcher
13.
William Hartshorne, seedsman
14.
Philemon Giles, earthenware dealer & cab proprietor
15.
Ann & Mary Bayley, pork butchers
17.
George Henry Morton, baker & confectioner
18 & 19.
William Clifford Peach, linen draper & clothier
20 & 21.
Samuel Thomas Wickstead, provision dealer
22.
Sydney Albert Simkin, boot & shoe maker
23 & 24.
Alfred Wilkes, haberdasher
25.
Samuel Bridgewater, grocer
26.
Abraham Kimberley, tinplate worker & ironmonger
27.
Arthur Ash, butcher
28.
Mark Marston, confectioner
29.
Thomas Robinson, Dog & Partridge P.H.
31.
Miss Frances Brooke Griffiths, ladies' school
32.
John Moseley Price, printer & stationer
34.
Eli Grainger, fish dealer
35.
John Westmorland, confectioner
36.
Joseph Yates, White Lion Hotel
37.
Joseph Simkin, hardware dealer
39.
John Willis Baker, ironmonger
39A.
Robert Hall & Sons, saddlers
40.
Mrs. Annie Jane Mills, boot dealer
41.
John Bates & Son, tailors & drapers
42.
Mrs Mary Elizabeth Jones, New Inn P.H.
43.
William Small, milliner & fancy draper
44.
Richard Andrew Harper, Queen's Head P.H.
45.
Alfred Gregory Edwards, clockmaker, watchmaker & jeweller
45A.
Joseph Thomas Bayley, pork butcher
46.
Joseph Lewis, manufacturing confectioner
47 & 48.
Edward Teece, poulterer & fishmonger
51.
Richard Pickerill, general dealer & working tinsmith
52.
Enoch Dolman, butcher
53.
Star Tea Company Limited, tea dealers
54 & 55.
William Harrison, draper & hatter
56.
Charles Cadby, confectioner
57.
Mrs. Martha J. Kirkham, Waggon & Horses P.H.
59.
Robert Hull, pawnbroker, & Alexander Campbell MacMillans, draper
Joseph Bridgewater, hay & straw dealer, Virginia cottage

Victoria Road

16.
Samuel Canlett, The Swan P.H.
18.
Richard Billingsley, tobacconist
Thomas Ball, hairdresser

Cock Street

2.
Edward Barnsley, newsagent & bill poster & parcels agent for L. & N. W. Railway
3.
Edward Ellis, grocer
4.
Mrs. Sarah Ann Holt, butcher
5.
John Wood, beer retailer
8.
Edward Benton, furniture dealer
10.
Thomas Richardson, boot maker & shopkeeper
12.
Joseph Barber, draper
16.
Mary & Ann Harper, grocers
17.
Meschach Walter, shopkeeper
20 &21.
Thomas Cooper, pawnbroker
28.
John Potter, Dartmouth Arms P.H.
32.
Thomas Wood, pawnbroker
36.
Edward Beddall, shoe maker
45.
John Foster, shopkeeper
53.
George Cartwright, fruiterer
57.
Miss Alice Stambridge, milliner
60.
William Henry Brown, paperhanger & decorator
61.
Benjamin Bourn, beer retailer
63 & 64.
Charles Freet, wardrobe dealer & outfitter
66.
John Hayward, pork butcher
67.
Benjamin Phillips, hairdresser
68.
Richard Harper, butcher
William Blunn, shopkeeper
Sillito, fruiterer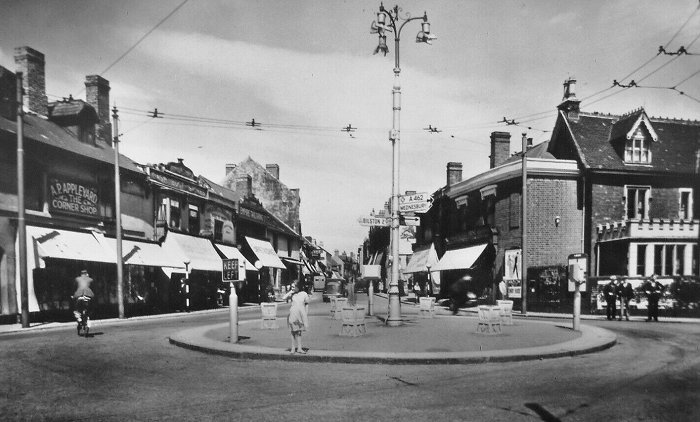 The early Bull Stake traffic island and King Street. From an old postcard.
The Town Centre Continued
Church Street

Number

Owner's name and type of business
1.
Frederick Adolphus Smith, chemist
2.
William Winn, grocer, provision dealer, pawnbroker, wine & spirit merchant
2A.
Lloyds Bank Limited (branch) (William Henry Briant, manager)
3,4 & 5.
Charles Bishop, linen, woollen & fancy draper, and funeral director
6.
William Haynes, butcher
7.
Conservative Club (Arthur Partridge & Ernest Robinson, joint hon. secretaries.)
9.
Thomas Hemmingsley, butcher
10.
Alfred Baker, butcher
11.
Mrs. Maria Ison, butcher
12.
Samuel James Juggins, paperhanger
13.
William Small, shoe dealer
14.
Miss Ellen Butler, dining rooms
17.
Joseph Butler, shopkeeper
19.
Joseph Smith, fancy draper
20.
Mrs. Susannah Bowen, cowkeeper
21 & 22.
George Nicholls, pawnbroker & fancy draper
23.
Samuel Garbett, The George P.H.
26.
Joseph Horton , baker
27 to 29.
Joseph Richards, grocer & corn factor
30.
John Sillitoe, greengrocer & poulterer
31.
Charles Doughty, chemist
32.
William Bentley, boot maker
33.
William Bowker, baker
37.
John Duncombe, hairdresser
40.
Mrs. Sarah Edwards, shopkeeper
41.
James Dawson, insurance agent
48 & 49.
James Pritchard & Son, Bell Hotel, also wine & spirit merchants, family brewers at Darlaston Brewery
50.
George Green, maltster and Thomas Marshall Green, solicitor
53.
William Winsper Baggott, shopkeeper
54.
Richard Matthews, watch maker
55.
Howard Fletcher & Sons, Green Dragon P. H.
56.
William Smith, boot dealer
58.
Richard Salisbury, draper
59.
George Ensell, fishmonger
61 & 62.
George Blackham, wholesale & retail grocer, druggist, etc.
65.
Guest John, shopkeeper
67.
William Eaden, Red Lion P.H.
67A.
Francis Ray, hairdresser, and Mrs. Elizabeth Juggins, tobacconist
Ezra Genders, hairdresser & perfumer, dealer in novelties
Joseph William Merrick, fancy draper & hosier

New Street

3.
Henry Shaylor, shopkeeper
6.
John William Hartop, clogger
10.
Thomas Milner, insurance agent
13.
William Birkenhead, beer retailer
14.
Mrs. Nancy Fairn, shopkeeper
16.
Daniel Foster, shopkeeper
17.
Thomas Whitehouse, shopkeeper
19.
John Page, grocer & file cutter
24.
Samuel Haynes, Crown & Cross Guns P.H.
26.
William Maullin, wardrobe dealer & tailor
28.
John Constable, pork dealer
30.
Mrs. Mary Ann Salisbury, greengrocer
33.
Joseph Platt, shopkeeper
40.
Edwin White, fried fish dealer
41.
Joseph Terry, baker
42.
Mrs. Emma Horton, draper
47.
Richard Small, cowkeeper
49.
William Foster, shopkeeper
57.
Mrs. Mary Ann Flarty, shopkeeper
58.
John Beech, greengrocer
62.
Joseph Mansey, wardrobe dealer
63.
James Sproat, pawnbroker & jeweller

Bilston Street

4.
Mrs. Lydia Evans, shopkeeper
5.
Alfred Jones, beer retailer
7.
Mrs. Fanny Bowker, shopkeeper
10.
Mrs. Catherine Wilkes, shopkeeper
20.
Thomas Baker, corn factor & grocer
22.
Mrs. Nancy Walker, greengrocer
31.
Mrs. Matilda Wilkinson, wardrobe dealer
43.
William Bratt, carpenter & pawnbroker
46.
William Stambridge, beer retailer
47.
Frederick Niblett, shopkeeper & coal dealer
49.
George Giles, shopkeeper
55.
Mrs. Sarah Wilkes, shopkeeper
Edwin Haynes, cowkeeper

Dale End

17.
Simeon Foster, Red Cow P.H.

Bell Street

2.
Richard Tinsley, grocer
3.
Miss Elizabeth Dangerfield, dressmaker
8.
Mark Askey, ointment dealer
9.
Enoch Wood, earthenware dealer
11.
Charles Croydon, The Vine P.H.
18.

Henry Best, greengrocer

21.
George H. Canlett, foreign meat dealer
23.
William Dangerfield, fried fish dealer
24.
John Evans, herbalist
36.
William Butler, boot maker
39.
Michael Langford, shopkeeper
44.
Mrs. Sarah Fudge, beer retailer
45.
Isaiah Duley, beer retailer
49.
William Knowles, grocer
53.
William Derry, beer retailer
55.
Samuel Davies, general dealer
Arthur Higinbotham, baker
Mrs. Ellen Robinson, dressmaker

Cramp Hill

5.
Miss Fanny Genders, dressmaker, & Thomas Genders, boot & shoe maker
6.
Mrs. Emma Foster, china & glass dealer
12.
Thomas Nicholls, blacksmith & cowkeeper
15.
Hezekiah Wood, Old Crown Inn
27.
Thomas Small, newsagent
30.
Eunice Wilkes, shopkeeper
37.
William Adams Butler, King's Arms P.H.
39.
Henry Charles Bettelley, baker
50.
Martin Perry Foster, Spread Eagle P.H.
64.
Stephen Giles, shopkeeper
65.
Job Giles, shopkeeper
84.
Thomas Baker, corn factor & grocer
86.
John Jones, grocer
William Cooper, shopkeeper

The Leys

1.
Joseph Cotterell, wholesale & retail grocer
6.
George Grainger, beer retailer
11.
Joseph Robinson, photographer & tobacconist
24.
George Worrall, pork butcher
25.
John Middleton Carless, fish dealer

Willenhall Street

3.
James Bates, shopkeeper
4.
John Wright, draper
8.
William Fulford, shopkeeper
14.
Enoch Ball, shopkeeper
26.
Mrs. Susannah Cornfield, beer retailer
32.
John George Rose, shopkeeper & beer retailer

Smith Street

9.
Thomas Cotterell, beer retailer

Cross Street

1.
John Garner Parker, The Greyhound P.H. & nut & bolt maker
3.
Ishmael Bennett, coal dealer
4.
Joseph Weston, shopkeeper
11.
Thomas Giles, shopkeeper
16.
Henry Woodhall, Barley Mow P.H.
Mrs. Hannah Mary Robinson, beer retailer

Little Cross Street

1.
John Cross, coal dealer

Eldon Street

8.
James Smith, shopkeeper
17.
Isaac Elihu Cresswell, shopkeeper
21.
Thomas Richards, shopkeeper
27.
John Harper, gunlock maker & shopkeeper
30.
Frederick Pearce, shopkeeper
40.
Mrs. Nancy Bird, shopkeeper
49.
Thomas Fox, The Britannia P.H.
62.
Charles Shayler, shopkeeper
John William Harrison, The Fountain P.H.
Mrs. Esther Morgan, shopkeeper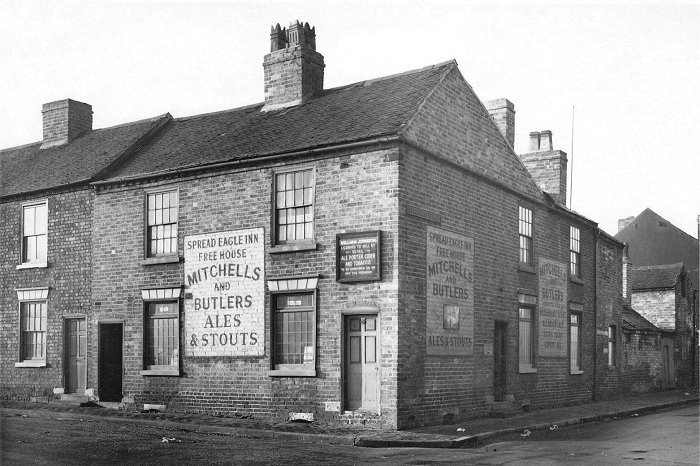 The Spread Eagle pub on Cramp Hill with Little Cross Street on the right.
The Town Centre Continued
The Bull Stake and Pinfold Street

Number

Owner's name and type of business
1.
John Hitch, poulterer & greengrocer
1A.
Mrs. Phoebe Howl, music warehouse & tobacconist
2.
Miss Mary Dumbleton, Darlaston Coffee House
3.
Simeon Lunn, beer retailer
5.
Edwin Tanner, haberdasher
6.
Thomas Hopkins, baker & grocer
9.
William Morgan, painter & paperhanger
10.
Joseph Francis Robinson, hairdresser
11.
John Tonkinson, poulterer
12.
Thomas Cooper, china & glass dealer
14.
William Rose, herb beer retailer
15.
Mrs. Harriet Stanley, seamstress
16.
Mrs. Betsy Page, beer retailer
17.
Joseph Hewitt, butcher
18 & 19.
John Welch, boot maker & boot factor
20.
Thomas Newton, Black Horse P.H.
21 & 22.
William Winn, grocer, provision dealer, pawnbroker, wine, spirit merchant
33.
Mrs. Mary Ann Butler, shopkeeper
35.
Miss Emma Booth, shopkeeper
37.
Henry Cope, builder
40.
Thomas Loines, shopkeeper
41.
William Horton, beer retailer
43.
Harry Hodgkin, shopkeeper
45.
Peter Foster, shopkeeper
46.
Humpage, newsagent
47.
Thomas Page, draper
48.
Cornelius Page, shopkeeper
49.
William Fullwood, grocer
51.
William Baker, butcher
52.
Mrs. Mary Ann Woolley, beer retailer
55.
Job Slater, Noah's Ark P.H. & shopkeeper
56.
Thomas Howell, boot maker
57.
Volunteer Battalion (3rd) South Staffordshire Regiment
59.
Thomas Page, butcher
60.
Herbert Foster, baker & grocer
61.
William Elmore, boot maker
65.
Simeon Butler, beer retailer
67.
George Ensell, fishmonger
69.
James Harper, greengrocer & furniture dealer
71.
Thomas Foster, gunlock filer & cowkeeper
75.
George Smith, tailor
76.
William Alcock, confectioner
77.
William Corbett, Union Inn, & gunlock maker
84.
Edward Benton, greengrocer
86.
Thomas Henry Clifford, general dealer
87.
Edward Garrett, leather seller & grindery dealer
89.
Joseph Dangerfield, draper
90.
Eli Morris, hairdresser
91.
James Belcher & Son, auctioneers, valuers, surveyors & house & estate agents
92.
George Norton, The Old Castle Hotel
93.
John Blackham, grocer and provision dealer
94.
Thomas Orton, butcher
Liberal Club (John T. Bird, sec. & John Aston, manager)
Gabriel Banks, wheelwright
Job Cotterell, shopkeeper
John Alfred Plumb, shoeing & general smith
George Alban Wilkes, house & estate agent, registrar of births & deaths
Mrs. Betsy Sheldon, beer retailer

Great Croft Street

38.
Mrs. Betsey Foster, shopkeeper
44.
William Tyler, fried fish dealer
45.
John Jones, boot maker
51.
Samuel Edwards, shopkeeper
William Cooper, shopkeeper
John Gaunt, grocer & boot dealer
Daniel Tyler, beer retailer

Blakemore's Lane

39.
Mrs. Fanny Penrice, beer retailer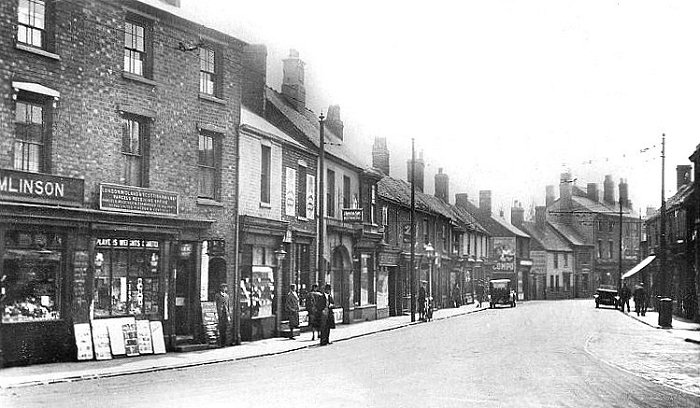 Pinfold Street with the Black Horse pub in the distance. From an old postcard.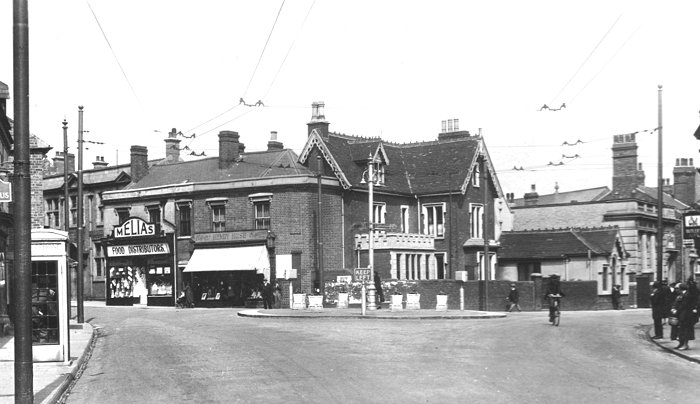 Another view of Pinfold Street, looking towards the Bull Stake. From an old postcard.
The Western Suburbs
Pinfold Alley

Number

Owner's name and type of business
7.
Mrs. Elizabeth Page, shopkeeper
9.
William Watts, tobacconist
12.
John Dudley, beer retailer
27.
Thomas Reece, shopkeeper
James Price, coal dealer

Catherine's Cross

3.
Moses Hampton, greengrocer
5.
Shadrack A. Baker, shopkeeper & nut & bolt maker
9.
Joseph Phipps, baker
10.
Jacob Grove, greengrocer
11.
Mrs. Shirley, baker
12.
Thomas Brown, shopkeeper
15.
Edward Ward, shopkeeper
18.
Mrs. Mary Price, beer retailer
21.
John Matthews, shopkeeper
31.
Thomas Doughty, shopkeeper
34.
Job Smallwood, boot repairer
39.
Alfred Baggott, grocer & baker
45.
John Smith, shopkeeper
46.
Mrs. Mary Ann Billings, shopkeeper
51.
Harry Haddon, butcher
52.
Simeon Butler, baker
54.
Richard Whitehouse, shopkeeper
59.
Samuel Cause , boot repairer
64.
Edward Bedworth, shopkeeper
74.
Mrs. Sarah Fletcher, shopkeeper
76.
Job Butler, Nelson Inn
82.
William Smith, beer retailer
83.
Henry Tomlinson, fried fish dealer, & James Read, pork butcher
87.
Samuel Jones, pawnbroker
89.
Reuben Hawker, shopkeeper
95.
William Wall, shopkeeper
102.
William Bartram junior, beer retailer
105.
John Ashmore, greengrocer
107.
Joseph Hadley, boot maker, greengrocer & shopkeeper
125.
John Forrester, watch & clock maker
Bould, carrier, Catherine's Cross
John Corns, coal dealer & farrier
Mrs. Emily Jones, pawnbroker
Samuel Jones, grocer
Joseph, Stokes, carpenter

Woods Bank (Moxley Road)

1.
Frederick W. Keywood, Duke of York P.H.
6.
Edward B. Horton, The Three Fishes P.H.
47.
John Ryder, shopkeeper
60.
Mrs. Frances Wood, grocer
Jabez Harris, draper
James Jones, shopkeeper
Samuel Mason, draper & milliner

Dangerfield Lane

1.
Mrs. Martha Hill, boot dealer
2.
Samuel Davies, greengrocer
10.
Richard Blackhouse, shopkeeper
38.
John Standley, shopkeeper

Wolverhampton Street

10.
Jacob Foster, cowkeeper
19.
Edward Riley, shopkeeper
52.
Mrs. Elizabeth Parker, shopkeeper
Mrs. Georgina Hamlington, shopkeeper
William Jukes junior, coal & marine store dealer
Mrs. Harriet Partridge, dressmaker

Foundry Street

1.
Mrs. Sarah Wilkes, shopkeeper
6.
Povey & Hallden, boot & shoe manufacturers
13.
William Dowen, The Lamp P.H.
Joseph Hewett, cowkeeper

Heathfield Lane

9.
Alfred J. Stevens, beer retailer
14.
William Foster, shopkeeper
23.
John Horton, shopkeeper & haulier
24.
James Reece, shopkeeper

Forge Road

2.
John Wall, shopkeeper
9.
Mrs. Emma Arnold, shopkeeper
15.
Miss Sarah Jane Ball, New Junction Inn
22.
Henry Moss, shopkeeper
Henry Bird, shopkeeper
James King, shopkeeper

Factory Street

11.
Mrs. Harriet Smith, boot dealer
16.
Joseph Hingley junior, beer retailer
17.
David Edwards, shopkeeper
George Gibbons, shopkeeper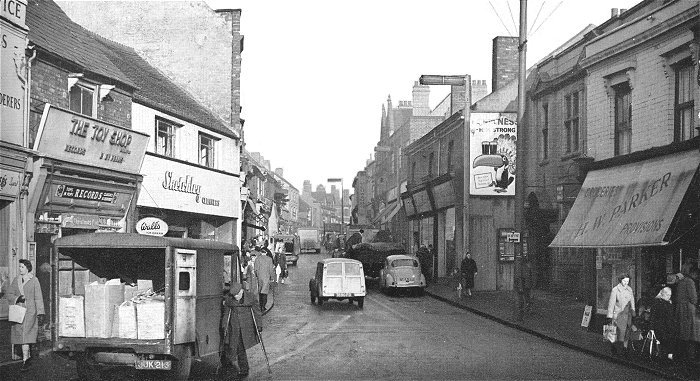 King Street in the 1960s.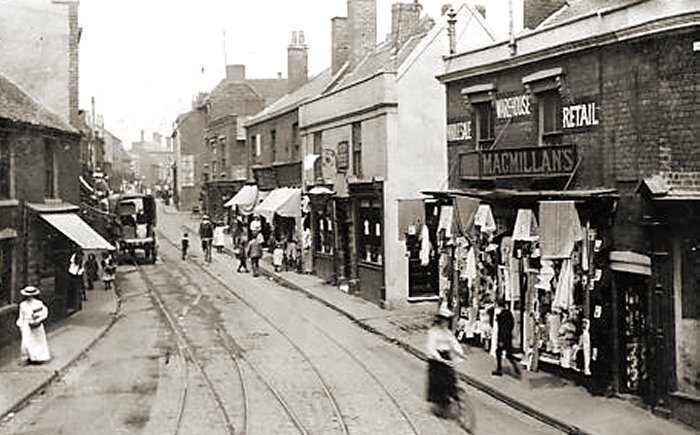 An earlier view of King Street. From an old postcard.
The Northern Suburbs
Blockall

Number

Owner's name and type of business
1.
John Parker, hairdresser & newsagent
2.
Arthur Groves, greengrocer
6.
Joseph Phillips, gasfitter
13.
Henry Thomas Tyler, Dog & Pheasant P.H. Burton & Lincoln Brewery Co. Ltd
14.
Francis Denning, baker
20.
William Fox, pork butcher & bacon curer
22.
Thomas Matthews, grocer
28.
John Robinson, dagger & boot maker
29.
Mrs. Louisa Maria Stedman, Scott Arms P.H.
30.
George Amos, greengrocer
46.
James Paul Price, draper
47 & 48.
John Green, brewer, & William Steemson, beer retailer
49.
Mrs. Eliza Tyler, shopkeeper
51.
Mrs. Harriett Plowman, fishmonger
52.
Edwin Ward, grocer
53.
Mrs. Fanny Humpage, shopkeeper
Mrs. Jane Howell, second hand clothes dealer

Foster Street

1.
Miss Clara Bowen, coffee rooms
5.
Mrs. Phoebe Barnett, shopkeeper
7.
George William Taylor, Oak Tree P.H.
11.
Miss Sarah Ann Wilkes, pawnbroker
15.
Henry Ravenscroft, shopkeeper
17.
Thomas Croft, coal dealer
20.
John Taylor, shopkeeper
21.
George Henry Ravenscroft, tobacconist & fruiterer
23.
George Page, junior, beer retailer
24.
Isaac Cresswell, shopkeeper
34.
Isaac Gaunt, hardware dealer
49.
Mrs. Sarah Merrylees, grocer

Walsall Street

195.
Mrs. Ann Salisbury, dressmaker
Thomas Latham, shopkeeper
Samuel Robinson, shopkeeper
Job Walker, shopkeeper
The Green
1.
Charles Foster, general dealer
2.
William Cooper, newsagent
3.
William Horton, shopkeeper
9.
James Haden, boot maker
12.
Enoch Lealan, greengrocer
16.
Job Corbett, shopkeeper
18.
John Wilkes, undertaker
19.
Harry Bagnall Hickman, butcher
25.
John W. Copper, beer retailer
27 & 28.
Thomas Wiles, grocer & pawnbroker
29.
Frederick Thomas Ryles, plasterer
33 & 34.
Edward Glover, draper
38.
William Cook, shopkeeper
50.
John Wright, grocer
54.
Thomas Jones, junior, grocer
65.
William Leonard Eaton, butcher
66.
Harry Jackson, earthenware dealer
69.
Richard Jeffs, butcher
70.
William James Jones, baker & grocer
71.
Charles Ward, haberdasher & greengrocer
88.
Mrs. Ann Maria Moreton, shopkeeper
89.
George Lucas, beer retailer
96.
Samuel Seaman, greengrocer
109.
Mrs. Martha M. Wilkes, Nag's Head P.H.
115.
John Knock, firewood & coal dealer
116.
Mrs. Martha Dooley, shopkeeper
127.
Mrs. Susan Grove, beer retailer
131.
Mrs. Mary Ann Aston, beer retailer
132.
James Harper, shopkeeper
133.
Pharaoh Askey, hairdresser
138.
John Orton, grocer & provision dealer
146.
Samuel Dowen, Why Not P.H.
Samuel Bevan, boot maker
Nathaniel Thomas, blacksmith & farrier

St. George's Street

7.
Henry Day, shopkeeper
James Nightingale, beer retailer

Aldridge Street

2.
Daniel Davies, shopkeeper

Horton Street

2.
Thomas Cooper, shopkeeper
29.
Robert Worrall, cowkeeper
41.
Mrs. Emma Cooper, shopkeeper
42.
Samuel Robinson, The Barrel P.H.

Bush Street

16.
William Seaman, Old Bush P.H.
Thomas Horton, grocer
Henry Eade, firewood dealer
Joseph Taylor, shopkeeper

Booth Street

2.
Thomas Taylor, shopkeeper
8.
Miss Elizabeth Jeffs, grocer
9 & 10.
William France, beer retailer
John Roberts, grocer

Perry Street

3.
Thomas Wiles, shopkeeper
John Richards, draper

Castle Street

4.
James Cotterill, shopkeeper

Heath Road

9.
John Johnson, shopkeeper
85.
William Day, shopkeeper
Charles Harvey, shopkeeper

Willenhall Road

1.
James Bassett, Green Man P.H.
2.
Walter Horne, grocer
7.
Samuel Jones, greengrocer
23B.
William Bonner, haberdasher & grocer
30.
Benjamin George Price, British Oak P.H.
34.
Miss Eleanor Bowen, shopkeeper
45.
John Thomas Harper, shopkeeper
Mrs. Mary Ann Foster, shopkeeper
Edward Glover, beer retailer
Perrott & Hale, coal merchants
George Hubbard, beer retailer
George Parrott, coal merchant
Thomas & James Partridge, undertakers
Miss Clam Payce, fried fish dealer

Bentley Road

4 & 5.
William Oates, beer retailer & shopkeeper
10.
Charles Pritchard, beer retailer
20.
Joseph Nightingale, The Boat P.H.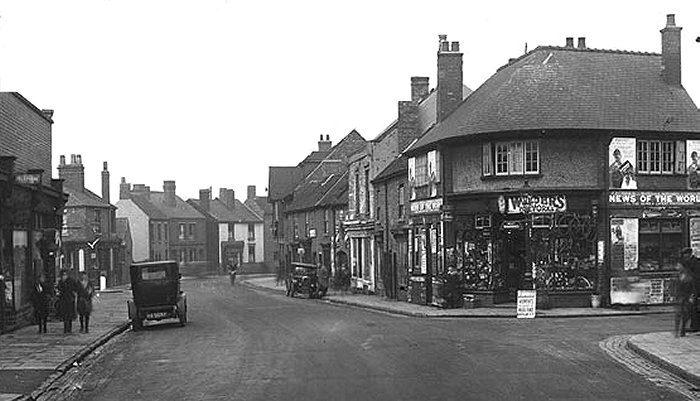 Blockall in the 1930s. From an old postcard.
The Eastern Suburbs
Walsall Road

Number

Owner's name and type of business

5.

Archibald Slater, James Slater, Samuel Mills Slater, Slater & Co. solicitors

11.

Mrs. Sarah Clapp. greengrocer

27.

John Moore, The Cellar P.H.

31.

Henry Dighton Millner, The Castle P.H.
33.
John Carter, Horse & Jockey P.H.
40.
James Smallman, shopkeeper
41.
John Ebery, grocer
43.
Mrs. Mary Ann Gregory, fish dealer & greengrocer
44.
Mrs. Elizabeth Davies, fancy repository
47.
Robert Smith , beer retailer
50.
Mark Perry, grocer & dealer in beer
55
William Clifford Peach, linen draper & clothier
57.
Mrs. Elizabeth Holloway, tailoress
68.
Isaac Evans, general & colour printer, bookbinder & engraver
70.
Arthur Millward, coal dealer
72.
Edward Firman, tobacconist
74.
Mrs. Sarah Ann Holt, butcher & Joseph Steatham, The Prince of Wales P. H.
76.
John Thomas Sutcliffe, boot maker
78.
Mrs. Harriet Butler, The Fountain P.H.
83.
William Lloyd, The Spring Head Tavern P.H.
92.
Thomas Jenks, shoe maker
152.
Jacob Bagby, shopkeeper
169.
James Keeling, greengrocer and key maker

173.

Joseph Constable and Mrs. Eugenie Constable, milk sellers
175.
Thomas Morgan, shopkeeper
190.
John Harper, shopkeeper
193.
Richard Harper, beer retailer
195.
Joseph Simkin , cooper & confectioner
203.
David Reynolds, boot maker
208.
George Butler, shopkeeper
212.
Arthur E. Partridge, The Victoria Inn P.H.
214.
William Wilkes, shopkeeper
248.
Wallbrook, Fallings Heath Tavern P.H.
289.
James Cox, The Star Music Hall P.H.
332.
William Baker, baker
Ernest Albert Wilkes, solicitor, The Hollies
George Williams, coal dealer
George Shakespeare, draper
Sydney Partridge, surgeon
Metropolitan Bank, Herbert Edmund Proctor, manager
Miss Sophia Hartshorne, dressmaker
Mrs. Sarah Clapp, greengrocer
Mrs. Ester Evans, beer retailer
George Bagby, cabinet maker

Cook Street

6.
Mrs. Ann Cox, shopkeeper

Bull Street

2.
Simeon Robinson, fishmonger
11
Thomas Dangerfield, beer retailer, 11 Bull Street
12.
Hubert William Wakely, insurance agent
14.
Thomas Cooper, shopkeeper
19.
Charles Thomas, beer retailer
23.
William Partridge, haberdasher
24.
Job Shore, shopkeeper
25.
Mrs. Emma Wilkes, shopkeeper
27.
Samuel Haden, draper
30.
Elizabeth & Maria Yates, grocers
30A.
John Foster, butcher
40.
Albert Henry Simkin, shopkeeper
43.
John Legge, musical instrument dealer, music seller & teacher of music
45.
Samuel Hale Ball, pawnbroker
46.
Moses Huskison, builder
Miss Ada Coleman, tobacconist
Thomas Beddow Coleman, painter & decorator
Leonard Carter, tailor
Samuel Horton, hairdresser
Robert Henry Lawton, printer

Bull Piece

Miss Amy Brookes, dressmaker, Providence Place

Station Street

10.
James Kimbly, shopkeeper
24.
Thomas Millington, shopkeeper
27.
Benjamin Thomas Benton, shopkeeper
37.
James Simkin, junior, draper
39.
R. Smith, hairdresser
40.
James Butler, Vine P.H.
Herbert Lench, beer retailer
William Lester, beer retailer
James Simkin, senior, grocer
Charles Simmond , grocer & draper
James Barber, beer retailer

Albert Street

1.
Robert Haney, shopkeeper
6.
Edward Dangerfield, shopkeeper
26.
Mrs. Hannah Gentle, shopkeeper
Samuel Ashmore, haberdasher

Tilley Street

1.
Mrs. Frances Onions, shopkeeper
12.
William Holden, shopkeeper
18.
Mrs. Harriett Carver, shopkeeper

Whitton Street

12.
Daniel Chapman, shopkeeper

Short Street

4.
Jeremiah Kidman, shopkeeper

James Bridge

25.
William Bayley, shopkeeper
27.
Charles Pritchard, beer retailer
30.
George Griffiths, beer retailer
Benjamin Oliver, beer retailer
George Williams, coal dealer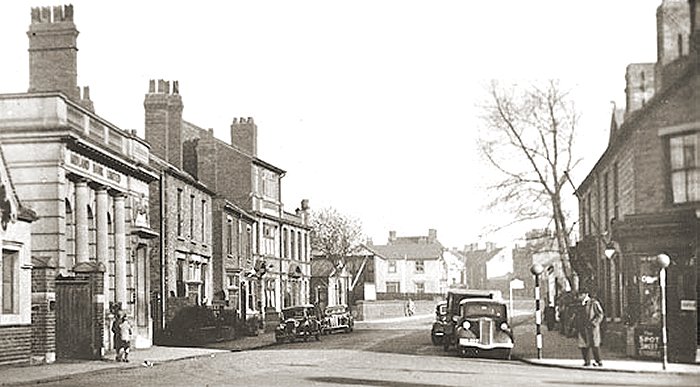 The junction of Walsall Road and the Bull Stake. From an old postcard.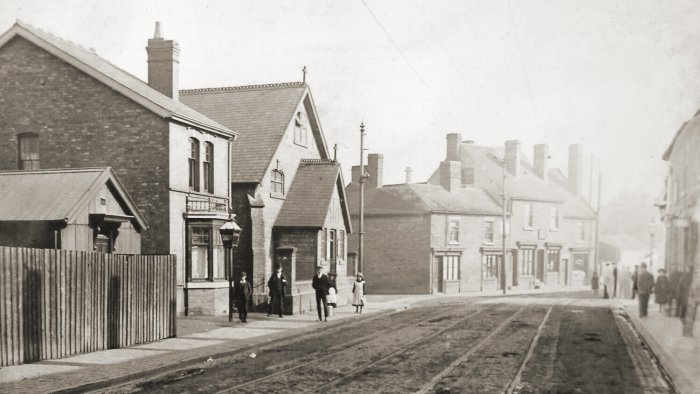 Blockall, with the turning into Addenbrooke Street on the left. From an old postcard.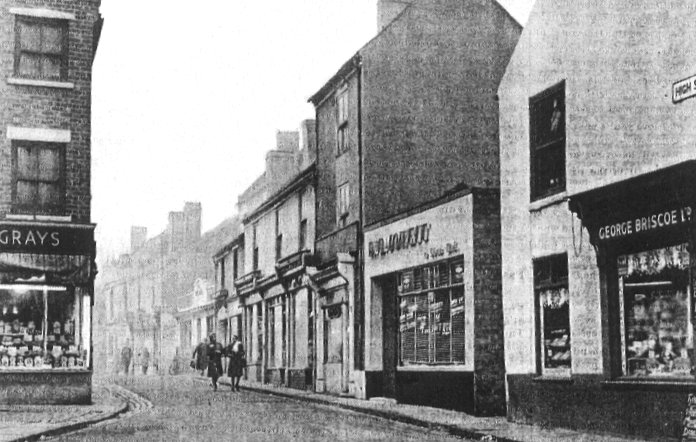 High Street (formerly Cock Street, in the 1950s.
---