---
The Columbarium, Rectory Avenue.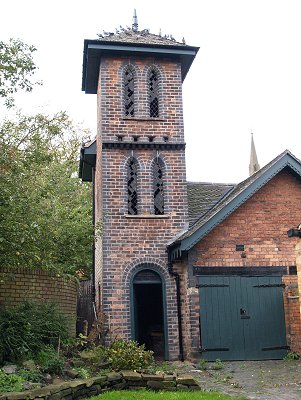 A coach house and stables with a dovecote tower, dating from around1850. The building is built of brick and has a fish-scale tiled pyramid roof to the tower, with heavily bracketed eaves. The top stage of the tower has leaded lancet windows. The building was locally listed in 1985.
| | |
| --- | --- |
| | The dovecote tower showing the decorative brickwork and the fine leaded lancet windows. |
The building is a fascinating relic from an important part of Darlaston's industrial past. In the mid 19th century Samuel Mills ran one of the largest iron and steel companies in South Staffordshire, situated at Lower Green, Darlaston; where Heath Road is today. The works covered more than 55 acres, and had many furnaces, a vast metal processing complex, rolling mills and several coal mines.

The Mills family lived at Darlaston House, on the western end of what is now Victoria Park. It also occupied the modern Rectory Avenue, the Post Office, the War Memorial and the land behind Pardoe's Cottage, where the Columbarium stands. It formed some of the outbuildings of Darlaston House.
| | |
| --- | --- |
| The room at the bottom of the tower, where the stairs used to be. The stairs ran up the left-hand wall and into the hole in the ceiling above. | |
| | |
| --- | --- |
| | The view looking upwards, through the hole in the ceiling where the stairs used to be. |
| | |
| --- | --- |
| The doors still carry the original locks which were possibly locally made. | |
| | |
| --- | --- |
| | The building to the left of the tower contains a couple of coach houses or possibly stables, with a tack room on the right through the single door. |
| | |
| --- | --- |
| Inside the tack room. The fittings along the top of the right-hand wall were for storing bridles, harnesses or saddles. | |
Two back to back fireplaces:

The one on the left is in the the room that's on the left- hand side of the tack room and the one on the right is in the tack room itself.
| | |
| --- | --- |
| | The fine entrance, maybe for the coachman. |
| | |
| --- | --- |
| The right-hand side of the building. The room on the right has a modern double door instead of the two original single, possibly stable doors. | |
---