The single storey building from 1892 was built as the electricity generating station for South Staffordshire Tramways. It has a gable pediment and an entablature with the following lettering: "The South Staffordshire Tramways Electric Generating Station". It also carries the date "1892". The pediment has a bullseye window with iron glazing bars. The frontage has semi-circular window arches, rising from imposts and iron-glazed windows with roundels under an arch. There are covered coal basins at the rear from the adjacent Walsall Canal. The building was locally listed in 1985 and is now part of a wine warehouse.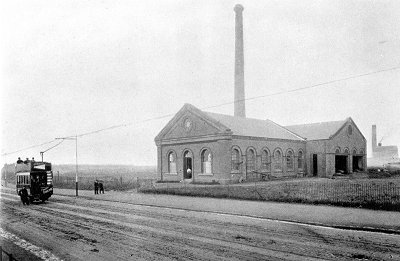 From the Jim Boulton Collection.
Electrically powered trams came to Darlaston in 1893 with the formation of South Staffordshire Tramways. The company had about 23 miles of track linking Darlaston, Wednesbury, West Bromwich, Handsworth, Great Bridge, Dudley Port, Dudley, Walsall, and Bloxwich. In the first year about 4,000,000 passengers were carried.
The installation was carried out by the Electric Construction Corporation of Wolverhampton and all of the electrical equipment was designed by the company's design engineer Thomas Parker. The tram motors were of the Elwell-Parker type and built by E.C.C. The sub-contractors for the cars were the Lancaster Carriage and Wagon Company and the stationary engines were produced by Brown, Marshalls & Company. The boilers were made by Musgrave & Son of Bolton, and the posts to carry the overhead wires were produced by James Russell & Sons and John Russell & Company.