---
St. Lawrence's Church, Church Street.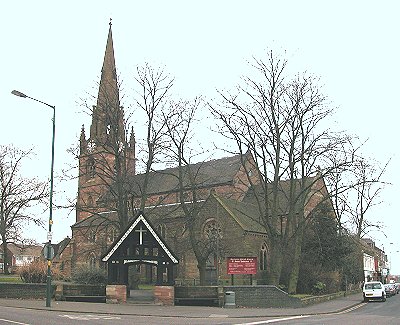 Grade II listed building, listed on 16th November, 1976. Rebuilt in 1871 - 72 in red sandstone with some yellow sandstone dressings and a tile roof, architect A.P. Brevitt. The building has a west tower with a spire, a nave with clerestory, north and south aisles, north and south transepts and a lower chancel.

The tower has diagonal buttresses, moulded pointed bell openings of two cusped lights, and pierced parapets with central clock faces and corner pinnacles. The stone spire has lucarnes of two trefoiled lights.

Against the west side of the tower are 20th century single storey additions. The aisles are of five bays separated by buttresses with two tiers of 2-light windows, the upper ones with depressed, two centred heads. The south transept has a rose window above a pointed doorway with angle shafts. The east window has four lights with plate tracery.

The nave has five bays, each with a pointed arch and cast iron columns with spiral decoration. The west, north and south galleries have timber fronts with blank arcading and the nave roof has scissor-braced collar trusses. The chancel arch is pointed and has two shafts as responds, carried on angel corbels. An arch from the chancel to a north chapel is similar. The chancel roof has a truss with a king-post rising from an arch-braced collar. The aisles and chancel contain early 19th century wall tablets and the painted pulpit in a Gothic style has cast iron steps. The east window contains late 19th century glass.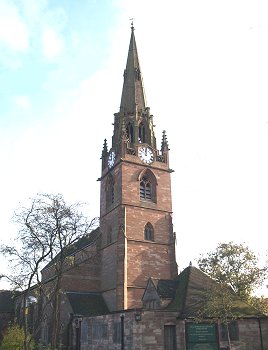 The west tower and spire.

The nave showing the decorated cast iron columns.

There has been a church on the site since the 12th century. The first church is believed to have been built by the first lord of the manor, William de Darlaston. The church had a wooden tower that had fallen into a bad state of repair by the early 17th century.

Later that century the church was destroyed by fire and rebuilt using salvaged material. The building was enlarged by subscription in 1721 with the addition of a new, brick-built, slightly enlarged northern side.

The church was again rebuilt in 1807 in brick in a plain style, but only remained as such for a few years.

In 1872 the brick building was replaced by a much more ornate version in stone, with a nave, chancel, aisles and a porch. The final version of the main church appeared in 1905 - 7 when the spire was rebuilt and a new clock added at a cost of £3,000. In 1931 the church hall was built at the western end of the church.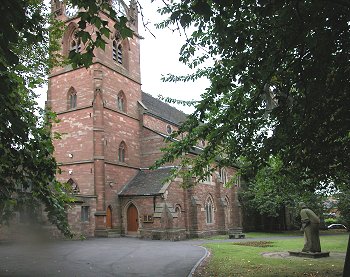 The western side of the church.
---